Maximize Productivity with Free Time Card Calculators
Learn how to boost your productivity with free time card calculators. Streamline your time tracking process and ensure accurate payroll calculations for you or your team.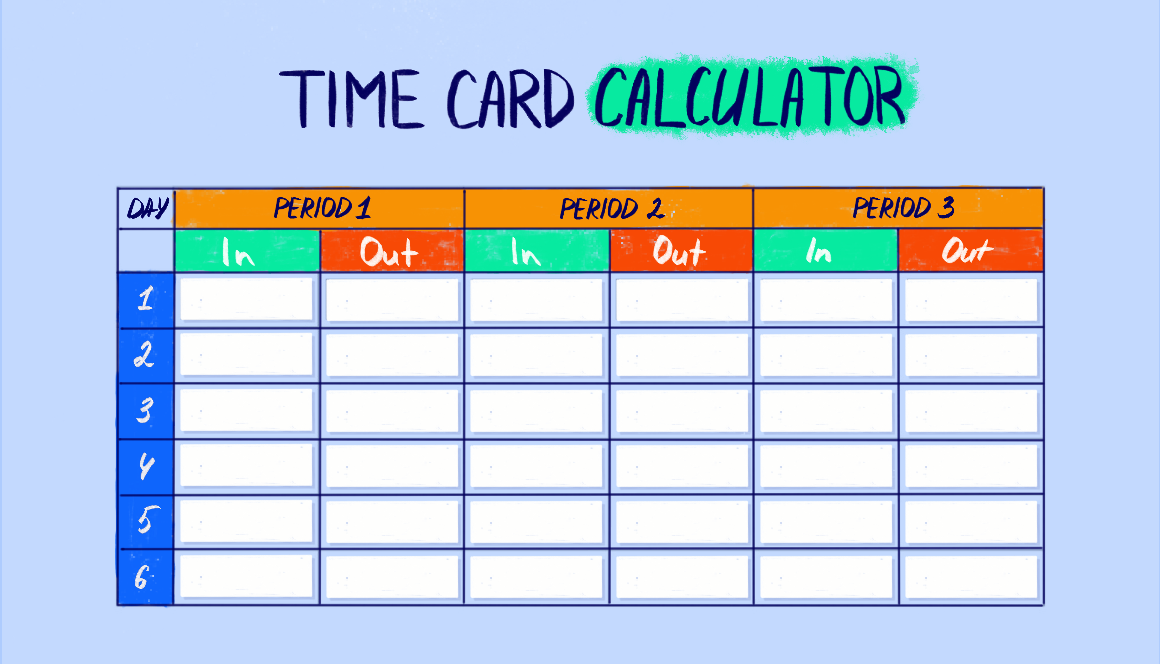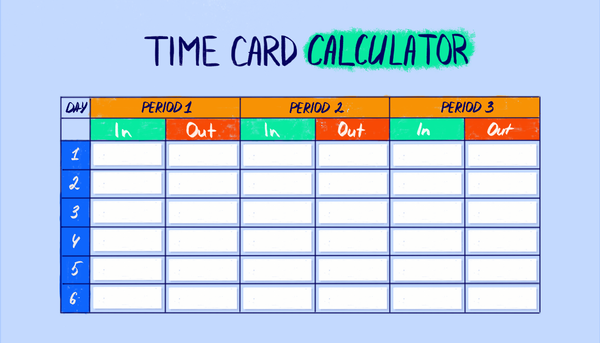 Are you seeking an effortless method for monitoring staff attendance, scheduling shifts, and processing payroll?
Free time card calculators are the ideal solution. These powerful tools can help you to:
manage employee schedules more effectively
assess labor costs
enhance efficiency and productivity.
What makes them good: By using free time card calculators, it's easy to keep track of your employees' hours worked for precise payroll processing and get insights into which areas require improvement.
Furthermore, with automatic calculations of regular work hours, overtime pay rates can be much easier.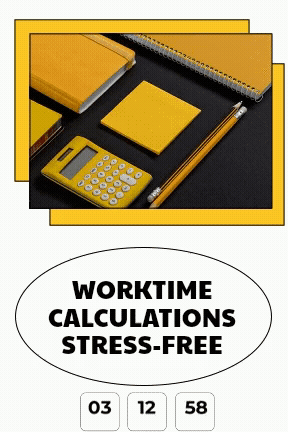 Understand the Benefits of Utilizing Free Draft Time Card Calculators
Tagline: Utilizing a free draft time card calculator is an excellent way to save money and guarantee accuracy when it comes to payroll calculations. Draft time card calculators make the procedure of tracking employee hours and calculating salary expenses simpler.
How they work: With most systems, you just need to enter the date, hours worked, as well as other pertinent information into the program. Then all that's required is pressing a couple of buttons and then your time card calculations are finished in no time at all!
Manually drafting time cards can be quite tedious; not only does this take away from working hours but data entry errors may lead to costly inaccuracies in the system.
A free draft calculator resolves these issues by offering an automated solution that is both exact and dependable.
Additionally, there are a bunch of different versions offered, making it possible for employers to find the one that's perfect for their needs and save money on expensive software.
Thus, using a free draft calculator will help employers:
stay organized by getting rid of manual record-keeping processes
free up resources for other business activities (sales forecasting or customer service initiatives which could have higher returns on investment than administrative tasks like payroll processing).
Best Time Cards for Employee Scheduling, Shift Planning, and Efficient Employee Management
TMetric: Timecard and Billable Hours Calculator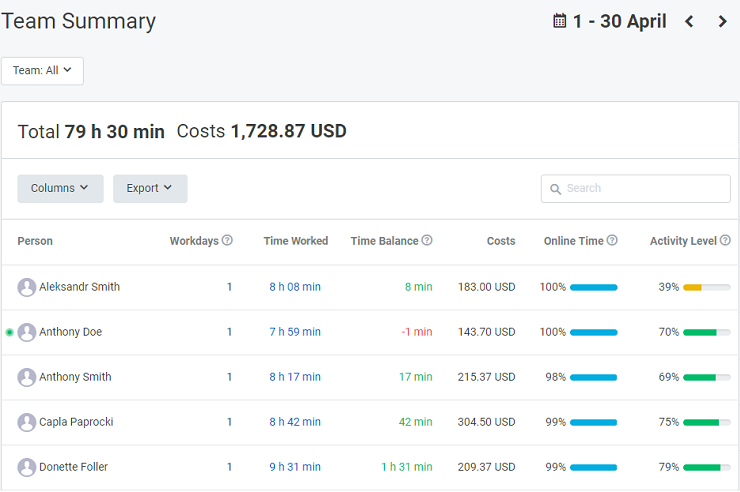 This time tracking software introduces an uncomplicated approach to calculating work hours.
TMetric aids companies of all sizes and teams of any size to:
smoothly observe their working hours
monitor progress on projects
identify areas where enhancements can be made.
To use TMetric as a timecard calculator, you can use a billable hours calculator.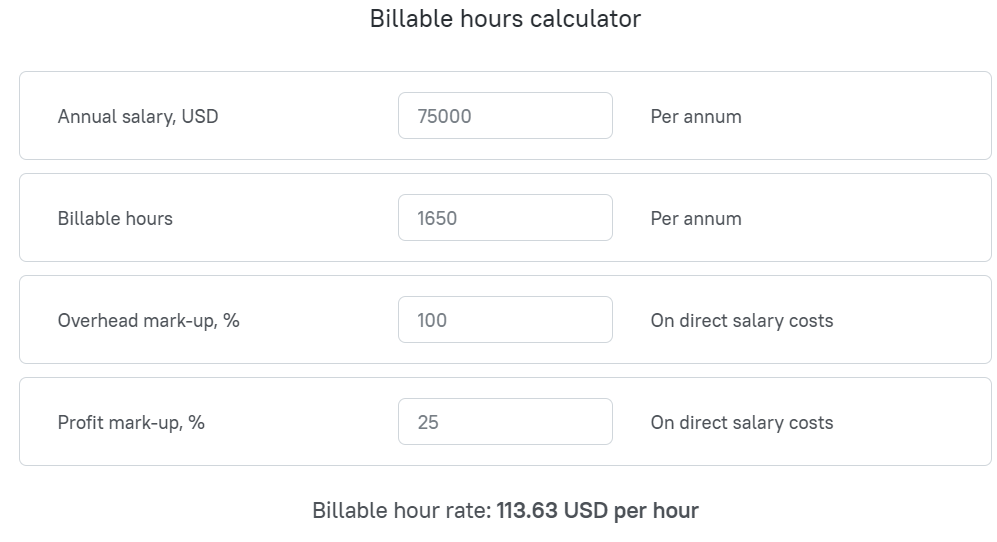 You can also use the Reports section to generate a report that shows your total working hours, billable time, and earnings for a specific period.
With TMetric, you can easily keep track of your working hours and calculate your wages, which makes it an ideal timecard calculator.
As a result: When using this system, you experience improved accuracy compared to manual methods since data entry mistakes are eliminated from the equation altogether. It lowers labor costs related to rectifying mistakes due to inaccurate input data.
Clockineasy: Printable Timecard Calculator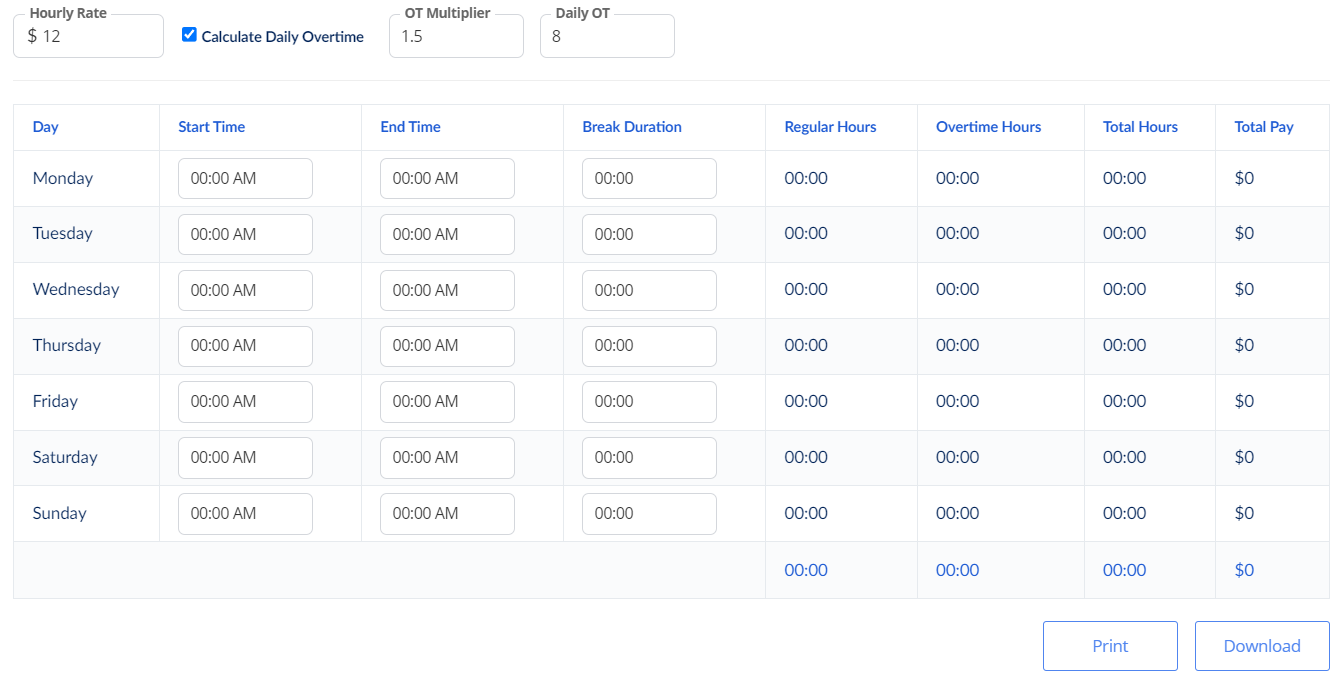 In addition to being more accurate than manual systems, automatic calculators like Clockineasy provide far more detailed information about employees' working times than traditional approaches do.
It allows supervisors or managers to better understand how employees spend their work hours so they can act accordingly when needed.
Clockineasy Timecard Calculator is a software solution designed to aid individuals or businesses in monitoring the amount of work time. A calculator is accessible from mobile devices, computers, or biometric devices.
As a result: The software tallies total hours worked, as well as overtime, and makes calculations based on the hourly rate and shift. It also produces reports and exports information to other payroll programs. Entered data can be printed and downloaded.
MyHours: PDF Ready Timecard Calculator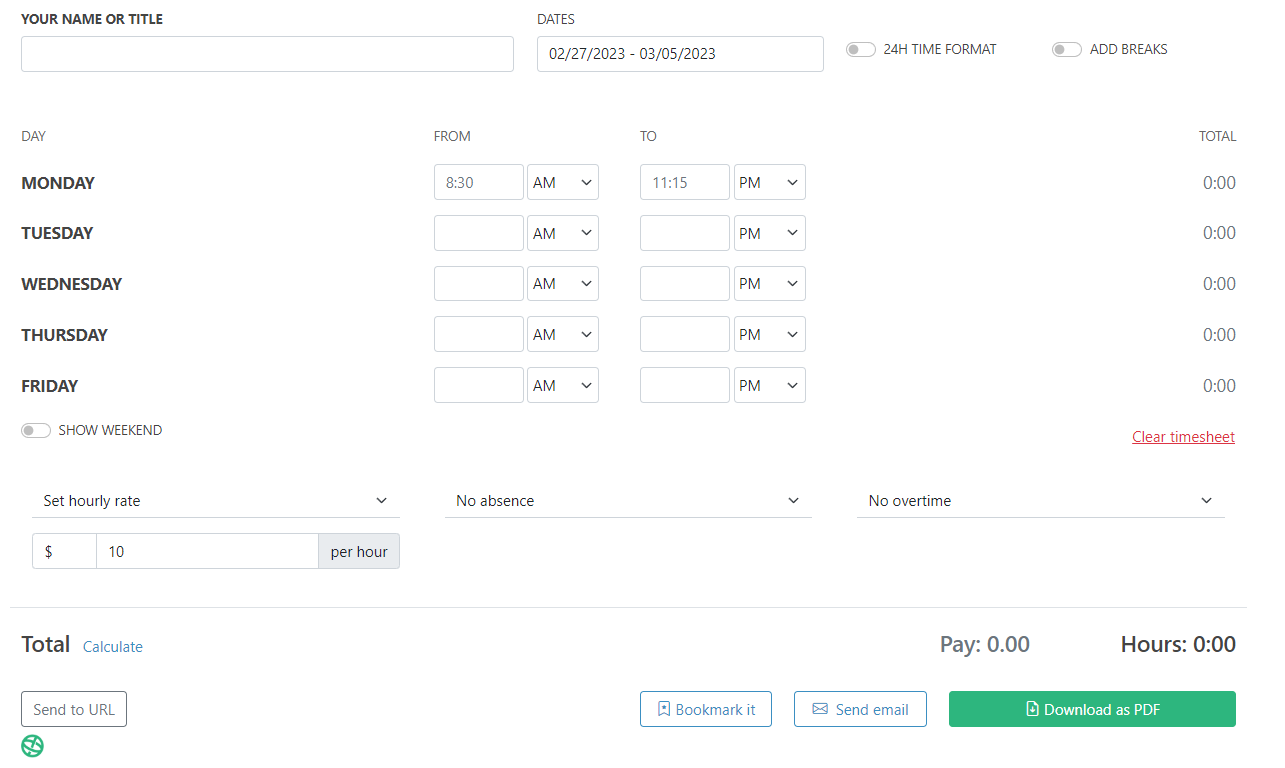 Using this calculator, it is easy to create schedules that satisfy both businesses and individual workers so everyone involved has clear expectations right from day one, – it will determine a high standard for productive work across the board.
MyHours' PDF Ready Timecard Calculator can make creating PDF timecards a breeze, so you can easily share your working hours with employers, clients, or anyone else who needs to take a look.
With a user-friendly interface and customizable features, this tool can be adapted to meet the unique needs of any business or individual.
As a result: Whether you are a freelancer, a small business owner, or just someone who needs to track their working hours accurately, the MyHours PDF Ready Timecard Calculator is an excellent solution that can help you save time and stay organized.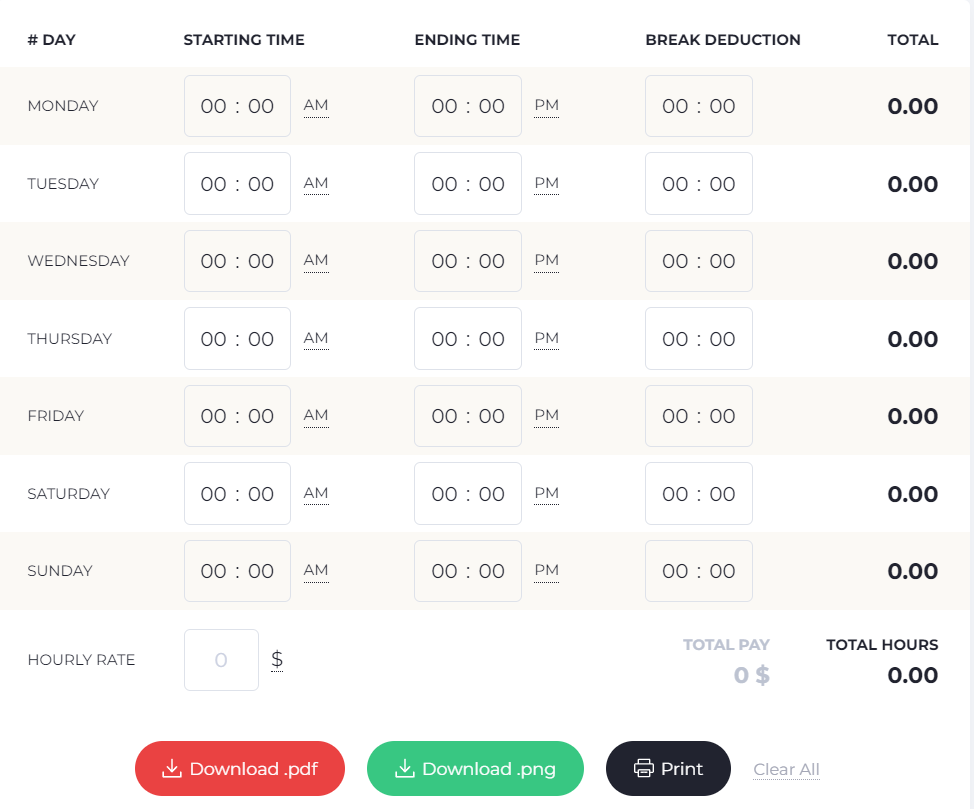 It is a powerful tool that simplifies the process of checking and calculating work hours.
With just a few clicks, Timecardcalc Work Hours Calculator lets you effortlessly log your work hours and breaks, while automatically calculating your total work hours, overtime hours, and any other extra pay you may be entitled to, which considerably simplifies payroll processing.
As a result: Timecardcalc Work Hours Calculator is incredibly user-friendly, making it easy for anyone to log their work hours accurately and efficiently.
TimeClick: Timecard Calculator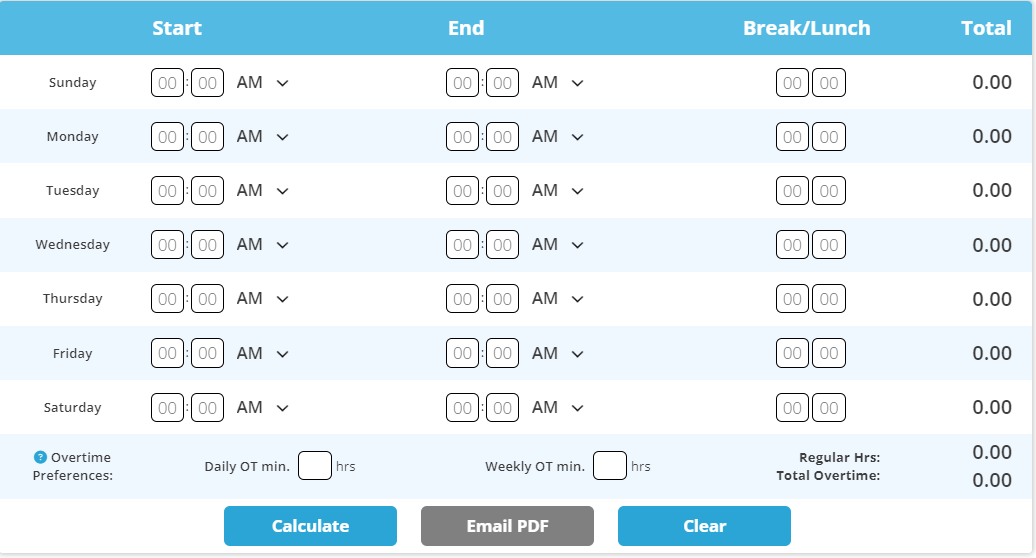 Say goodbye to the headache of complicated work-hour tracking! TimeClick Calculator is a simple and efficient tool that facilitates the process of calculating your work hours with pinpoint accuracy by offering instant access to results and emailing them.
It can save individuals and businesses a significant amount of time and effort in tracking work hours, while also reducing the potential for errors and inaccuracies in payroll calculations.
As a result: Applying this calculator allows for a more streamlined and efficient process, enabling managers and employees to focus on other important tasks.
PlanArty: Printable Timecard Calculator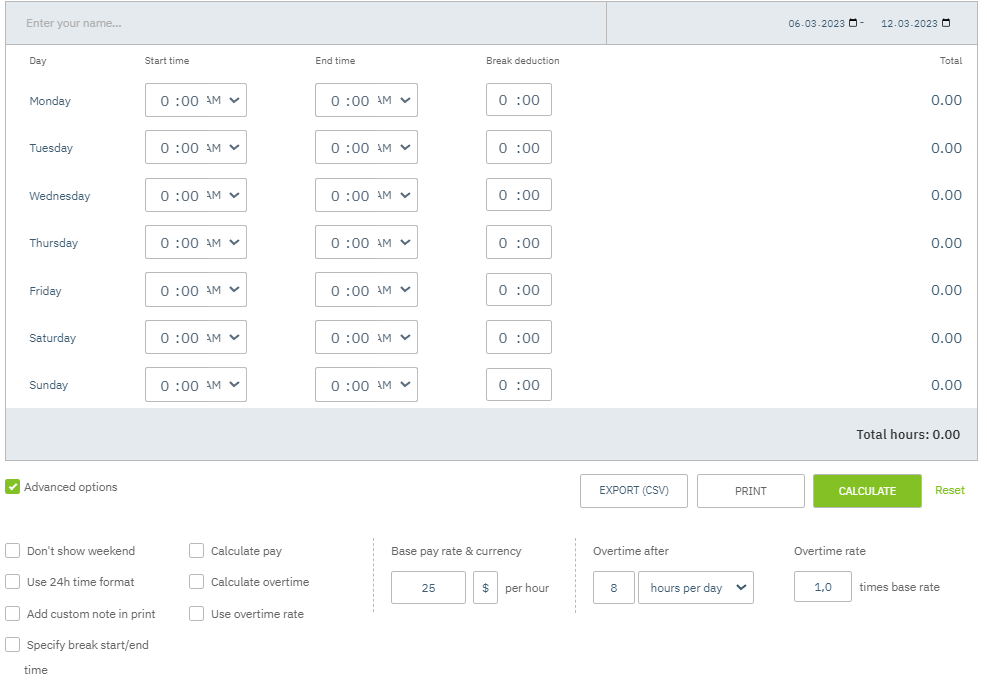 This online tool allows you to easily input your working hours and calculates the total work time, overtime hours, and any other additional payments that may be owed.
The printable timecard feature of PlanArty Printable Timecard Calculator provides employers with a tangible record of their employees' work hours, making it easier to review, verify, and manage their timekeeping more efficiently.
As a result: PlanArty Printable Timecard Calculator can be customized to fulfill the specific requirements of any business, which makes it a very advantageous solution for streamlining complex payroll procedures.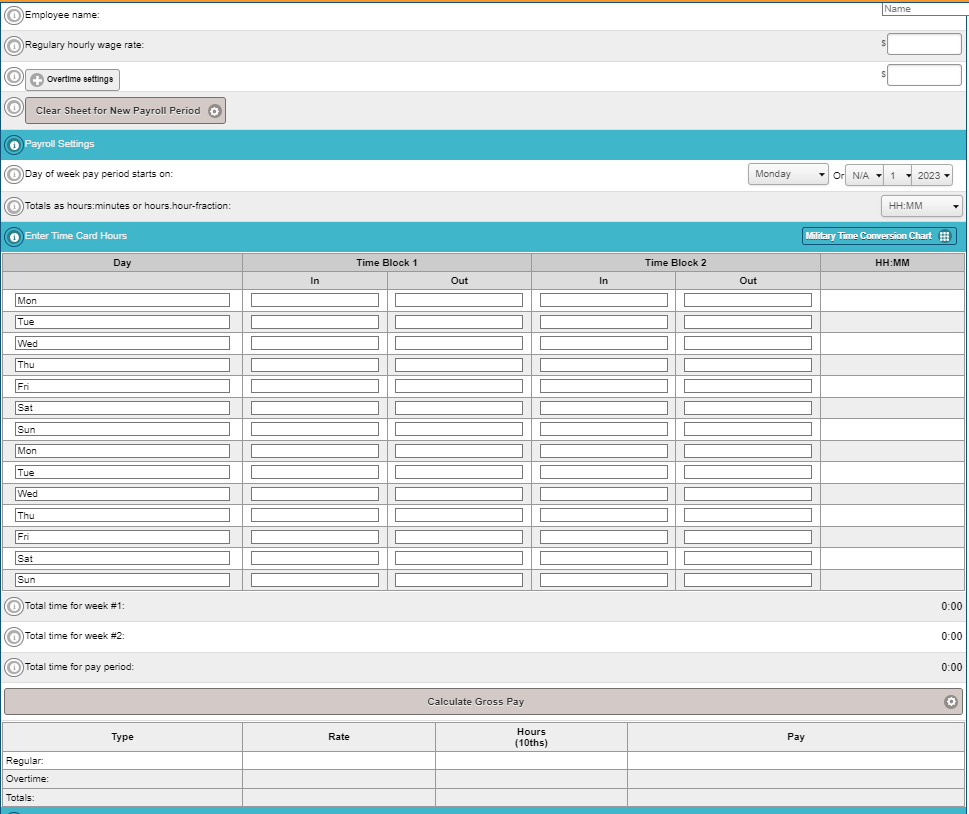 Biweekly Timecard Calculator with Printer-Friendly Reports is a simple and efficient tool that assists in making the process of managing work hours for employees paid on a biweekly basis easy.
It enables employees to input their hours and get calculations quickly and accurately, while also automatically calculating their regular and overtime hours.
As a result: Biweekly Timecard Calculator is a comprehensive tool that simplifies the process of managing work hours for employees paid biweekly, allowing for more efficient payroll processing.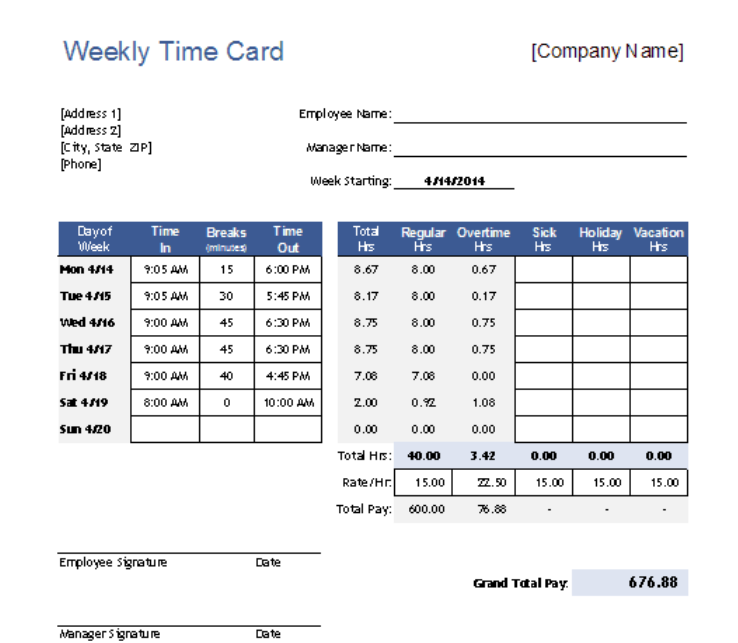 This calculator is packed with features such as automated calculations, and the ability to generate a time card, making it easy for businesses to manage their timekeeping and payroll processes more efficiently.
The convenience of being able to download the Excel file and customize it to fit the unique needs of their business, without any cost or hassle, is a significant benefit for businesses looking for a simple yet powerful time card calculator.
As a result: Free Time Card Calculator Downloadable in Excel is a versatile tool that offers businesses a cost-effective solution for calculating employee work hours.
Logmyhours: Printable Timesheets

With its customizable feature to add as many timesheets as users need and intuitive interface, this tool allows users to log their hours with ease and generates professional-looking timesheets that can be printed or shared online.
The ability to generate timesheets in different formats, including daily, weekly, and monthly, makes Logmyhours Printable Timesheets an excellent choice for businesses of all sizes looking to streamline their timekeeping and payroll processes.
As a result: Logmyhours Printable Timesheets is an excellent tool for businesses and individuals looking for an easy and efficient way to keep track of their working hours.
Redcort: Printable for Weekly Reporting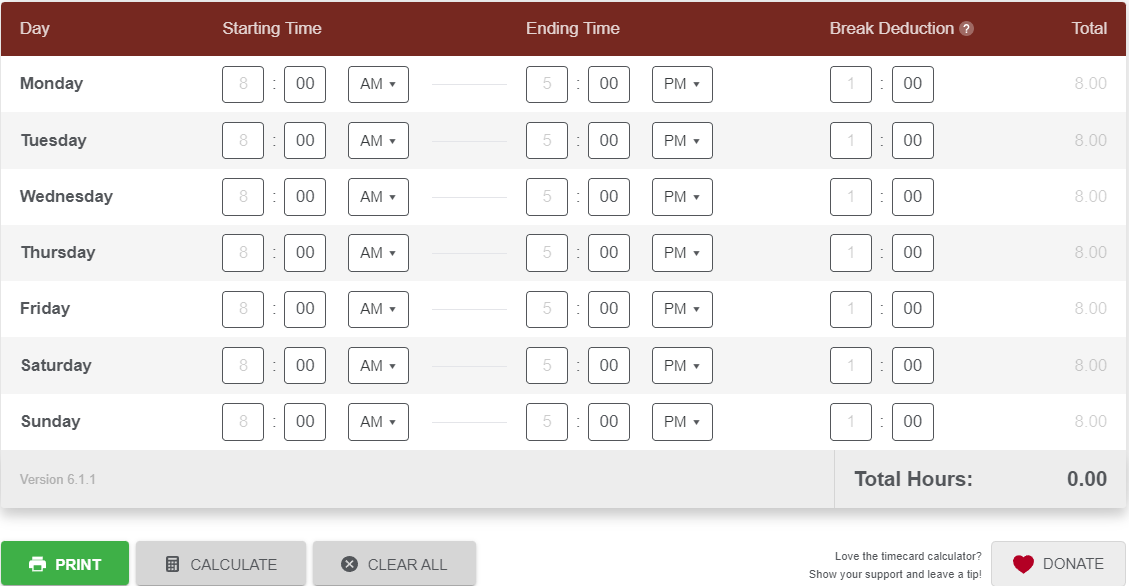 Redcort facilitates employees to log their hours accurately and rapidly, and also automatically figures out their regular and overtime hours, as well as any other compensation due.
Redcort offers a user-friendly time card calculator, which makes it ideal for streamlining timekeeping and payroll processes. This can lead to time and effort savings for businesses, as well as increased accuracy and conformity to regulations.
As a result: Redcort is an effective tool that simplifies the process of tracking and calculating work hours accurately, and with the added feature of printable weekly reporting time cards, it offers businesses a convenient way to manage their employees' work hours.

Copleys Graphics has a fantastic selection of templates that are designed with a clean and organized layout, making them incredibly user-friendly.
Their web timecard calculator is especially noteworthy, with weekly timelines that calculate work hours for three different shifts, including options for overtime and total time.
Users can enter dates and names and compute payments based on a range of customizable hourly rates thanks to the document's complete editability.
Takeaways
For any business, its employees are the foundation of success. However, managing work time calculations and staff rotations can be challenging, especially when juggling multiple departments and different shifts.
Time cards make this much easier by providing employers with an accurate overview of hours worked, wages earned and attendance records – all while ensuring that everyone is paid what they deserve for their hard work.
Time cards also aid in:
scheduling shift patterns by the visual representation they provide of who should be working and when (on each given day or time period)
helping prevent people from being overworked or exploited as well as making sure there is an adequate number of workers present during production periods or customer service times.
Hence, free time card calculators are a great asset for employers when it comes to keeping track of employee scheduling and shift planning. Not only do they provide an efficient and cost-effective method for managing the time cards but can also help save time and money.
Utilized within automated time tracking solutions, time card calculators make it simple for employers to keep tabs on their staff's working hours, which gives them peace of mind that payroll costs are well taken care of.
With these advantages, it is no surprise why many employers have opted for free calculators as a way to supervise employee hours.
What is a timecard calculator?
A time card calculator is a tool used to calculate the total hours worked by an employee in a specific period. It takes into account the start and end times of the workday, breaks, and any overtime.
While a time tracker tracks time spent on various tasks or projects, a time card calculator calculates the total hours worked by an employee, which makes it an invaluable tool for payroll purposes.
Are there any legal requirements for businesses to use a timecard calculator, and do free options meet those requirements?
While there are no legal requirements for businesses to use a timecard calculator, using one can help ensure compliance with wage and hour laws and provide accurate records in the event of an audit or lawsuit.
Free options can meet these requirements as long as they accurately track employee hours worked and provide records of wages earned.