10 Free To-Do List Templates for Ultimate Organization and Productivity
Are you looking to increase your efficiency and keep ahead of your workload? Have a look at our selection of the finest to-do list templates. With customizable designs and advanced features, these templates can be the ideal tool for achieving exceptional organization and productivity.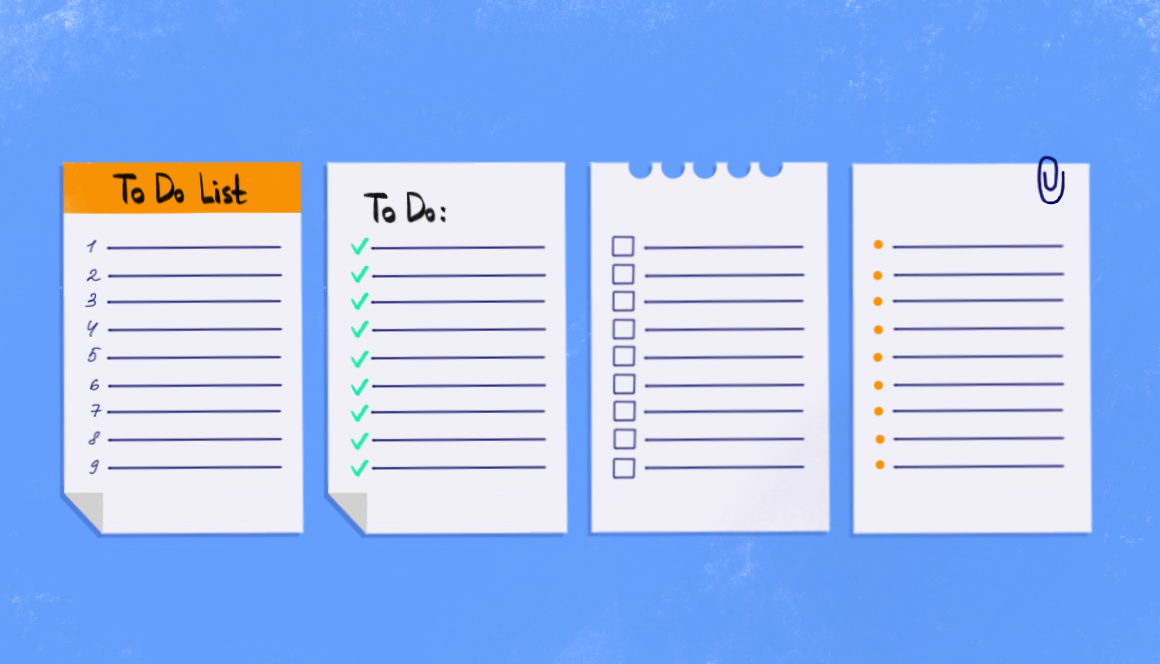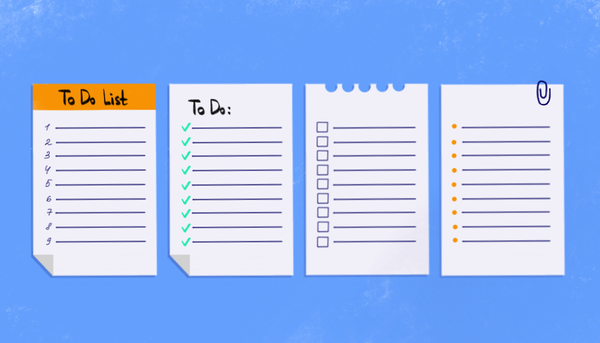 Using a to-do list template can help kickstart your productivity and streamline your workflow.
Surprisingly, our brains have a natural affinity for ordered tasks, although this may not be commonly recognized.
Indeed, the research into the history of to-do lists reveals that they have been utilized by people to plan out their activities and enhance productivity for centuries.
In recent years, this has evolved with the creation of to-do list templates.
Applying a to-do list template can enhance users' task organization efficiency.
These templates can be tailored to meet various requirements and usually encompass areas like:
work tasks
personal tasks and errands
extra sections for prioritizing and tracking progress.
The advantage of to-do list templates lies in their ability to streamline the process of task management, which saves time and energy compared to creating a list from scratch.
Additionally, these templates help ensure:
not to miss important tasks
to promote consistency and organization.
In today's busy world, to-do list templates provide an effective solution for responsibility control, letting us concentrate on what's really important.
Below there are the 10 most versatile to-do list templates you can use for task scheduling, work planning, and task organization.

Overview: TMetric is a platform that combines time tracking and task management.
It enables users to create and modify digital to-do lists including singular task agenda, project setups, or calendar-based lists, assign them, set completion dates, and keep track of progress.
For greater efficiency and uniformity in their task management, users can take advantage of task templates where they can enter data on:
project
assignee
due date of the task
time estimates.
Benefits: TMetric serves as a hub for organizing and keeping tabs on tasks while its task list can help users to visualize the flow of tasks enabling them to better understand and manage their daily workload.
Overview: This template is a good choice for managing your tasks.
It is simple and easy to use, with multiple options of layout including list, board, mindmap, and calendar view, which allows you to set tasks by priority and quickly see what needs to be completed first.
The template is customizable, so you can add or remove sections as needed to fit your specific needs.
Aside from priority levels, it features notes, which can help you stay organized and on top of your tasks.
Benefits: The Taskade template offers a convenient and cooperative approach to taking on tasks and ventures, aiding in communication and raising productivity.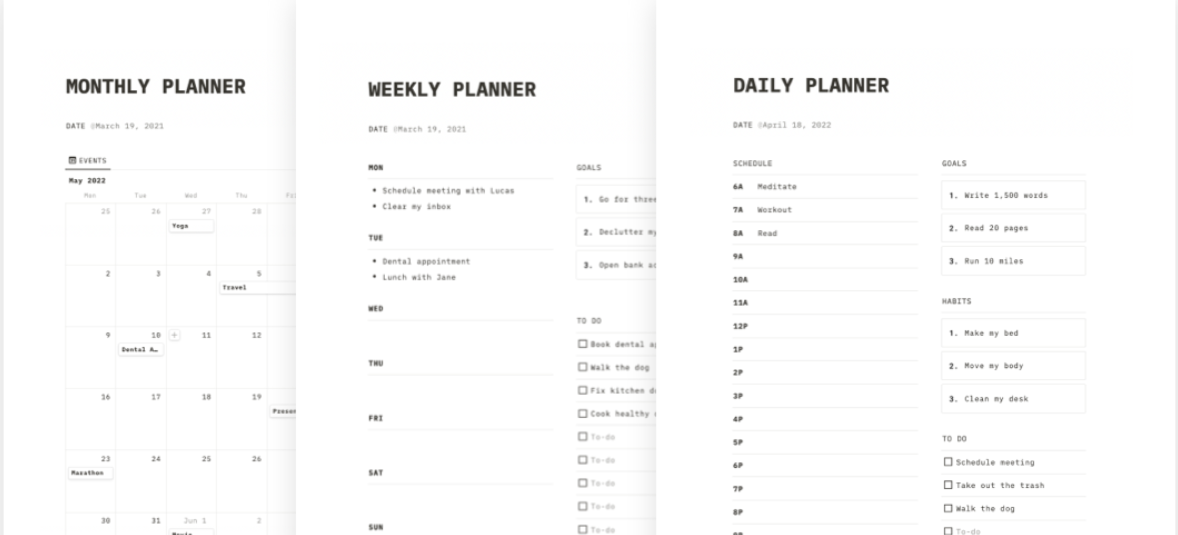 Overview: These free to-do list templates provide a comprehensive view of your schedule, allowing you to easily plan and manage your time on:
daily
weekly
monthly basis.
Benefits: The templates are designed with a clean and straightforward layout, making them easy to use and minimizing distractions. Upon providing an email, users are sent templates to check out and use instantly.
📋🪙 Consumers can set the price they consider fair

Overview: This template for Notion offers a straightforward design providing you with access to a complete task list so you can fully concentrate on your work without any interruptions.
This free customizable to-do list template can be modified to fit your needs and tailored to any project.
Benefits: Features such as due dates and time slots, priority levels, and notes will assist you with maintaining order and keeping track of your daily tasks, thus making it an excellent option for anyone searching for a way to improve their productivity.
Overview: This printable to-do list template provides users with a comprehensive way to plan their day, by allowing them to:
list tasks
prioritize them
estimate the time needed to complete them
select progress status
check off tasks when they are finished.
Benefits: It is designed to help users manage their time effectively and increase their productivity.
📋🪙Available in PDF for Free

Overview: The Vertex 42 To-Do List Template is an adjustable printable spreadsheet that assists in the organization and prioritization of tasks.
It allows users to monitor progress, assign deadlines, and add any extra details related to the task. In addition, the template includes helpful tips for more efficient task management, such as:
task status
due date
responsible person
notes.
Benefits: This to-do list template helps users visualize the progress of a project and identify potential delays, allowing for better planning and resource allocation.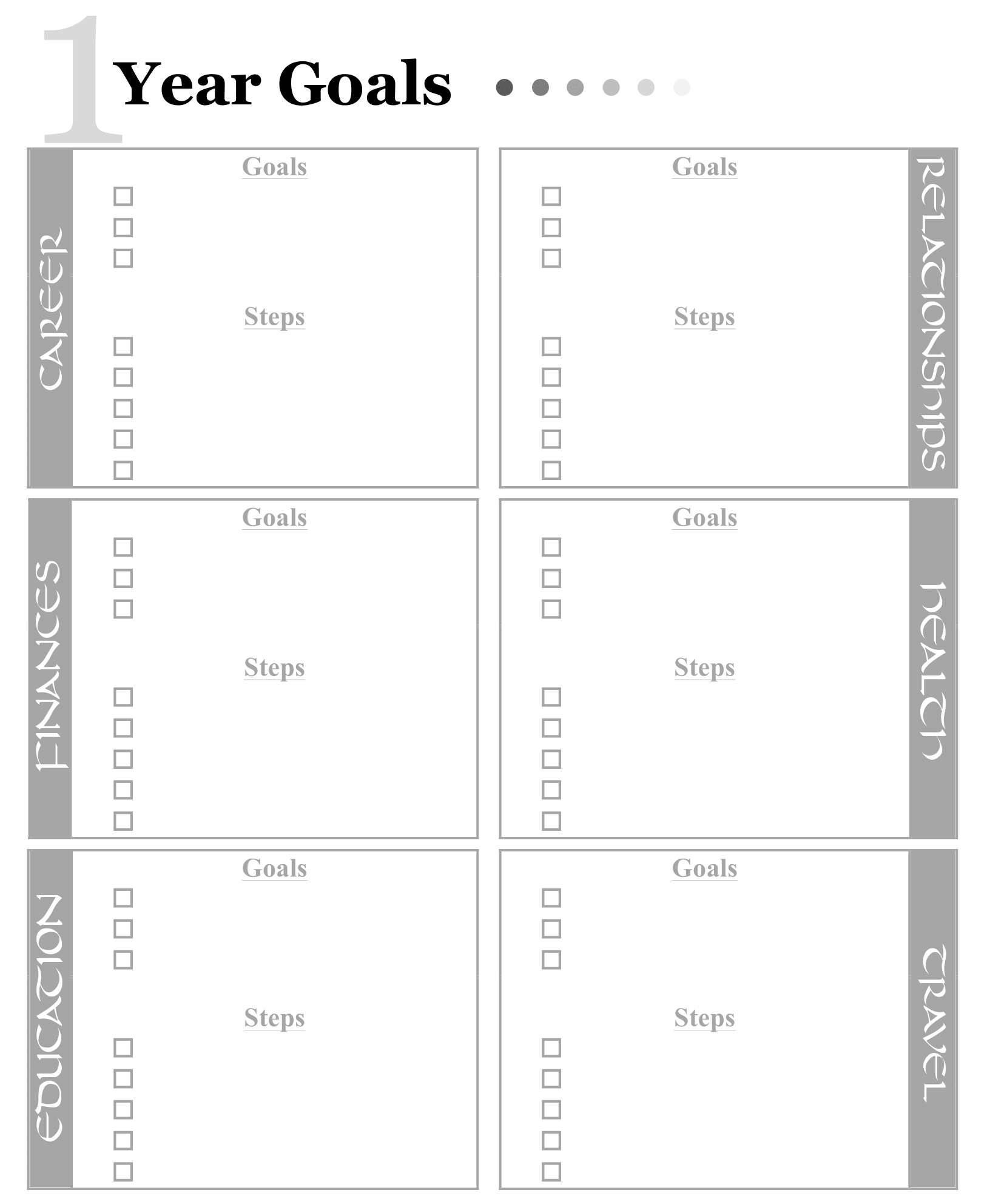 Overview: A Printable 1 Year To-Do List is ready for downloading in .doc and PDF. It includes 6 sections for extensive planning (finance, learning, travel, etc.), which can be a great way to stay organized and on top of work.
It helps you prioritize and plan tasks and goals over a longer period, making you more productive and efficient.
Benefits: Writing things down can help clear your mind and make decisions easier.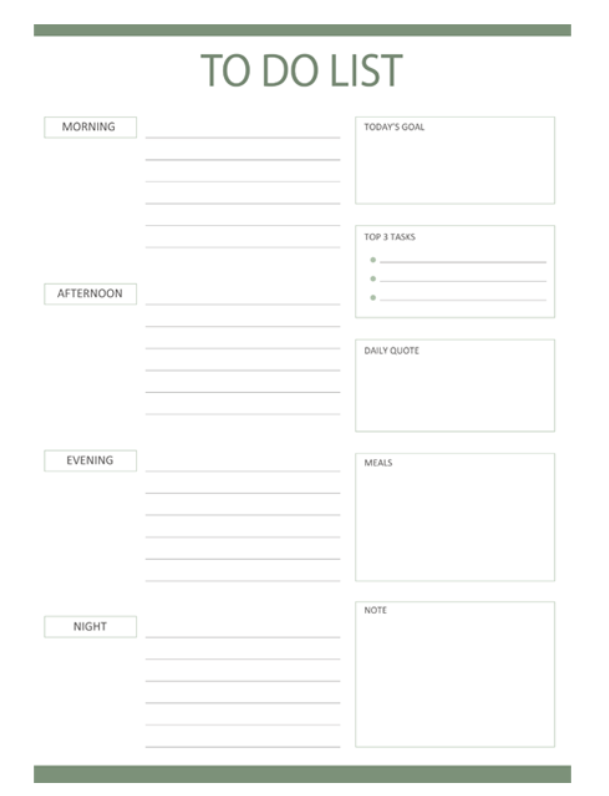 Overview: It is a comprehensive organizational template designed to help users keep track of:
important tasks
daily deadlines
appointments categorized by the time of the day.
Its layout features a clear and easy-to-read design that allows for quick and efficient organization.
Benefits: The template also includes sections for notes, daily quotes, and priority levels, making it an ideal tool for time management.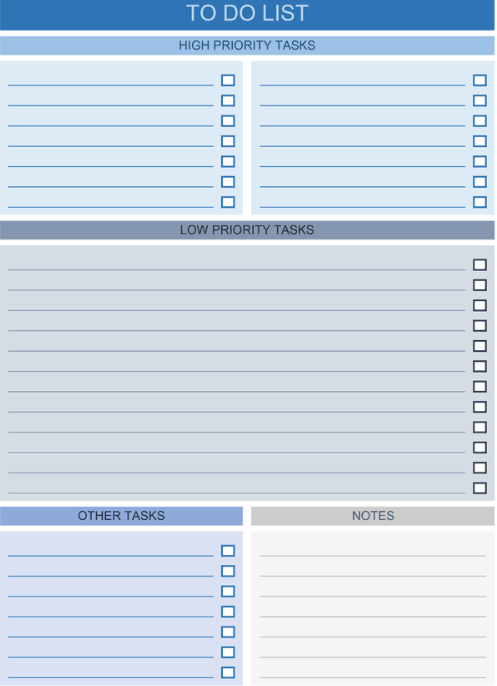 Overview: It is a time management template for Excel designed to help users prioritize their tasks and complete them in a timely manner.
It contains a section to identify the most important tasks and set priorities for them, as well as a way to track the status of each task and mark them as complete when done.
Benefits:  Prioritizing capabilities make it a great tool for managing daily tasks.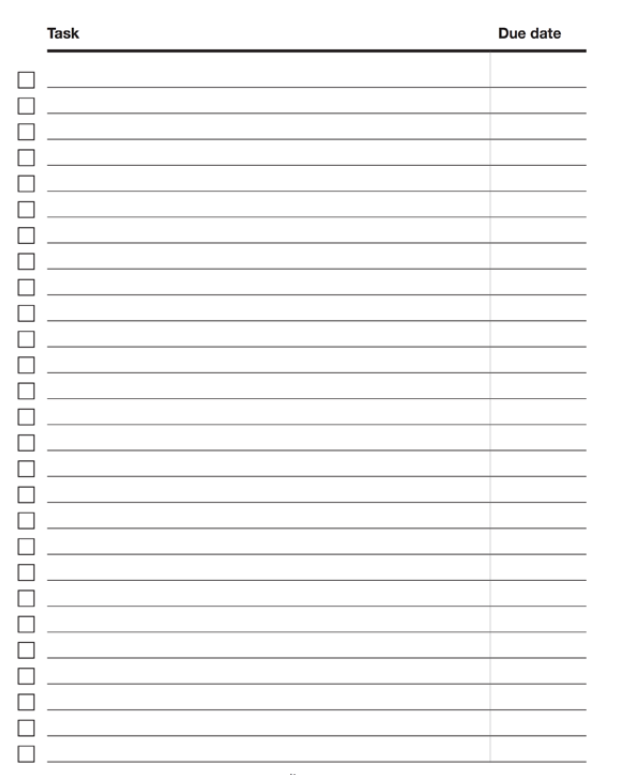 Overview: The Task List template is a useful resource for organization and productivity. It is straightforward and simple, without any complex features, making it a breeze to use.
Benefits: This template allows users to create lists of their tasks with respective due dates and check them off as they are finished, creating a systematic and productive approach to managing tasks.