Top 15 Tools That Are Essential for Freelancers
Without a doubt, freelance belongs to future-proof careers. Read on to know what top 15 tools can help you become a productive, reliable, and sought-after freelancer.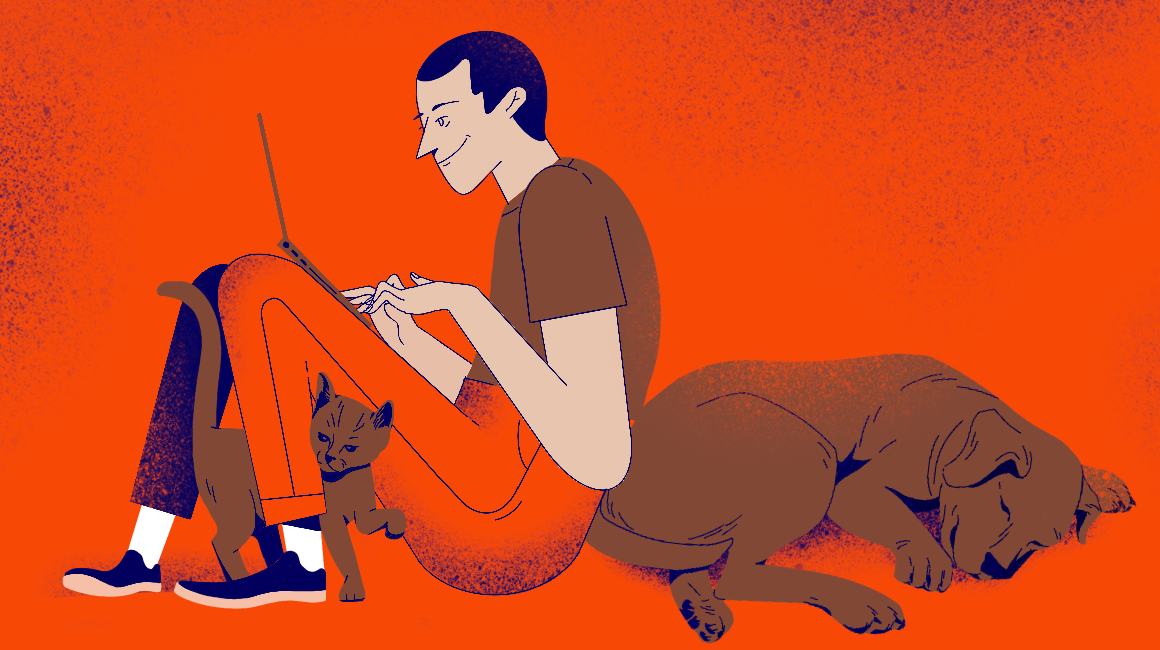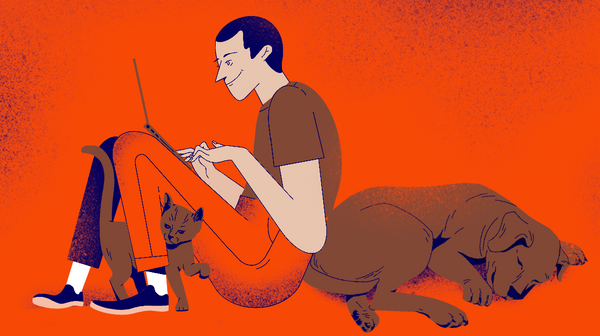 These are the most useful app freelance set for work without stress, clutter or feeling overwhelmed.
For freelancers and the self-employed, the saying about time and money rings especially loud.
Unlike employees, freelancers have to juggle lots of professional roles including the chief marketers keeping up with the latest in conversion optimization and the finance heads analyzing margins, chasing down unpaid invoices, or paying self-employment taxes.
According to State of Independence 2021 Contra Report:
76% of independents work on two projects simultaneously, and 48% take on three or more.
Luckily, with alternatives to Fiverr and the right tools, things can get brighter instantly.
Google Workspace, Zoom, and Slack became generic for collaborating online. We offer another 15 freelance tools of top value for easing the burden associated with self-employment.
TMetric: Freelance time tracking with precision
TMetric is a comprehensive time tracking app for freelancer with a wide functionality you can use to manage your freelance business across any device in online or offline mode.
With its project, team, billing, invoicing, and time off management features, it delivers seamless collaboration with subcontractors, clients, and distributed teams applicable to various industries including consultancy, design, marketing, development, and eLearning.
What you manage with TMetric 🎯
Accuracy of work time recording
Management of team bandwidth
Full-cycle project management
Multiple reports
Billing process
Project budgeting
Creation of invoices.
Pros 🌟
Advanced functions
Rich integrations
Free plan for a team of up to 5 members
Price goes down with the more added members
Offline mode tracking
Cons ⛔
You get access to a full list of functions only on the Business Plan.
Pricing 💰
Free Plan for unlimited basic time tracking
Professional Plan is $5 per month
Business Plan users pay $7 monthly.

Better Proposals: Ready-to-use professional templates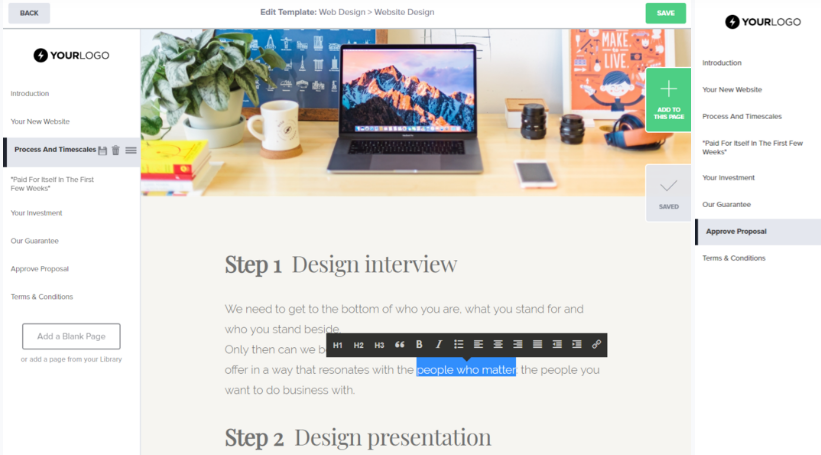 Better Proposals lets you use responsive templates to send eye-catching and memorable proposals. That way, recipients are likely to be more engaged.
Additionally, you get notified when they read your proposal, so the question of follow-up will no longer be a guessing game. You can also create legal contracts, generate quotes, and receive payments online through a secure link.
What you manage with Better Proposals 📄
Hundreds of pre-made professional templates
Clients can sign and pay directly from the proposals
Notifications for follow-ups.
Pros 🌟
Templates adhere to the highest industry standards
Free sign-up for a 14-day trial
Cons ⛔
Some integrations are available only on higher plans
Pricing 💰
$19 for 10 proposals per month on a Starter Plan
$29 per month for Premium Plan
$49 per month for an Enterprise Plan with an unlimited number of proposals
ProWritingAid: Grammer checker and style editor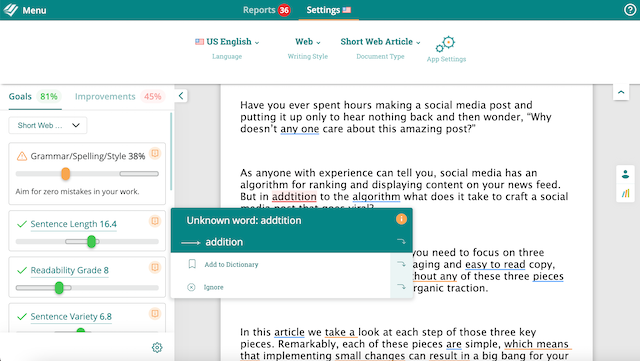 ProWritingAid is a grammar checker, style editor, and writing mentor all in one. It streamlines your editing process, putting checks for grammar and spelling, US/UK spelling consistency, repeated words, overused words, readability, sentence variety, and more all in one place. It's available wherever you write, including Medium, Gmail, MS Word, Google Docs, Twitter, Facebook, and more.
Plus, if you're sick of typing out the same phrases in emails to clients, it also offers customizable tools like a built-in text expander for saving commonly used text under quick shortcuts.
What you manage with ProWritingAid ✍️
Write, edit, and store your documents in one place
Edit wherever (and whatever) you write with ProWritingAid's browser extensions
Create a personalized combo check tailored to your needs for one-click editing
Keep key information, frequently sent emails, bios, and more to hand with Snippets
Create your own grammar checker rules for difficult client or company names you frequently misspell
Pros 🌟
Customizable reports and features speed up your whole writing process
Use all 25+ reports and access all suggestions for free
Offers editing settings specifically for web copy, blog posts, and marketing material
Cons ⛔️
Web Editor and Browser Extensions are free, but other integrations require Premium
Pricing 💰
ProWritingAid costs $20/month, $79/annually, and $399/lifetime
Calendly: The best calendar maker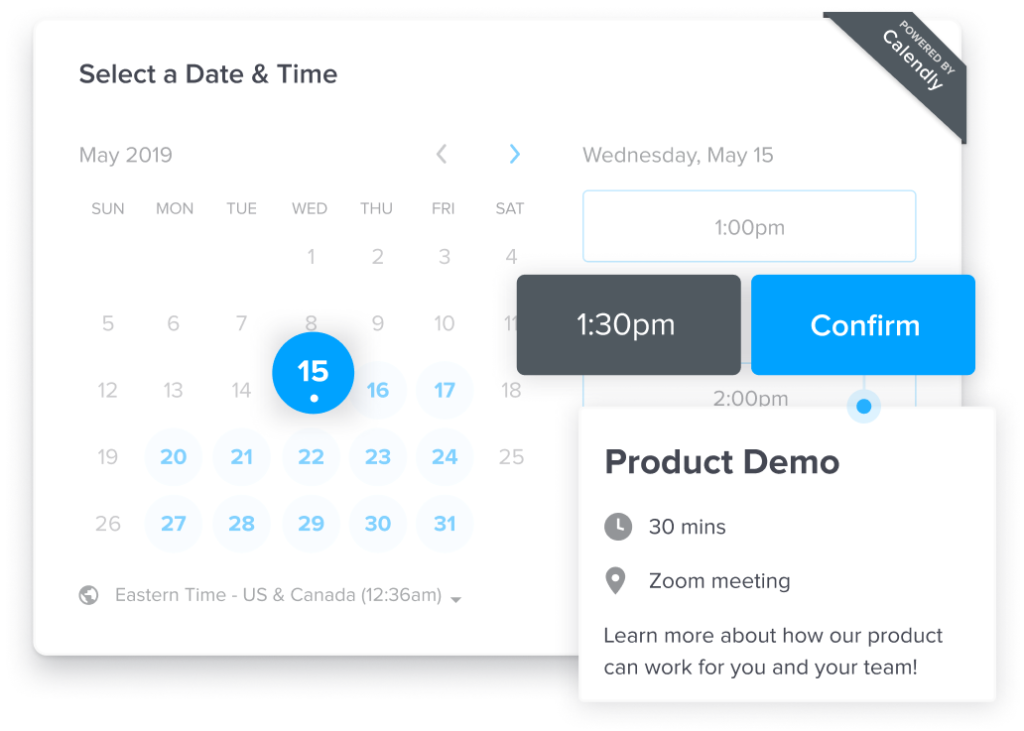 The calendar management tool eases the scheduling of both personal and professional appointments from one place.
Its shareable calendar lets clients, recruits, colleagues, and prospects see when you are available so they can book meetings when it fits all parties. It also automates follow-ups and reminders to prevent last-minute cancelations or no-shows.
What you manage with Calendly 📅
Streamlined scheduling that integrates with your calendar
Automated follow-up series
Included workflows
Pros 🌟
Ideal solution for team collaboration
Free plan for basic scheduling
Cons ⛔
The payment structure is per member so if you work with a large team it could get pricey.
Pricing 💰
$8 per month for Premium Plan
$12 per month for Pro Plan
Clipchamp: Free online video editor tool
Clipchamp is a free-to-use online video editor tool that lets you create and edit videos in your browser. No software download is required. Despite being a web-based editor, it has advanced features and tools that both newbies and pros will find useful, such as basic trimming, speed control, screen and webcam recording, customizable templates, motion titles and captions, green screen, and more.
What you manage with Clipchamp 📝
Quick and easy-to-navigate interface and video timelines
Can be used by teams for video projects and collaborations
Pros 🌟
Can be used without leaving your Google Chrome browser
The free version lets you record your screen and webcam and export 480p video files without a watermark
Can be integrated with Dropbox, Google Drive, Zoom, and direct exports to social media like YouTube, LinkedIn, and more
Paid plans include unique features, such as a green screen, multiple text-to-speech voiceover options, cloud sync backup, royalty-free stock video and audio
Cons ⛔
Works with Google Chrome and Microsoft Edge based on Chromium browsers
Mobile app only available for iOS
Pricing 💰
Basic plan - free
Creator plan - $9/month
Business plan - $19/month
Business platinum plan - $39/month
Spike: Conversational approach to emailing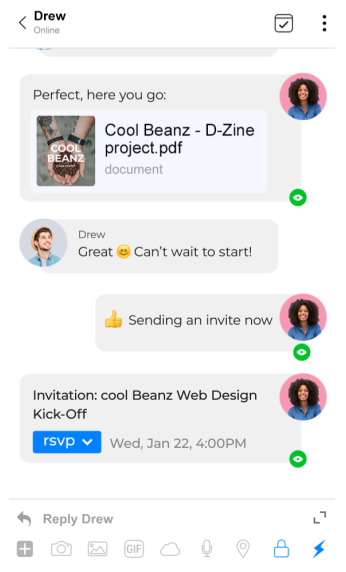 If it feels like repeating signatures, headers, and email threads get out of control and become hard to read and follow, Spike turns email into instant chat messages. You can chat with colleagues, clients, and client teams on group chat.
You can also attach files directly from online storage platforms, make video calls, merge multiple calendars in one place, and collaborate on notes and to-do lists.
What you manage with Spike 📚
Transforms your emails directly into a chat
Priority inbox sorts emails by importance
Pros 🌟
innovative approach to email delivers users a chat-like experience
emails are grouped by people
seamlessly organizes communications between freelancers and clients.
Cons ⛔
free to use only for personal accounts
Pricing 💰
$12 per month for 50GB of storage
Grammarly: Ultimate editing & proofreading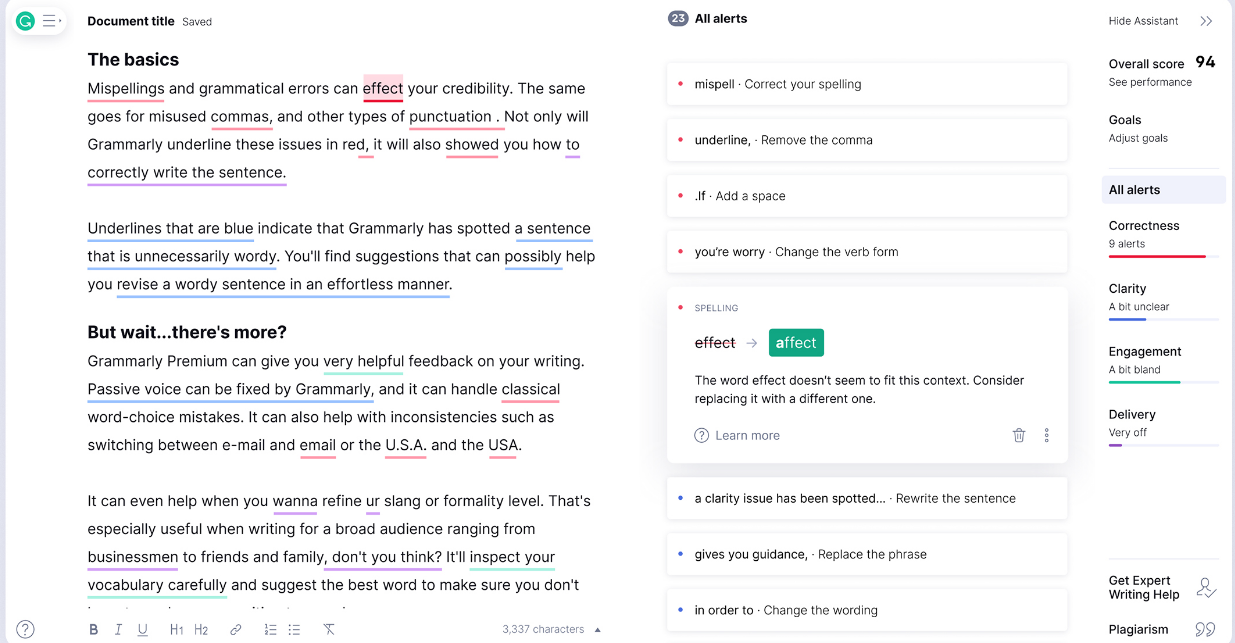 Anything you do online involves some form of writing, from emailing to blogging and Tweeting. Typos, grammar errors, and plagiarized work can ruin your message and undermine your credibility. Grammarly's AI-powered writing assistant offers multiple extensions that work across multiple services including Word and Docs, Gmail, Twitter, etc.
It also works for longer, customer-facing copy implying a web-friendly style for achieving readers' deeper engagement.
What you manage with Grammarly 📚
Real-time grammatical editing
Checking the correctness of sentence structure
Integration to multiple apps
Easy access to an online editor for instant text checking.
Pros 🌟
Edits grammar
Optimizes any document for readability
Suggests vocabulary choices.
Cons ⛔
Advanced suggestions are available only on the Premium Plan
Pricing 💰
Individual Plan is $12 per month billed annually
CopyAI : Copywriting automation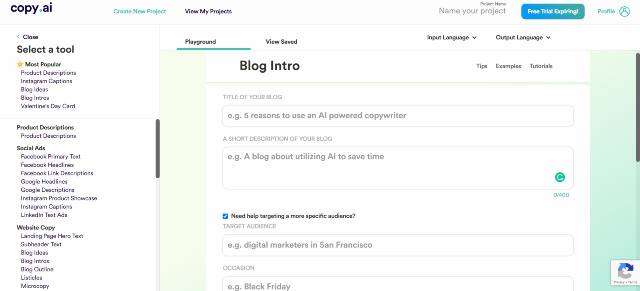 Copy AI is suitable for users who strive to create all kinds of marketing copy and are in search of making it fast and affordable.
The copywriting tool uses advanced natural language processing to help you use the right tone, relevant vocabulary, and style of messaging that turns readers into believers.
What you manage with Copy AI 📇
Auto-generated copy for digital ads, blog content, or sales copy
Simple to use interface
Pros 🌟
Simplification of copywriting
Access to live training
Free trial available
Cons ⛔
Suggestions can require editing work
Pricing 💰
$35 per month after free trial
Notion: Full-fledged task management
This is an all-in-one workspace popular for its content scheduling, and note-taking options that make brainstorming easy. Like other popular alternatives (Pocket, Keep), Notion will also let you save interesting articles, GIFs, or ads for later. The access will be available across any device in online or offline mode.
What you manage with Notion 💡
Storing information on resources in a communal area
Note and documentation library so everyone has access to meeting notes.
Pros 🌟
Available for large organizations up to 2000 members
Structured work without effort
A free trial that can be shared with up to 5 people
Cons ⛔
When used for team collaboration, it might require some time to adjust
Pricing 💰
$4 per month on Personal Pro Account allowing one user
Trello: Efficiency in project management
Project management tools come in plenty. Trello is unique for its easy-to-use, visual interface and templates. It is an excellent tool for keeping tabs on project progress, creating editorial calendars, approaching deadlines, and delegating tasks to the right people if you subcontract. Plus, you can integrate any work tool to get things done in one place.
What you manage with Trello 🏁
Drag and drop project templates
Google Chrome extension that allows users to control projects without leaving the page they are on
Pros 🌟
Trello is more affordable than a lot of project management tools
Great tool for managing a large team
Tracking your to-do lists in an unobtrusive way
Adding comments to the cards
File sharing
Cons ⛔
Not the best fit for projects of high complexity
Storage limit
Pricing 💰
$10 per month per user provides full access to premium features
If you've ever emailed and waited on edge for a response that never came, you wanted to know if the recipient received, opened, or clicked a link in your message. Mailtrack brings discrete email tracking to Gmail with link tracking, real-time open notifications, and follow-up reminders.
What you manage with MailTrack 📩
Tracks your emails so you know when they were opened
Real-time notifications
Pros 🌟
Summaries of the emails
Snooze functions
Reminders and instant notifications on email tracking
Cons ⛔
Lack of additional functionality
Pricing 💰
Zoho: Customer relation management tool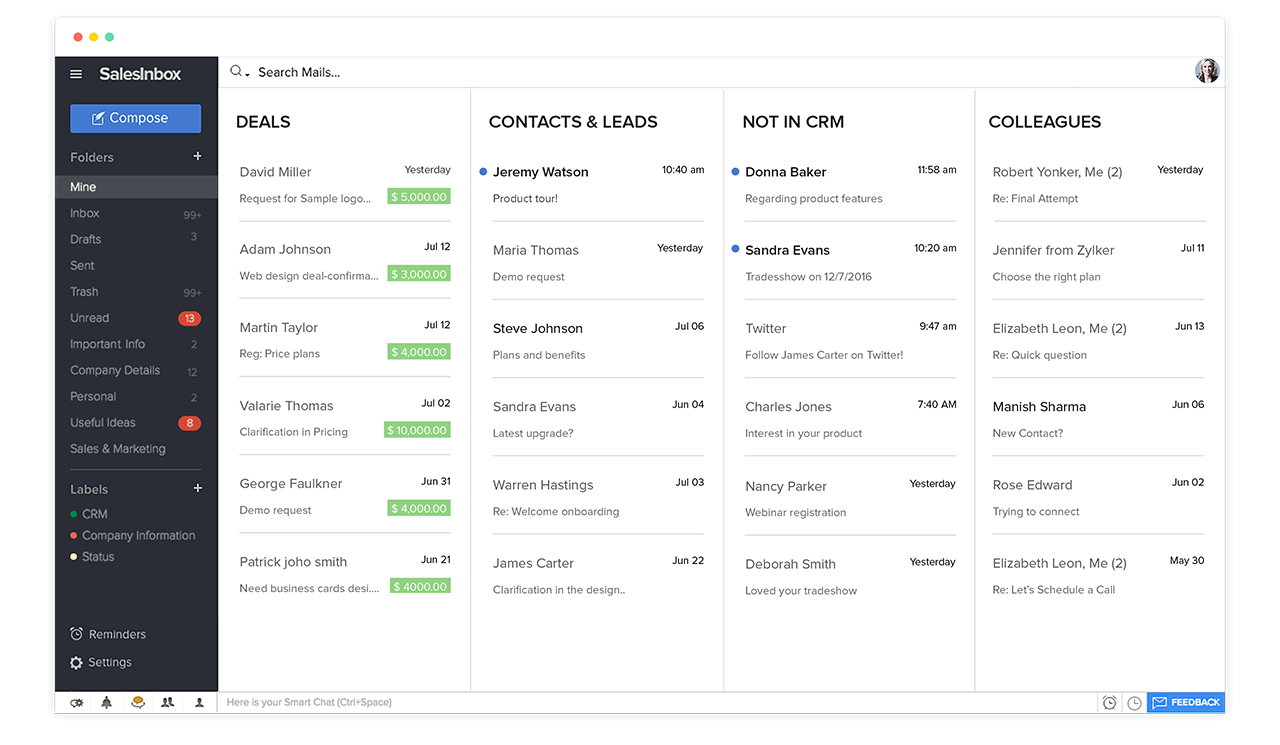 Zoho is an all-in-one cloud platform that includes CRM, online file management, chat, and home-office toolkits.
It is also an excellent alternative to FreshBooks and QuickBooks Self-Employed for double-entry bookkeeping. You can send out professional invoices, receive payments online, and generate financial reports to measure your freelance business's performance.
What you manage with Zoho 📂
Fully integrated CRM Tool
Invoicing templates and automation to make billing seamless
Pros 🌟
Easy to implement
User-centric interface
Priced reasonably for such a robust tool
Cons ⛔
Requires customization within usage by teams
Pricing 💰
$14 - $52 per user per month depending on the feature set scope
DroidCam: Turning phone camera to webcam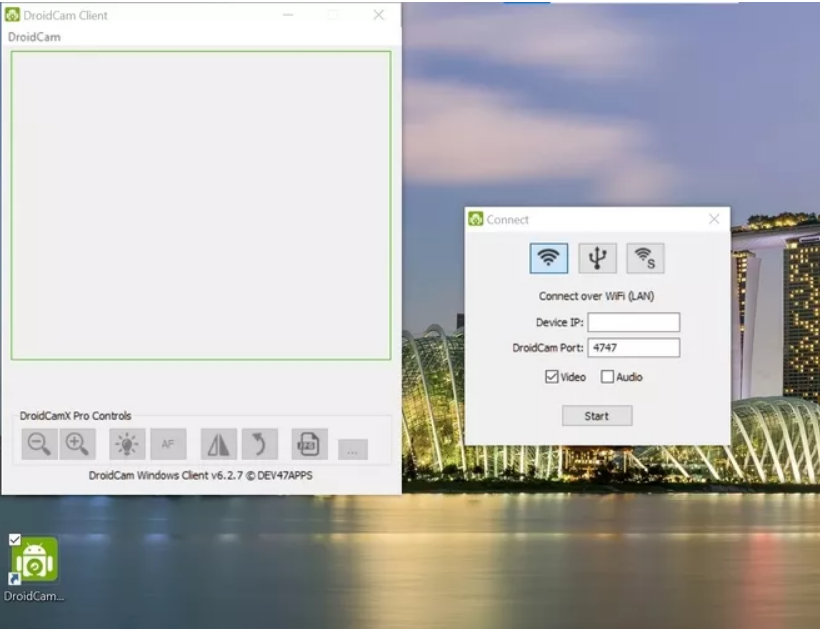 DroidCam will let you turn your IOS or Android phone camera into a high-quality wireless webcam for Windows and Linux PCs. It also offers mobile apps.
You can also set it to work with your video conferencing tool by making it the default camera and microphone.
What you manage with DroidCam 🎥
Allows you to capture screen recordings from your phone
Supports 720p/1080p video with HD Mode.
Pros 🌟
Turns any smartphone into a webcam
Easy to connect
Cons ⛔
Limitations of synchronization
Pricing 💰
$5.49 to download the app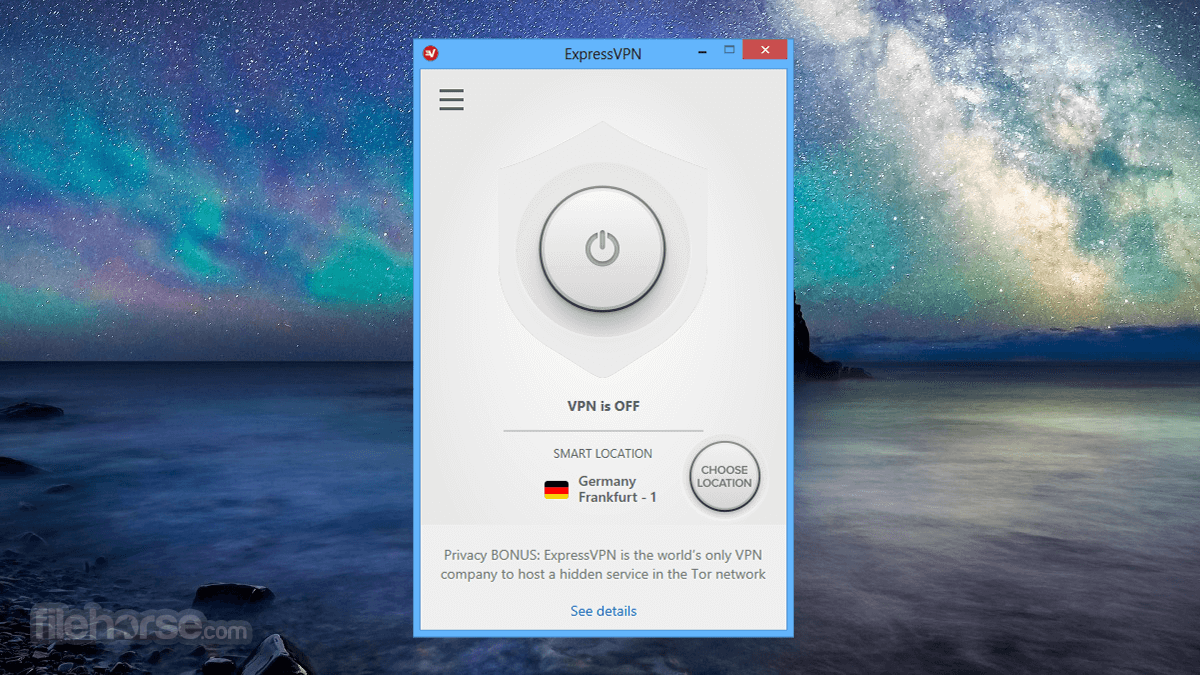 The FBI reported cybersecurity incidents increased 800% during the pandemic. Hackers targeted the self-employed, employees, and companies of all sizes. They wanted access to valuable information they could use to sabotage organizations or sell to competitors.
ExpressVPN will let you use over 3,000 servers. The service is provided in 94 countries to browse the web anonymously. That way, you can reduce the chance you'll fall for targeted phishing, ransomware, or other privacy cyber attacks.
What you manage with ExpressVPN 🔐
160 server locations
Anonymous Browsing
Cryptocurrency is accepted
Pros 🌟
Secure connections while traveling internationally
Strong privacy and security practices protecting your information
Cons ⛔
The basic information of the user's VPN location is gathered
Pricing 💰
Buffer: Automated planning of presence on social media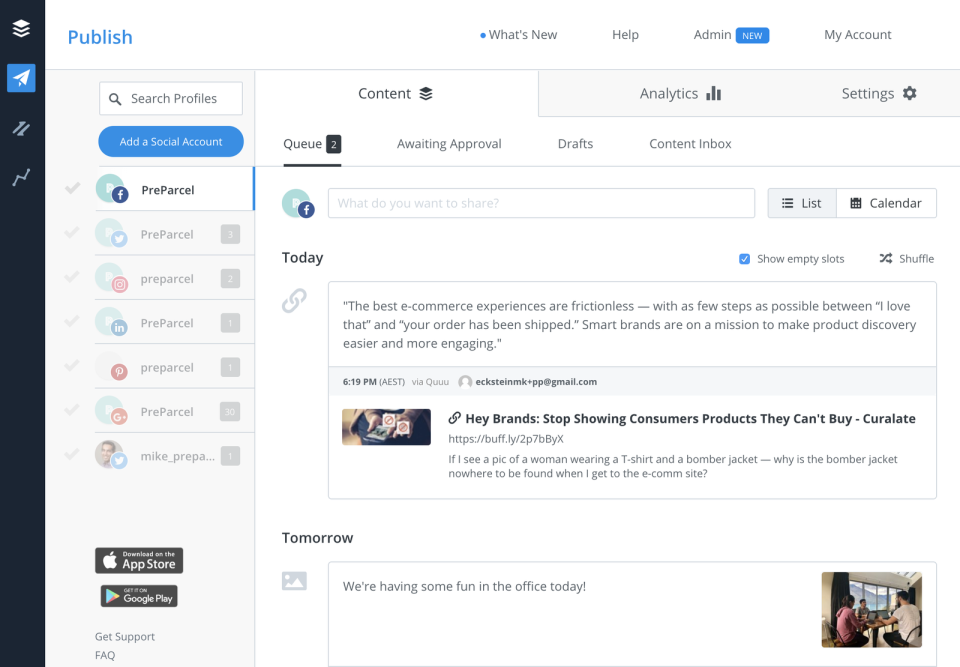 Grooming your social media presence is a top priority for networking, social proof, and building your brand. Buffer is a visual social media planning and scheduling tool.
The paid plan will let you queue multiple posts, publish them to different social accounts at your chosen times, and navigate to comments to engage your online communities. You can also see how the posts perform and get insights on how to expand your reach.
What you manage with Buffer 🧩
Social media planning
Consistent scheduling
Data analytics that captures social media campaign performance
Pros 🌟
You can plan and publish content well in advance
You can manage multiple social media accounts from one platform
Cons ⛔
Lack of analytics for detailed hashtag monitoring
Pricing 💰
Ranges from $15 to $99 per month depending on features and add-ons of the user's choice
Canva: Instant creation of visuals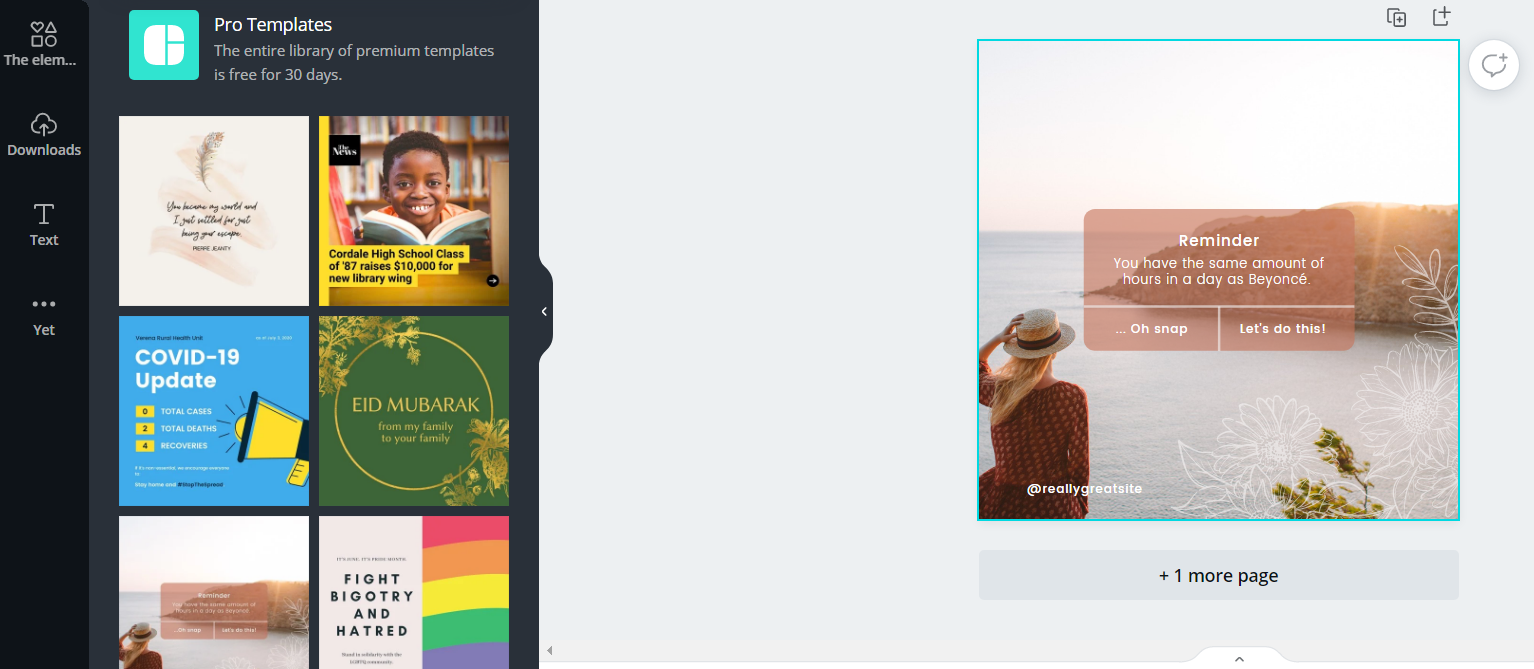 It comes as no surprise that Canva recently hit over $6 billion in valuation. It is a superb tool for designing your freelance business graphics, from campaign banners and logos to flyers and Instagram posts.
It is easy to start with 1000+ design templates. You can also invite a professional graphics designer to collaborate on a project without leaving the app.
What you manage with Canva 🎨
Drag and drop graphic design templates
Diversity of graphics formats to choose from
Multilanguage solutions
Pros 🌟
Simple to use. You don't need any Photoshop experience
Communication options
Cons ⛔
Unlocking access to the gallery of all resources is available on the paid plan
Pricing 💰
Postfity: Grow Your Business Faster with Social Media Scheduler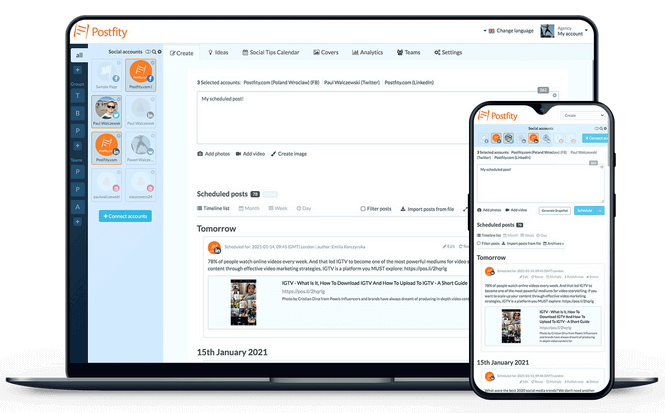 With Postfity you can easily post to multiple social profiles, schedule and queue your content (text, graphics, and videos), import bulk posts from files, add watermarks, gather all data and archives in one place, get post suggestions (Post Ideas), and more!
Postfity helps you to work in teams and with customers: create drafts and send them for approval, delegate social media management to different members of your team, monitor their work, and assign different access rights levels for extra security.
You can also manage all URLs important to you and drive more traffic from social media to your sites with Postfity's MyList.bio.
What you manage with Postfity
Easily schedule posts (with photos and videos) for Facebook, Twitter, Instagram, and LinkedIn. You can also schedule Facebook Covers and posts for your Facebook Groups.

Analyze your results: find out which of your posts produce the best results in terms of engagement levels and refine your strategy accordingly!

Never run out of ideas about what to post again with Postfity's Post Ideas and Social Tips Calendar — share the latest news and hot articles from different industry sectors, or schedule ready-made post templates to your social media with one click!

Create sophisticated URL sites for Instagram and TikTok bios, and other pages. Track traffic and boost your SoMe performance.
Pros 🌟
Scheduling and auto-posting for 5 social media in one platform
Scheduling in advance - up to 10,000 pending posts
Post Inspiration
Build-in Social Media Graphics Editor
Link shortener
UTM generator
Snapshot generator
MyList.bio
Posts drafts for approval
30 - day trial
Cons ⛔
If you want to work in a team - think of a Pro or higher plan.
Pricing 💰
Mini 14,99$ - for a single user, 15 social accounts / 100 Pending Posts
Pro - 99,99$ - 30 social accounts / 1000 Pending Posts, 1 team / 10 members Professional - 119,99$ - 200 social accounts / 10000 Pending Posts, 20 teams / 200 members
In Conclusion
Completing goals and tasks within set deadlines and without overstepping budget limits are two important conditions that turn a freelancer into a productive, reliable, and sought-after professional.
Besides, making the best use of the automation functionality of apps for freelance work including freelance time tracking you can find in the list above ensures prioritizing mental health and prevention of burnout.
They do not require any learning curve and deliver great results in terms of increasing freelance business productivity and allowing you to get more done in less time while excluding mental anguish. Why not start enjoying the freedom and creative busts that freelancing offers right now?