Top 10 Google Calendar Integrations of 2023
Why Google Calendar Integrations are your sure stress-free way to stay on track and elevate your calendar management to a new level? And what are the top integrations that you will benefit from?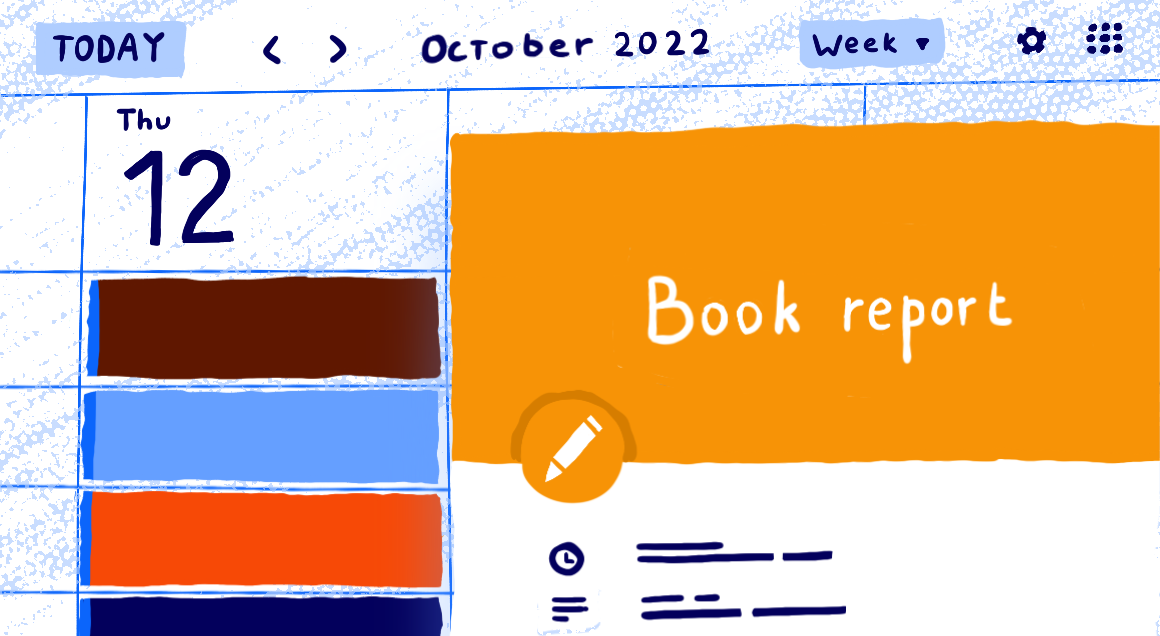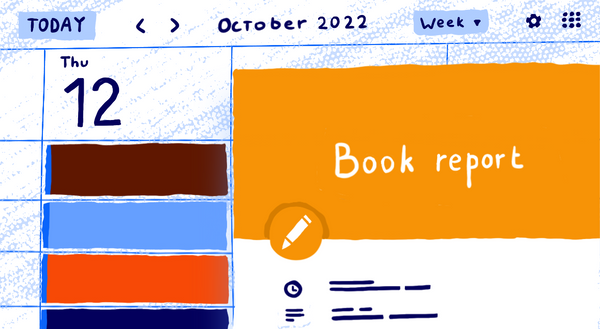 Google has a number of useful cloud tools, including fusion tables, Drive, Calendar, etc.
Google Calendar is a seminal calendar app – it stands out due to its advanced functionality that allows using it as a web-based schedule and agenda management application.
The word 'calendar' originates:
...from Latin calendarium "account book" ..."the calends" the first day of the Roman month, when debts fell due and accounts were reckoned.
Hence, the concept of 'calendar' is deeply rooted in the idea of integrating multiple domains of human activities.
---
One approach that fits all calendars in making calendar management more effective includes:
Accounting for risks.
Bringing integrations into focus
Leaving buffer time on the schedule
Creating reports to get insights
Having safety protocols.
Tech solutions that deliver seamless Google calendar integrations solved many problems for individuals and businesses.
In this post, we focus on answering the question of how to size up opportunities for efficient calendar management by using Google Calendar integrations.
Why Integrations Are Important
For those thriving for purposeful productivity, building calendar management strategies may be game-changing:
By combining prioritization techniques and efficiency hacks, you can take back your time and use it more wisely.
These stellar Google Calendar integrations deliver results with expert skill on the level of personal productivity as well as on the level of business outcomes.
TMetric Google Calendar Integration
Once you choose to add Google Calendar integration, you can 🌟
create Google Calendar events from TMetric time entries
start the timer from any Google Calendar event of your choice
switch to another event automatically
track your work time in one place
generate and export Google Calendar time reports.
Reasons to Try 💡
Marrying time tracking and calendar management enhances your ability to adapt effectively to changing environments.
When you integrate time tracking in the calendar you get wider opportunities to:
learn your productivity style
experiment with a timeboxed calendar for a productivity boost
improve your planning skills to avoid calendar management pitfalls
use time tracking data for optimization of your packed calendar
enjoy Google Calendar time tracking with ease
Maybe you will never be able to complete as many projects as Elon Musk, but with practice, you can get much better with your time management than you are now. It is called making progress at your pace.
Loosening your schedule with active deploying TMetric Google Calendar integration may help to ship new goals while keeping the capability of rolling back quickly in case teams need it, rather than reacting to every arising issue.
The Integration Setup⚙️
✅ Add time tracking to Google Calendar
✅ Detailed and easy instruction on TMetric Google Calendar integration
Pricing 💰
This option is available for Professional Plan ($5 per month) and Business Plan ($7 per month) users.
Outlook and Google Calendar Integration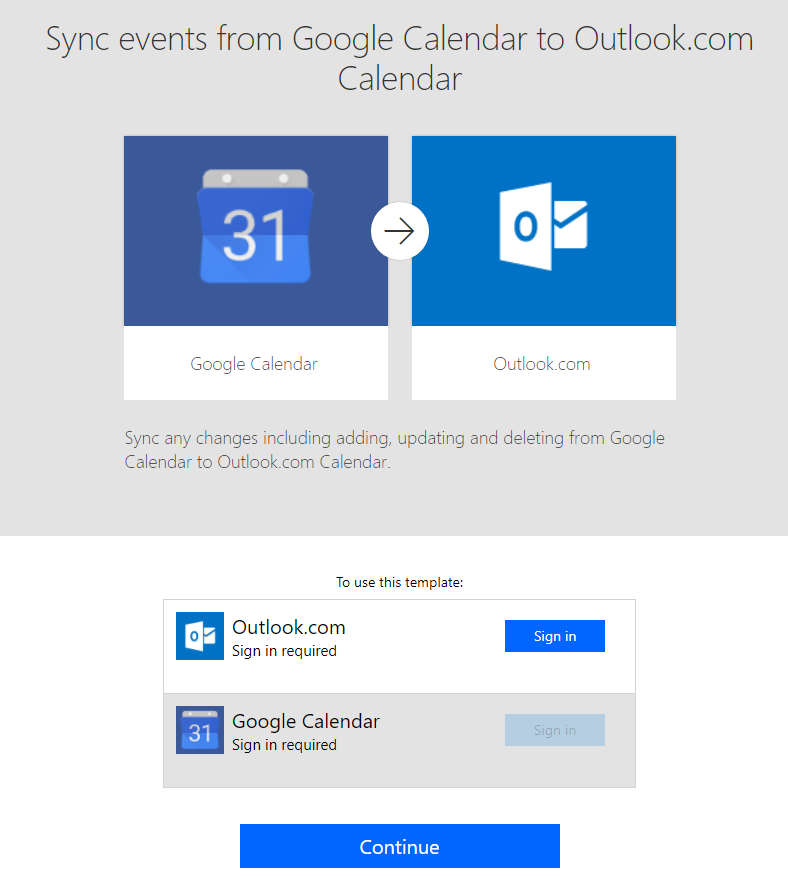 Once you choose to add Google Calendar integration, you can🌟
simplify your calendar management for time-saving results
add Microsoft events to Google Calendar
import a calendar from Google Calendar
get automatic checks for Google Calendar for updates or changes delivered in real time.
Reasons to Try💡
Though millions of users worldwide love Outlook mail giant, this product has somewhat excessive functionality. If you mostly use email and need a simple solution for calendar management, then integration of Outlook and Google calendar will be the best choice.
The Integration Setup⚙️
✅ Add Google Calendar to Outlook
Pricing 💰
Free
Zoho Sprints and Google Calendar Integration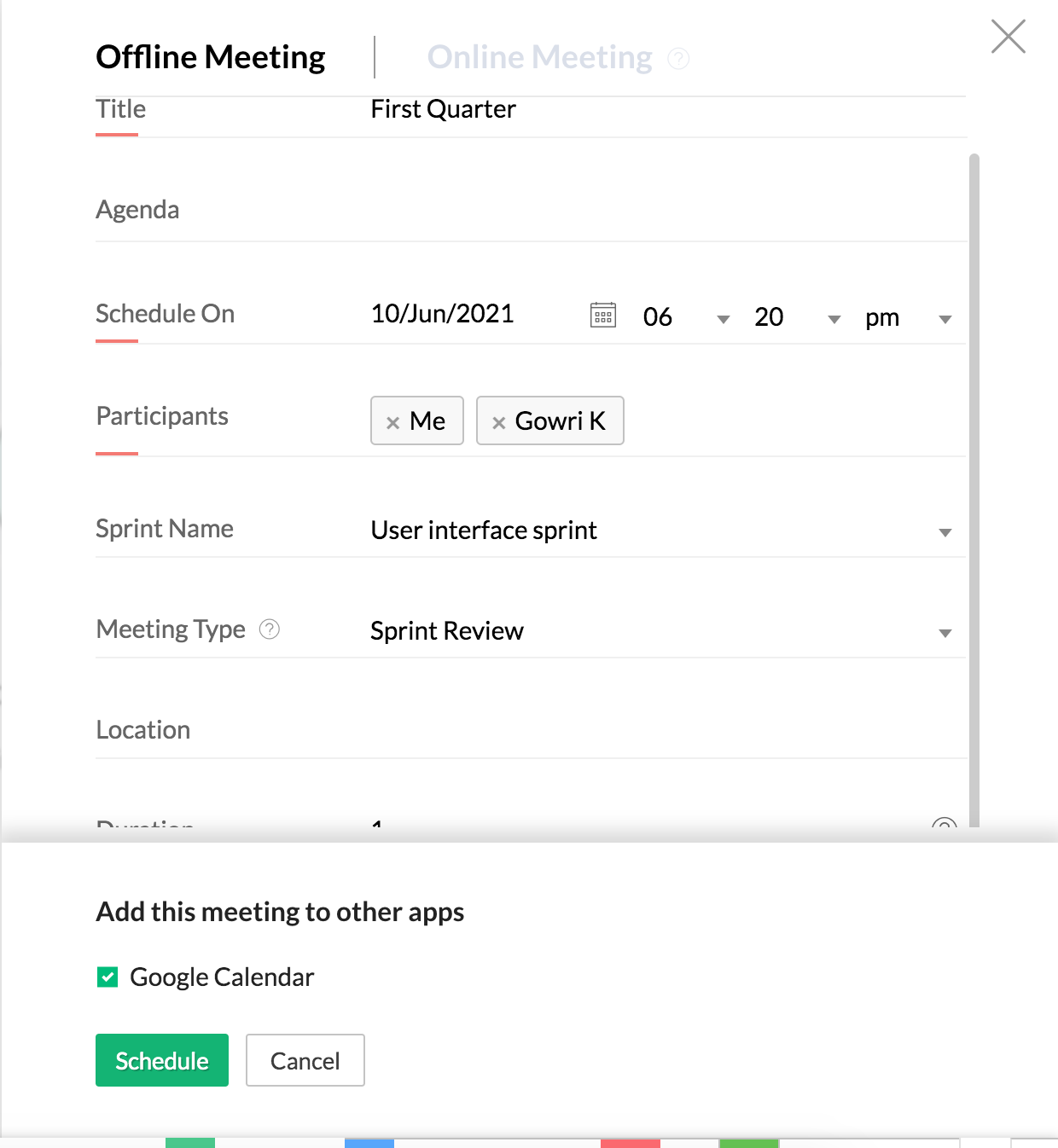 The Zoho Sprints tool allows you to build a project roadmap and track agile processes, create user stories, estimate tasks, and schedule agile meetings online for free.
Once you choose to add Google Calendar integration, you can🌟
keep your meeting details synced when you create an event on Google Calendar
have your Google Calendar automatically updated whenever a new Sprint begins
adjust to scheduling changes stress-free, even in an environment where tough requirements are a norm.
Reason to Try 💡
With Zoho Sprints integration in Google Calendar, you can easily keep track of your sprints and tasks. With such integration in the arsenal, it helps build habits of mind to scale your ability to adapt and build resilient frameworks.
The Integration Setup⚙️
✅ Activate Google Task and Calendar integrations in Zoho
Pricing 💰
€5 per user monthly
Trello and Google Calendar Integration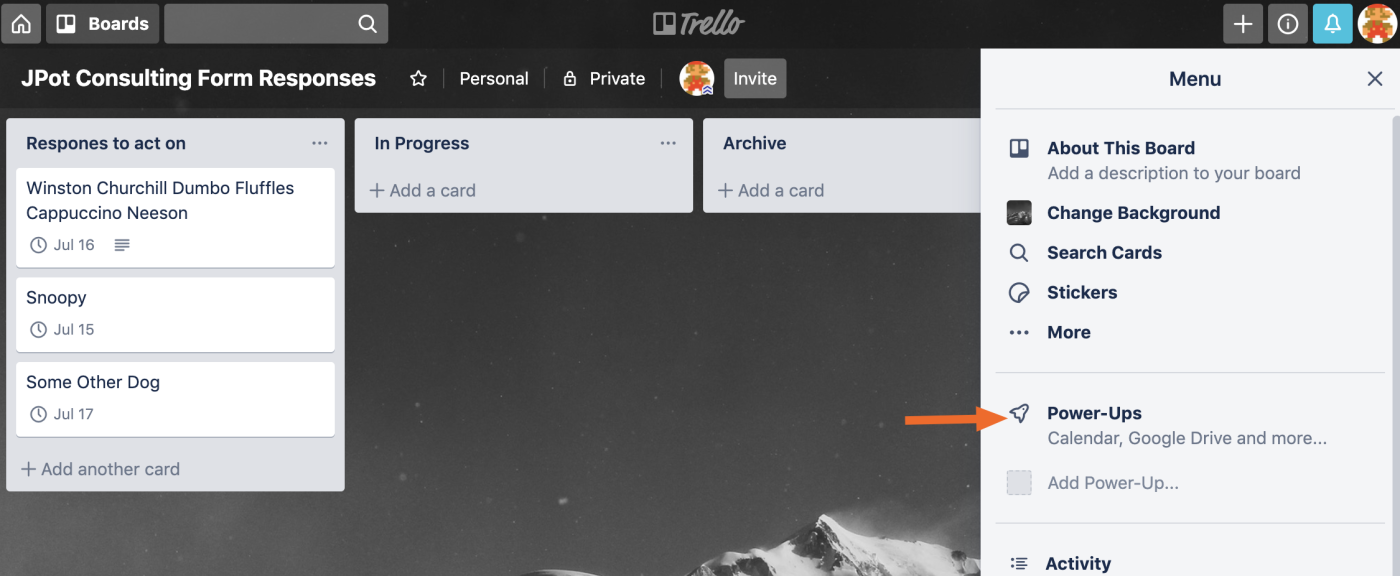 Trello is a great tool for project management that needs no introduction but integrating it with Google Calendar can make it even more effective.
Once you choose to add Google Calendar integration, you can🌟
see your calendars and cards with dates of deadlines from one place
rank cards with a drag-and-drop option for an automatic update of due dates
give access to your Trello calendar with an iCalendar link
define setting rules for filtering out events and meetings
create weekly cards on Trello at the scheduled time.
Reasons to Try💡
If you schedule your work week with Trello GCal integration, you are guaranteed to not miss a beat on your to-do list and launch a smoother workflow for your working day regardless of how heavily it is packed with meetings.
Moreover, by utilizing this integration, you can create protection against overscheduling.
The Integration Setup⚙️
✅ Activate Trello integration with GCal
✅ Check Trello integration capabilities in Google Calendar
Pricing 💰
€5 per user monthly
Google Sheets and Google Calendar Integration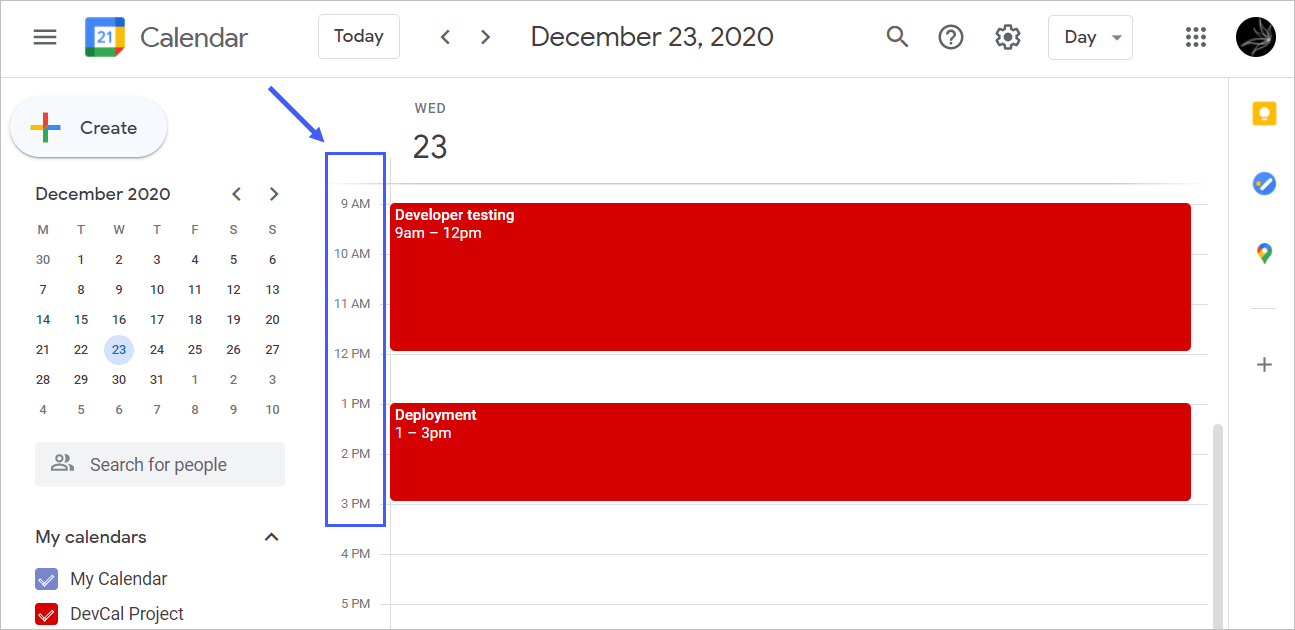 You can use Google Sheets as an online replacement for traditional planners that is free, flexible, and available to anyone on any device.
Once you choose to add Google Calendar integration, you can🌟
automate reminders derived from tasks in your project tracker or spreadsheet by applying GCal
use Google Sheets to create events for Google Calendar
utilize calendar entities visible on the Calendar dashboard for automation based on either an event or specific criteria
make the look more professional by adding design elements
administer date and text filters to your Google Calendar events to import them into Google Sheets.
Reasons to Try 💡
This integration may help you move forward with greater clarity and develop an effective calendar management strategy when it comes to utilizing your data to gain automated insights.
The Integration Setup⚙️
✅ Add a schedule from Google Sheets into Calendar
Pricing 💰
The full functionality (adding, deleting or altering events by multiple users) is available for paid plan users. A monthly fee of $5 per user is charged for the business version of Google Calendar.
Todoist and Google Calendar Integration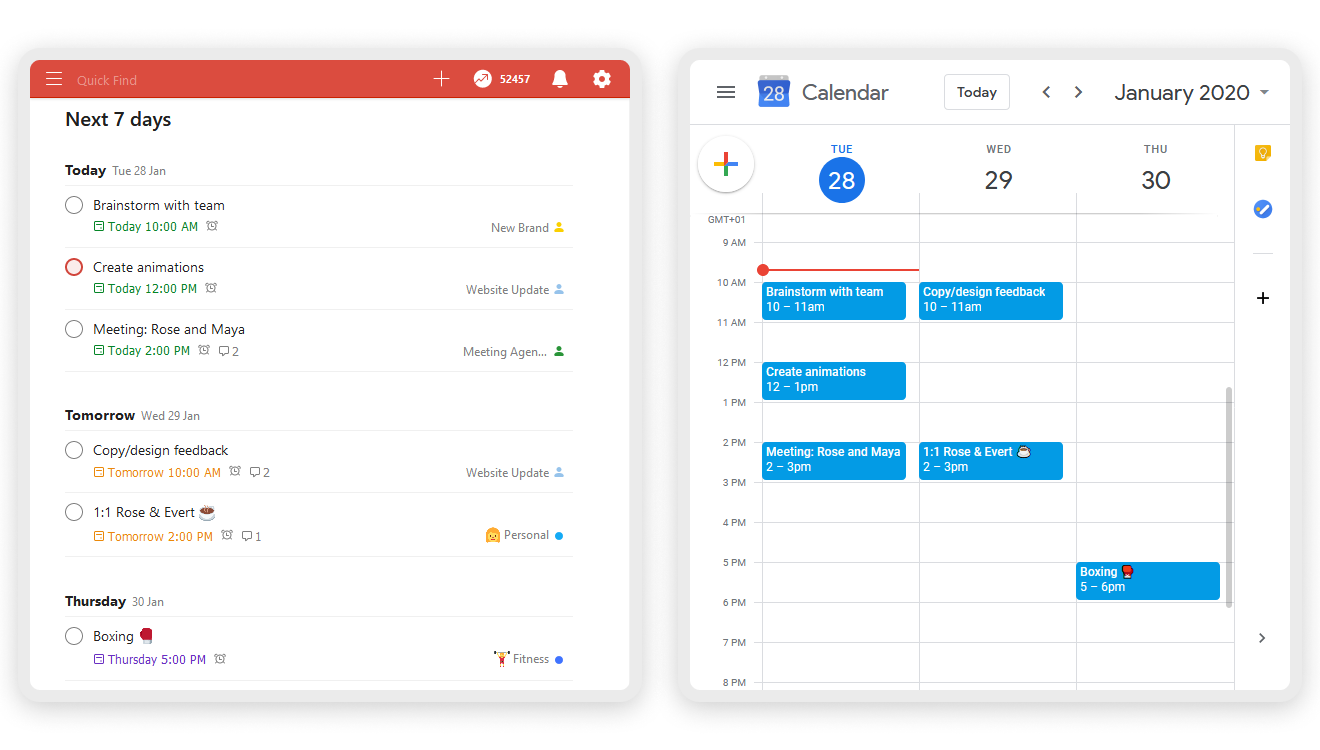 Todoist is one of the leaders among apps delivering a guaranteed productivity boost. When used in integration with Google Calendar, this task manager for focused work helps achieve consistency in time management stress-free.
Once you choose to add Google Calendar integration, you can🌟
add new Google Calendar events to Todoist as tasks
add incomplete tasks from Todoist to Google Calendar
add a comment to Todoist task on an event in GCal
have all the changes in Google Calendar reflected in Todoist
view and create new tasks in my Todoist account from any device
Reasons to Try 💡
You will be able to see my calendar and tasks on the same screen. On the Todoist free version, there is an option for syncing with Google calendar and turning calendar events into tasks. Additionally, it offers a web browser extension.
The Integration Setup⚙️
✅Activate Google Calendar integrations in Todoist
Pricing 💰
Fully functioning integration is available for Todoist premium version users that costs $5 a month.
Asana and Google Calendar Integration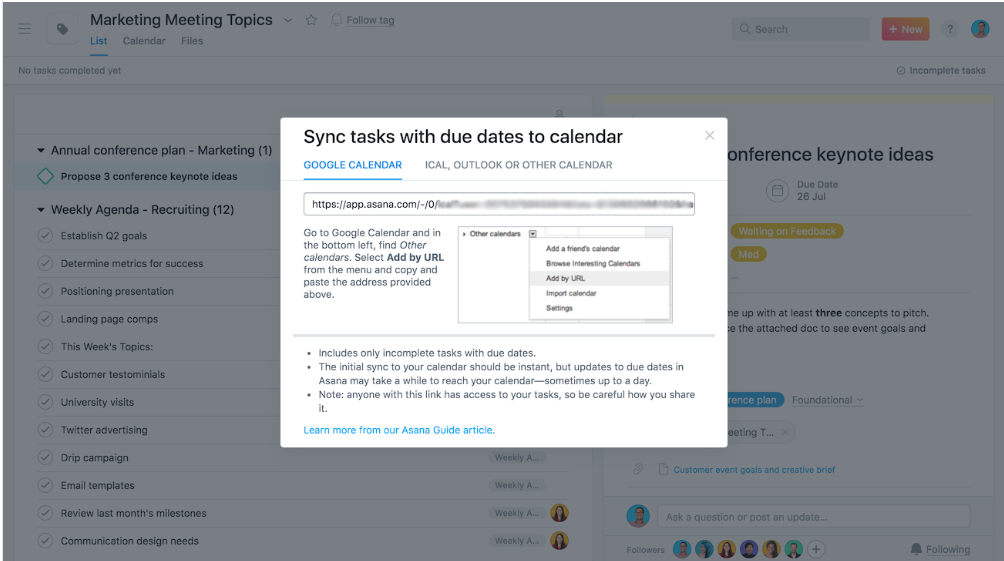 With the pressures of remote collaboration that constrained people's days to calendars packed with appointments and never-ending to-do lists, an efficient project management system like Asana can be a great addition to your daily routine.
Once you choose to add Google Calendar integration, you can🌟
create new Asana tasks from new Google Calendar events
keep track of deadlines, assigned tasks, and progress on a project
communicate with team members and keep everyone updated on the go
ensure you don't miss deadlines and plan your time well.
Reasons to Try 💡
Asana integration with Google Calendar helps create more free-flowing work by offering options for prioritizing tasks and monitoring the progress of project performance without fuss.
The Integration Setup⚙️
✅ Activate Google Calendar in Asana
Pricing 💰
Available on Basic Plan for free
Miro and Google Calendar Integration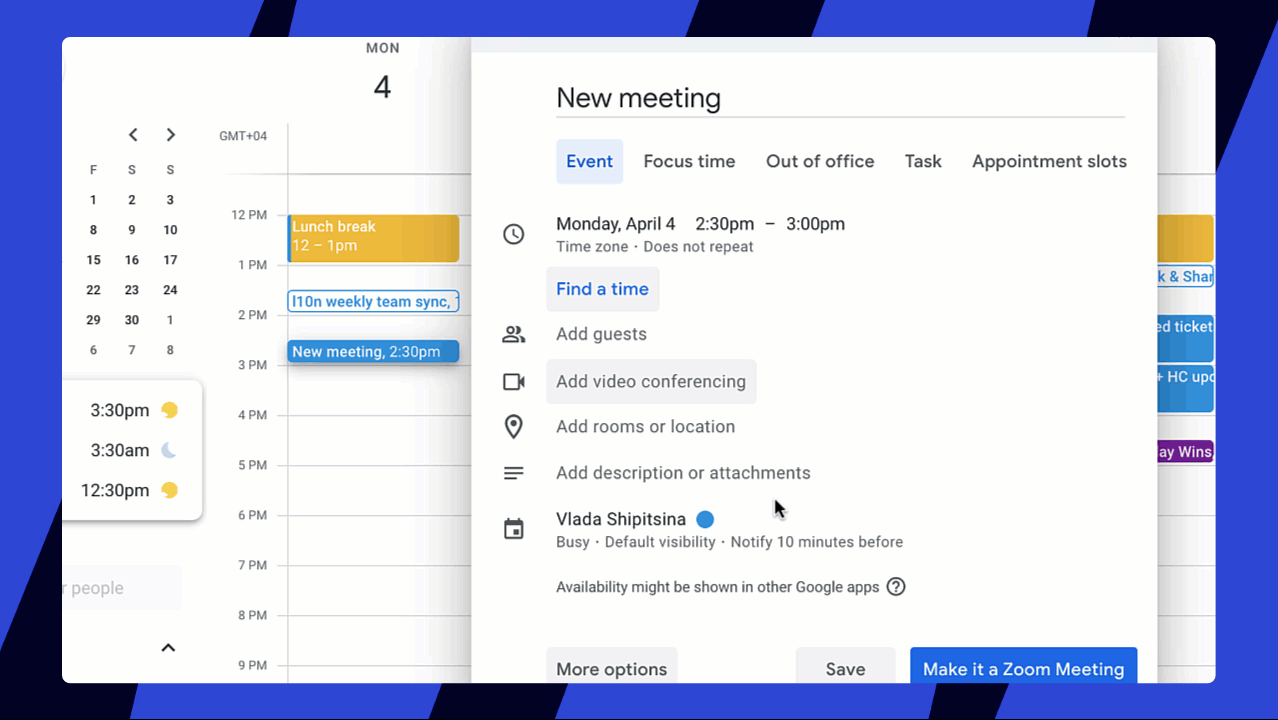 Miro is a leading visual collaboration platform that delivers impeccable meeting arrangements for teams and businesses. When integrated with GCal, it allows setting a scheduled plan and getting to work.
Once you choose to add Google Calendar integration, you can🌟
attach a Miro board to a Google Calendar event
present a unified event/meeting dashboard
ensure backup mechanisms to work in favor of your schedule
share access to participants automatically.
Reasons to Try 💡
Not to baffle the power of calendar management, Miro offers to incorporate Google Calendar into your workflow for elevating collaboration to a new level. If you encode a schedule that is easy to follow, eventually, it'll take shape in productive frameworks and a clearly defined agenda in your meetings.
It's also available as a Chrome extension.
The Integration Setup⚙️
✅ Activate Google Calendar integration in Miro
Pricing 💰
Available on a free plan though sharing Miro boards is possible only among the members of the team. not be shared if some of the meeting invitees are not part of the team
Miter and Google Calendar Integration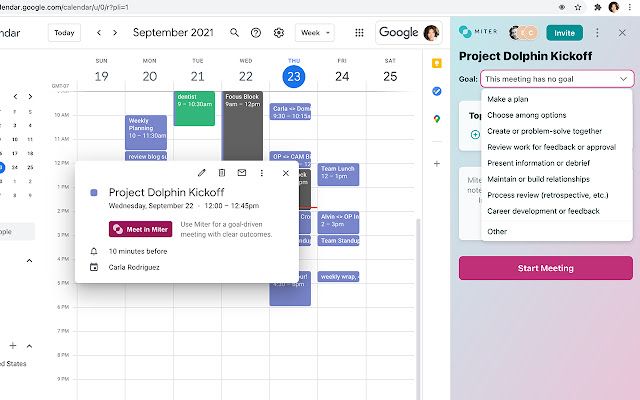 Looking to make your meetings more productive and less troublesome? Miter is the app for you! Their simple and easy-to-use interface makes it easy to keep track of meeting agendas, attendees, and minutes.
Once you choose to add Google Calendar integration, you can🌟
create action items in the calendar and follow up on tasks after the meeting is over
open Miter for any event directly from Google Calendar
take notes collectively on a calendar event
send summaries of the conducted event
activate an option for recurring meetings.
Reasons to Try 💡
Integrating Miter meeting app and Google Calendar as the most popular Google calendar empowers professional teams to stay on top of their work, create fail-safes by making sure nothing slips through their fingers, and follow an agenda of any meeting stress-free.
The Integration Setup⚙️
✅ Add your GCal in Miter instantly
Pricing 💰
Free with limitations
Coda and Google Calendar Integration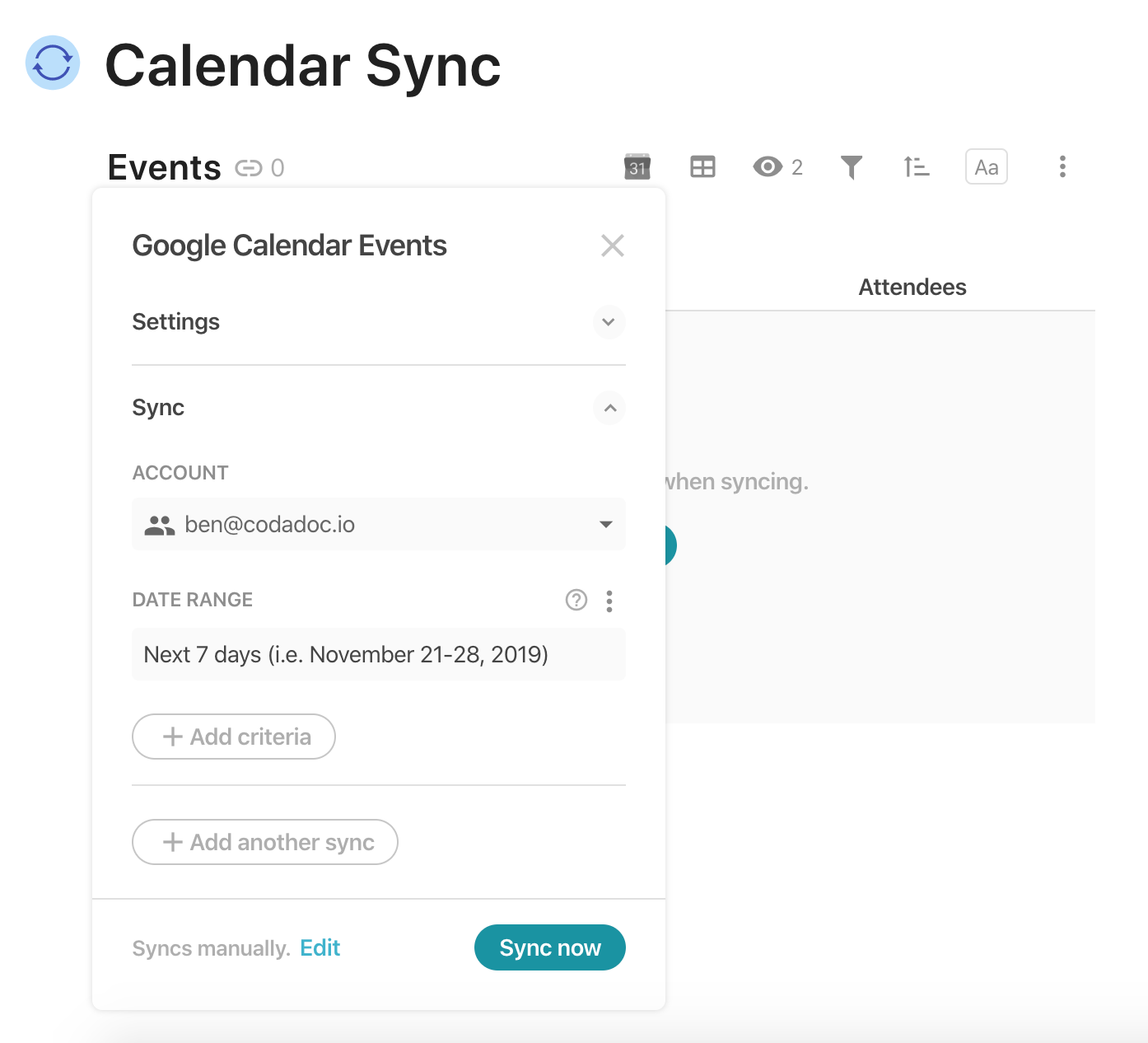 In Coda, all your tools are combined into one powerful doc, so you can tailor your workspace to meet your needs.
Switching from one app to the other is hijacking our attention and draining energy. That's why the idea of integrating Coda document management with Google Calendar is promising and fresh.
Once you choose to add Google Calendar integration, you can🌟
schedule meetings directly in your document by importing calendar events from your calendar
sync GCal events in Coda by using templates
utilize the Google Calendar pack in Coda to manage your time and appointments.
Reasons to Try 💡
We are not always aware of the things that can violate our attention - this is where the calendar can add a degree of precision to our management.
The complexities of calendar management will never hold you from staying on top of your document management because the integration of this kind ensures that you're always meeting your deadlines and staying ahead of your time when it comes to organizing your files, notes, and reports.
The Integration Setup⚙️
✅ Activate Google Calendar integration in Coda
Pricing 💰
Basic integration functionality is available for free.
More power-ups for your Google Calendar
🔆 Pabbly Connect: It offers over 850 integrations for connecting Google Calendar for free.
🔆 Button for Google Calendar: In addition to notifying you of upcoming events in your Google Calendar, it also sends push notifications based on your meeting settings, which can make it easy to access conference links from your events.
🔆 Calendar+ for Google Calendar: In this extension, all the URLs from the Google Calendar Event description are extracted and displayed in a clickable list.
🔆 Quick-add Calendar Event: Using the selected text on a page, add a draft calendar event to your Google Calendar.
🔆 Tags for Google Calendar™: By typing a colon and the name of an event, you can group your events into categories.
🔆 Stop Slide Scrolling: You can use this extension to prevent undesirable slide scrolling in Google Calendar and stop accidental event jumping.