Why Brainstorming Templates Help You Succeed
If you are skeptical about brainstorming, you probably need to try brainstorming templates. Aside from the facilitation of the planning stage, they boost motivation in teamwork and bring time saving solutions.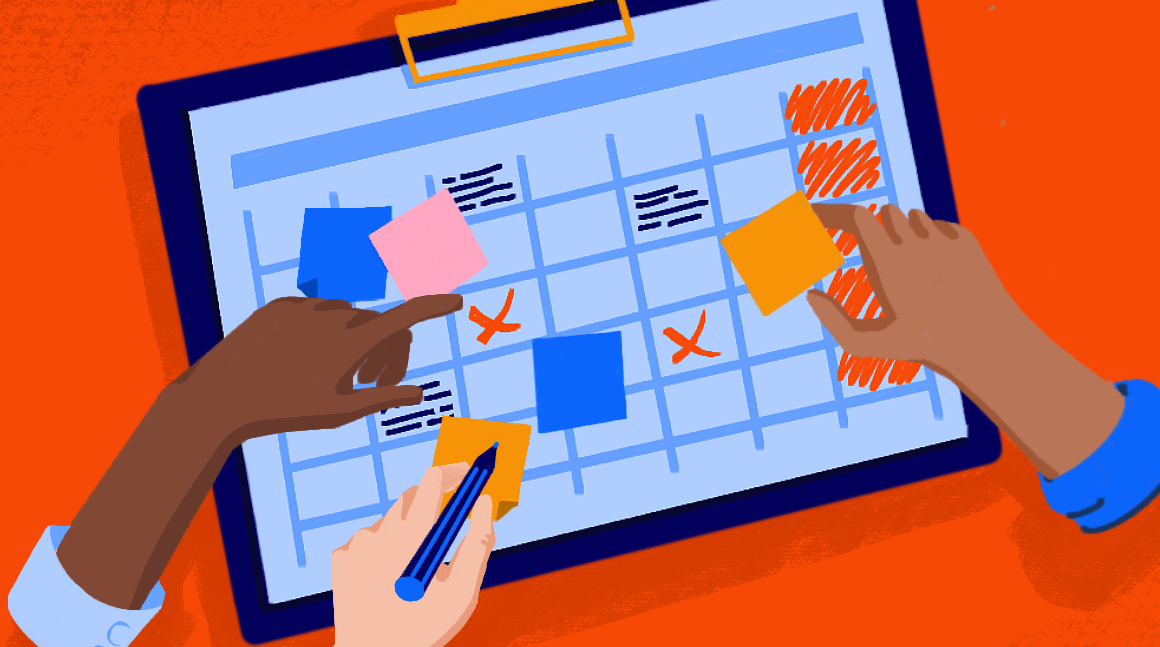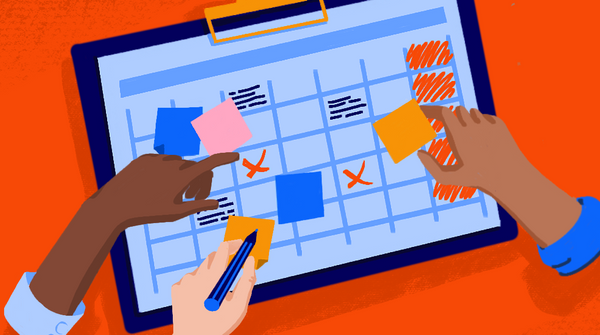 Creative problem-solving techniques like brainstorming are probably among the most well-known. It comes as no surprise regarding the long history of the method dating back to 195os when it was introduced by Alex Osborn.
Since then, brainstorming has been a subject of hot discussions labeled by opposing points of view from defining brainstorming as one of the essential practices in creation to a 'waste of time'.
The core of brainstorming is the ability to ask questions so effectively that answering them will result in generating new ideas.
As a quote from legendary Kevin Kelly goes: 'A multitude of bad ideas is necessary for one good idea'.
To be a meaningful and creative experience, brainstorming in groups is to follow certain rules:
The last rule we mentioned is easy to follow if the group is equipped with tools that facilitate the process.  Brainstorming templates exemplify such tools at best.
Why are they important? Brainstorming and idea generation are two important aspects of strategic planning. Without the right tools to facilitate this process, people may leave out important ideas or not engage fully in the discussion. Now let's explore their benefits in detail.
Benefits of brainstorming in the business environment
Experiments confirm that with the rise of synchronous communication and the dramatic increase in virtual video-based meetings, idea generation has been jeopardized. Thus, effective brainstorming gains special importance.
Brainstorming templates enhance the efficiency of brainstorming sessions and make them more structured.
Templates are ideal for virtual brainstorming because they help equalize the participants and can provide anonymity.
They put together different viewpoints and deliver wide opportunities for structured brainstorming as more advantageous in the business environment due to bringing a sense of order to ideas input.
In other words, such templates are helpful because they are actionable. By using the brainstorming templates, you'll never again miss out on action items and ensure that any decisions are justified and backed up by stakeholders.
The brainstorming templates you find below include examples of some of our most popular and enduring brainstorming formats and techniques.
They include:
the types of brainstorming templates along with the examples that work best for project management
resources that are a must to go for brainstorming templates free and paid.  
Brainstorming Template #1: Starbursting by Miro
To help you hit 10 out of 10 in brainstorming, there are Miro templates.

One of the best solutions for ideation is a starbursting brainstorming technique🌟
How It Works
In the center, we place the problem.
The points of the star are the questions we need to ask when solving the problem. The rule is simple – the questions must start with Who, What, Where, When, Why and How. The comments section is also available.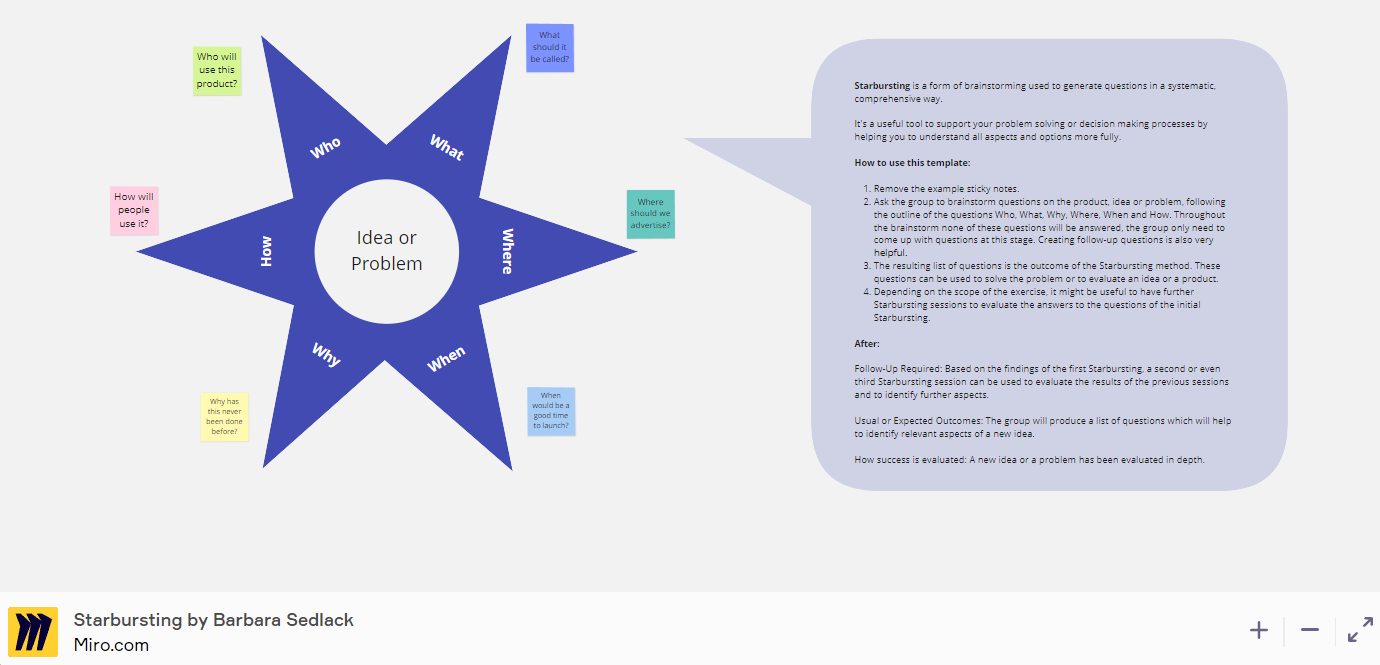 Why It Works
This template keeps ideation unrestricted but, due to limitations of question words, directs the decision-making process, which improves the effectiveness of group thinking.  
Pricing Options
Signing up gives access to 3 editable boards and premade templates for free.  
Brainstorming Template #2: Instant Download by Status
Status presented 4 easy-to-use brainstorming templates in Docx available for instant download 🖥️⏬

How It Works
Templates are well-organized lists and mind maps for tackling a problem. All the sections in the documents are editable including the option to change the logo of the company that delivers brainstorming sessions. Users can start to apply it for individual brainstorming immediately.
Why It Works
The ideation process is the closest to pen and paper when brainstormers navigate through premade tables and charts to explore the problem in further depth and discover a solution to a problem friction-free.
Pricing Options
It is available for download for free.  
Brainstorming Template #3: SWOT Analysis by Getmind
SWOT brainstorming takes hard work as it implies a strategic approach to the problem. With SWOT analysis templates, things get much easier 💡⚡

How It Works
It is an editable template for conducting SWOT analysis. In addition to text editing, users can change themes, insert pictures and icons, and alter style and layouts.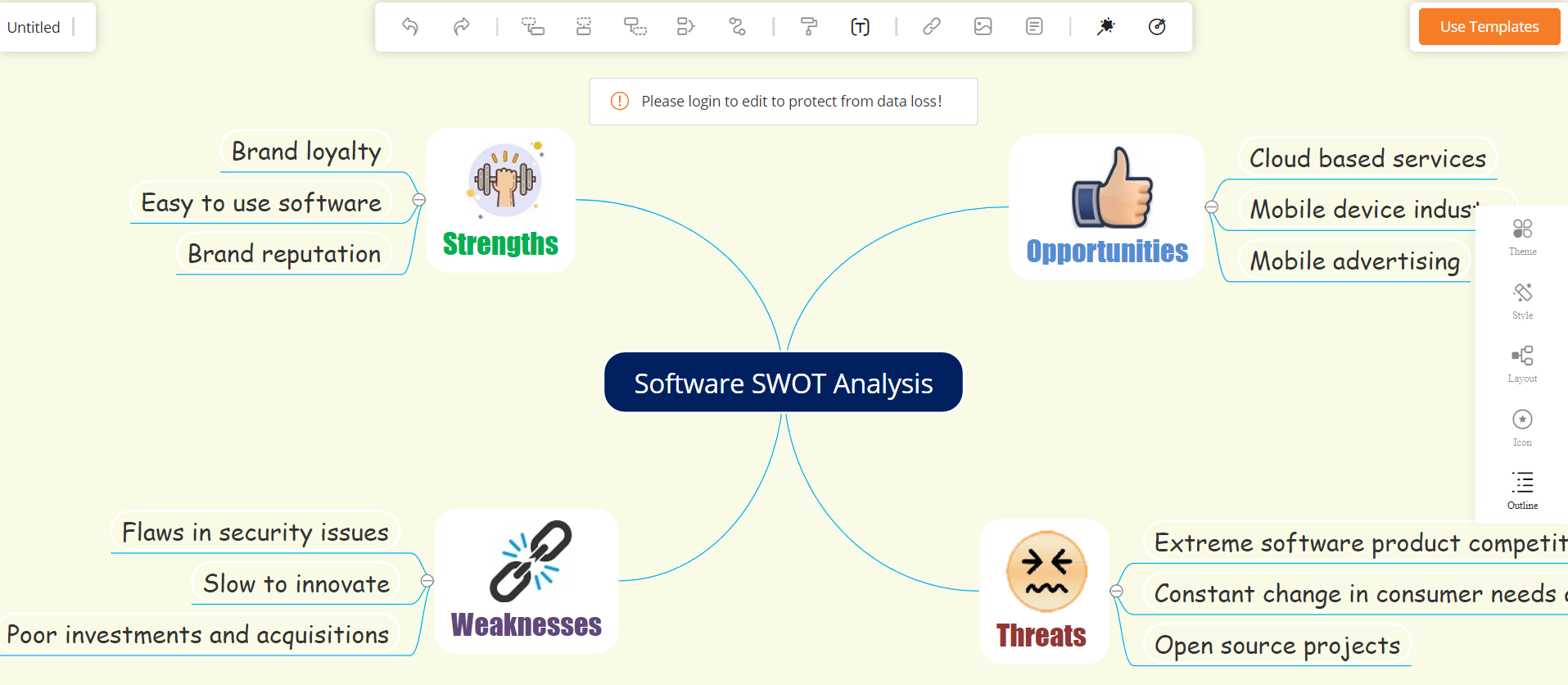 Why It Works
With the presented template, Getmind delivers a straightforward solution to effective brainstorming when identifying strong and weak points as well as opportunities and risks associated with the problem, which is compulsory at the stage of project planning.
To know more about risk management techniques, we recommend reading here.  
Pricing Options
Sign up and get access to premade brainstorming templates for free.  
Brainstorming Template #4: Ideation by Mural
Collecting all the ideas helps teams remove from a hyper-focused to a more free-flow state. With Mural Ideation interactive template, it will be easy to break a complex process of brainstorming into specific tasks and get a comprehensive view of the problem👓  

How It Works
It is a virtual whiteboard divided into three sections for conducting virtual brainstorming sessions in real-time and asynchronously.
The section Ideate lets teams gather all the ideas under one headline (concept).
The space for grouping the ideas is ideal for timed work: the session allows filtering ideas to remove duplicates and see if other ideas can be connected in any way.  
Using the space for prioritizing teams ensures the feasibility and importance of the ideas in the project.    
Why It Works
Applying Mural template for brainstorming sessions means choosing a time-saving method of work that promises improved efficiency at any stage of project management.
Pricing Options
On a free plan, users get access to a template library and 3 whiteboards for unlimited members.  
Brainstorming Template #5: Reverse Brainstorming by Conceptboard
How to turn brainstorming from being weird and difficult to easy and rewarding? You can apply a reverse brainstorming template ◀️

How It Works
On a whiteboard, there are four spaces: after stating the problem, teams gather the ideas and reverse them.
From collecting opposite ideas in the visual presentation, it is easier to map out ways that will bring productive outputs with a guarantee. Besides, teams can accelerate the process by using sticky notes and inserting images, videos, and diagrams.

Why It Works
It ensures maximum effectiveness of the idea generation process as it allows viewing the problem from all angles. It adds creativity to your problem-solution process. It helps question some automatic thinking patterns that teams can be subjected to and identify solutions at early stages.
Pricing Options
It is free for individual use. To enable a small/mid-size team to collaborate, users can switch to the premium plan for $6 per month per user.  
Brainstorming Template #6: Brainwriting by Invisionapp
Brainwriting is a top group thinking booster. It is a technique built around time blocking: it implies that each member of the team thinks over the problem for a fixed time and introduces ideas. Then, there comes a stage of expanding the list of ideas by other members of the group ▶️⏩▶️

How It Works
Invited team members can use the shared board. For each round of brainstorming, the timer is set for five minutes. Each team member has a space to contribute one idea. Then, another team member can improve the idea. The template has a built-in editor that includes options for drawing, highlighting, adding emojis, etc.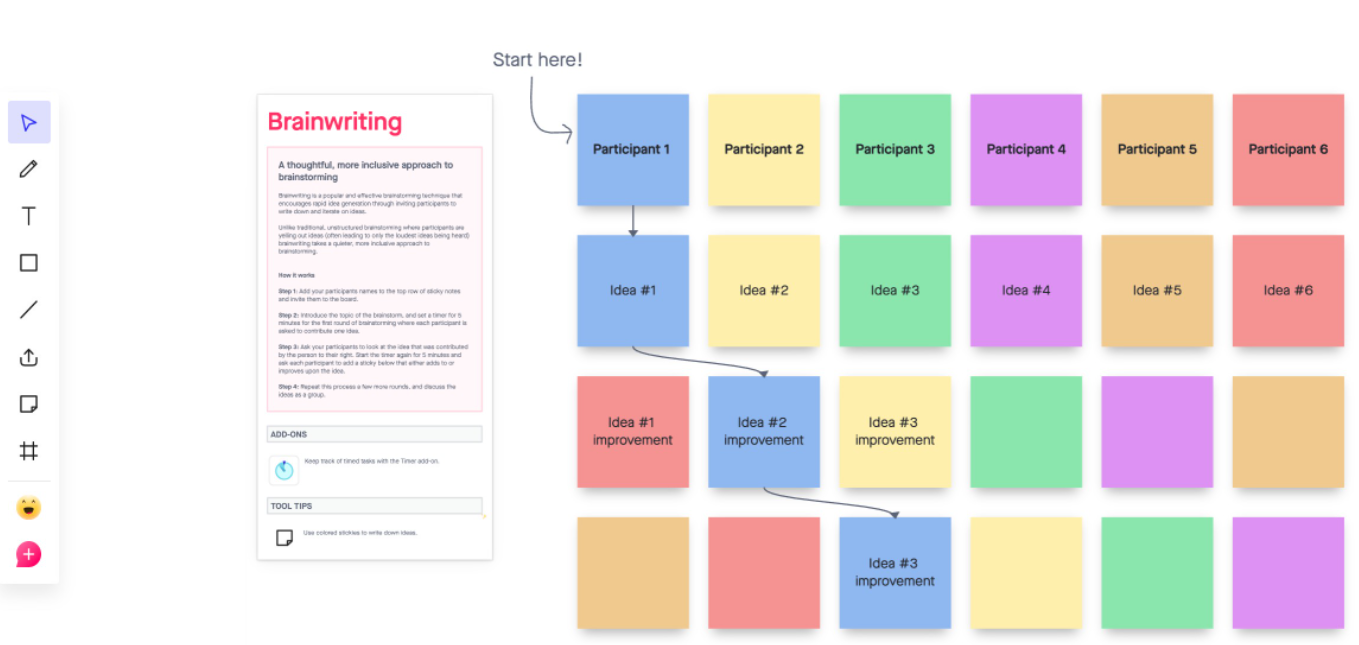 Why It Works
It ensures that all the participants are equally engaged, and no voice is missed. Besides, rather than produce a huge number of unstructured data, teams iterate to deliver logical outcomes while using this template
Pricing Options
The service is free for individuals. For team collaboration, the monthly cost is $4 per user.  
Brainstorming Template #7: Lotus Diagram by PresentationGo
A Lotus Diagram is a brainstorming tool that is used to visually represent a concept of any complexity 🌼🌸🌺
How It Works
This brainstorming template is available in PowerPoint and Google Slides. It is a fully customizable and editable PowerPoint template that can be used in teamwork. The number of petals is 7, and the shapes are easy to edit. Users can choose between two free fonts and light and dark layouts.
Additionally, there is a selection of icons to mark petals presenting components and issues related to the discussed subject.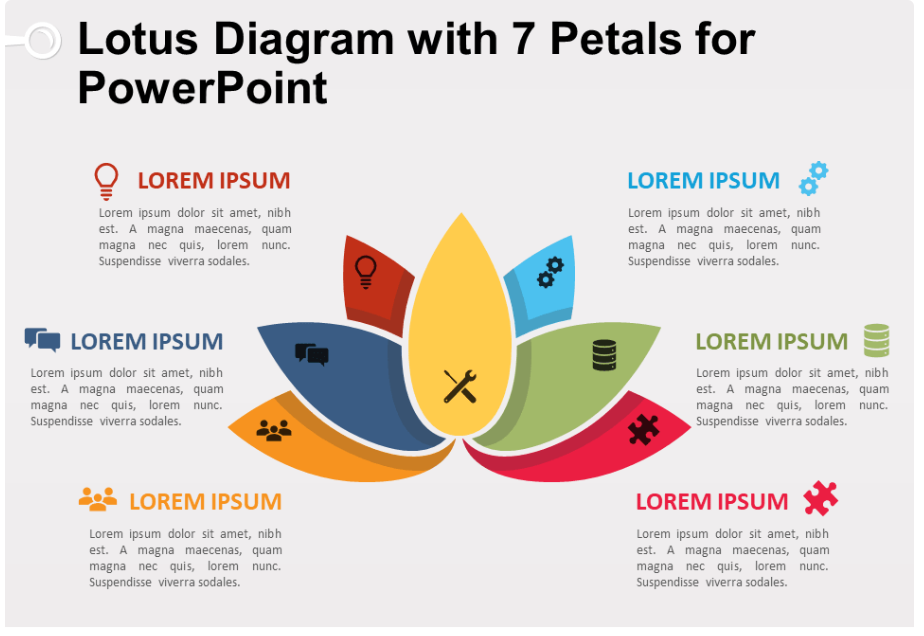 Why It Works
A Lotus Diagram introduces an idea visually, allowing brainstorming to be easier because it assists in tracing relations in complex concepts. Petals of the lotus are areas that must be envisioned and explored. Hence, the name implies a similarity between generating ideas and lotus blossoms.
Pricing options
The template usage is free but requires attribution.
Brainstorming Template #2: Mind Maps by TemplateLAB
Brainstorming by creating a mind map is one of the most common ways of studying and solving problems. Using mind maps, you can display ideas stemming from the concept of the project  📊

How It Works
To boost the agility of group thinking, there is no better way than choosing among 24(!) mind maps available for immediate download in Word or for Photoshop.
You will find free flow mind maps, project mind maps, business mind maps, and mind maps for education and consultancy. For some of the templates, there is an option of downloading the fonts separately.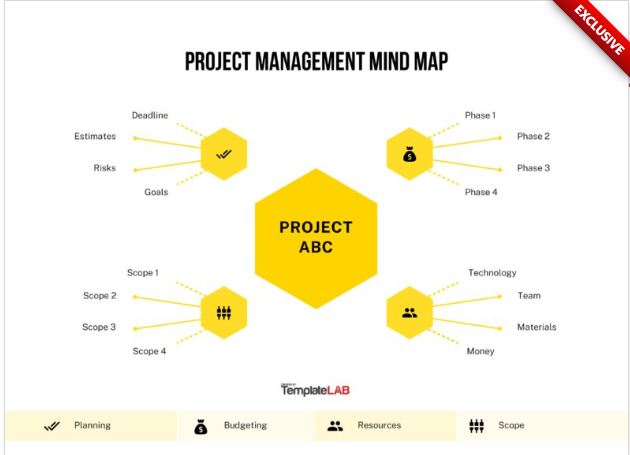 LPT: To increase productivity, you can integrate time tracking into brainstorming sessions. Aside from taking control over the time you intend to spend on ideation stages, it facilitates project management and helps keep everybody engaged.
Why It Works
Brainstorming by using mind maps utilizes positive tension and helps to find balance in intuitive ways.  These templates are designed to help brainstorm ideas, concepts, and solutions that cater to the needs of various industries.
Their simple design emphasizes individual contribution and makes it fun and easy to capture and share your most creative thoughts.
Pricing Options
Templates are available for free.
Brainstorming Template #9: Mindmaps by WiseMapping
It is a perfectly designed digital space for group brainstorming and creating an interactive mindmap  🗺️📍  

How It Works  
It is open-source software that works for any business or team. Templates of this kind are ideal for creating a shareable mind map or embedding it in web pages and blogs. Besides, users have the option of exporting the results of their brainstorming sessions in SVG, PNG, or JPG formats.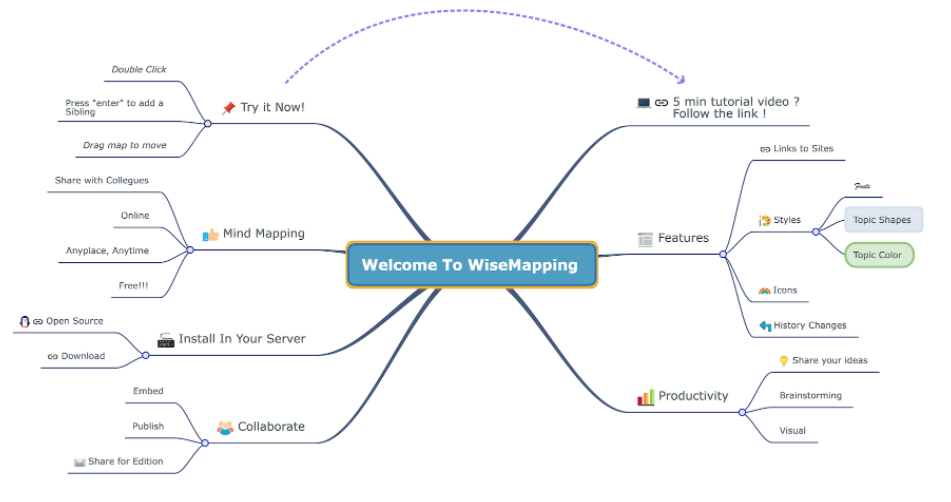 Why It Works
It removes the pressure of synchronous communication and delivers the best mind-mapping solutions that will be your scorecard on how well you did in planning.
Pricing Options
It is available for free once you have an account.
Moderation doesn't suit brainstorming -  you go big or do not go at all but with certain limitations, the process gets even more effective.
That is why we highly recommend the template built around the differentiation of reasoning and intuition😍

How It Works
You can download it for PowerPoint and Google Slides. It has a neat design and allows for conducting brainstorming sessions without any prior training. There are two columns for categorizing your ideas depending on whether they are based on reasons (it will work because I know/assume/suppose...) or intuition (it will work because I believe/guess/feel like...).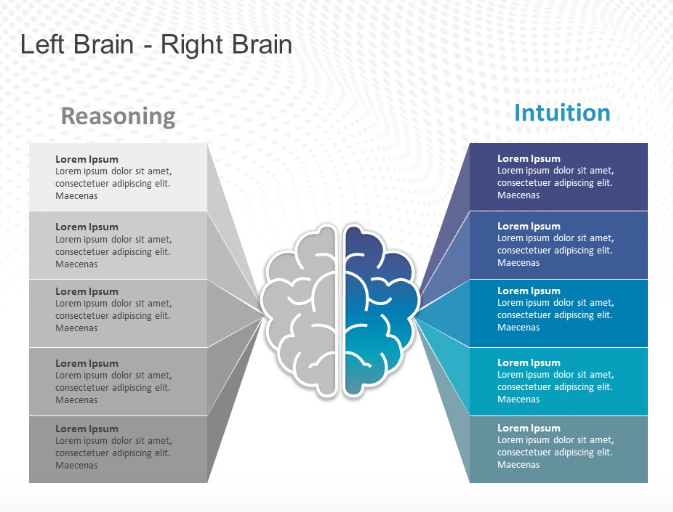 Why It Works
If you want to map out a complex project, you can give it a try without hesitation. This technique guarantees success in generating ideas best suited for diving into brainstorming and understanding the problem on a deeper level.  
Aside from knowledge sharing, taking the approach to separate reasons and intuition will help onsite and remote teams collaborate throughout all the stages of the project more effectively.  
Pricing Options
Upon creating an account on SlideUpLift, it is available for free.