10 Best Timesheet Templates to Track Work Hours
Deploying timesheets is a universal solution for the employee engagement and full business accountability. Here are 10 recommended timesheets templates that you can download now.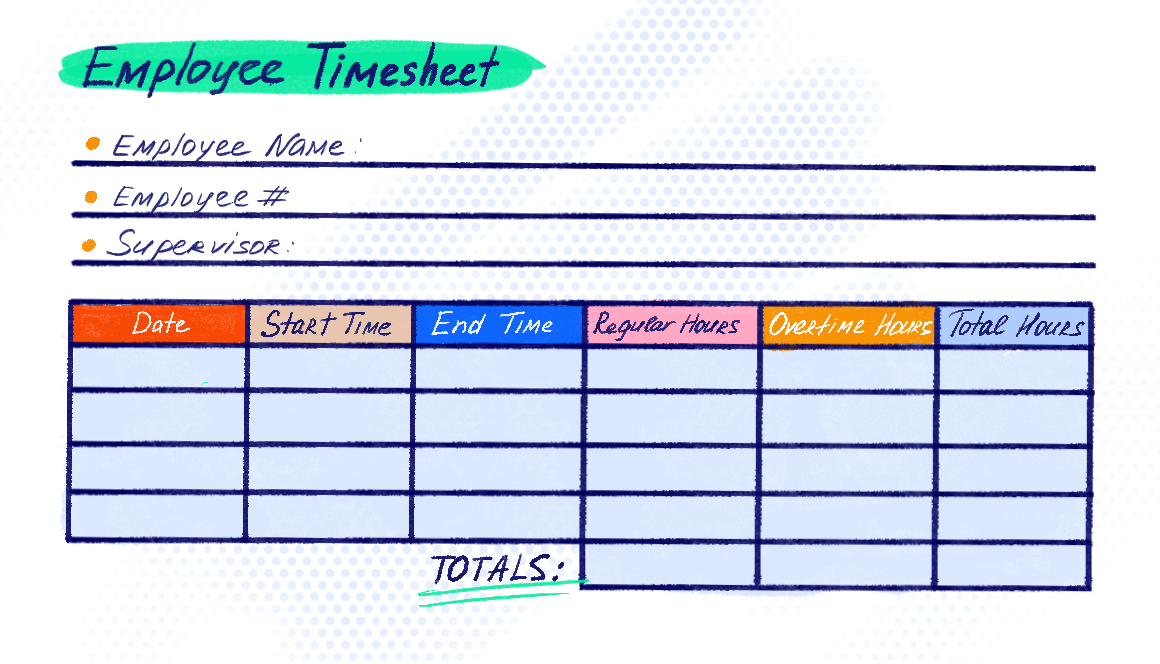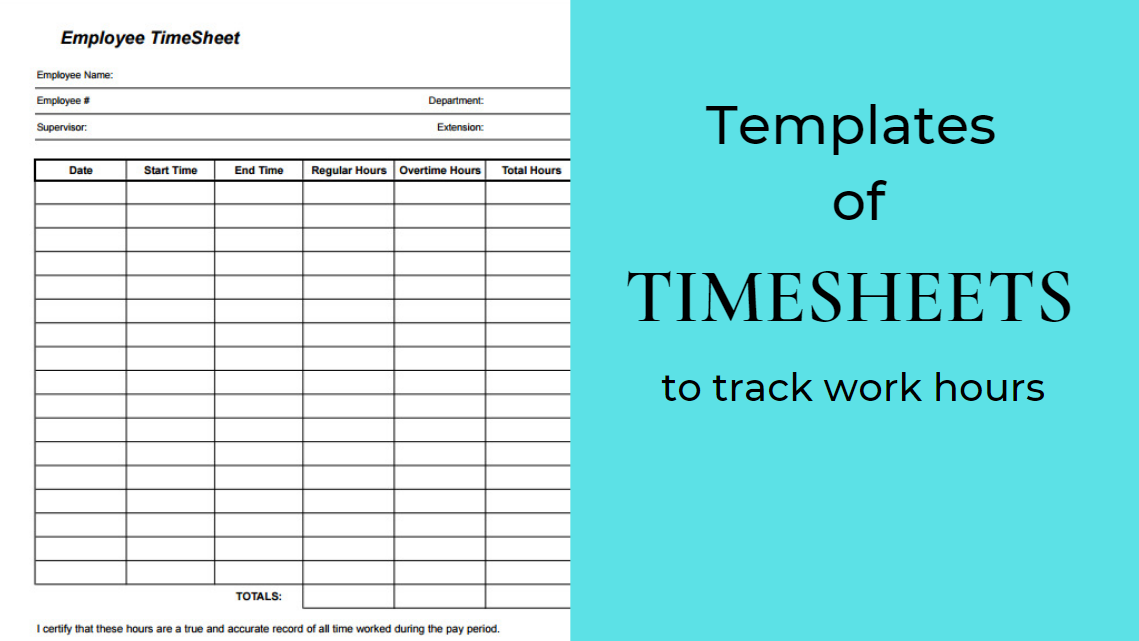 The business vocabulary cannot be imagined without words like 'time sheets' and 'time cards' as they are essentials of effective time and project tracking and, hence, evaluating profitability.
Timesheets refer to documents keeping time records of employees' hours for:
payrolls
project accounting
client billing
work schedule.
It is not uncommon that timesheets are processed on the basis of timecards that contain raw information on an employee's clocked in/out time for a workday.
In case the company ignores timesheets, it risks finding itself in the vacuum of information when it comes to accountability.
It means that paying attention to choosing timesheets templates will literally pay off as they save time, money and decrease the expenses on accounting and payroll processing.
It is important not only for employers or owners but also for employees to ensure transparency in getting payments for work.
Deploying timesheets is a universal solution for employee engagement. Here are 10 recommended monthly, weekly and daily templates for better timekeeping that you can access by clicking on the resource in our Templates list.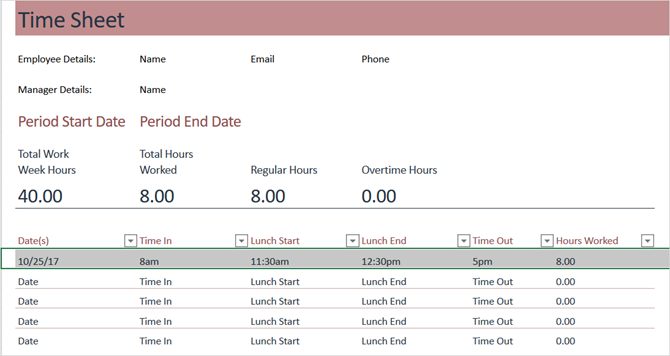 For tracking by week, applying Excel templates seems a perfect solution. The daily work hours add up at the end of the row. The number of columns is easy to manage, and the timesheet will show:
total workweek hours
total hours worked
regular hours (based on 40-hour workweek)
overtime hours (starting with the number over 40 work weekly hours).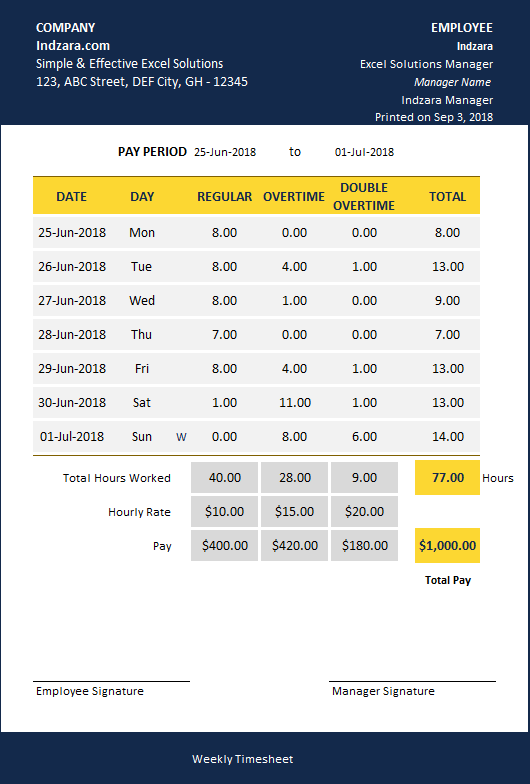 Among lots of free and premium templates, the Indzara platform offers a variety of timesheet templates including ones with sample data along with detailed instructions on how to use them. The templates provide information on the working week schedule, holidays, start and end times, overtime, and rates.
Applying these templates, you get a handy tool to save time on payroll processing and keeping employees' information in order.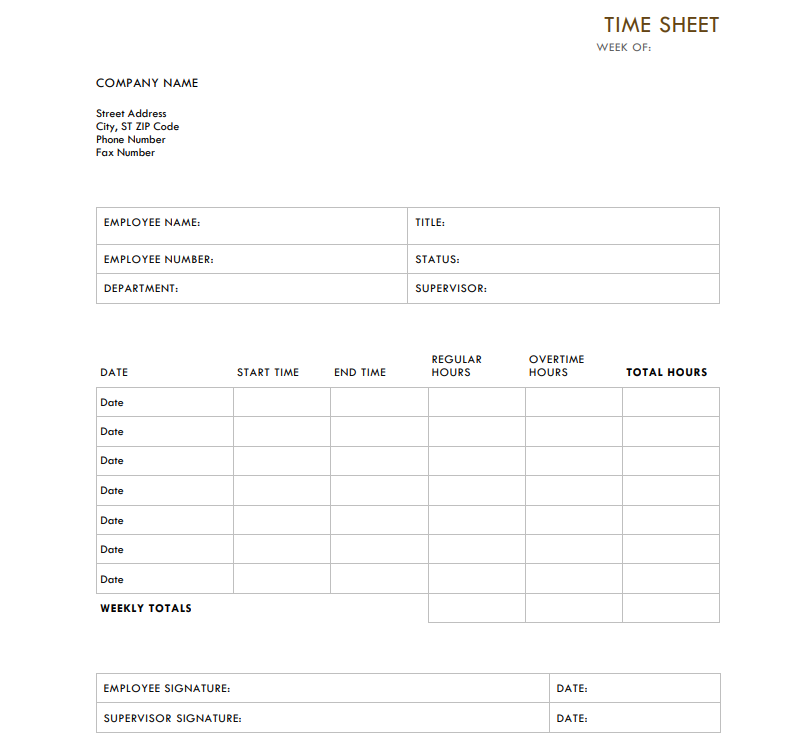 Using this resource, you can get access to free downloadable templates that businesses can use to keep track of employees' hours. These simple printable tables are the basic instrument in payroll processing and tracking overtime hours.
Let alone simplifying the payrolls, these templates will enable a transparent and understandable mechanism of management within your company/organization.
The Business Templates platform offers a  weekly employee timesheet that is easy to download and print for each of your employees. Upon filling in their worked hours for each day, employers and employees get access to easy pay tracking.
The Weekly Employee Time Sheet Template is available in .xls (Microsoft Excel) format in 20 Rows, 6 Columns size. There is also a Weekly Employee Time Sheet example available upon request. This template has been downloaded almost 200000 times.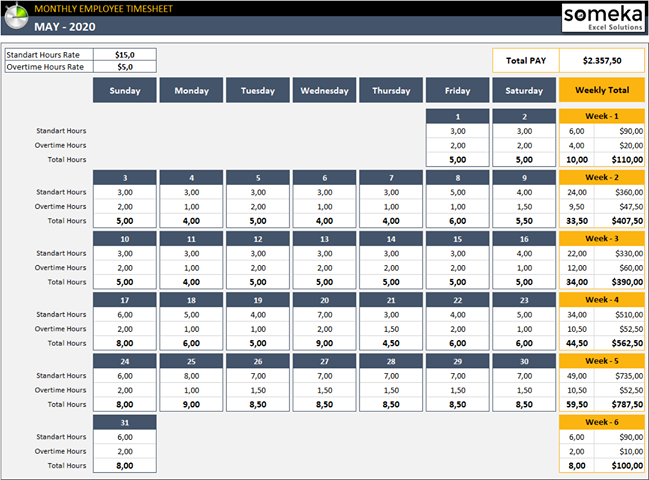 Someka Employee Timesheet allows you to record the rates and number of hours worked for every separate calendar day. There is also a separate section for the rates of standard and overtime hours.
After you download the template, the Dashboard will present the overview of the total payment amount on a monthly basis. Visuals will provide quick info once you select the month from the dropdown.
In this spreadsheet, all you have to do is put your company an hourly rate and input the hours that your employees worked! The rest will be calculated automatically.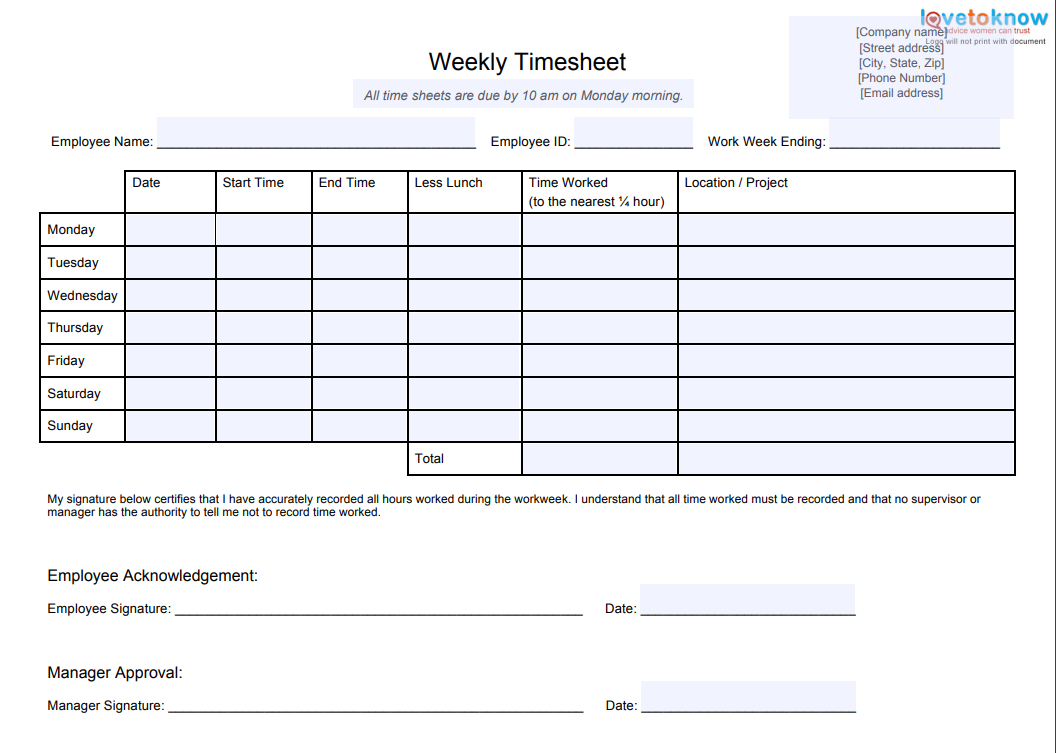 Among lots of free printable materials that LoveToKnow offers, the daily and weekly timesheets stand out due to their simple and professional look. These timesheets templates will surely help you optimize the administering routine and keep total hours controlled.  
You need to click on the image of the template that best meets your needs, and the PDF template file will open.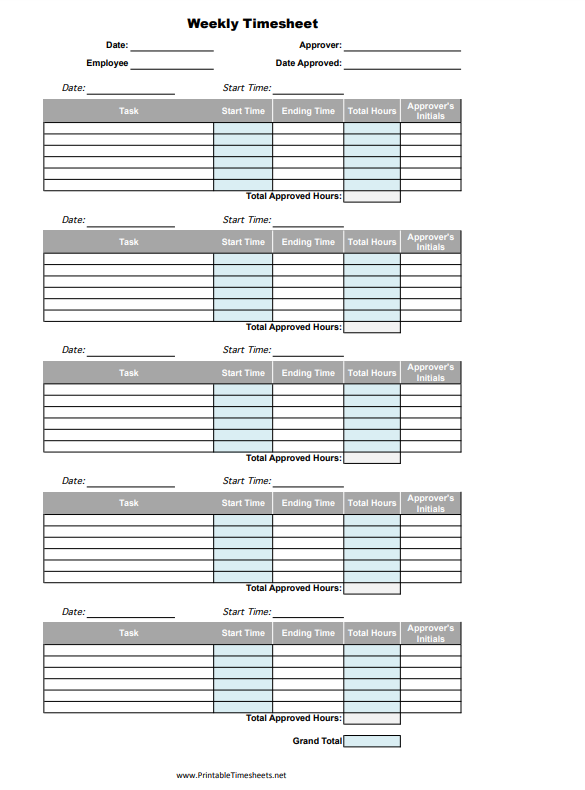 Keeping competent and functional means being able to focus on projects that are vital for your business while spending as little time as possible on office routine, and applying daily/weekly/monthly timesheet templates that Printable Timesheets platform offers is an easy solution.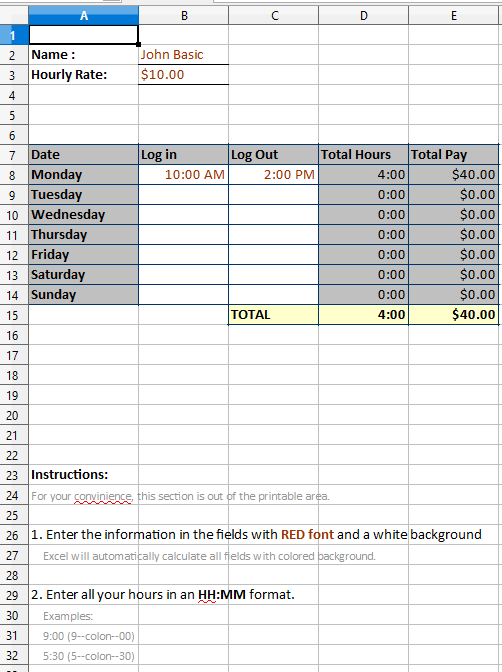 If you want to record your employees' work time there is an easy way to do it with Excel-based timesheet templates.
Using this resource, you will be able to track and evaluate the log-in and log-out time entries. It will prompt calculations on total hours and will show the total pay based on hourly rates.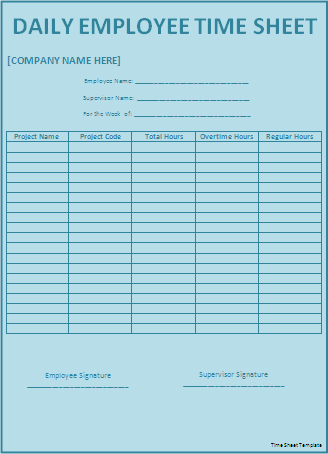 Once you click on the download button, you will get the templates on employee hours. It contains the space for the company name, supervisor name, project name and code. It also provides the totals differentiating overtime and regular hours.
It is of12 great help for preparing the salary packages and incentives for employees. A supervisor responsible for approving the timesheet will get the professionally-looking template that facilitates office work.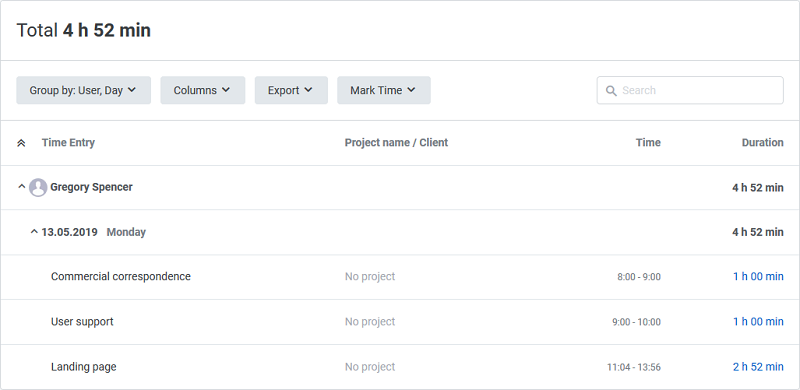 If sticking to the paper routine is not for you, and you feel tired of dealing with the necessity to print out every document, then you should switch to timekeeping with reliable time tracking software that allows the calculation of work hours with precision.
Most employees would opt for digital solutions when it comes to recording work time and attendance as it requires minimal time input and helps create trustworthy relations based on transparency.
The benefits of time tracking software are obvious: besides the considerable saving time on paperwork, the data included into timesheets will automatically calculate and consider the days off, sick leaves, vacation, overtime work, and totals on hours.
In addition, TMetric functionality covers full visibility of tasks employees are working on and the duration of time for each task to be completed.
Therefore, with applying TMetric daily timesheets, you will:
To enhance time management, you can try the templates we list below. Using them along with an automatic time tracker will complete your time management strategy at best.
Bonus: Work Planning and Staff Training Templates to Use in 2022

Here are great templates that knowledge workers and managers can use:
for making plans
for training staff in post-pandemic.
Their application will not only improve time management but increase productivity with a guarantee.
5 Top Work Plan Templates
Planning prevents pain, and planning templates can work wonders when used for:
Setting goals and priorities
Defining daily routines
Maximizing time management capacity
Limiting distractions.
Daily Planner
What it features🌟:  details on planned activities, meetings, and locations.
Ready 📌 for immediate download, printable daily planner , a planner is ideal for getting the 360-view of the day.
Weekly Planner
What it features🌟: time hours, to-do list, color-coded days.  
Ready 📌 for immediate download and print, Weekly planner will keep your week organized at best.
Monthly Planner
What it features🌟: full month overview, officially recognized holidays
Ready 📌 for immediate download in PDF format, Monthly Planner is available with marked federal and national holidays.
Quarterly Report
What it features🌟: rows for vital data and statistics, bold text for titles, headings, the color palette of your choice.
Ready 📌 for download, Venngage Quarterly Reports with full customization are synonyms for professionalism​ when it comes to your presentations.
Yearly (Annual) Planner
What it features🌟: a chart divided by months and customizable categories that can be marked for showing the distribution of resources.  
Ready 📌 for download upon signing up, Gantt PowerPoint template will be assisting you in delivering the best presentation for reviewing work results yearly.
5 Top Staff Training Templates
Nowadays, businesses are under pressure to adapt to a growing demand in remote workers, which means that training becomes more digitally based.  
Not to lose a competitive advantage, companies demonstrate the increasing reliance on staff training templates that greatly contribute to building a productive work environment.
Templates of this kind belong to the tools that benefit both trainers and trainees.
Employee Training Plan Template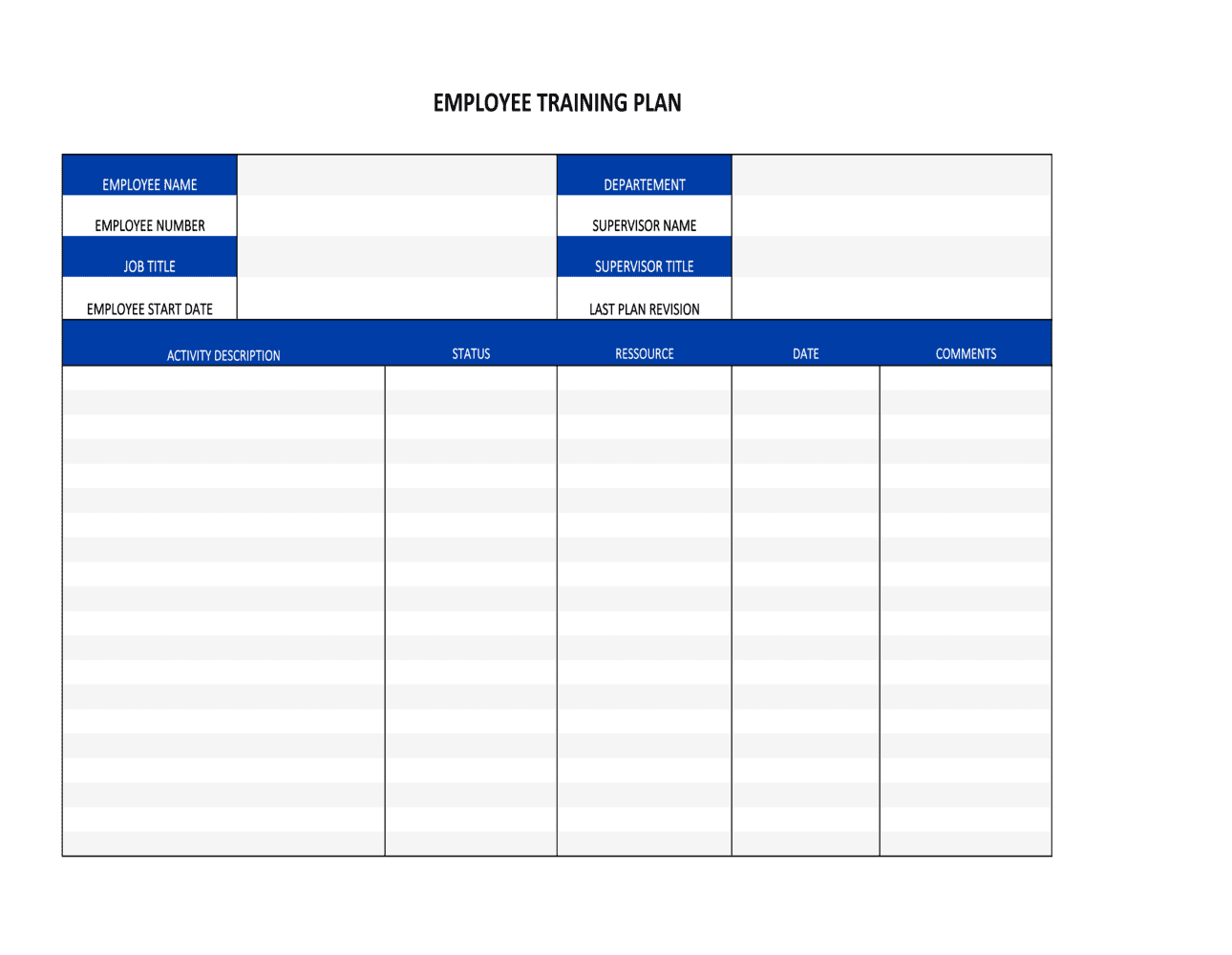 What it features🌟: The info on an employee and her supervisor, columns for a description of training activities, dates, and comments on progress.
Ready 📌 for download in Excel format, Employee Training Plan Template by Business in a Box will be a valuable asset in the arsenal of your HR department.
New Staff Training Plan Template
What it features🌟: It is a 5-page document that includes a title page, objectives of training, strategy chapter, action plan, and sections for highlighting the information on the training team.
Ready 📌 for download in Word, Google Docs, Apple Pages and PDF formats,, New staff Training Plan Template is free to edit and use.
Templates for Onboarding New Employees

What it features🌟: It is an easy-to-edit diagram for visualizing the organization structure including names and positions.
Ready 📌 for customizing online and sharing, Creately Employee Training Templates are available on the free (for 3 documents) and paid (for unlimited number of documents) plans.
Employee Training Log Excel Template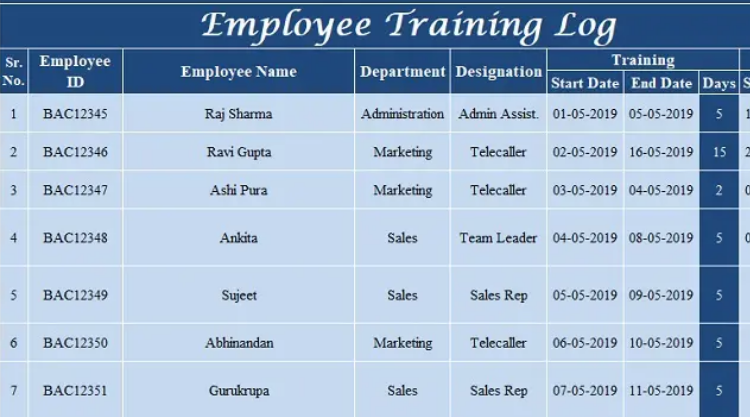 What it features🌟: basic info on trainees, dates of training, records of training sessions.
Ready 📌 for direct download, Employee Training Log from ExcelDataPro is a perfect fit for employees' skill training management.
Employee Training Record Template
What it features🌟: a lightweight template in PDF that lets evaluate a performance gap compliance and indicate how training will improve the employee's performance.
Ready 📌 for immediate download, this free Employee Training Record Template will be a reliable assistant in managing a complex performance review process.
To Conclude
Knowledge workers tend to deal with recurring tasks requiring the maintenance of basic information about the whole process.
Template usage is a quick and effective way to cut down on time. With the automated creation of these documents, businesses that normally would spend hours on this routine can easily accomplish it in seconds.
If your work requires precision in tracking the work hours, you will need to choose the best-suited timesheets templates for accurate and reliable time keeping. Applying the timesheets templates we recommend above, you will ensure that:
The processes for approving time and expenses will be automated
Report data will be easily managed.