10 Work Schedule Templates
Work schedule templates can be great assistants in facilitating workflow and removing bottlenecks related to admin tasks. Read on to know what top best 10 work schedule templates you can use today.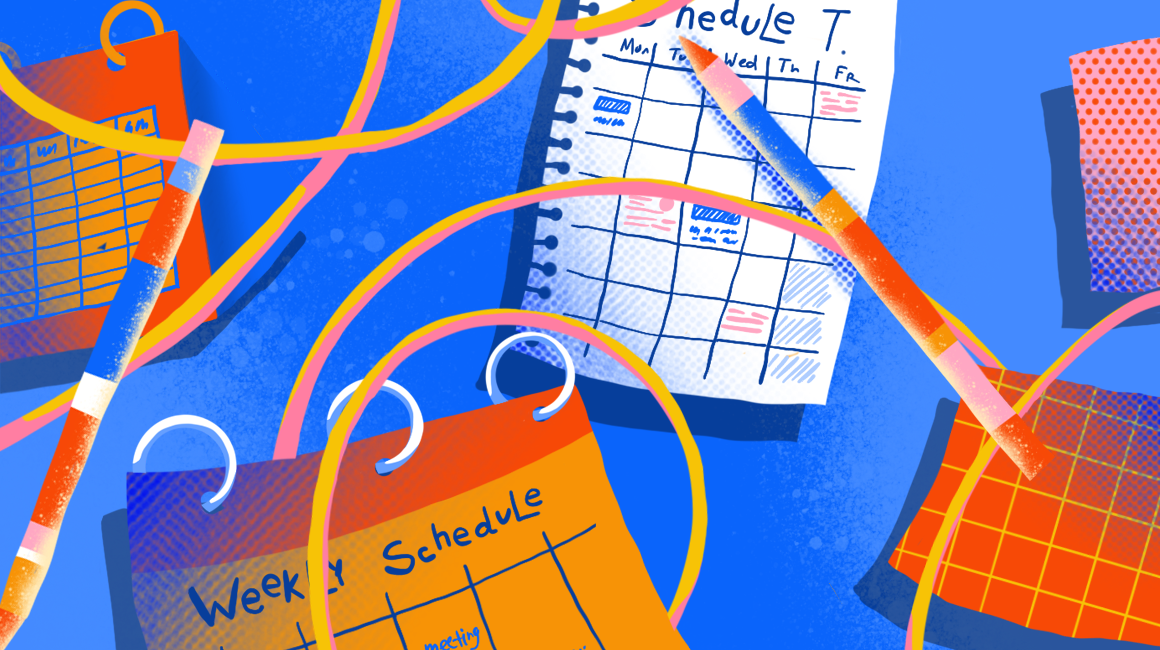 For contractors and employees alike, setting a schedule is crucial. Mistakes in scheduling are not only costly (shortage of staff, failed deadlines) but detrimental for business productivity and work culture (risks of high turnover as the result of mismanagement).
And now, with the evolvement of new work modes (remote and hybrid) and employees' high expectations of flexibility, scheduling got more challenging for employers and HR Departments.
Some businesses work Monday through Friday, with the weekends off. Others shift to the 4-day work week. There are companies that practice schedules based exclusively on task completion, and there are businesses that encourage their employees to build their schedules with help of time tracking.
In either case, to create effective schedules, there are work schedule templates that are helpful and efficient.
Why is it worth considering? We discuss offers that would cater to the needs of any business niche.
Below, we recommend the 10 best work schedule templates of various kinds you can apply instantly to navigate your day without fail.

Template #1: TMetric Setting Work Schedule and Holidays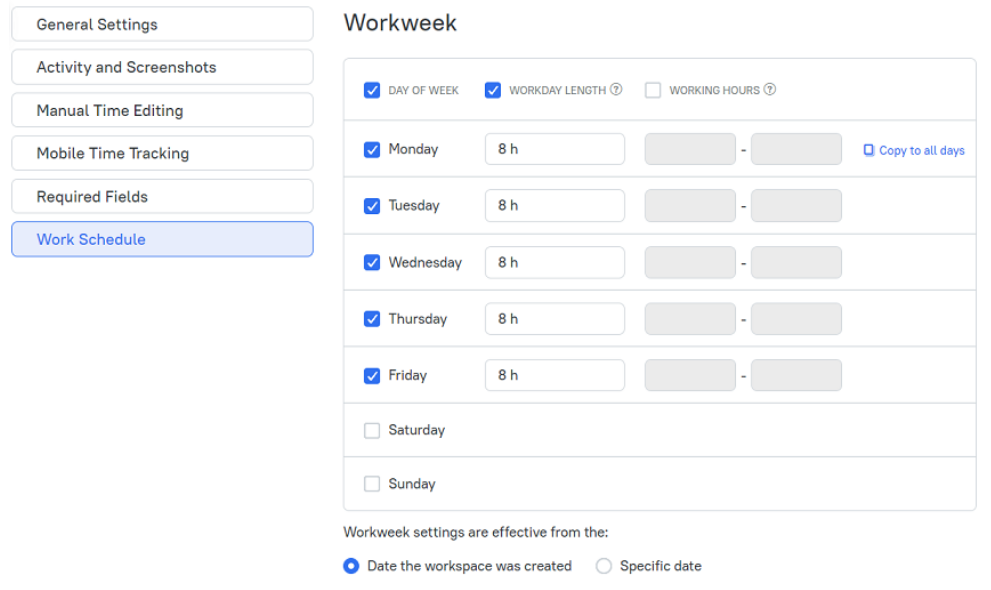 Work schedule templates are essential for success in project management due to their capability of bringing workflow automation to a new level.
TMetric provides a place to share and create work schedules online, and to view and share them instantly.
How does it work? The key to an effective work schedule template is to first identify the tasks that need to be accomplished on a specific day and then group them together based on their dependencies. For example, if the task "call client" is dependent on "complete email", it will be easy to build a workflow by linking the tasks in a simple timeline.
Besides, TMetric work schedule template lets set both workdays and working hours and enables all the company departments to comply with unified work policies from the chosen date.
Template #2: Smartsheet Schedule for Excel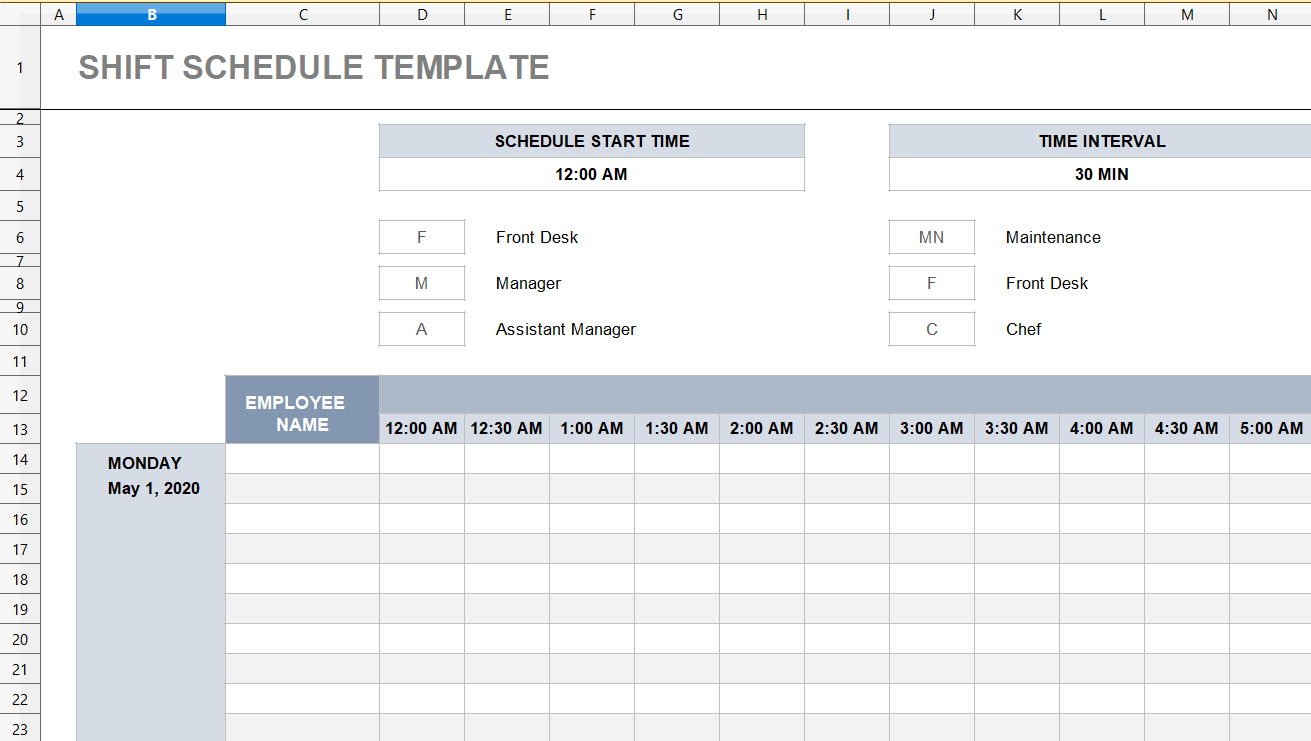 Smartsheet enables managers and teams to use templates for employee scheduling including weekly, bi-weekly, employee shift templates, etc.
It not only signifies a better management system for the business but makes planning and goal-setting easier.
How does it work? You get instant access to the employee work schedule template that helps assign shifts, mark the total number of work hours and control professional task performance. Each type of schedule template is available in Excel for immediate use or Smartsheet-powered formats (a user's signup is required).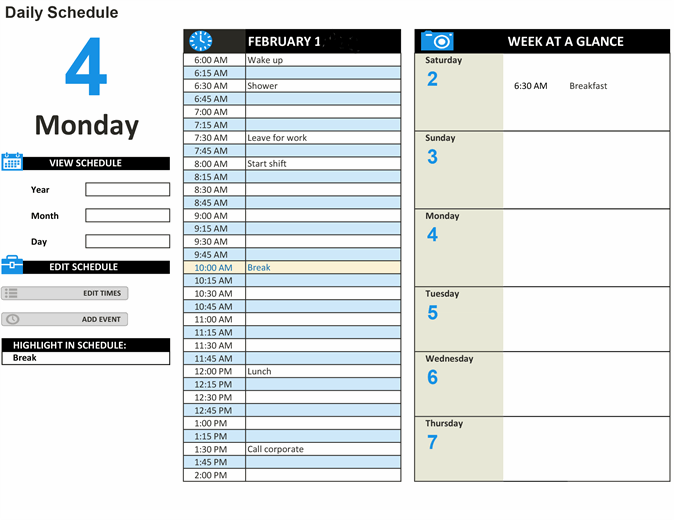 An efficient and consistent work schedule template brings a touch of automation to the complex task of employee management, and this Microsoft Office daily schedule template can illustrate it perfectly.
How does it work? This interactive schedule template lets you easily track your daily and weekly tasks with just a few clicks! With the event scheduler tab, you can add any events that are relevant to your day, then on the daily schedule tab, select the appropriate day for your desired date.
Once you're finished, Excel will automatically help manage your day by automating tasks based on what you've selected. Available for instant download.
Template #4: Gantt Excel Work Schedule

This work schedule template is a very innovative and helpful way for any team to plan out their projects in advance. Time and effort-saving are at the core of what this Excel template does. Instead of trying to figure out where everything goes on your own, you can let this scheduling assistant help and free up some time and space for you.
How does it work? It makes it easy to understand what each member of the team should be doing by providing step-by-step instructions on how to fill out the template itself. Plus, it helps organize your team's projects so that they can consistently be easily followed.
Template #5: Guru Schedule for Standup Meeting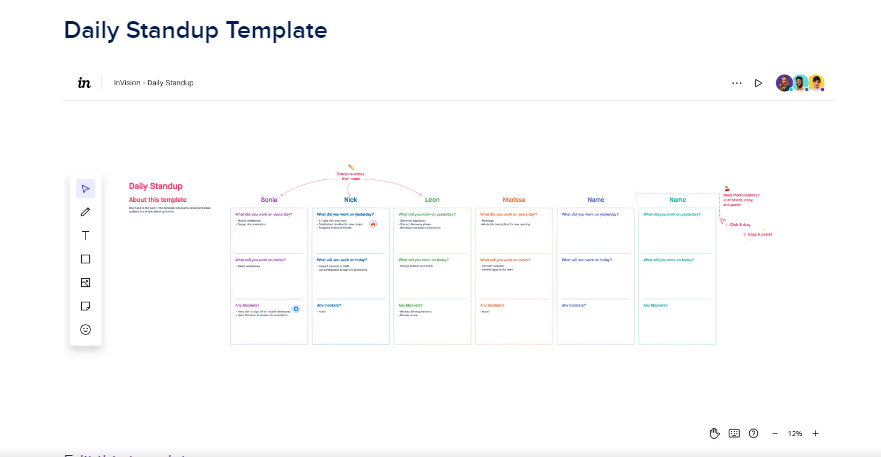 To make scheduling the top of our planning priorities, there are Guru work schedule templates for standup meetings you can start using immediately.
How does it work? The editing options allow including visuals and tagging participants when using this template.
It enables managers to direct the meeting for reaching positive communication outcomes and works for a team of any size. With this template, managers and standup meeting participants will be deeper engaged and save time by reducing any distractions.
Template #6: Vistacreate Social Media Posting Schedule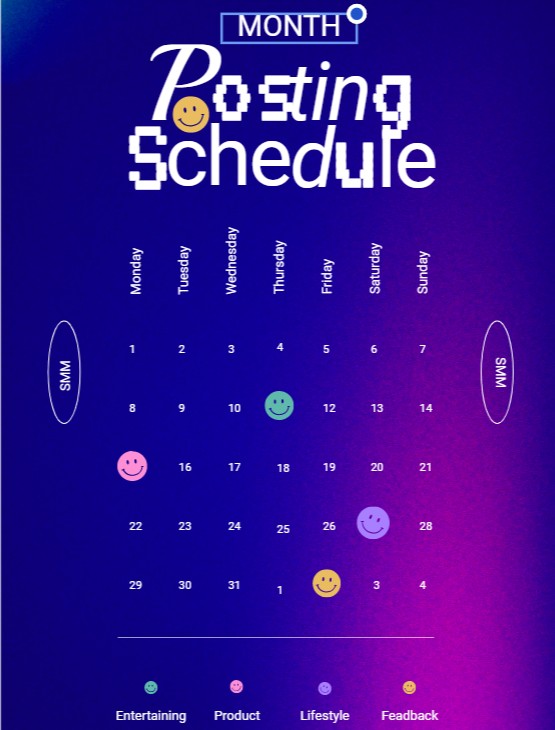 When it comes to posting on social media, monthly planning is the best option. Using Vistacreate simple and elegant template will be a great assistant for SMM and community managers.
How does it work? Build your schedule around what kind of content you plan to post (the template has color-coded emojis for facilitation of this task) and when you post (with a clear view of the month, it is easy to see the best frequency of posting and schedule accordingly).
Template #7: When I Work Work Schedule for Excel

Implementing this template into project management will help small businesses and enterprises with building productivity-focused strategies.
How does it work? This Excel template includes a scheduled period, the names of employees without a limit on the number, shift times, and labeling of the jobs. The template is highly customizable and enables managers to see the team workload at a glance. Available for instant download.
Template #8: Office Timeline Work Construction Schedule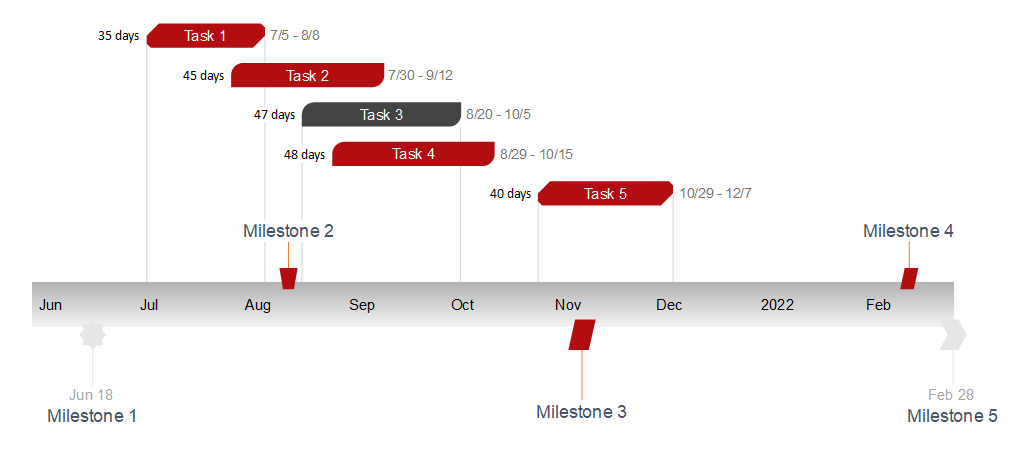 Having a clearly defined schedule is one of the most important parts of any project, especially in the construction business with its complexity resulting from effectively uniting various departments in one business system and prioritizing tasks without fail.
How does it work? The free construction schedule was designed to graphically present proposals and plans to clients and management. This free tool can be leveraged by any project team looking to get a project off the ground, provide a progress report, or analyze a project's as-plan versus its as-built schedule.
Template #9: Calendar Labs Daily Schedule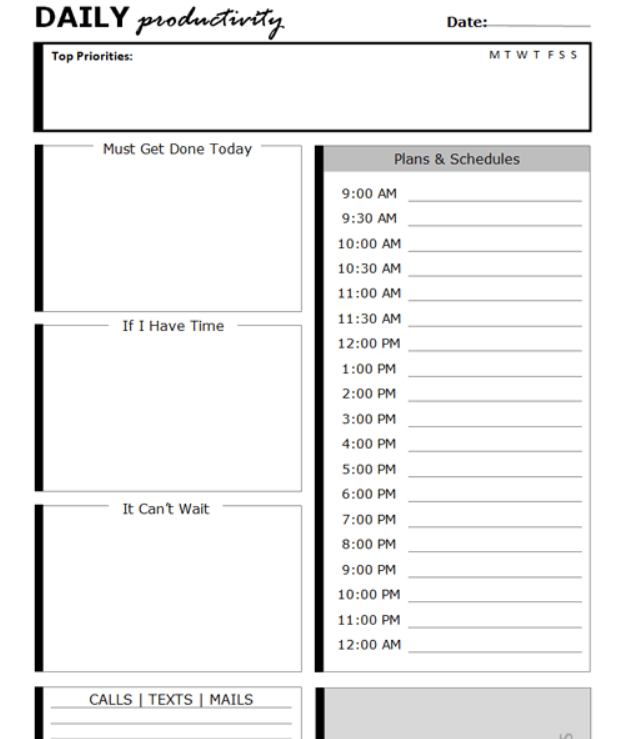 Having the means of efficient daily planning guarantees that the start of the work or study day will be productive.
How does it work? With this template, you can quickly gain insight into your daily plan and avoid the challenges of squeezing too many meetings into your workday. It will be assisting managers, students, employers equally well. It contains several sections differentiating tasks according to priorities and at the same time makes it simple to follow them up.
Template #10: TemplateLAB Employee Work Schedule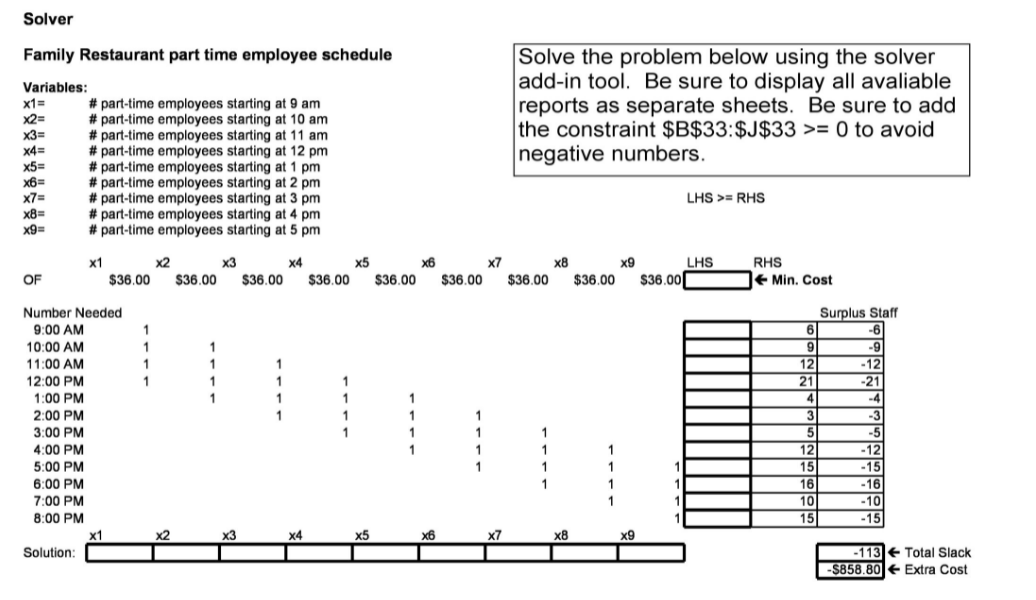 You can either design your own schedule template or download one that is already free to customize. TemplateLAB templates can be a perfect choice.
How does it work? The schedule template creates a schedule with several shifts per day, which will be an ideal option for retail and HoReCa businesses. These templates allow not only monitoring full-time and part-time employee working hours but enable supervisors to prevent staff shortage and feed calculations for payroll processing.
Conclusion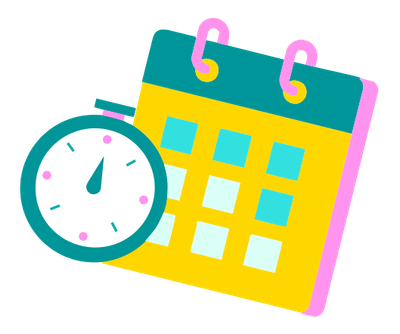 By providing a consistent work schedule for their employees, businesses achieve their goals more rapidly and effectively.
Work schedule templates can be great assistants in facilitating workflow and removing bottlenecks related to admin tasks.
The scheduling templates provide a helpful roadmap by laying out the steps of executing a task. It is not necessary to follow the template to the letter, but rather use it as a guide for structuring your own workflow.