The Best 8 Automatic Time Tracking Tools for Employee Administration
Our blog post highlights the top 8 automatic time tracking software that are game-changers in employee administration and team productivity. Read more!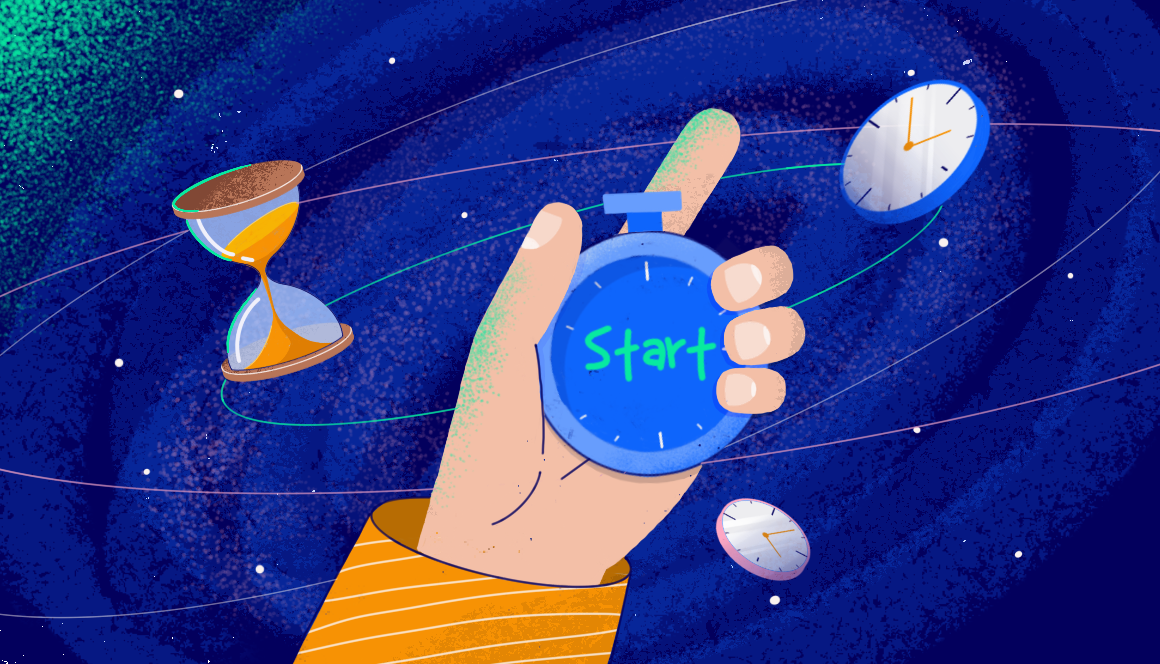 Technology has come a long way in recent years, making it easier than ever before to automate various aspects of our lives. One such area where this is particularly evident is in the realm of work time tracking.
Though automatic time tracking is a relatively new concept, it has proved to be helpful for those who want to become more efficient and productive.
Below, we list the best free automatic time trackers for employee administration.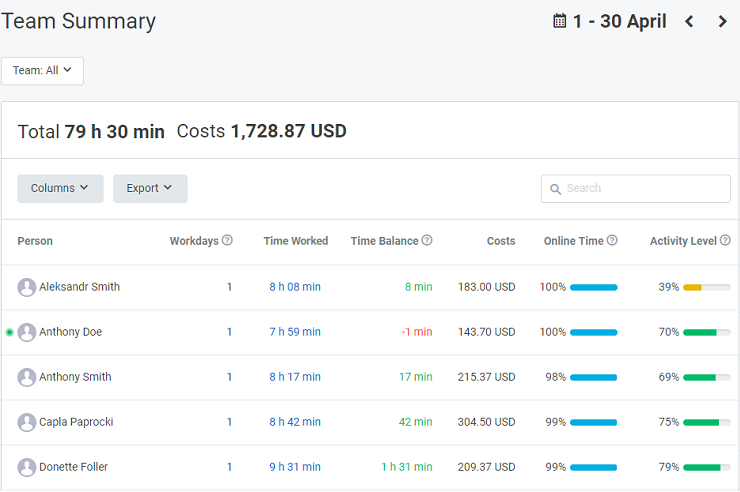 TMetric is an excellent automated time tracker designed specifically for employee administration but is also suitable as a personal automatic task time tracker due to its rich reporting analytics.
Prime features
Real Time Tracking 🌟 It records time spent on tasks, projects, or clients
Billable Rates 🌟 It sets different billable rates for various tasks or team members
Detailed Reporting 🌟 It generates in-depth reports which can be exported in multiple formats
Team Monitoring 🌟 It offers advanced capabilities to monitor team productivity
Project Management 🌟 It integrates with 50+ tools that enable managers to track projects stress-free
Time Off Management 🌟 It automates tracking employees' vacations and PTO
Payroll Management 🌟 It enables businesses to automate payroll processing
Client Access 🌟 It allows restricted client-side access for transparency in billing and project status.
Pricing model
Free 💵 Available to up to 5 users with time tracking and reporting features
Professional 💵 For $5 monthly, it offers advanced reporting, billable rates, and project cost estimation
Business 💵 For a $7 monthly payment, users get all Professional features plus team activity monitoring and client access.
Platform compatibility
🧩 TMetric is an automated time tracker for Mac and Windows, also available as a web application, desktop software, and mobile app, ensuring compatibility with multiple operating systems.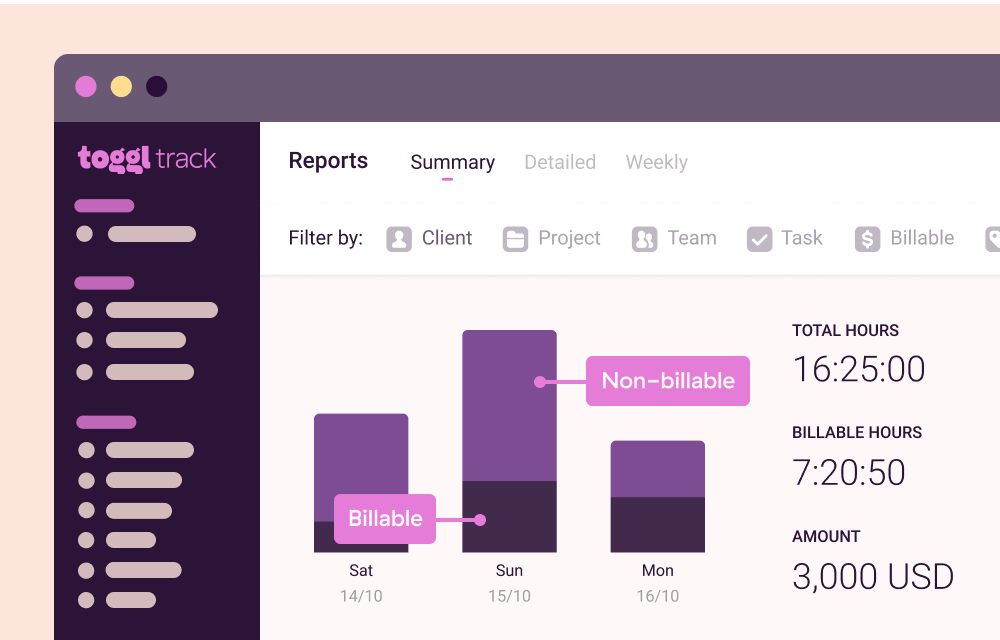 Toggl belongs to automated time tracker software; it is a user-friendly and versatile time tracking tool that emphasizes ease of use, robust analytics, and team collaboration, making it ideal for employee administration.
Prime Features
Auto-Tracking 🌟 Records time automatically based on user-defined triggers.
Timesheet Approvals 🌟 It features approving and locking timesheets for accurate billing.
Advanced Reporting 🌟 It offers exportable reports in various formats
Project Dashboards 🌟 It delivers real-time insights into project progress and team productivity.
Billable Hours 🌟 It helps set billable rates for tasks or employees for straightforward invoicing.
Integrations 🌟 It features seamless integration with productivity tools.
Pricing Model
Free 💵 Basic time tracking features
Starter 💵 $10/user per month; includes billable rates and advanced reporting.
Premium 💵 $20/user per month; includes all Starter features plus timesheet approvals and priority support.
Enterprise: Custom pricing; includes all Premium features plus additional enterprise-level functionalities.
Platform Compatibility
🧩 Toggl boasts impressive versatility by offering multiple ways to access its services, whether via web application, desktop software, or mobile app, thus catering to diverse user preferences and requirements.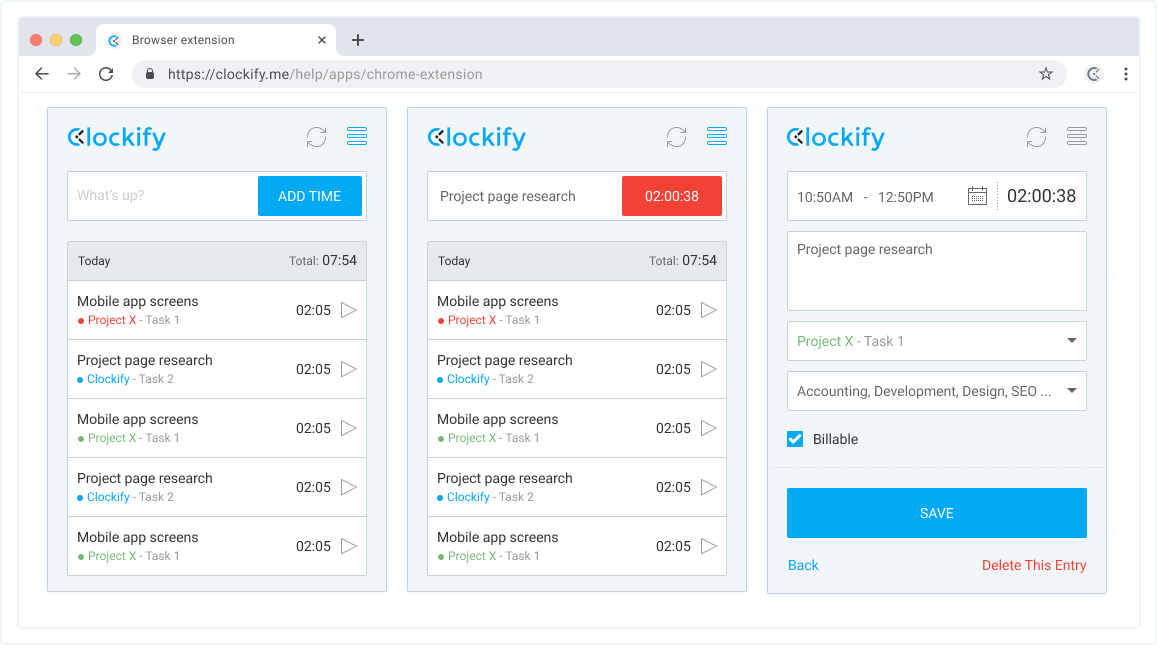 Clockify is a highly flexible and customizable time tracking tool that is designed to facilitate employee administration through extensive analytics, project management features, and seamless integrations.
Prime Features
Automated time tracking 🌟 Users can initiate and halt timers effortlessly or input customized work hours for precise time monitoring.
Timesheet generation 🌟 It efficiently records employees' weekly tasks in a matter of minutes.
Kiosk Mode 🌟 Users can utilize a communal device for clocking in via a personal identification number.
Calendar View 🌟 It provides a graphical overview of your time allocation and pre-scheduled activities.
Pricing Model
Basic 💵 $3.99 per user per month for basic time tracking and reporting
Standard 💵 $5.49/user per month; includes time off tracking and invoicing
Pro 💵 $7.99/user per month; includes scheduling, budgeting, and estimates
Enterprise 💵 $11.99/user per month; offers audit logs and priority support.
Platform Compatibility
🧩 Clockify ensures broad platform compatibility by offering a web-based interface, desktop applications for Windows and macOS, and mobile apps for Android and iOS.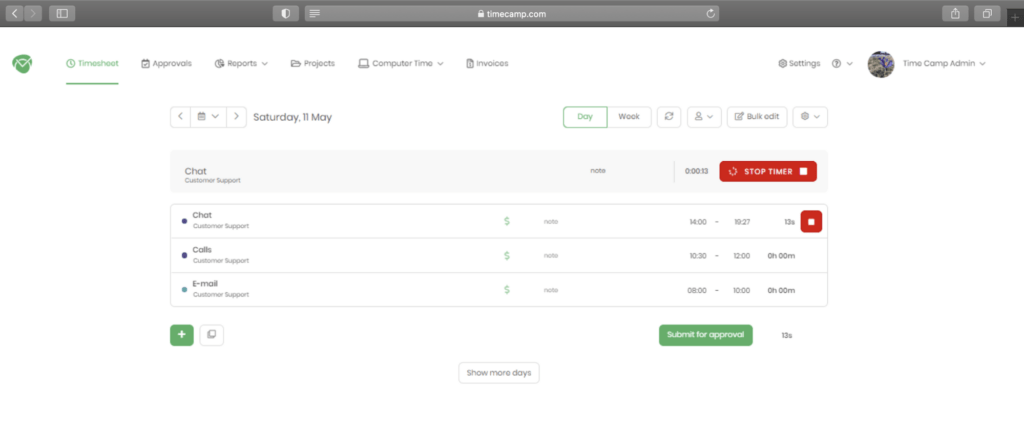 TimeCamp is a feature-rich time tracking tool that specializes in automated tracking, detailed analytics, and multifaceted project management, making it an optimal choice for employee administration.
Prime Features
Automatic Time Tracking 🌟 It is automated time tracker device software that logs time spent on applications and websites.
Billable & Non-Billable Hours 🌟 It segregates time into billable and non-billable categories for precise invoicing
Task and Project Tracking 🌟 It offers a comprehensive project management suite with task hierarchies.
Invoice Creating, Client Invoicing 🌟 Integrated invoicing system to directly bill clients based on tracked hours.
Pricing Model
Free 💵 For solo users, includes unlimited projects and tasks, geofencing
Starter 💵 $2.99/user per month; offers attendance and time-off tracking
Basic 💵 $5.99/user per month; includes billable hours tracking, project archiving
Pro 💵 $7.50/user per month; includes all basic features plus invoicing, and timesheet approval.
Platform Compatibility
🧩 TimeCamp is well-known as an Apple automated time tracker that offers wide-reaching platform compatibility through its desktop clients and Chrome plugin.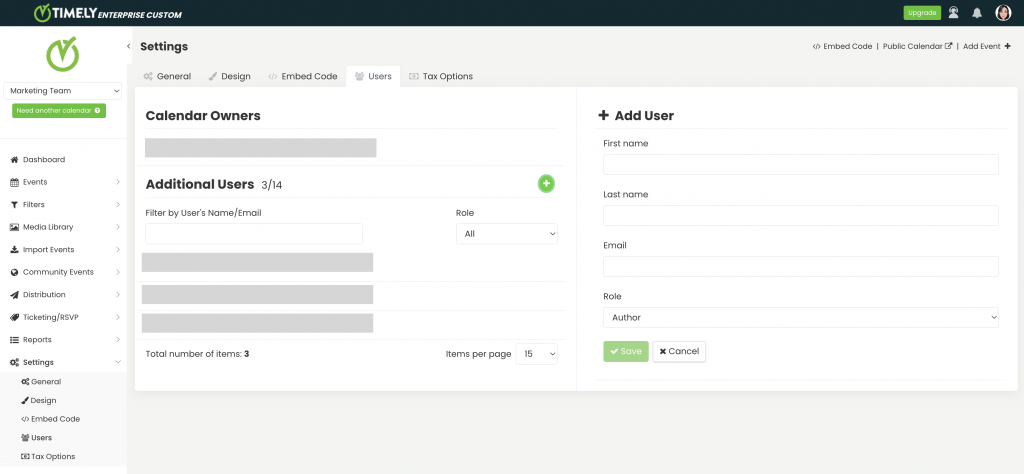 Timely is one of the best automatic time trackers that employs AI-driven monitoring to offer granular insights into employee productivity, making it a top choice for employee administration.
Prime Features
AI-Powered Automatic Tracking 🌟 Utilizes machine learning to automatically categorize time spent across different tasks.
Project Timelines 🌟 Provides a visual timeline for projects to gauge progress and make adjustments.
Budget Tracking 🌟 Allows setting budgets for projects to manage costs and resources effectively.
Real-time Dashboards 🌟 Offers live updates on project status and team performance.
Resource Allocation 🌟 Helps in distributing workloads effectively among team members
Billable Hours 🌟 Enables setting billable rates for team members or tasks.
Tags and Labels 🌟 Customizable tags and labels for better project organization.
Pricing Model
Starter 💵 $9/user per month; basic time tracking and up to 5 users and 20 projects
Premium 💵 $16/user per month; includes team management, API access
Unlimited 💵 $22/user per month; includes all Premium features plus capacity management and advanced analytics.
Platform Compatibility
🧩 Timely is highly compatible across platforms, offering a web-based interface, desktop applications for both Windows and macOS, and mobile apps for Android and iOS.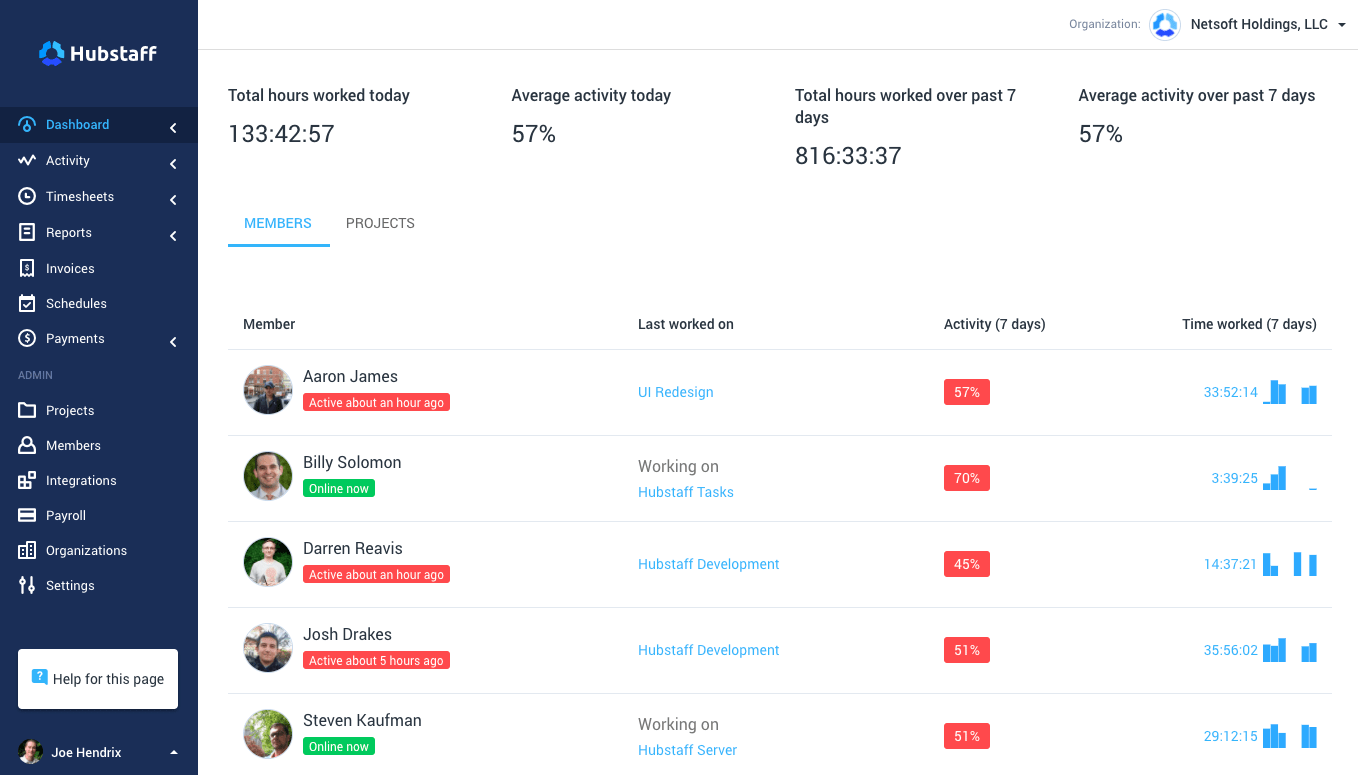 Hubstaff is a robust automated screenshot time tracker and employee monitoring tool designed to offer precise tracking capabilities, extensive reporting, and workforce management solutions ideal for effective employee administration.
Prime Features
Employee monitoring 🌟 Hubstaff provides advanced monitoring options such as random screenshots, app, and website monitoring
Online timesheets 🌟 Users can easily create and manage timesheets to keep track of worked hours for payroll and client billing purposes
GPS tracking 🌟 For remote or mobile teams, Hubstaff offers GPS tracking to monitor the location and movement of employees in real-time.
Pricing Model
Free 💵 Basic time tracking for a single user.
Starter 💵 $4.99/user per month; includes time tracking, project budgets
Grow 💵 $7.50/user per month; includes all Basic features plus invoicing, scheduling, and expanded reporting.
Team: $10/user per month; includes all Standard features, plus payroll and time off
Custom: Custom pricing; tailored solutions for larger businesses that include VIP support, unlimited job sites, and higher limits on public API use.
Platform Compatibility
🧩 Hubstaff is widely compatible across multiple platforms, offering native apps for Windows, macOS, Linux, Android, and iOS, in addition to its web-based dashboard.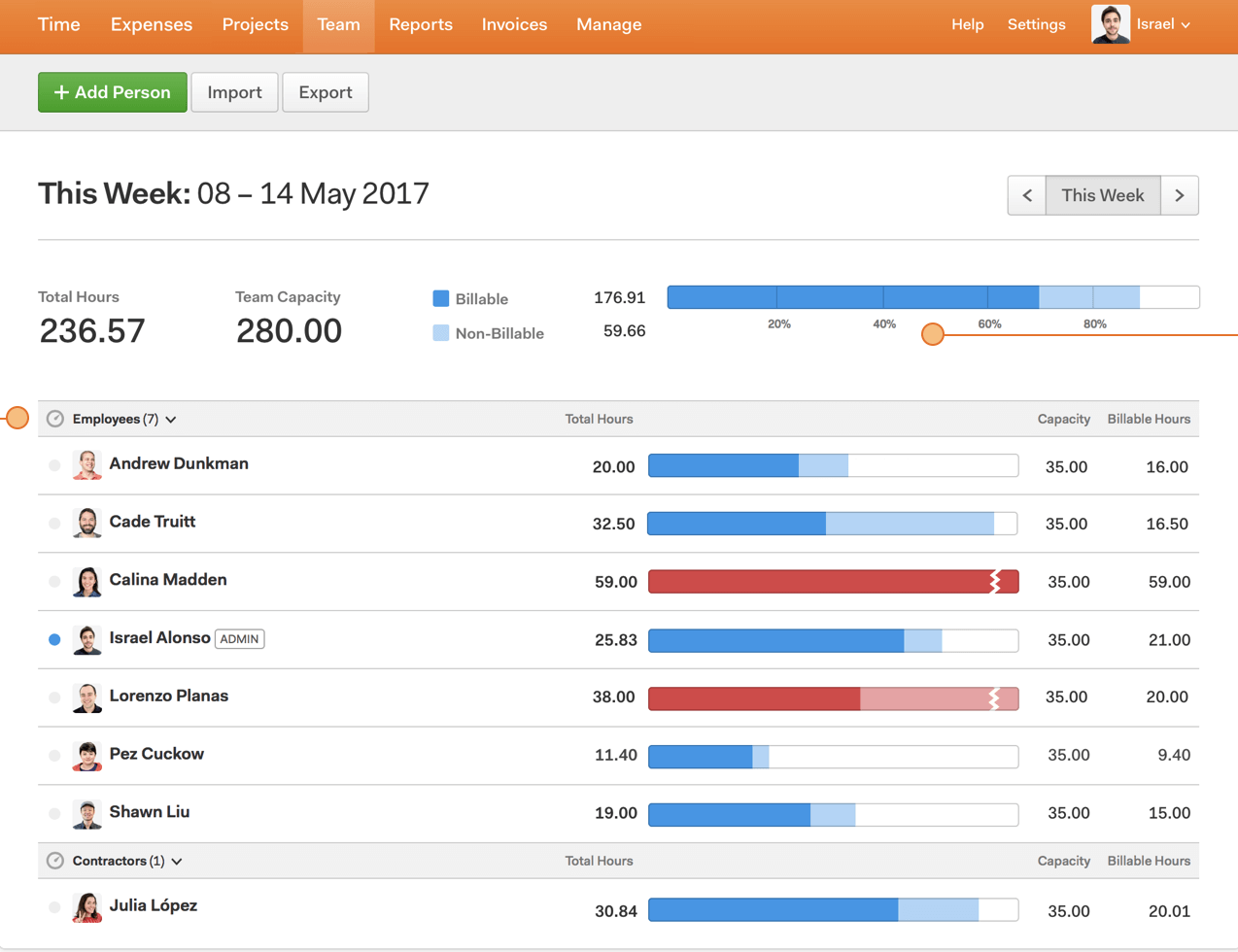 Harvest is a versatile automated time tracker app that integrates effortlessly with a range of other software platforms, offering intuitive functionalities for both time management and invoicing, thereby making it an excellent choice for employee administration.
Prime Features
Easy Time Tracking 🌟 It offers a simple interface for instant tracking time spent on tasks and projects
Expense Tracking 🌟 Allows for logging and categorizing project-related expenses
Invoice Generation 🌟 Automated invoicing based on tracked time and expenses
Team Scheduling 🌟 Enables planning and adjusting team schedules for better resource allocation
Project Budgets 🌟 Allows setting and monitoring project budgets to prevent overages.
Pricing Model
Free 💵 For one user and two projects; includes time tracking and reporting.
Pro 💵 $10.80/user per month; unlimited people and projects, timesheet approval, and additional reporting capabilities.
Platform Compatibility
🧩 Harvest offers robust platform compatibility with native applications for macOS, Windows, iOS, and Android, as well as a feature-rich web interface.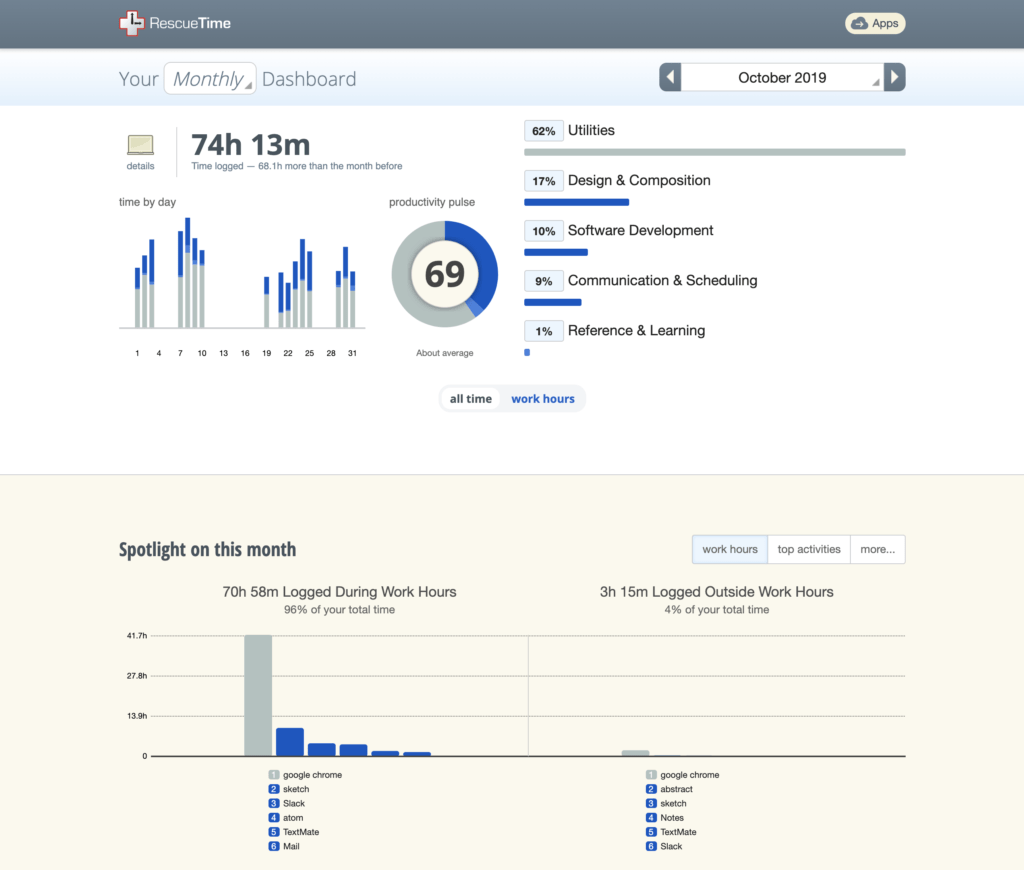 RescueTime ranks as one of the best automatic time trackers designed to provide in-depth insights into employee productivity through automated activity logging and advanced analytics, making it ideal for comprehensive employee administration.
Prime Features
Automatic Time Tracking 🌟 Effortlessly logs time spent on apps, websites, and activities
Focus Time Module 🌟 Enables distraction-blocking modes to encourage focused work
Goal Setting 🌟 Allows users to set and monitor specific productivity goals.
Detailed Reports 🌟 Provides granular analytics on employee productivity, project time, and more
Alerts and Notifications 🌟 Sends real-time alerts for goal achievements or time spent on distractions
Custom Categorization 🌟 Allows for custom activity categorization for nuanced productivity analysis.
Pricing Model
Lite 💵 Free; includes basic time tracking and goal setting.
Premium 💵 $12/user per month; includes advanced reporting, FocusTime, and unlimited data history.
Platform Compatibility
🧩 RescueTime ensures comprehensive platform compatibility by offering applications for Windows, macOS, Linux, Android, and iOS, along with browser extensions for major web browsers.
Advantages of Automatic Time Tracking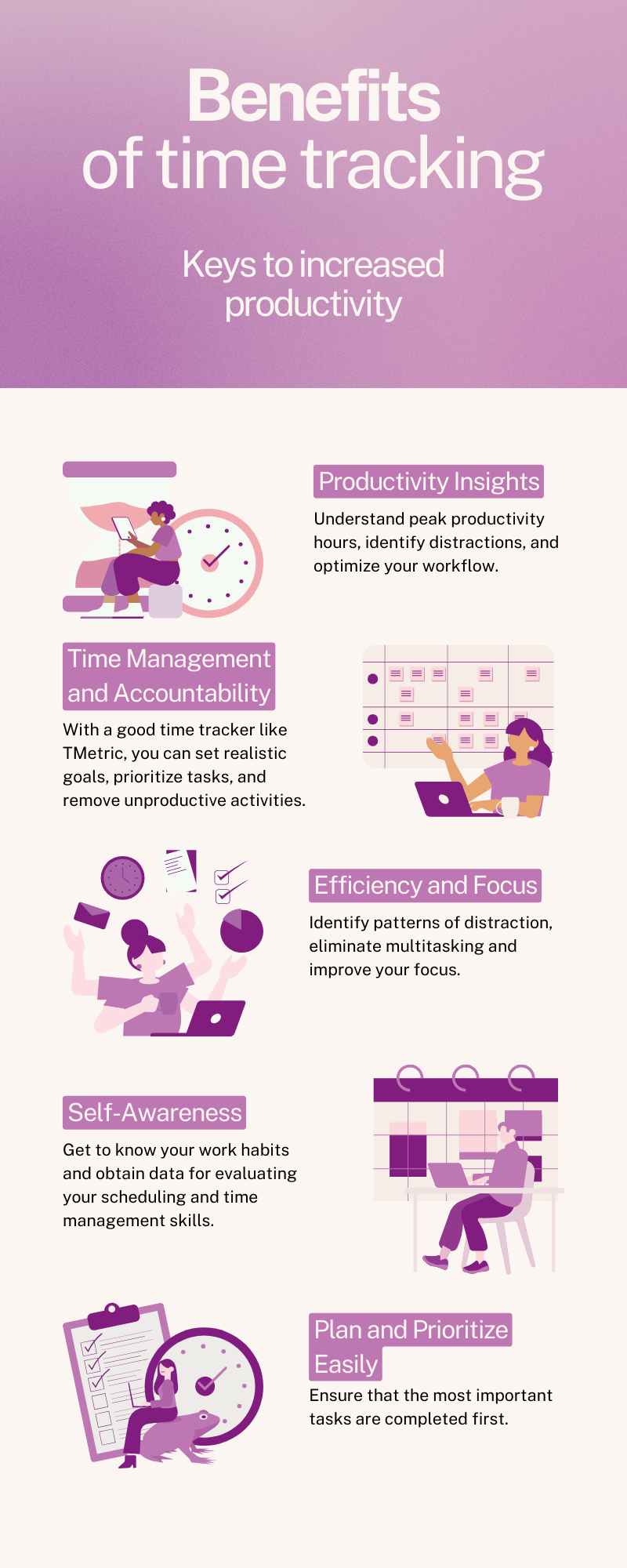 Tracking working hours might feel tedious, but it actually brings plenty of advantages when it comes to productivity.
Peak Productivity Insights
Through automatic time tracking, you gain valuable insights into your productivity patterns and habits. It helps you:
understand peak productivity hours
identify distractions
optimize your workflow for maximum efficiency.
Time Management and Accountability
Automatic time tracking promotes accountability and assists in effective time management. By visualizing your time usage, you can:
set realistic goals
prioritize tasks
eliminate unproductive activities, leading to better time management.
Efficiency and Focus
By tracking your activities automatically, you can identify patterns of distraction and improve your focus. It enables you to:
minimize multitasking
allocate dedicated time for specific tasks
maintain better concentration on important activities.
Self-Awareness
Automatic time tracking offers insights into your work habits and time management skills. It helps you:
become more self-aware of how you spend your time
support personal growth and development.
Automatic Time Tracking VS Manual Time Tracking
When it comes to keeping track of your time, there are two main approaches:
With automatic time tracking, specialized software or tools do the heavy lifting for you, monitoring your digital activities like website visits, app usage, and document access. This data is then transformed into a timesheet or report, giving you a crystal-clear view of how you spend your time. No more guessing or trying to recall how long you spent on a task!
On the other hand, manual time tracking requires you to keep track of your tasks and activities by writing them down or using a dedicated app. While this approach may seem straightforward at first, it can quickly become overwhelming and prone to errors. Imagine having to manually log every email you send, every meeting you attend, and every minute you spend on a project.
Automatic time tracking is not only convenient but also incredibly accurate. By eliminating the need for manual input, it saves you time and energy while minimizing the risk of errors.
Ultimately, the choice between automatic and manual time tracking comes down to personal preference and your unique needs. But if you want a hassle-free way to optimize your productivity and achieve success, automatic time tracking is definitely worth considering.
How to Choose Ideal Automated Time Tracking Tool
When hunting for the perfect automated time tracking tool, keep these key considerations on your radar:
Identify Your Objectives ✅ Are you a solo player, or are you part of a team? Know what you're aiming to achieve — whether it's individual task management or collaborative time tracking.
Usability Matters ✅ Scan for a tool that promises a seamless user experience. The less time you spend figuring it out, the more time you save.
Software Synergy ✅ Look for built-in compatibility with your current tech stack. The goal is a tool that integrates smoothly with existing software and devices.
Interface & Accessibility ✅ Mobile apps? Web-based dashboards? Make sure the tool's user interface works wherever you go.
Feature Set ✅ From customization options to unique workflow capabilities, ensure the tool can be tailored to fit your operations like a glove.
Precision is Key ✅ Zero in on tools that offer meticulous time tracking and in-depth reporting, giving you the insights you need for optimal productivity.
Bonus Features ✅ Some tools go the extra mile with invoicing, expense tracking, or payroll integration. If these are on your wishlist, make sure your chosen tool delivers.
By ticking off these boxes, you're well on your way to landing a time tracking solution that not only fits like a glove but also amps up your productivity game without making things overly complicated.
Conclusion
So, what's the final verdict on automated time tracking systems? In short, they're a total game-changer for managing employees!
They do so much more than just logging hours – they bring accuracy and ease to attendance tracking, simplify payroll, and keep your business compliant with labor laws. But, be warned, not all time tracking systems are created equal.
When choosing the best one for your business, there are a few key factors to consider:
user experience
integration with other software
value for money.
Make the right choice, and you won't just have a new tool – you'll have a streamlined HR process that saves time, reduces errors, and makes life easier for everyone involved.