Timeboxing Examples and Apps to Improve Your Workflow
They say that nothing makes a person more productive than the last minute. We want though to change the perception of this radical statement by shifting the focus from the idea of pressure to the idea of importance of the minute, or in other words, timeboxing.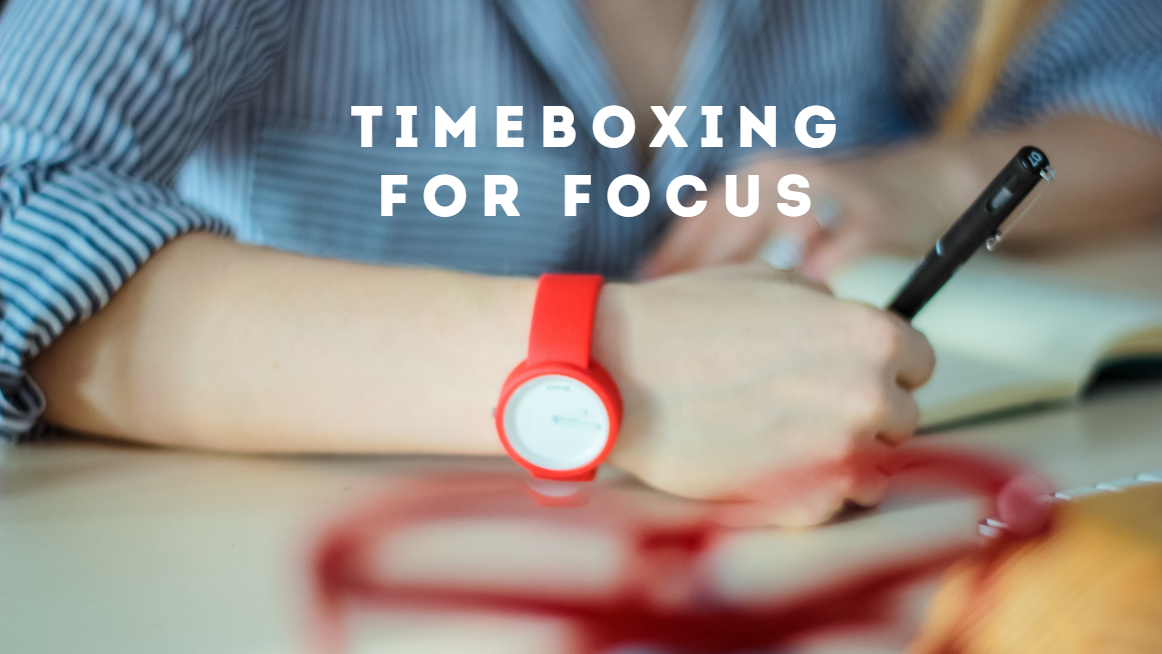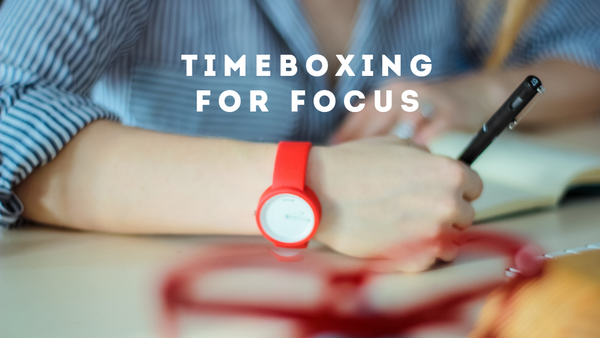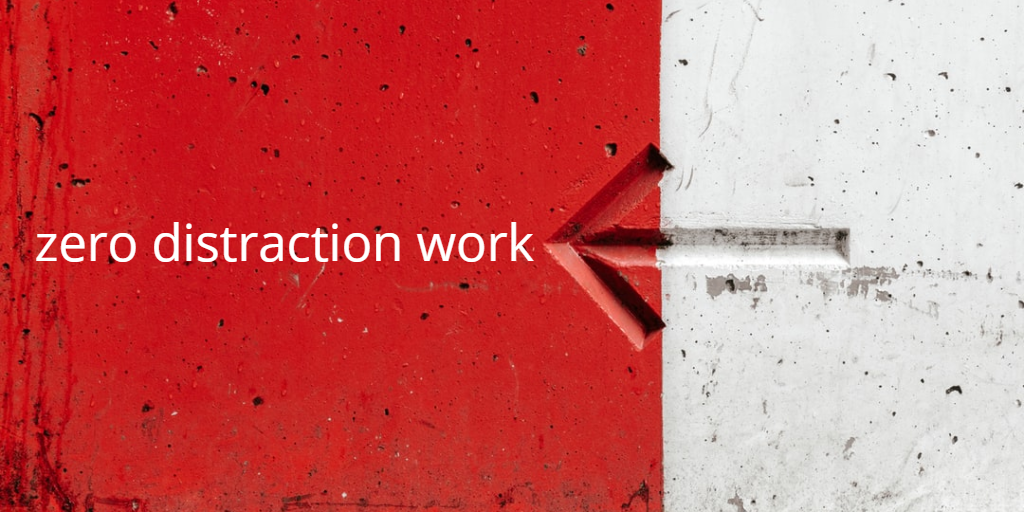 They say that nothing makes a person more productive than the last-minute deadline.
Yet, we want to change the perception of this radical statement by shifting the focus from the idea of pressure to the idea of importance of the minute, or in other words, importance of incorporating timeboxing.
We believe that it is a time and mind-saving trick that works for anyone.  
In the study on scientifically-backed 100 productivity hacks, the top three that ranked the highest included:
the ability to say 'no'
the ability to prioritize
the art of timeboxing as the proven productivity technique NUMBER ONE.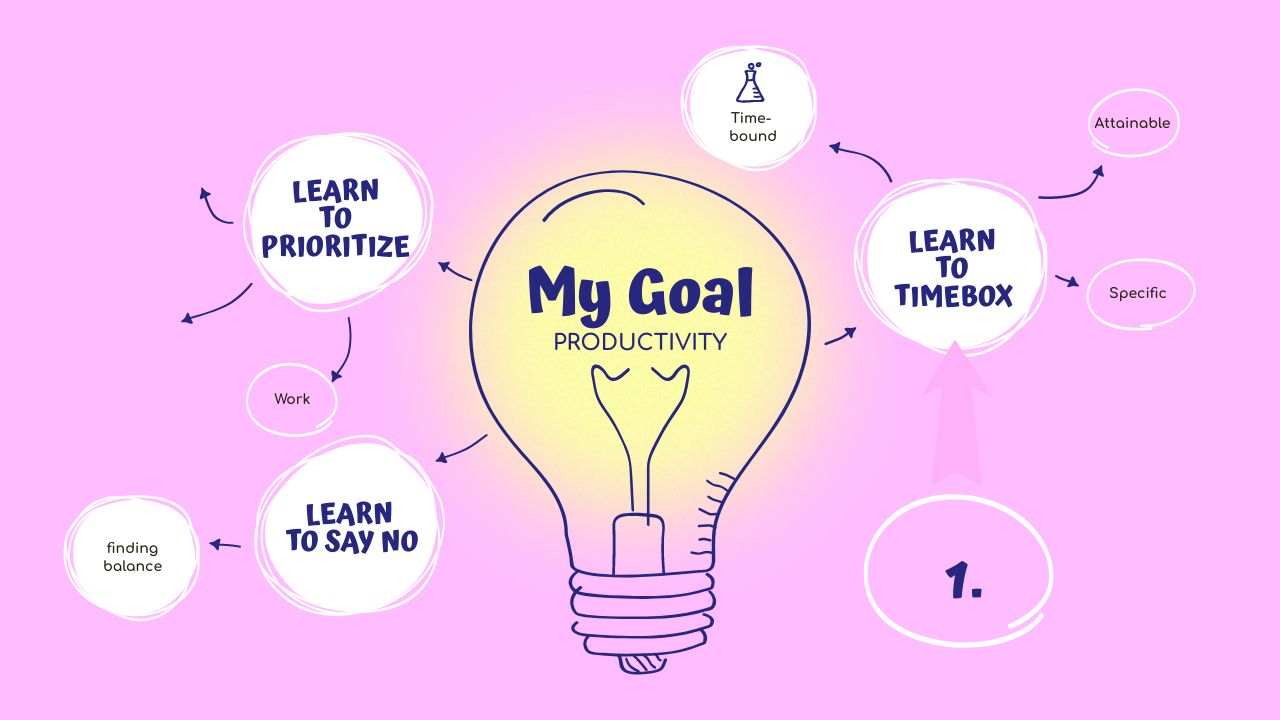 It comes as no surprise because it is a simple method that gives immediate results turning your work into a crisp, fast, and agile process.
Timeboxing: How-to
The description of timeboxing can be reduced to a simple set of steps. All you need to do:
Identify the task you want to perform
Determine the period of time you will be doing it
Choose a tool to set time limits
Launch the timer
Dive into work.
Remember that regardless of the results, you stop working upon the timer alert.
Benefits of timeboxing
Among other great things timeboxing does to your overall performance, this technique is especially useful if you want to prevent time from slipping off into office routine gaps as it:
optimizes time we spend on general tasks (timeboxing simply makes it impossible to hold a 15-minute meeting for one hour)
helps control iterations by focusing on bench-marking progress and listing technical details
assists in addressing the issue when you are caught up with some particular problem by allocating set periods (timeboxes) for one particular task
excludes time loss on 'trial and error' suffering because once you are 'in the timebox zone' you simply do not have time for staring at the screen for an indefinite period of time.
Obviously, timeboxing is one of the best methods to make every minute accountable as it is great to counterbalance the digital distractions and focus on deep work.
Examples of timeboxing
Examples of using timeboxing range from allocating the time for challenging tasks within managing a multi-stage project to making it a rule to time box the time on general tasks (email checkups, meetings, brainstorming), which assists in eliminating the time loss on non-productive work.
Timeboxing in software development
Software developers often build iterations on estimated time as it incorporates well into an agile approach to performing projects and meeting tight deadlines. Timeboxing helps address the project-centric workflow and puts a stop on excessive use of time and resources effectively.
Timeboxing in marketing agencies  
Applying timeboxing is a regular practice in marketing agencies especially under the pressure of launching marketing campaigns or announcing promotions.
Timeboxing ensures that the team evaluates time in terms of 'return on investment' and work over a particular task being aware of its worthiness for business.
In the case of applying traditional to-do lists, there is a risk of adding too many tasks of low priority.
Timeboxing for students
It is an unbeatable method for students that need to get ready for the exams. Testing is usually timed so, with implementing timeboxing, students can re-create the atmosphere of exams and train the skills that help navigate throughout the test successfully :
tunnel vision
focus on one question
keeping a steady pace of movement).
Timeboxing in everyday life
Last but not least, timeboxing is widely applicable in everyday life. You simply allocate time to focus on one task and solve, for example, work-related issue within fixed period. Whether you work from home or office, it will help you structure a day to exclude the danger of piling up running issues.  
Timeboxing apps
There are apps that utilize this highly effective technique and help realize the stated goals by reaching peak performance in daily work.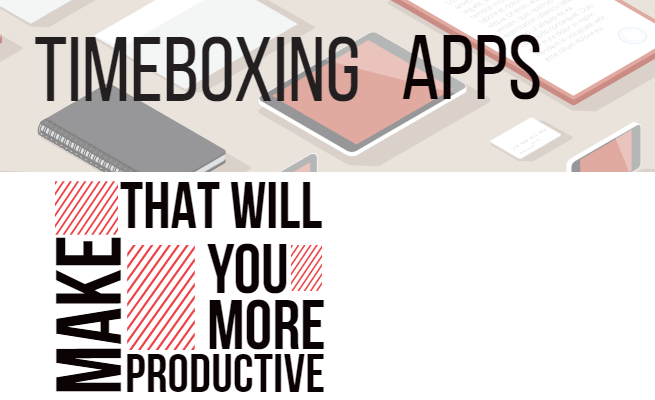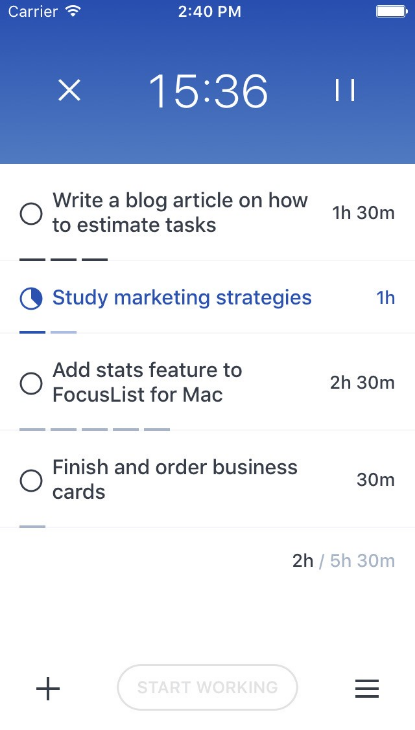 This app presents a to-do list in a simple minimalist-looking way, which drives your work in the direction of task completion. If you intend to allocate several set periods, you can switch Pomodoro timer (programmed for 25 minutes of uninterrupted work) up to 5 times.
This app is an optimal choice for those who want to improve their time management skills within the agile approach to performing projects. Completing tasks will be built around the pre-set schedule you will find easier to follow with Focus List.
What makes it a smart timeboxing choice: It collects data on your performance and turns it into stats reports.
In addition to ensuring a distraction-free work environment, Focus List syncs across any Apple device you use. To get more insightful on all the tasks you performed, the stats view can be opened without a tab switch within the menu.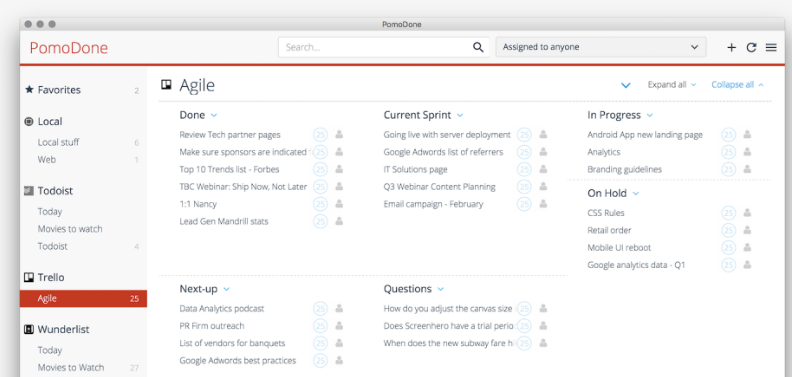 One of the unbeatable advantages of timeboxing is the ability of this method to cater to the specific projects and deliver the tailored time-optimizing solution.
The software gives customers the opportunity to apply timeboxing within the other services and customize the timer length accordingly to the required tasks needs. Being a product of high quality, Pomodone maintains the workflow speed at its optimal level. In its package, the service offers three integrations.
What makes it a smart timeboxing choice: Pomodone facilitates team and project management by providing customized solutions for time utilization. In addition to an easily launched timer, it has a task tracking history that will keep all your projects in detail for further overview.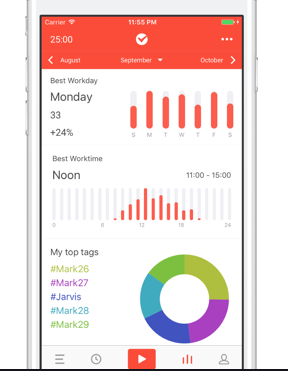 With this app, it will be easy to break the task down into several sub-tasks. So in case you have a long and complex to-do list, applying this software will be working as the solution delivering results for each task most effectively.
Furthermore, the volume of the alarm is comfortable enough not to be startling. It allows the user to keep track of tasks on a to-do list and meet deadlines. The app collects data on all the tasks you performed and presents them in a stats report.
What makes it a smart timeboxing choice: Due to easy navigation and clearly presented functions, it will keep the user engaged in timeboxing hassle-free. The mobile app interface is not overloaded with options, which enables focus on task at hand helps remove off the plate any distraction.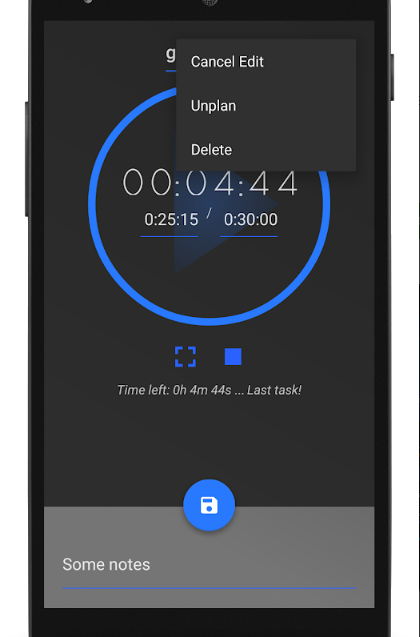 Simplifying the to-do-list by dividing all the tasks into categories (to-do & doing) is the sure way to manage your time professionally. Chunking work and focusing on one task eliminate distractions and let you concentrate on the actual work switching you to the mode 'being-done-right-now'.
Its regular application will surely help form a habit of efficient time allocation and swiping off irrelevant information. You can plan several tasks but the task you start a timer on will be the top priority task with the active status.
What makes it a smart timeboxing choice: When adding a task you set the duration of the task without specifying when or what date you are planning to perform it.
As the name of the app suggests, developers wanted users to be able to concentrate on momentum, and it is designed to achieve this goal fail-free.  Upon task completion, there will be a sound of the alarm, and you can choose among several options (ignore, snooze, mark as done and remove from the list of reminders).
This app allows you to launch the timer with a swipe or enable it with a voice command or schedule to start it. The clear design of the app helps you keep the process under control and avoid any setbacks in performance.
This app is multi-functional as it delivers equally productive outcomes to any category of users (students, businessmen, etc.).  It is available in the free version. Additionally, you can make a one-time payment to remove advertisements.
What makes it a smart timeboxing choice: You can set a timer from one second to up to two hours. Enabling shortcuts or applying a Google voice control provides instant access and ensures more flexibility and customization within the workflow whether you perform a task individually or in a team.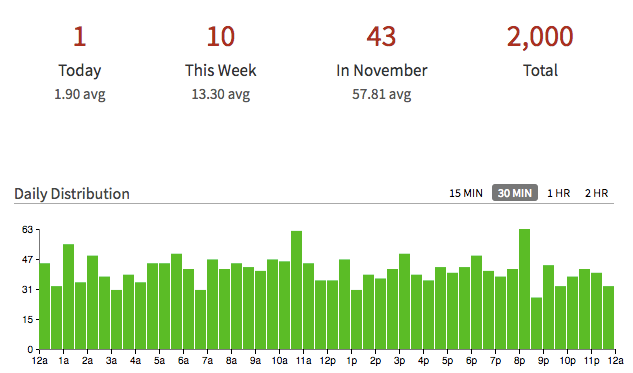 With this app, you can easily track your work sessions stress-free as the software offers various reminders as well. Marinara Timer is a flexible web app that lets you customize both the work session duration and the sound of alert (from angelic song to more vigorous fire alarm).
The lists of things to do and things that are done are kept separately, which lets you tap in the overview of the workday productivity instantly.
What makes it a smart timeboxing choice: It is available as free web-based software that works on the basis of time chunking technique. Marinara Timer offers timeboxing in three modes: Pomodoro, customized duration, and a kitchen-type timer.
Due to advanced functionality, automatic time trackers provide timeboxing options as one of the ways to organize the unbroken workflow. Allocating the set period of time for a task can be done in the description box.
Using timeboxing within TMetric time tracking:
brings all the functionality you need in a neat timeline
makes multiple tracking tasks an easily accomplished mission
you get a well-designed tool for delivering the best reporting results off your fingertips  
safeguard the tracked data in the cloud to move calculations to the background
assists in identifying the peak performance hours.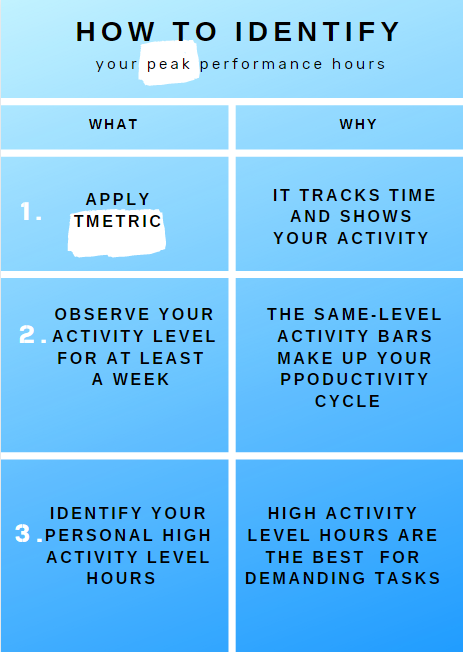 What makes it a smart timeboxing choice: Using TMetric helps get best of timeboxing as a method by optimizing the time spent on routine tasks and focusing on agile projects with allocation the most demanding sub-tasks at your peak performance time.    
Concluding thought
Due to the simplicity of implementation, timeboxing is the champion among time management techniques working as an ideal solution for short-term projects. It guarantees brilliant results through activating focus on a single task and moving the person to a state of deep work.  
Once the employees get the proper technological support with the time tracking tool fitting their needs, they can apply timeboxing as a facilitator of workflow enabling a person to prioritize more efficiently and, thus, meeting the deadline stress-free.
Overall, applying timeboxing improves productivity and helps reach peak performance by eliminating distractions and preventing time management pitfalls.