10 Best Task Management Apps
There are hundreds of task managers worth implementing, but to cut down on search, in this post, we introduce best 10 task management apps you may find valuable and easy-to-use for accomplishing your work on any level of project complexity.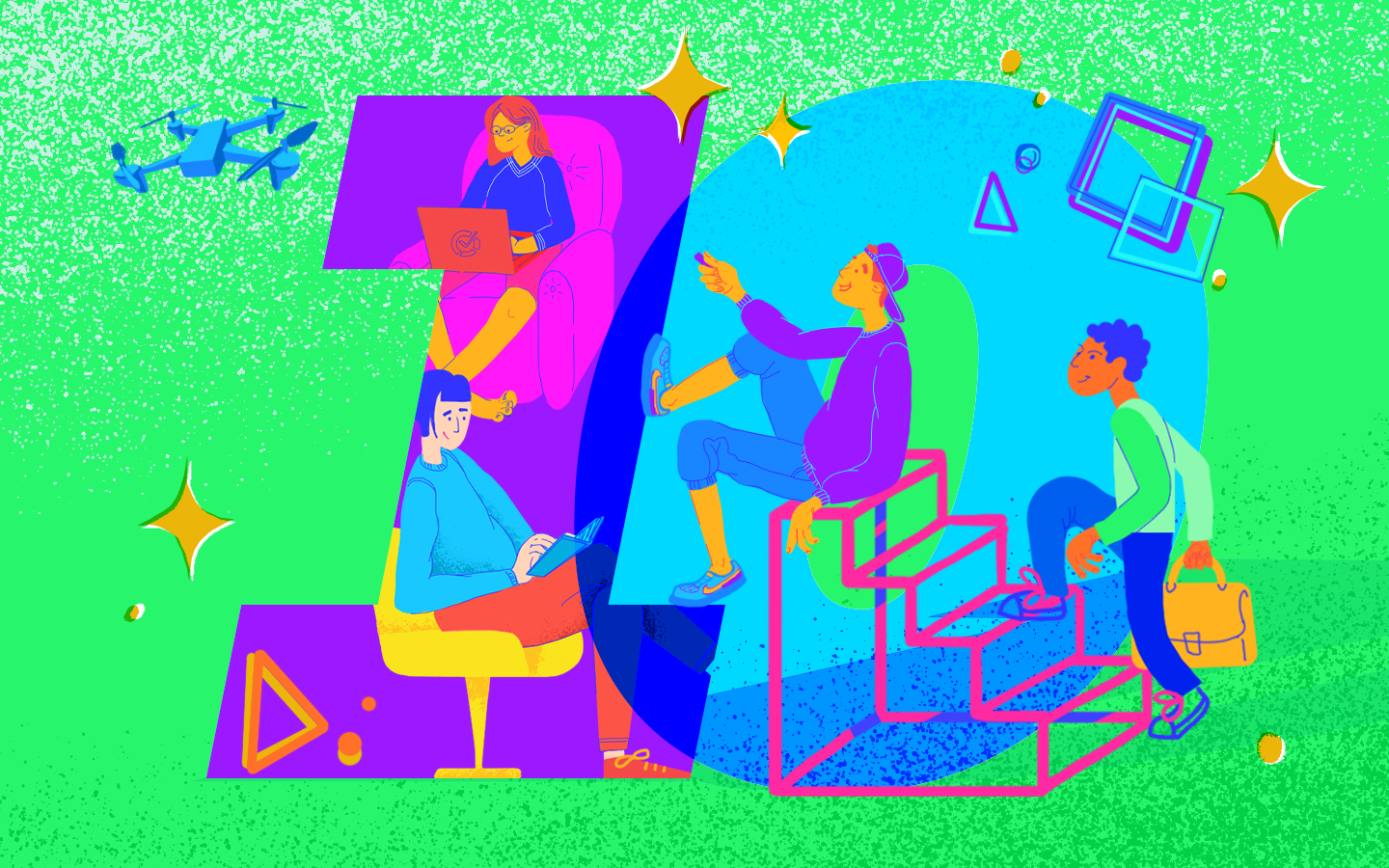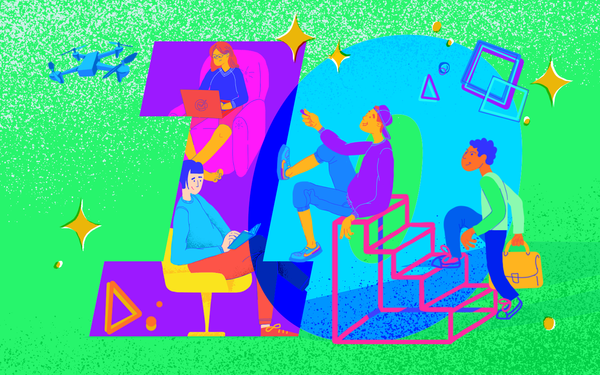 Whatever flavor 'busyness' comes in (either it is a pile of emails demanding your attention or several agenda-free meetings in a row), it inevitably saps productivity and leaves you in confusion about the question of the meaning of work. Not a trivial question regarding the importance of purposefulness for keeping intrinsic motivation and burnout prevention. The solution to address the issue comes in reliable task management apps.
There are hundreds of task managers worth implementing, but to cut down on search, on this list, we introduce best 10 we find most valuable and easy-to-use for task management on any level of project complexity. Before diving into detailed description, there are some facts worthy noting.
Task Management Software: Definition, Market Size, Functionality
The size of the task management software market is expected to grow by 13.74% in 2023. The major driving forces influencing the dynamics include:
🚀 shift to remote work and operating in virtual office
🚀 the demand for collaborative low friction environment
🚀 importance of prioritizing in crisis management .
With lots of professional groups being the target audience of task management software and due to the wide scope of facilitating and reporting functions that task managers are designed to perform, the list of their application across industrial sectors ranges from consulting service and technology enterprise to government organizations and, overall, includes by components:
Marketing
Human Resource
Product Development
Customer Service
Accounting.
Transparent system of task management gives both teams and individuals an additional perk of strategic coping, which is an important building block of professional mastery.
Studies initiated by Microsoft showed that working from home under Covid-19 lockdowns caused a spike in email communications and an increase in the number of the short meetings. Unfortunately, it also caused the longer work hours to the point of spending an extra hour a day on work devices.
Task management proves a perfect fit under the conditions of an immediate and unplanned shift to remote work as it helps set healthier work life boundaries at times of crisis by assisting in delegation, elimination, or postponement of the less essential tasks and shedding light on focus-demanding tasks.
Overall, the potential when focusing on task management is enormous: to-do list management tools ensure:
access to your tasks and information from anywhere
facilitation of collaboration on shared task and lists
guarantee of seamless workflow in project management
visualization of goal setting
actualizing priorities
building of links between tasks and time tracking metrics for improved productivity.
To juggle multiple tasks while being rooted in home environment requires a lot of resilience, and one of the best ways to maintain mental well being, productivity and effectiveness of team collaboration is to implement Meister Task software that is thoughtfully built around user's needs and supported in 10 languages.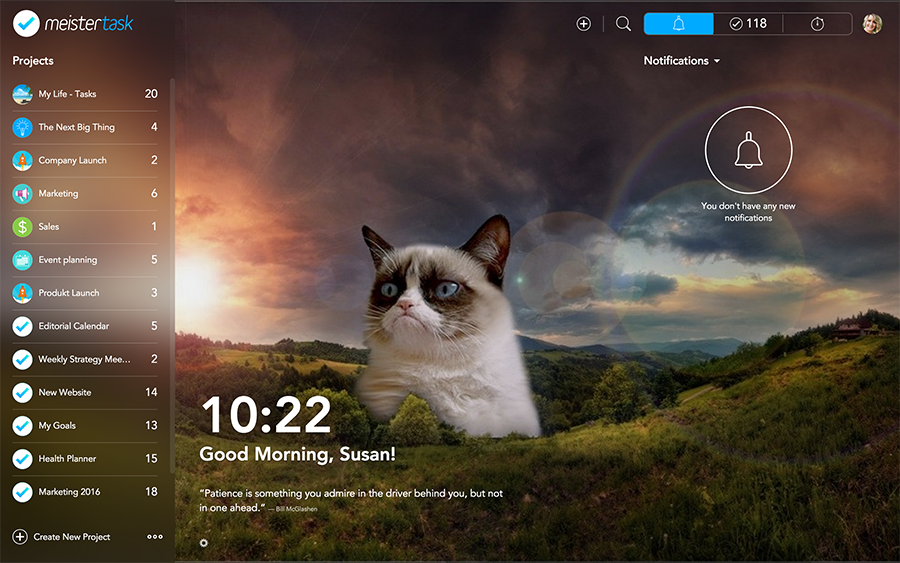 What we love in Meister Task
We are thrilled with the option for the upload of user's favorite photos and wallpapers both as the background of dashboards and project boards.
On the Free Plan, 'MeisterTaskers' get:
Options for robust task management including creating sub-tasks, making notes and comments, adding tags and establishing task dependencies.
Options for creating unlimited number of projects and tasks
Options for collaboration within navigation along multiple project boards
20 MB file attachments
Access across mobile apps
2 integrations.
Aside from a free plan, there are three paid plans starting with $8.25 monthly per user for unlocking the advanced functionality.
Weekdone is a weekly planning and reporting software designed for managers and employees. It provides structure and transparency with the plans, progress, and problems methodology - giving everyone a clear overview of: who's doing what, what's been done, and any problems that may have come up during the week. Take task management to the next level by setting and tracking specific, measurable goals on company and team levels.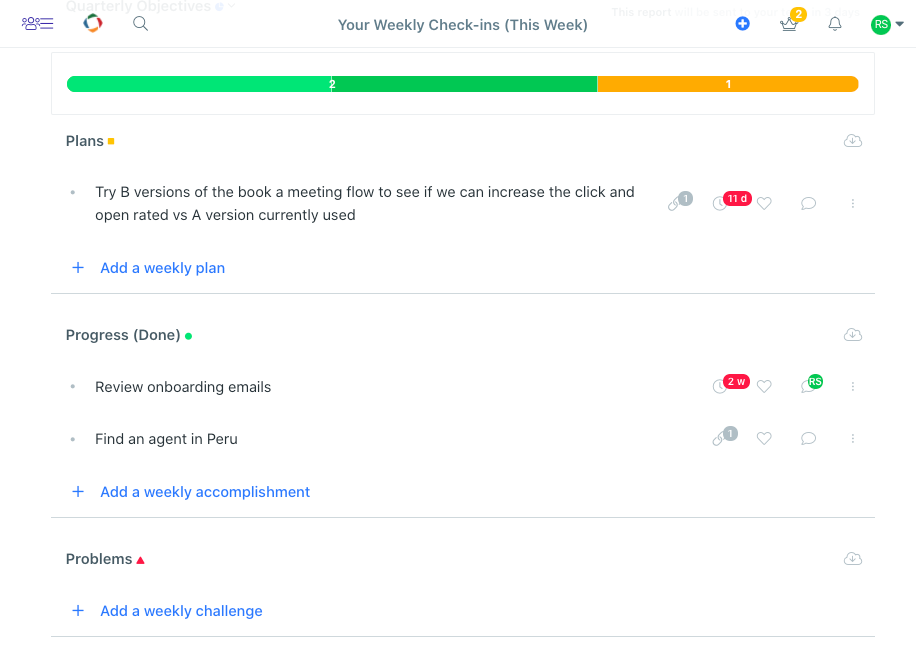 What we love in Weekdone
Weekdone is more than a task management app - it gives companies an opportunity to manage and track their teams completely online. Providing a collaborative hub where teams can come together to work more efficiently and focus on the important tasks that drive goals forward. Weekdone reduces the noise by providing features that drive engagement and productivity:
ability to attach documents or link goals to any given task (plan, progress, or problem)
great variety of colorful dashboards and progress bars
calendar view with an option to synchronize with your personal calendar
tagging and mentioning others for effective collaboration and communication
custom templates for feedback and increased engagement
a variety of integrations to use with tools.
Weekdone is free for teams of 3 or less. Larger teams use the software for just $99/month (for unlimited users), with an option to try a free 2-week trial.
Any.do task management app ensures detailed tracking of work progress, management of calendar events, and optimization of administrative routine by the implementation of advanced prioritizing and customization that cater to individual styles effortlessly.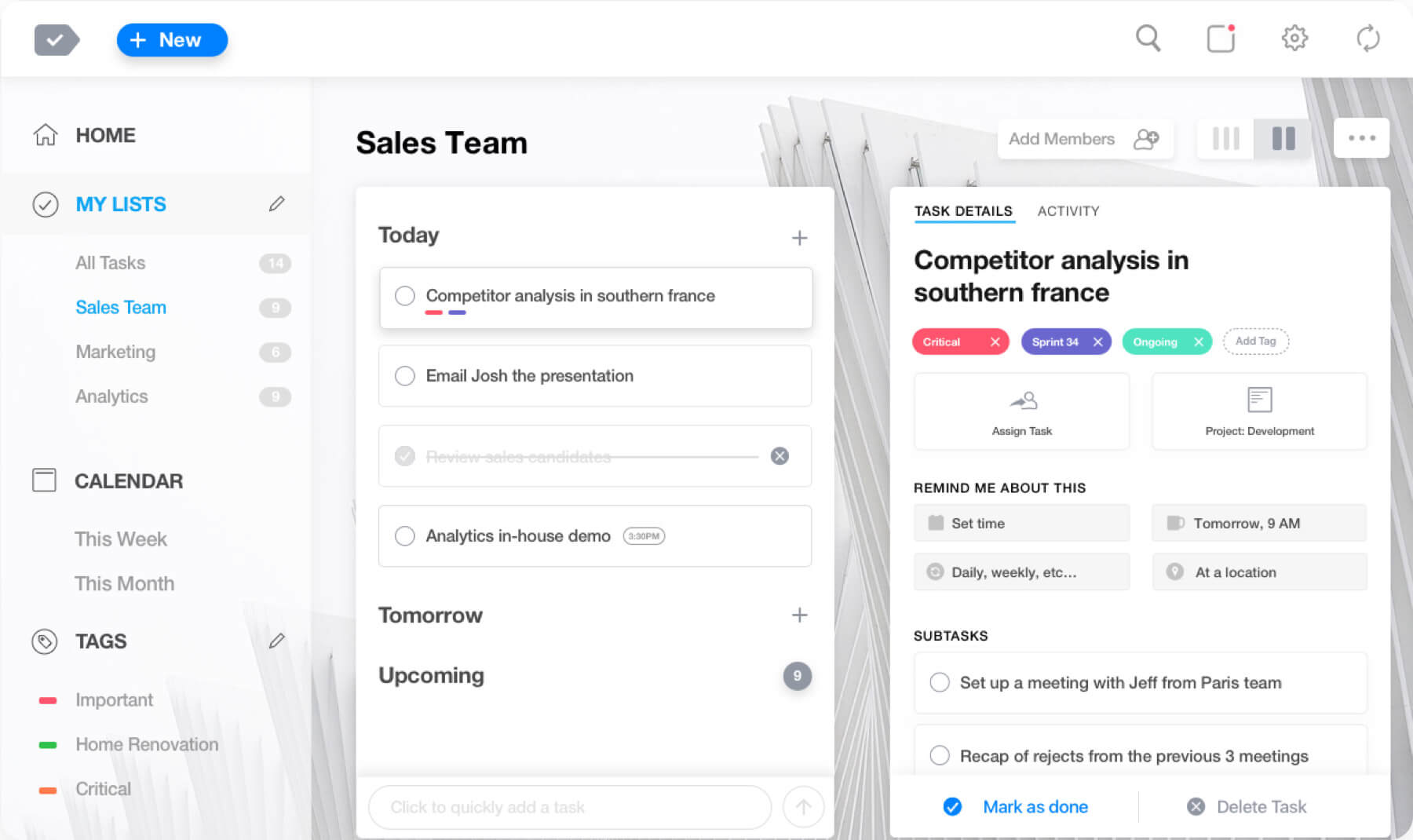 What we love in Any.do
It gives you the opportunity to get streamlined task management delivered directly to your screen in 11 languages. Its functionality includes:
integration with the calendar
color-coded organization of your tasks
customization of recurring tasks
daily planner Moment for easy prioritization
drag and drop interface
offline access.
The premium features can be unlocked for $5.99 per month billed annually. The app comes with a week of free trial.
With the increasing risk of sinking into repetitive work, professionals search for the tool that can keep them focused and in sync with workflow despite inevitable diversions off the 'task route'. Todoist supported in 18 languages proves to be an excellent assistant in creating a zero hurdle work environment.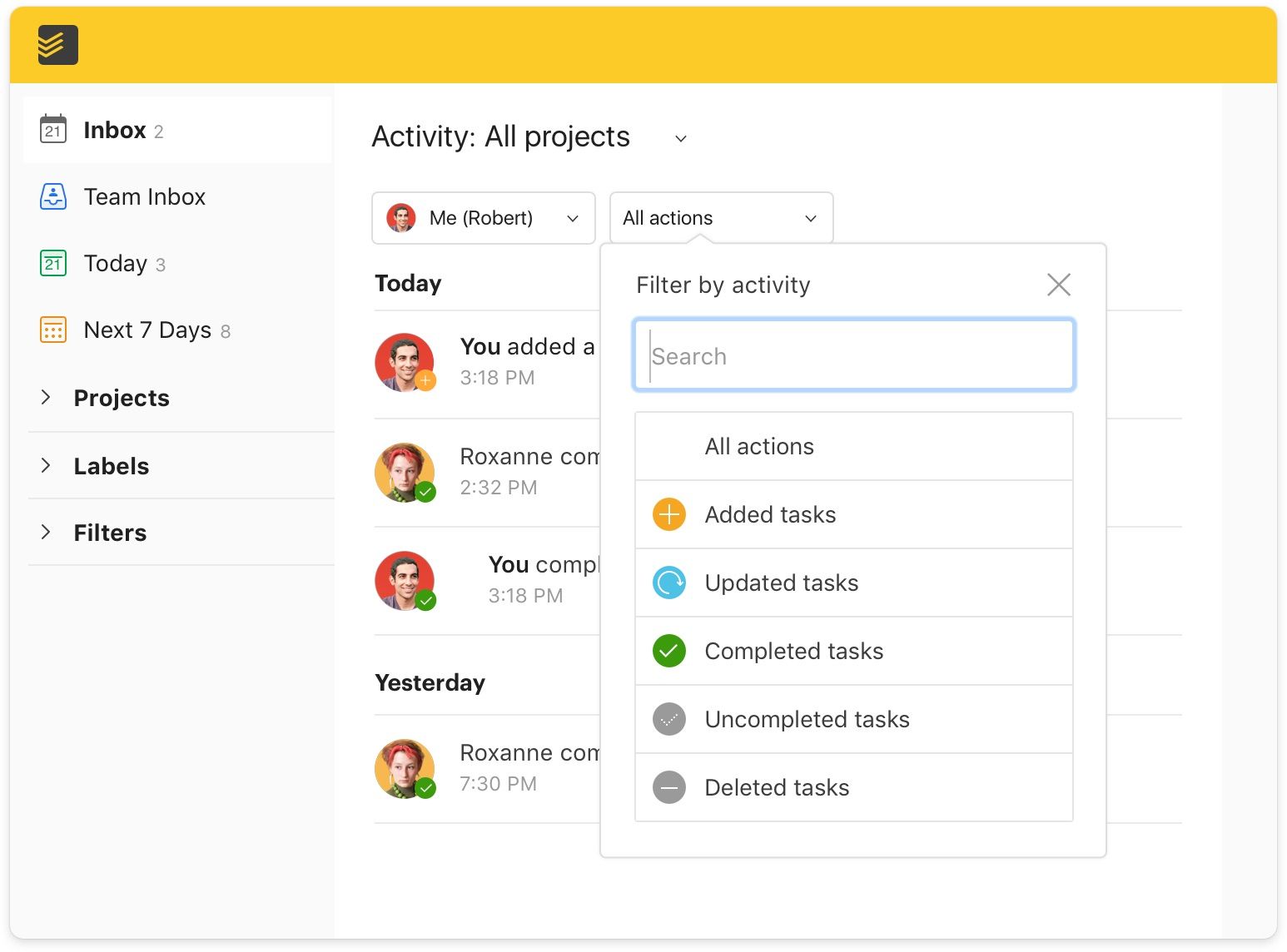 What we love in Todoist
Within a single space, it lets you list all your ideas, put all the goals in order, and keep track of work done. Its featured options include:
file management for improved collaboration
filtered views for easier navigation across task lists
invoice management
being notified even on the go on mobile
automatic backup
assignment management
automatic notifications.
By starting only with $4 per month, you can remove the burden of a non-essential pile of tasks and focus on what is really important.
After the working day is over, this task manager emails users only one question: "What did you get done today?" It increases team collaborative capability and holds users accountable. Team members list their daily accomplishments and share them across the team.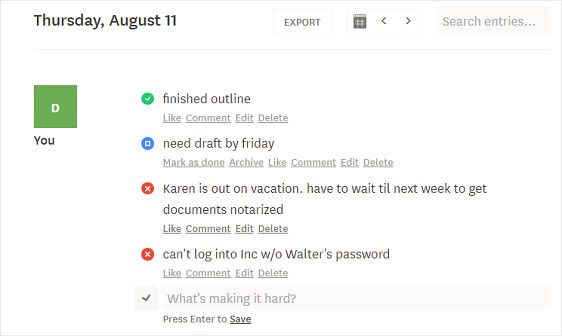 What we love in I Done This
Naturally, we love its robust reporting on what has been accomplished. Besides, it has a great mobile app and amazing support. The app functionality includes:
analytical reports based on progress tracking
options for making comments on the discussion board as a way to provide constructive feedback
sending reminders
optimized filter search
single sign-on
multiple integrations.
Prices for I Done This start with $9 per user per month billed annually. For all the premium features, it's $22 per user per month billed annually.
To give recognition to the power of visualizing progress, Trello created a perfect tool to assist individuals, teams, and businesses in staying on top of tasks. Due to the versatility of the tool, it comes as no surprise that Trello boards became the synonym for efficient time and project management.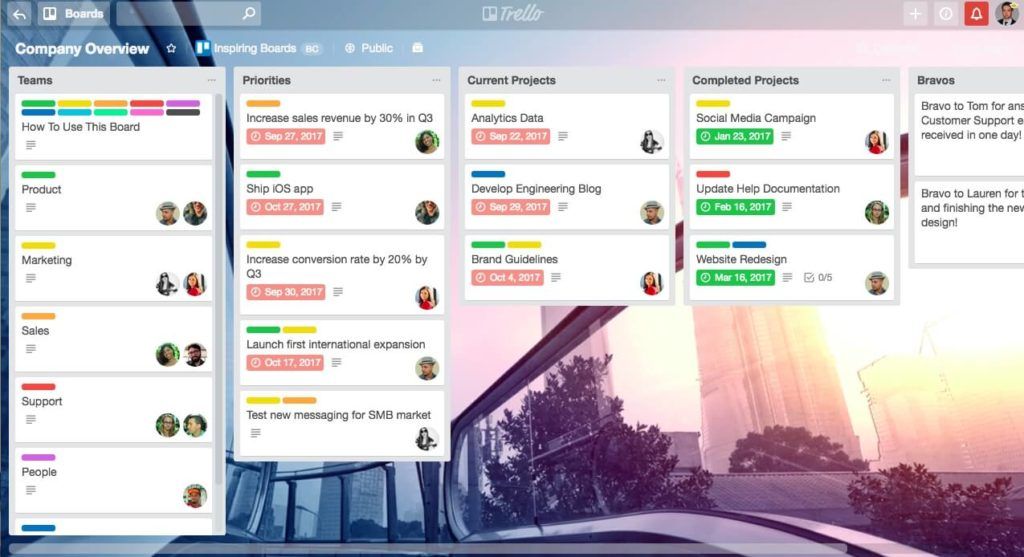 What we love in Trello
We especially love that users can view Trello boards as a calendar and visualize all of the cards with due dates. Not to go overboard (no pun intended), we will simply say that Trello makes task management a highly enhanced experience, helps people avoid workism, and facilitates workflows for projects across any industry.
With Trello board and cards, users get:
options for creating tasks within multiple boards
options for adding images, attachments, and checklists
color coding tasks
assigning due dates to create more transparency
options for rearrangement of the boards
a rich list of integrations (in particular, to understand the metrics of real productivity, we recommend to give a try to an integration of your favorite task manager with the TMetric time tracker).
Individuals use Trello for free, and teams can enjoy the advanced functionality of the app for $9.99 per user billed every month annually.
Wrike creators, by their own confession, "combined the simple beauty of sticky notes with the power of the digital workspace", and we can confirm that it brought brilliant results in elevating our task management to a new level.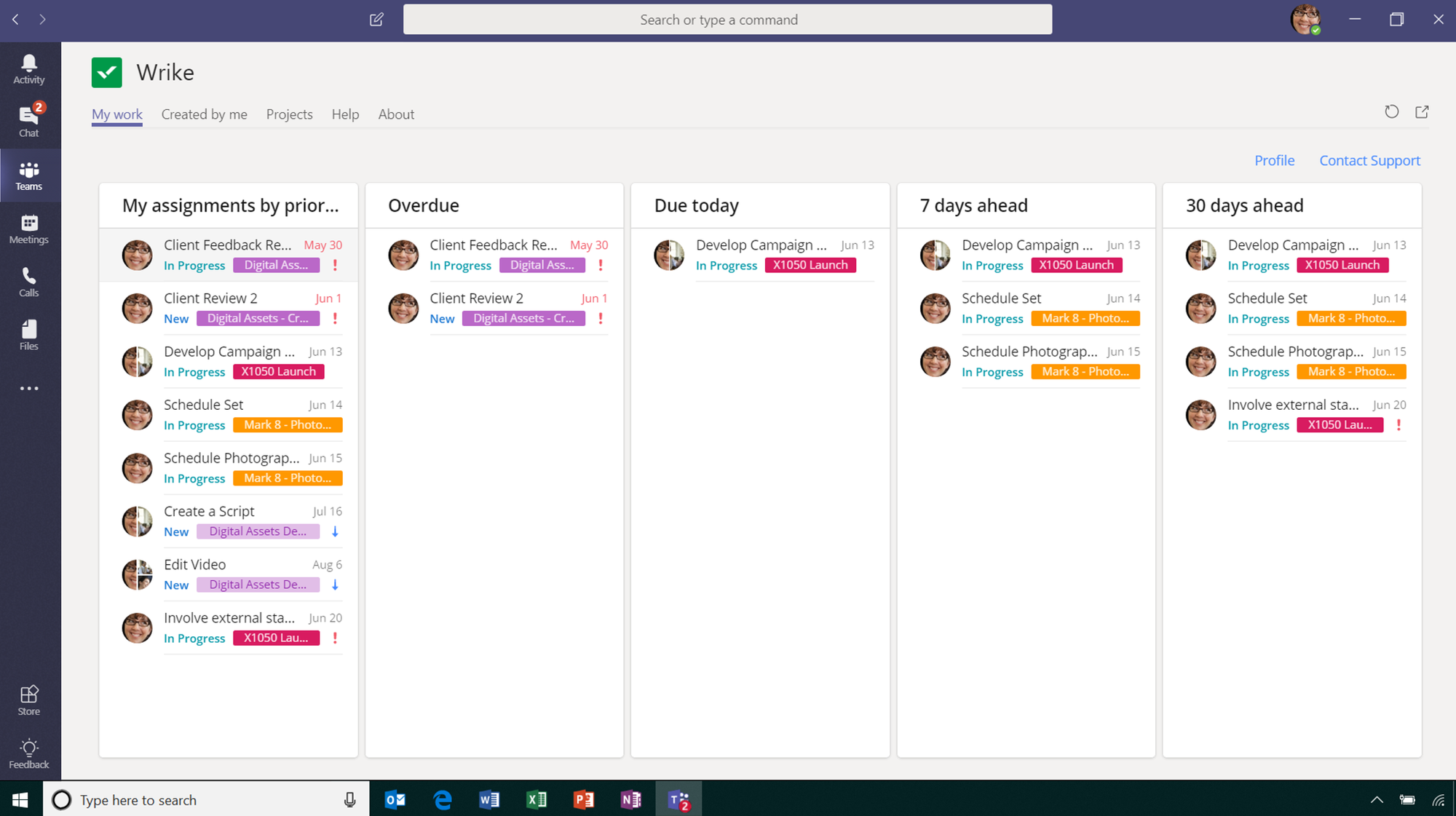 What we love in Wrike
With the shift to WFH, video conferencing is booming, and Wrike gives you the opportunity to integrate with all key players in the video tools market.
We also love that you can create a personalized task list and get inbox notifications instantly. Additionally, Wrike users can enjoy:
creation of personal productivity reports or dashboards in Wrike
making comments
data synchronization
task deadline management
full-suite Document Management
email Integration
working on multiple projects.
Its free plan is available for teams of up to 5 users. Business subscription starts for a user with $24.80 per month billed annually.
Inflectra SpiraPlan is your assistant tool on the way to efficient and versatile task management. It gives you time and space to think about top-priority issues and find solutions faster, which is a real asset in creating attainable goals in terms of asynchronous work.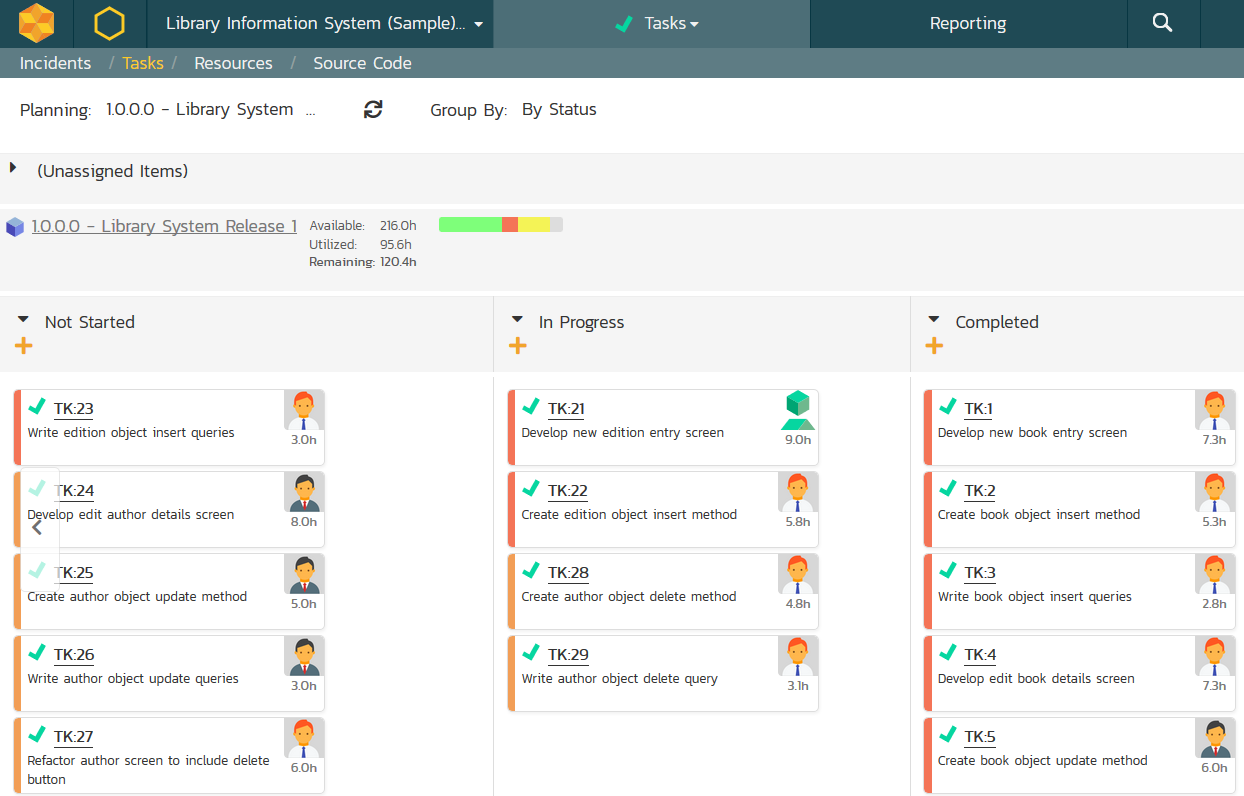 What we love in Inflectra
It's a helper app that lets you deal with tasks you never knew you could love. The secret ingredient is its agility introduced in the offer of simple navigation along complex programs and portfolios of projects. Its functionality includes:
goal-setting options
cross-project reporting
tasks synchronization
personalized executive dashboards
real-time charts on task progress
support for SCRUM, Kanban, Agile, and Waterfall workflows.
The app is available with unlimited access to brand products on the subscription plan with a free trial for $46.66 per month per user.
To foster cross-functional communication of the teams, a flexible task management app like Ringcentral Glip can come as a solution that, due to its wide functionality, fits the bill perfectly. It suits small, medium, and large size businesses to facilitate planning, communication, and collaboration across departments.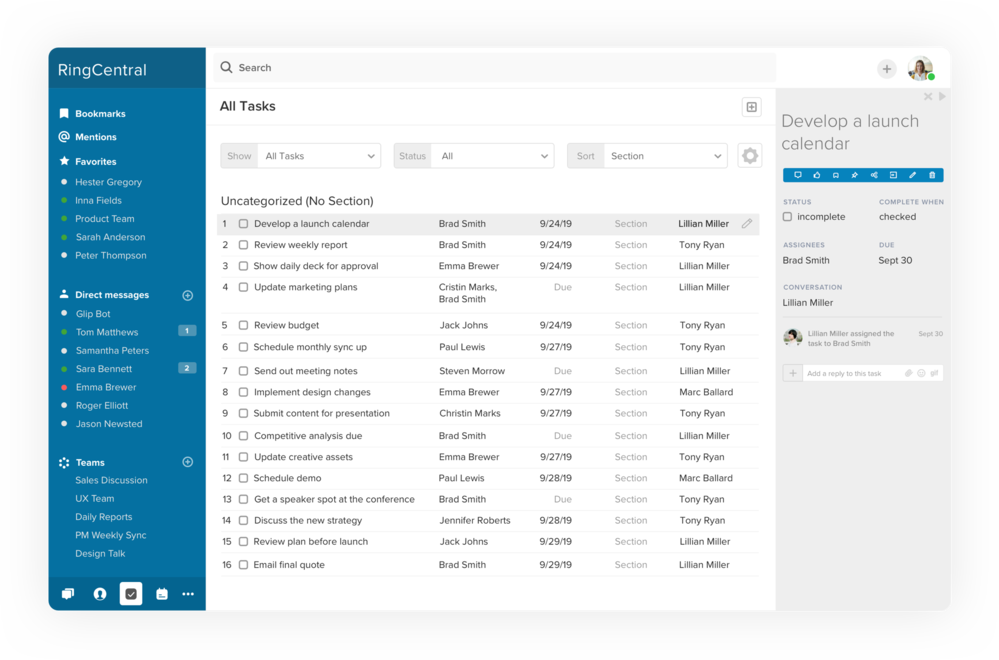 What we love in Ringcentral Glip
Having all the must-haves for planning and task tracking in its feature set, this app is loved by software teams, marketers, professional service firms, human resource managers, and customer support companies for providing:
recurring task management
robust analytics
spreadsheet view
task board view
to-do list view
Gantt view
mobile access
percent-complete tracking.
It offers free and paid Standard subscription plans giving access to premium features for $5 per month per user.
To avoid an exhausting triage of tasks and assignments, teams need reliable task management software with extensive collaborative functions, and there's plenty on offer for Azendoo users.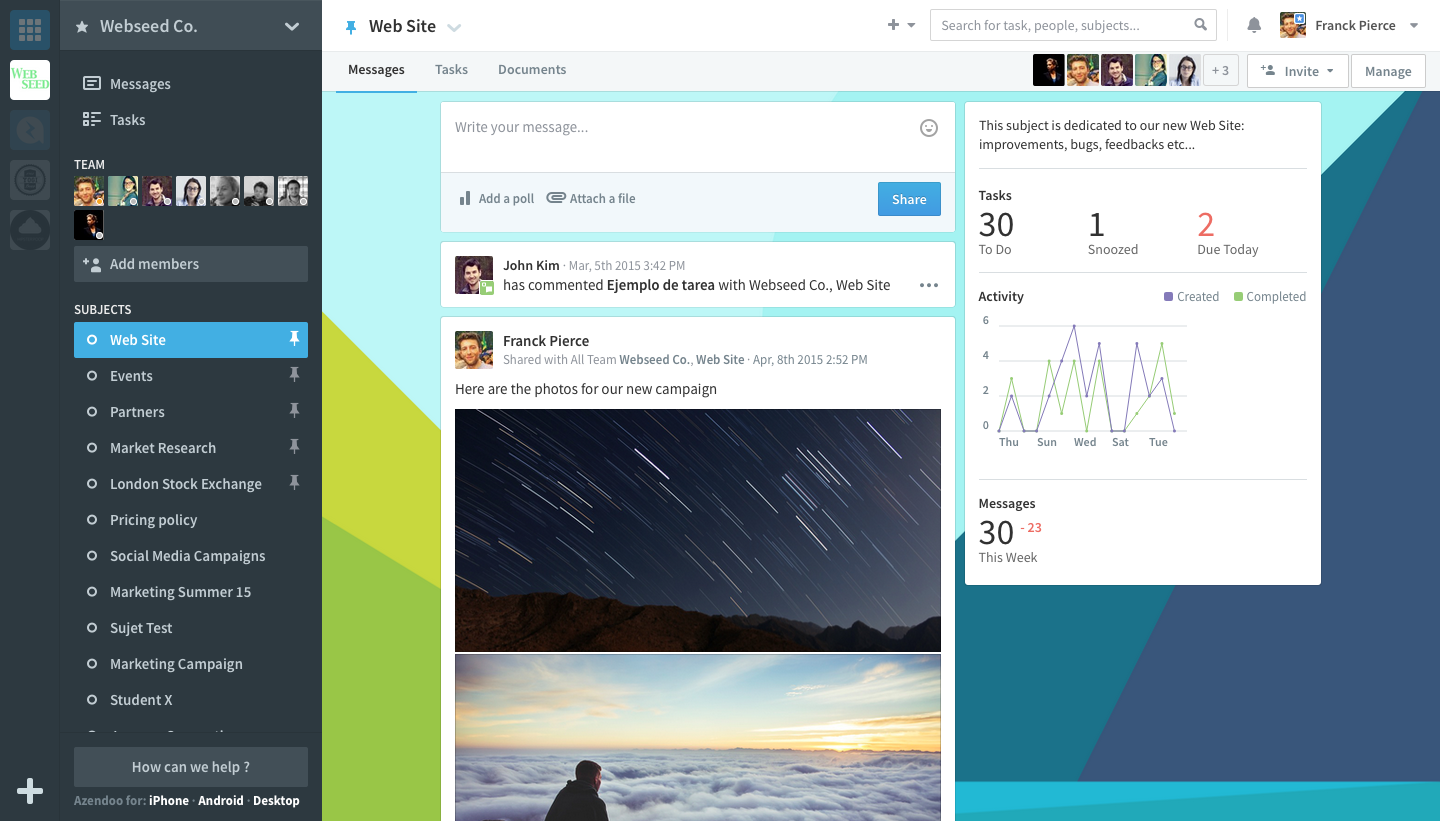 We love its social-type interface and rich options for task tracking as well as setting priorities. It has functions for enhancing team communication that guarantees a noticeable change in the amount of work you get accomplished. The functionality of the tools includes:
instant messaging
mobile alerts
multi-language support
permission management
progress reports
progress tracking
project templates
user app passwords and credit card info are never captured
tasks, while processed, are highly secured.
Access to the tool is available by subscription, and the price starts from €6.67 per month, with a free trial to explore the benefits of the software.
With nTask, you get a multi-functional though not over-bloated task manager that contributes to the satisfaction of task completion and motivation from an easy-to-navigate task list.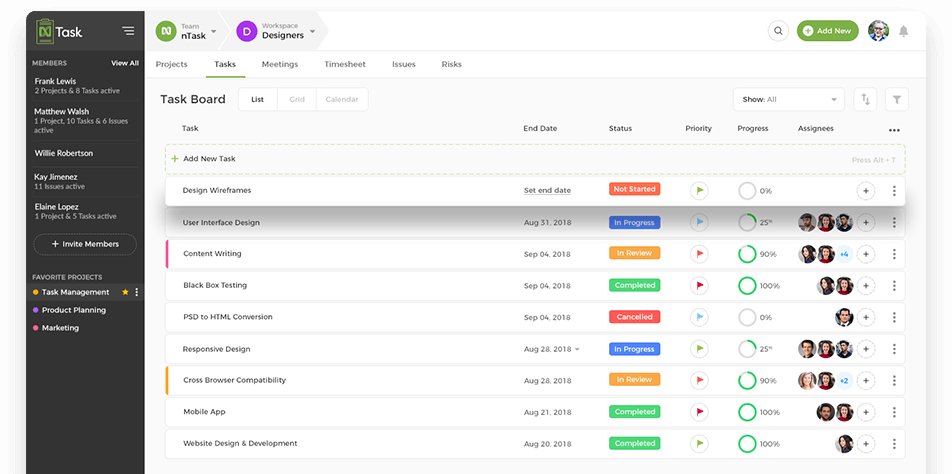 What we love in nTask
We love that nTask enables users to get access to collaborative mode while keeping track of task progress without stressing your team out. Its intuitive interface greatly contributes to automating task management at all stages starting from planning and prioritizing. Additionally, the app offers:
making task comments
meeting management
issue tracking
assistance in project risk management
reminders and email invites
file management.
Regarding the pricing model, nTask offers a free plan. The premium plan starts at $2.99 per month.
As a Bonus
This list would not be complete without a recognized task management market leader and one of our favorite apps that we love for its simple clean functionality and robust capabilities of scheduling and synchronization.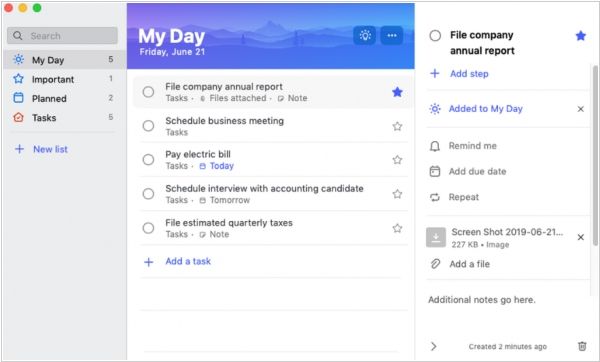 What we love in Microsoft To-Do
Using My Day whichTo-Do has a smart built-in algorithm automatically fine-tuning the to-do list, you can optimize your daily schedule at best.
Aside from that, we love its integrations: with the option to integrate a timer button into each Microsoft To Do task, you can choose how to connect your Microsoft To Do workspace to TMetric time tracking app and tap in tracking work time in a click.
The tool also offers:
access to the sleep list from anywhere
creating tasks and sub-tasks
setting deadlines
options for sharing tasks across the team
sending reminders
integration with Outlook tasks
The tool is completely free.
Key Points
Why you and your employees need task managers:
to set the blurring boundaries between work and life
to build a resilient framework for the day ahead
to course-correct the schedule
to maintain motivation aimed at improvement of productivity.
Task management apps we list above are reliable, easy-to-implement tools that let you leverage technology for your business needs at best and, in the long run, to reshape the lifestyle to adapt to changes and be ready to face challenges without making extra effort.