Why we love Trello boards
With over 25 million users, it is unquestionable which Kanban board can help them get more organized and productive.
Tasks arranged as Trello cards are easy to create and work with. The software interface is responsive and flexible with 'drag-and-drop' options adding to users' comfort. (With applying the Kanban system, the workflow gets visualized on board by labeling task's status as, for instance, 'to-do', 'in progress/doing', 'done').
Time tracking in Trello is a resourceful power-up that might increase your business productivity. It will automatically raise both your personal and professional output by saving time on entering the time log. TMetric upgrades your Trello experience as using TMetric integration with this project management system, you can:
allocate the time on projects;
track time on each task you include into the specific project;
work on multiple projects;
store information on time allocation;
extract time log for the reports while staying linked with Trello;  
strategically plan the workflow;
assign each member of the team to the task and start time tracking;
monitor the remote team performance as the offsite location does not make any impact either on connection or communication.    
Whether you have your team set up or work individually, you can allocate and utilize time much wiser once you install TMetric within Trello as your project system.
Launch TMetric in Trello with a click
Whatever task you have in mind in terms of time tracking, with TMetric, it is reachable in a click. You do not have to switch between the projects or open the timer in a separate window. As you can see, it is enough to open the task while staying on Trello. In the list of columns to the right, there will be a TMetric button.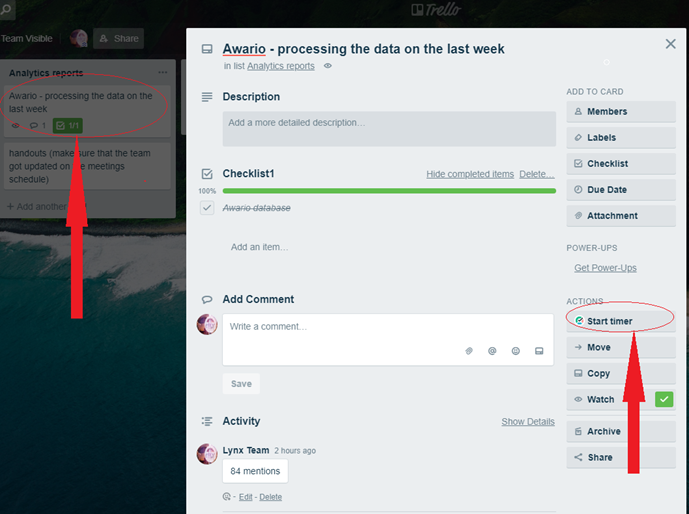 All you have to do is to navigate to it: the menu with various management options including launching the timer is available for any task on the Trello board.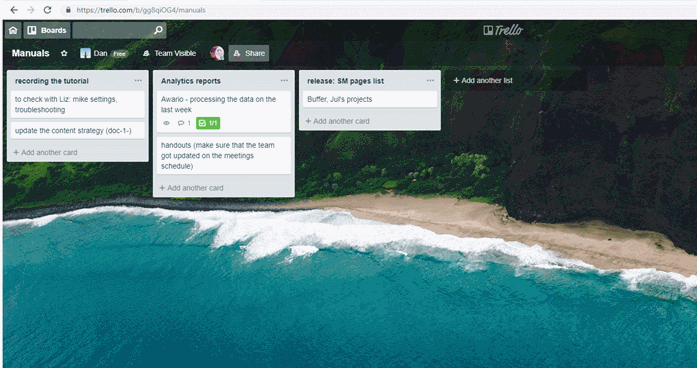 Now, the built-in tab 'Start Timer' opens. It contains the name of the project you are working over, the Notes box and the Tags (in case you need the notes and a tagline, you can fill them in to keep in mind the important detail as well as make a search for tasks of similar kind easier).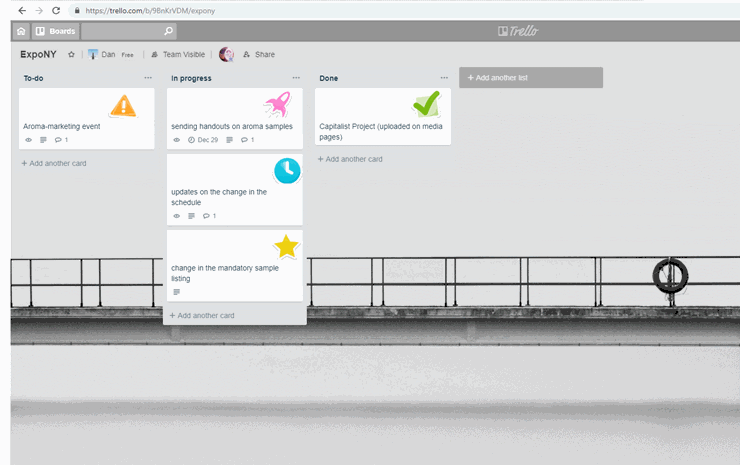 Once you hit the Start box, your time gets tracked and the information on a time log automatically saves both in Trello system and TMetric storage.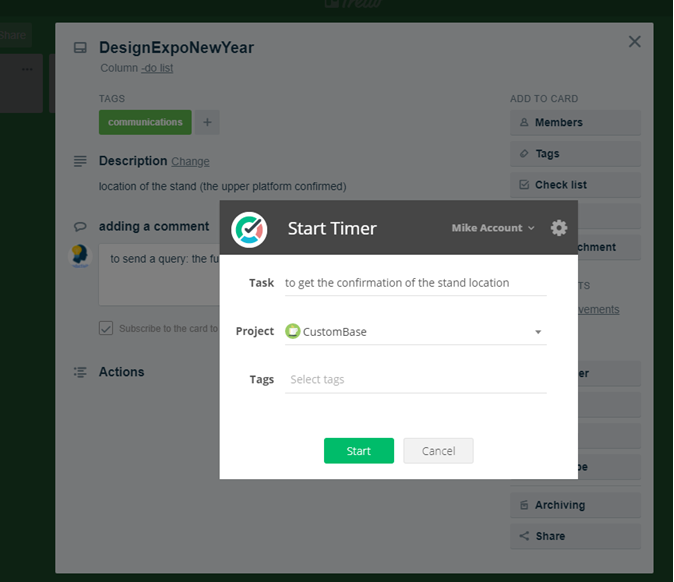 Who might find it useful
Trello concept as the project management tool implies a high level of personalization: it means you sign up for Trello and discover your own task and project management methods.  
But under any terms of usage, this tool gets double effective if you apply time tracking as it will surely speed up the working process and unlock agility.
Agility is usually associated with teamwork but achieving optimal work results is important regardless of the number of process participants. That is why Trello as the project management system is popular among individual and team users.
When the time is an issue, TMetric integration comes as the major game-changer: it makes possible fail-proof meeting the tight deadlines for the following occupations:
students who get ready for taking exams and in need to monitor your progress;
editors;
writers;
medical nurses;
architects;
project managers;
developers working as an agile team, to name a few.
Concluding thought
Any professional working either individually or with a small team will benefit from enabling the 'tracked' work mode with Trello-TMetric integration as TMetric will provide accurate work time calculations and improve the project performance by contributing such significant 'valuables' as time utilization for the specific tasks, information on billable hours, apps usage, and data on individual online and activity level engagement.