10 Free SOP Templates: Get Organized and Increase Efficiency of Your Workflow
Take a look at the best 10 SOP templates we've prepared for you. Choose the one you like and enhance your productivity and efficiency at work.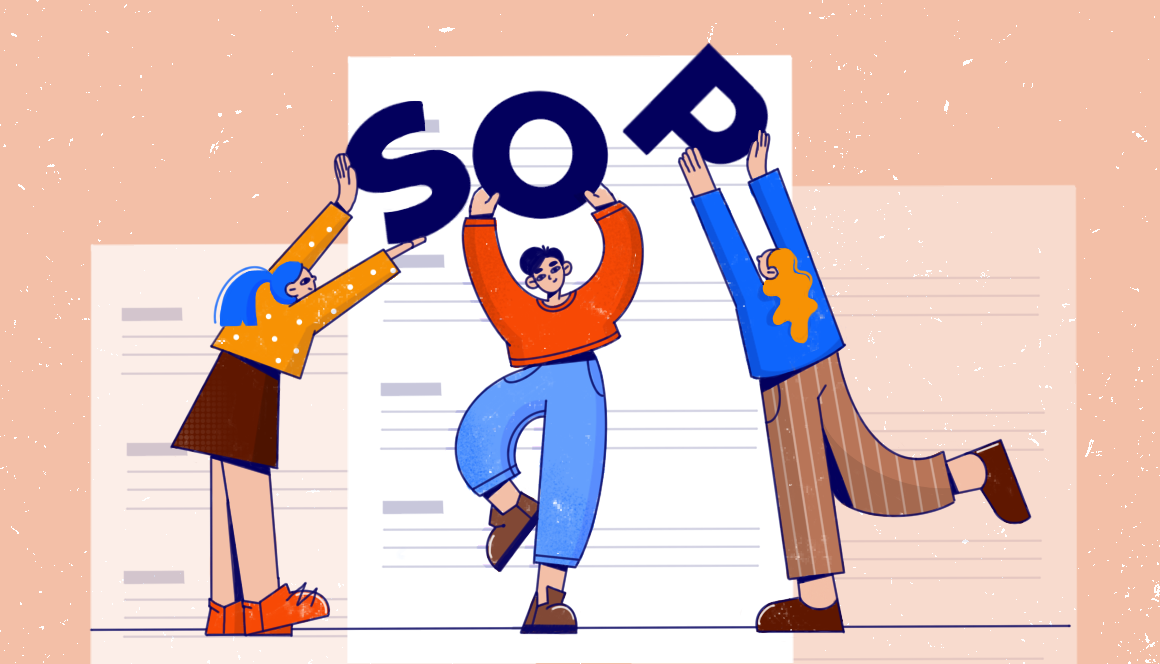 SOPs are developed to ensure that tasks are performed efficiently, safely, and consistently. They are usually written in a clear and concise manner to facilitate easy understanding and implementation. Such documents are most commonly used in industries where compliance and safety are important.
In this article, we will learn what a standard operating procedure (SOP), in general, is and what SOP templates can be used to catalyze improvements in your organization's efficiency and productivity.
What is a Standard Operating Procedure (SOP)?
SOP stands for Standard Operating Procedure. It is a document that outlines the steps and guidelines for a particular task or process. SOPs are a crucial part of business operations, as they represent effective tactics for managing tasks. They provide a clear understanding of roles, responsibilities, and expectations in the workplace.
SOPs are commonly used in as healthcare, manufacturing, and transportation, where standardized procedures are critical for efficient operations. They are also useful with regulations and for training new employees.
The importance of SOPs cannot be overstated, as they provide a framework for ensuring that processes and procedures are completed accurately, efficiently, and to the same standard every time they are performed by employees.
SOP productivity templates are a useful tool for streamlining processes in any organization. These templates provide a structured approach to tasks, ensuring that they are completed in a consistent and efficient manner.
Overall, investing in SOP productivity templates is a smart move for any organization looking to improve efficiency and streamline operations. They can be one of the marketing productivity tools for increasing a company's profitability and ensuring that tasks are completed to a high standard.
Advantages of Making an SOP
Standard Operating Procedures (SOPs) are essential for any organization or business to streamline its processes and ensure consistency and quality in its output. There are numerous benefits to making an SOP, including:
Consistency: SOPs ensure that everyone within an organization follows the same set of guidelines, which reduces errors and promotes uniformity.
Efficiency: By establishing clear procedures and processes, SOPs help to streamline operations, saving time and improving efficiency.
Training: SOPs can be used to train new employees, reducing the time and costs involved in onboarding.
Compliance: SOPs can assist in regulatory compliance by outlining the appropriate steps to take in accordance with industry standards and regulations.
Continuous improvement: Through regular review and revision, SOPs can help identify areas for improvement, leading to better processes and outcomes.
In summary, creating an SOP is crucial for businesses of all sizes, and it helps them achieve their goals effectively. It allows businesses to operate smoothly and efficiently by outlining clear expectations.
How to Make a Standard Operating Procedure Template
Creating a standard operating procedure (SOP) template is an essential task for any business or organization that wants to maintain consistency and efficiency in its operations. A well-designed SOP template can save time, reduce, and ensure that all employees follow the same procedures, no matter their level of experience or knowledge.
To create an effective SOP template, it is important to identify the key processes within the organization and outline the steps to be taken for each process. The template should be easy to understand, with clear headings, detailed instructions, and any necessary forms or checklists.
When creating an SOP, it is also important to involve the relevant stakeholders and ensure that the instructions are clear, concise, and easy to understand. The SOP should be reviewed and updated regularly to ensure that it remains relevant and accurate.
Creating a standard operating procedure (SOP) template involves a few essential steps:
Identify the process or task that requires an SOP.
Gather all the relevant information, including inputs, outputs, tools, and resources required to complete the task.
Once you have the necessary information, it's time to create the SOP document.
Start by outlining the steps involved in the process, breaking them down into clear and instructions. Use bullet points, headings, and subheadings to make the document easy to read and follow. Ensure that each step is numbered for clarity.
Include any necessary warnings or notes to cover potential risks and any safety precautions required to complete the task. Additionally, consider including visuals or diagrams to help illustrate the steps and make the information easier to understand.
In summary, creating an SOP template involves identifying the process, collecting necessary information, and outlining clear and concise instructions. With these essential components in mind, anyone can easily draft a comprehensive SOP template that is easy to understand and execute.
10 SOP Templates Examples
SOP templates, or standard operating procedure templates, come in various forms to suit different business requirements. Some of the most common types include step-by-step instructional templates, flowcharts, and narrative-based formats.
Here, we will present you 10 free SOP templates that you can apply in your organization to streamline their workflows and reduce errors and variations, ultimately leading to increased productivity and quality.
Template #1: TMetric Using Tasks as SOPs
A standard operating procedure (SOP) is a set of step-by-step instructions that outline how to carry out a specific task or process in a consistent and effective manner.
TMetric makes it possible to create tasks and add these instructions in the description section for employees to perform. Besides this, automated time tracking with TMetric allows you to monitor and record the time they spend on these tasks.
Following SOP instructions and task management time tracking combined together will be of great value to any business.
Template #2: Template.net Standard Operating Procedure
Template.net provides a wide range of SOP templates that can be used as a starting point for businesses and individuals to create own SOPs.
These templates are designed professionally and can be easily customized to suit individual needs. Using an SOP template can save you time and effort in creating your own document from scratch.
SOP templates can also reduce errors and inconsistencies by providing clear and concise instructions on how tasks should be completed.
Template #3: Docformats.com Simple SOP Template
DocFormats is a document conversion service that allows users to convert files from one format to another. It supports a wide range of file types, including documents, presentations, spreadsheets, images, and more.
Here, SOP templates are available in different formats, such as Microsoft Word, Google Docs, and PDF, making it convenient for users to choose the format that suits their needs.
Choose the SOP template you need, download and use it for your company's successful operation.
Template #4: pdfFiller Free SOP Templates
PDFFiller is a website that offers a wide range of (Standard Operating Procedure) templates. These templates can be easily accessed and utilized for various purposes such as creating professional documents, business forms, contracts, and more.
Using SOP templates can save time and effort in creating standard operating procedures for your business or organization. Whether you need an SOP template for employee training, project management, or any other business process, PDFFiller offers a variety of options to choose from.
Once you find a suitable SOP template, you can modify it according to your requirements using PDFFiller's editing tools. You can add or delete sections, insert specific details, and customize the template to align with your organization's guidelines and processes.
Template #5: TidyForm SOP Template for Free
When searching for a SOP template, TidyForm is a reputable source that offers a variety of templates to choose from. By using their search feature, you can easily find a SOP template that aligns with your specific needs and industry.
Remember, while using a SOP template can streamline processes, it's important to customize it to fit your organization's unique requirements. Make sure to review and update the template regularly.
Additionally, a well-written SOP template can improve communication by providing clear instructions and expectations for employees.
Template #6: ClickUp Available SOP Templates
With ClickUp's SOP template feature, you can easily define and document your team's standard operating procedures. Whether it's for onboarding new team members, following best practices, or ensuring consistency in your processes, SOP templates can be a valuable tool.
To create a SOP template in ClickUp, you can start from scratch or choose from a library of pre-built templates. You can then customize the template to fit your specific needs, including adding tasks, due dates, attachments, and more.
Once the template is created, you can use it repeatedly for different projects or workflows, saving you time and effort. You can also share the template with your team, ensuring everyone is on the same page and following the established procedures.
Template #7: Spreadsheet Choose a SOP Template
If you are looking for sop templates, you can find them at Spreadsheet.com. Spreadsheet.com is a popular online platform that offers a wide range of templates for different purposes, including standard operating procedures (SOPs).
Once you are on the Spreadsheet.com website, you can browse through their template library and look for the SOP templates that meet your specific requirements. The templates are usually categorized, making it easier for you to locate the ones you need.
When selecting an SOP template, make sure to consider the specific needs of your organization or project. You may also need to customize the template to align with your unique processes and workflows. Spreadsheet.com usually provides options to modify and adapt the templates to suit your needs.
Template #8: Notion Standard Operating Procedure
Notion, a popular productivity tool, offers various templates and features that can be used to create and manage SOPs effectively.
By using Notion SOP templates, organizations can streamline their processes and optimize their resources, time and efforts, ultimately leading to increased productivity and better outcomes.
With Notion, users can create and edit SOPs and easily share and collaborate with others.
WordTemplatesOnline is a popular website that offers a variety of templates for different purposes, including SOP (Standard Operating Procedure) templates.
By using a SOP template from WordTemplatesOnline, you can save time and effort in creating your own document from scratch. The templates are professionally designed and easy to use. They usually include sections for title, purpose, scope, responsibilities, procedures, and references.
Once you find a template that suits your needs, you can download it and customize it according to your specific requirements.
Template #10: JotForm Create a SOP template
JotForm is an online form builder that provides various templates, including SOP (Standard Operating Procedure) templates. These templates can be used as a starting point for creating your own SOPs for different purposes and industries.
Once you have selected a template, you can easily edit and customize it using JotForm's user-friendly interface.
Overall, JotForm provides a convenient solution for creating SOPs with their readily available templates.
FAQ
What are SOPs used for?
SOPs are used to ensure that tasks or activities are performed consistently and efficiently, reducing errors and improving productivity. They provide a clear framework for employees to follow, ensuring that work is carried out in a standardized manner.
How should SOPs be created?
SOPs should be created by identifying the key steps involved in a process and documenting them in a clear and concise manner. It is important to involve all stakeholders in the creation process to ensure accuracy and relevance.
Why are SOPs important?
SOPs are important as they provide a reference point for employees, especially new ones, to understand how to carry out their tasks.
Summary
Standard operating procedures (SOPs) are indeed essential for employees in any organization. SOPs provide a clear framework for employees to follow when performing their tasks, ensuring consistency in quality and efficiency of work.
SOPs also contribute to the overall organizational effectiveness. They facilitate effective communication and collaboration among team members, as everyone is clear about their roles and responsibilities.
Using standard operating procedures templates can save time and effort in creating new procedures from scratch. Organizations can customize these templates to fit their specific needs and requirements, while still following industry best practices.