Achieve Goals Easily with these Top 7 Daily Planner Apps
Read on to know the perfect daily planner apps for busy professionals, students, or anyone who needs a little extra help staying on track. Get your day organized and feel productive!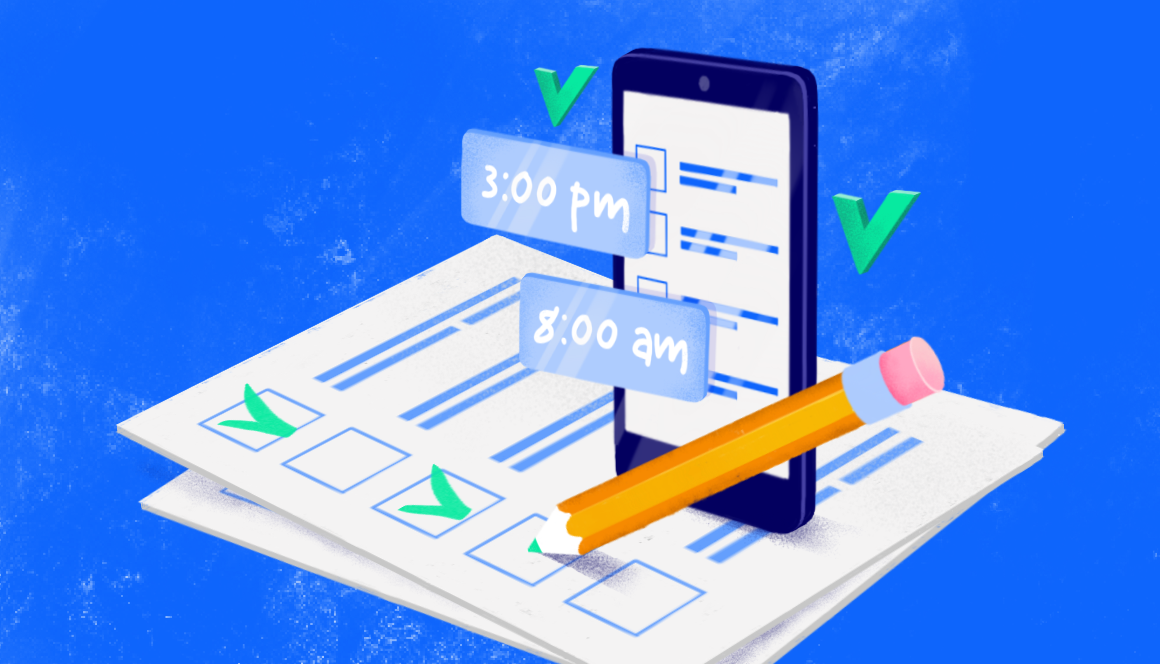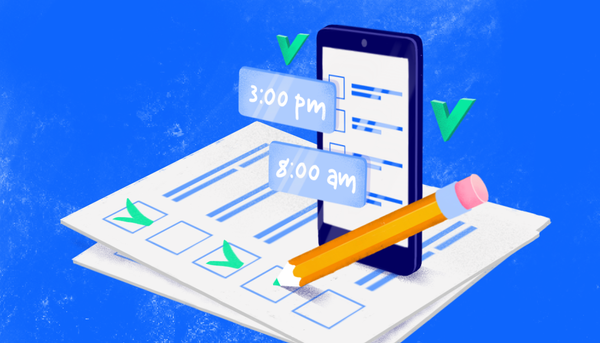 Dwight D. Eisenhower famously said:
Plans are useless, but planning is indispensable.
Being an integral part of everyday life, planning is ubiquitous, from managing your time to organizing your goals. Feeling overly busy could indicate a lack of planning skills, preventing you from building a personal time management strategy.
On the way to acquiring a skill for better planning, the application of a daily planner app is credited as one of the best solutions:
to reduce busyness
to achieve goals with a guarantee.
From Thirteen Virtues to Modern Checklists: How Daily Planning Evolved
Daily planning can be traced back to the 1700s when Benjamin Franklin developed his famous plan for self-improvement, the "Thirteen Virtues." Franklin believed that taking the time each day to plan out one's activities was essential for living a productive and organized life.
Let all your things have their places; let each part of your business have its time.
Over the years, many different forms of daily planning have emerged including the most radical forms of yearly planning with a one-page calendar.
Now we can hardly imagine daily planning without modern checklists, schedule templates, or goal setting. Despite the changing forms of daily planning, the underlying principle remains the same: taking the time each day to plan out.
Benefits of Using a Daily Planner App
It is no surprise that with technology, planning got to a new level.
Daily planner apps have become popular as they help keep tasks and goals organized. With these apps, you can easily:
monitor your plans
manage your tasks
collaborate with other people
prevent context switching.
In particular, the benefits of using daily planners cover:
Digital daily planners allow users to put tasks in order and prioritize them accordingly, which greatly assists in staying focused and completing tasks hassle-free.
Digital daily planners can integrate with time trackers, which helps keep track of daily activities and tasks, manage time, and be more efficient.
Digital daily planners can be accessed from anywhere, anytime, which makes it easier for users to stay on top of their tasks and commitments.
To help users stay organized and on top of their commitments, digital daily planners have settings that help automate sending reminders of upcoming tasks and events for more convenience.
Digital daily planners can be customized to fit the user's specific needs. This provides users with planning options tailored to their own preferences.
What Features Should You Look for in a Daily Planner App?
Generally, essential features of digital daily planners include:
Calendar views
Task lists
Reminders and notifications
Productivity trackers
Integration with other apps and services.
Additionally, some digital daily planners may include options for project management, collaboration, analytics, and data visualization.
Use a Daily Planner App to Streamline Your To-Do List
The rule of thumb for choosing an effective organizer that maximizes productivity is to check whether your planner can:
keep track of your appointments
monitor to-dos with ease.
Bottom Line: The ideal planner will streamline the management of both your calendar and to-dos in one convenient (integrated) place. To ensure that you remain on track, daily planners often feature unobtrusive reminders, send reports on users' progress, and have advanced features on demand.
Consider the features that are most important to you in order to make the best decision for your specific work goals.
How to Use a Daily Planner App to Increase Productivity
Using a daily planner app can help increase productivity:
by enhancing planning
by reducing stress
by improving time management
by boosting efficiency.
To plan your day for increased productivity you can apply the following tactics:
Schedule time for planning
Write down your top priorities
Highlight the one thing you must accomplish
Time block your calendar
Set reminders for tasks
Pick a planner and use its options for developing your own productivity system.
Bottom Line: To make sure you're not feeling overwhelmed, give yourself enough time to plan ahead and figure out what needs to be done. Jot down your most important stuff and make sure you get it done each day. Then set aside times in your calendar for each task: it will help you stay focused and not get sidetracked. Lastly, think about downloading a daily planner app to keep you on track.
If you prefer an online organizer, you have plenty to choose from: there are a variety of different types of daily planners available to suit your needs, with options ranging from simple to-do lists to detailed schedules.
It is better to look ahead and prepare than to look back and regret. – Jackie Joyner-Kersee
Below, you will find the most popular daily planner apps free and paid.
The Best Daily Planner Apps
Tracking your work time is like mapping a road trip—you have to keep a good log to make sure you don't get lost.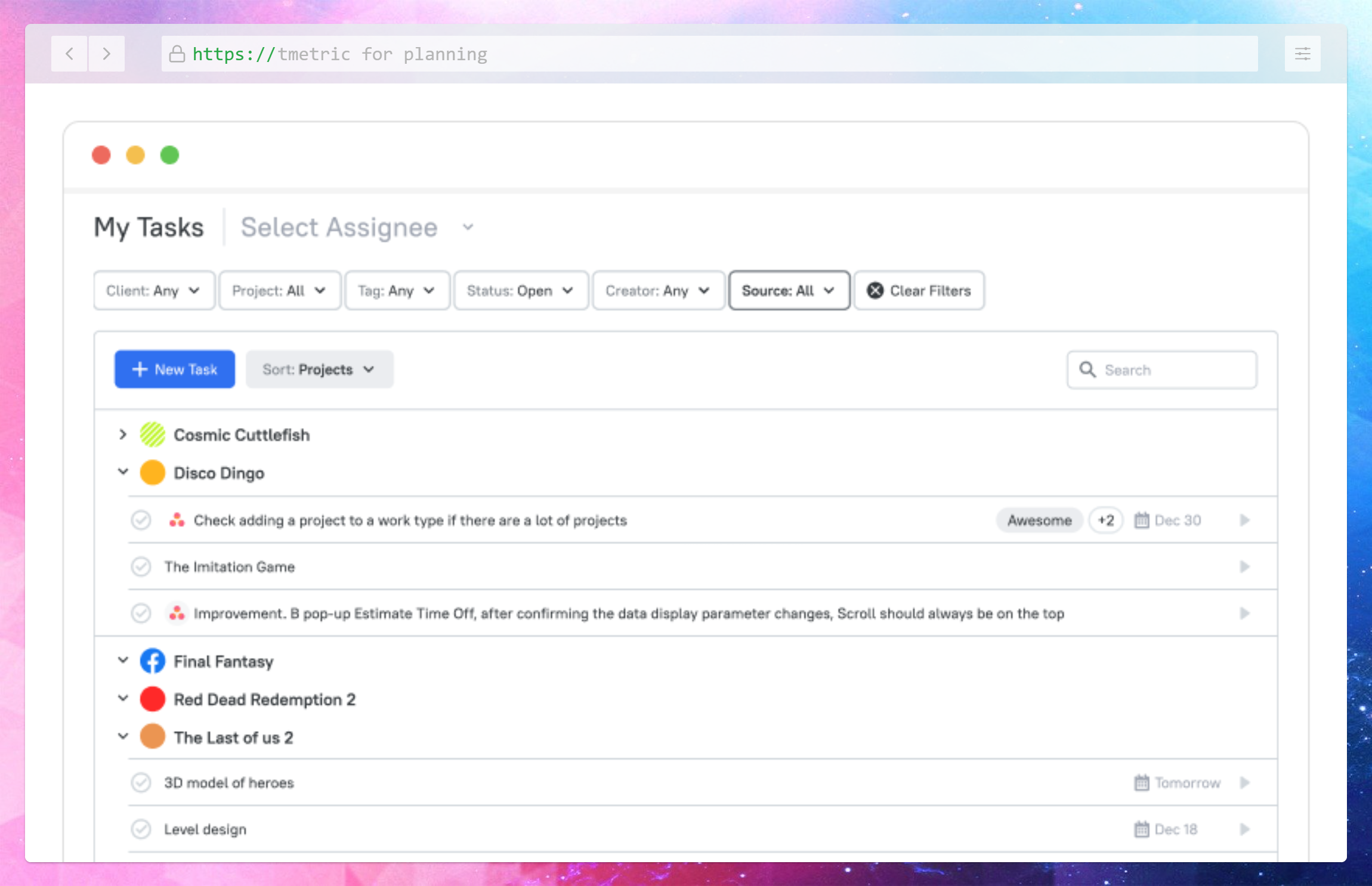 Using TMetric time tracker for daily planning can facilitate the organization of tasks and prioritization of the most important ones.
It provides features such as task tracking, time tracking, project budgeting, resource management, and reporting.
It has an integration with GCal and Outlook Calendar to help teams plan their work and stay on top of deadlines.
The timeline shows streamlined calculations of your work time coupled with specific tasks and break time – at a glance, you are getting visualized feedback on how you are allocating your time.
It can also provide detailed reports that assist with staying on track, as well as monitoring goals and progress. Through this, one can identify areas of improvement when planning ahead.
TMetric has an intuitive user interface, and it integrates with popular project management tools such as Jira and Trello.
💡
Free for a team of up to 5. The app is available for iOS, Android, Linux, macOS, and Windows.
If made right, planning with a calendar works like laying out a perfectly linear path: it likens to reality where the path can branch and diverge in many directions.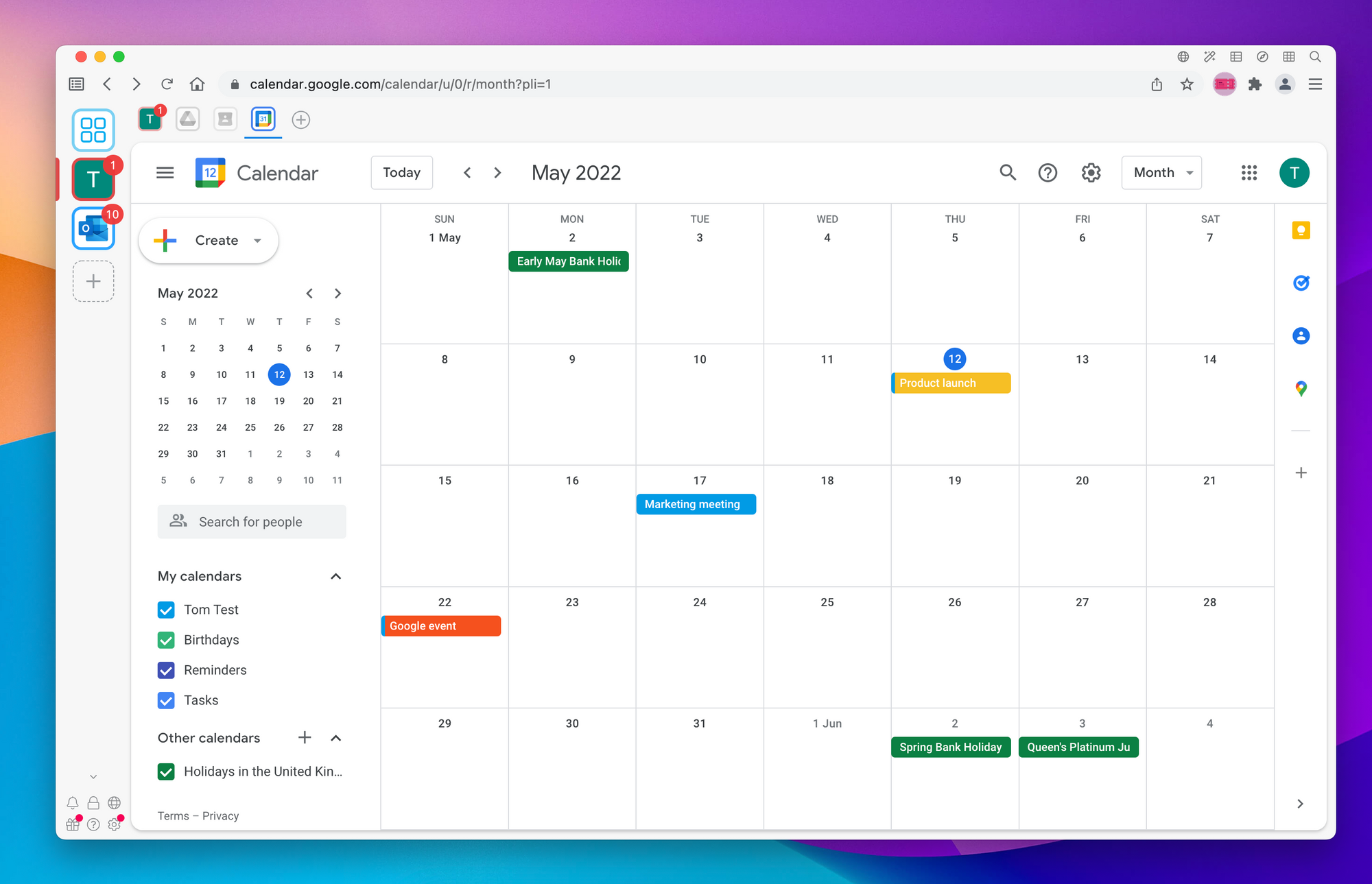 It's easy to appreciate Google Calendar for its utility.
It works to keep the messiness of unstructured time turning it into neat boxes so that any upcoming task, meeting, or important deadline can be easy to see.
It contains daily, weekly, and monthly calendar spreads that have horizontal layouts providing a visual representation of the week's events and appointments. This way, it is a breeze to remember where to be and when.
💡
The app is free. On the business plan, Google Calendar costs $5 per month per user.
Using Microsoft To-Do is like having an invisible but helpful personal assistant that makes your tasks and goals easy to remember and keep track of.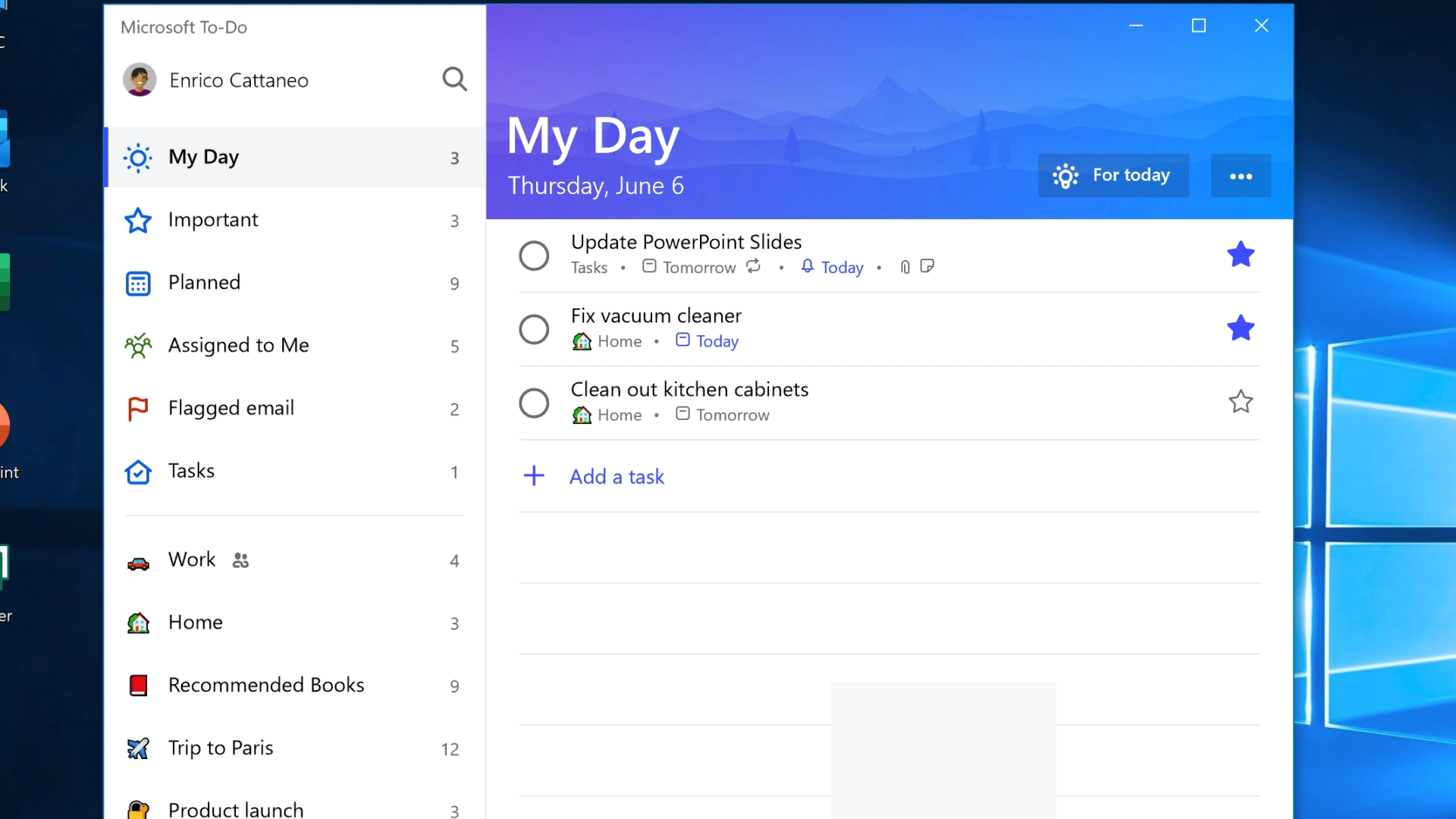 Microsoft To-Do is a task management application designed to help users stay organized and productive.
It allows users to:
create to-do lists
set reminders
prioritize tasks.
Also, there are features that enable users to share lists, delegate tasks, and integrate with Microsoft Office and Outlook.
What's more: It offers a range of customization options, including the ability to configure the look and feel of the app. To enhance the experience, users can add custom tags and categories to tasks, which elevates planning to a new level.
💡
Microsoft To-Do is a free task-management application available for Windows, Mac, iOS, Android, and the web.
Remember The Milk is the perfect planner because it is an intuitive and user-friendly task management system that delivers:
organization of your plans
prioritization of your tasks.
On a free plan, users can create unlimited tasks, subtasks, and notes and get access to the mobile app.
It also features reminders, notifications, and collaboration options accessible on multiple platforms, which makes it a powerful tool for making plans and managing tasks from anywhere.
💡
Available for free. Additionally, there is the Pro Plan for $39.99 per year.
Just as a map can help you find the best route to your destination, aCalendar+ can help you find the best route to your goals.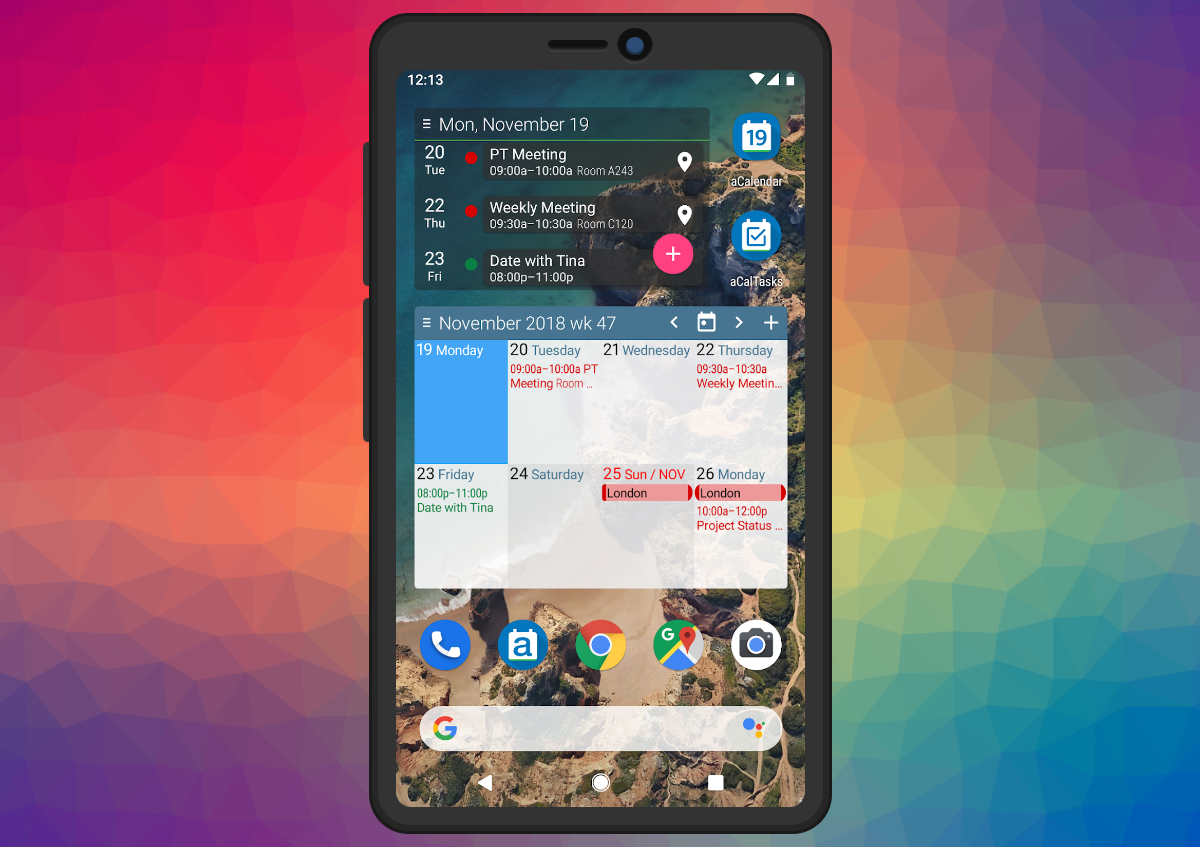 aCalendar+ is an open-source calendar application for Android devices. It has a wide range of features, including:
a customizable user interface
integration with Google Calendar
task and event management
easy switch from month view directly into any date's day view
multiple copies of an event
support for multiple calendars.
It also has a wide range of customization options to tailor to their scheduling and task management needs.
How to make sure that you do not mess up your plans and always have the most up-to-date information?

Try Routine for better planning.
It is an irreplaceable tool when you need to keep track of important dates and events. The app features a planner that allows users to create and manage tasks, set reminders, and track progress.
The app also provides users with detailed analytics to help them make informed decisions.
Its great advantage lies in the ability to bring together personal and professional calendars, which makes managing them all from one user interface an easy-to-accomplish mission.
Whenever you make changes to your calendar, like adding a new event or deleting an old one, Routine will automatically update both your calendars to make sure all the information is the same.
💡
Free on a Starter Plan. On Professional Plan, it is available for $15 per month.
Time Planner is akin to a GPS for your life. Just as a GPS gives you directions to reach your desired destination, this app can help guide you through your day, allowing you to plan out your activities and tasks.
This app created by Oleksandr Albul has over 5 million downloads. It features:
Task management enabling you to create, assign and track tasks with ease.
Calendar integration providing synchronization of your tasks with your calendar to ensure you never miss a deadline.
Options for goal setting
Collaboration suite (you can invite team members to collaborate on tasks and projects)
Notifications to mark your task completion.
Analytics to get insights into productivity and performance.
This app allows users to tailor their experience to their individual needs at best.
💡
Free with in-app purchases
Conclusion
How you choose to schedule your day may vary but planning stays an important component of a productive day. That makes planner apps a game-changer in building your time management strategy.
Daily planners can increase productivity by helping people:
to organize their tasks
to prioritize important tasks
to set goals
to keep focused on tasks
to avoid distractions.
Top daily planners stand out for a number of reasons. They have rich feature sets for perfect notes and to-do list filing. They track your progress unobtrusively and integrate with the services and apps you need.
The best daily planners that you can find in the list above are designed with the user in mind and have thoughtful details making them irreplaceable tools for goal setting and achievement.