Today our team has released a new version of TMetric.  The new version comes with a fresh set of new features among which is budgeting. This feature offers new opportunities, such as the ability to continuously monitor and control your project's budget to make sure that a project gets completed within a specified budget estimate.
Read on to find out what other new features were introduced in the new release of TMetric.
Track budgets in reports
Get a detailed overview of your current budget spendings in a Project Summary report. Receive notifications when your budgeted time or cost is exceeded to remedy the situation in time.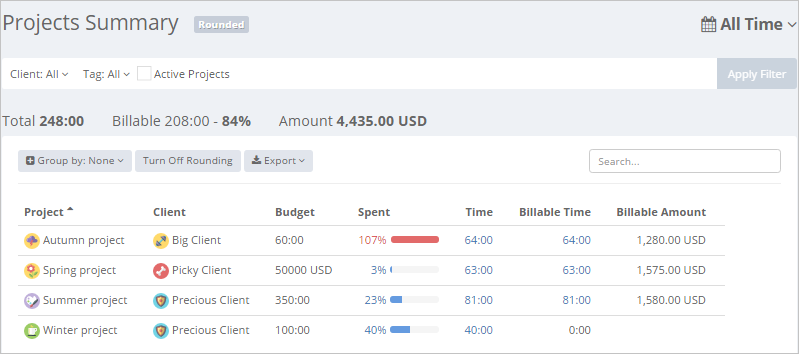 Links between reports
Links in the Project Summary, Team Summary, and Task Summary reports will navigate you to a Detailed report showing the related information in more details.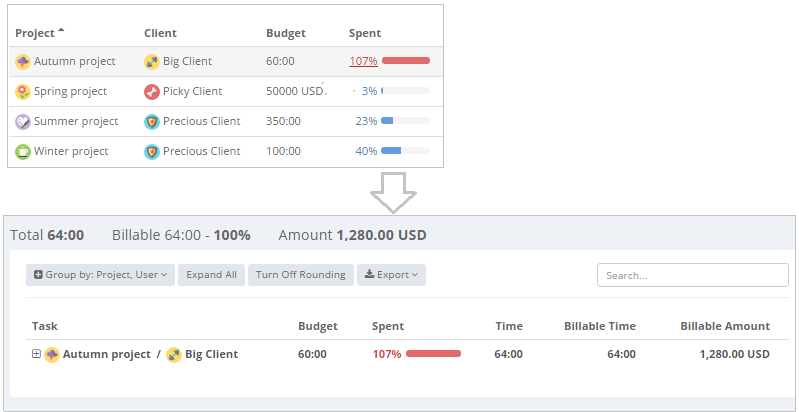 Rounding
When setting up your account, you can choose to round time in reports down to nearest, up to nearest, and to nearest. You can also choose a time rounding interval from a variety of available ones.

Locking time entries
Set a period for regular members for which they can edit their time entries.

New settings on the Account page
The Edit Account page has been redesigned significantly. Now, the account-level settings include account name, default billable rate and currency, the first day of the week, time format in reports, round time in reports, and lock timesheets. These settings apply to the whole account.
All Time range in Detailed and Project Summary reports
This feature will be useful, in particular, for project managers who want to get detailed information for the whole life-time of a project.

New integrations
TMetric now supports integration with UserVoice, Zendesk, and Todoist.

Notes to projects
Add notes to your projects to include additional information on the project.

Search for unnamed tasks
Retrieve all tasks with empty names in a report.

Try the updated TMetric time tracker now for FREE.