Everything You Need to Know about Small Business Grants to Secure Funding
As a small business owner, you may be wondering about available funding opportunities. Grants are one option to consider. This article will cover what small business grants are, how to find them, and how to apply.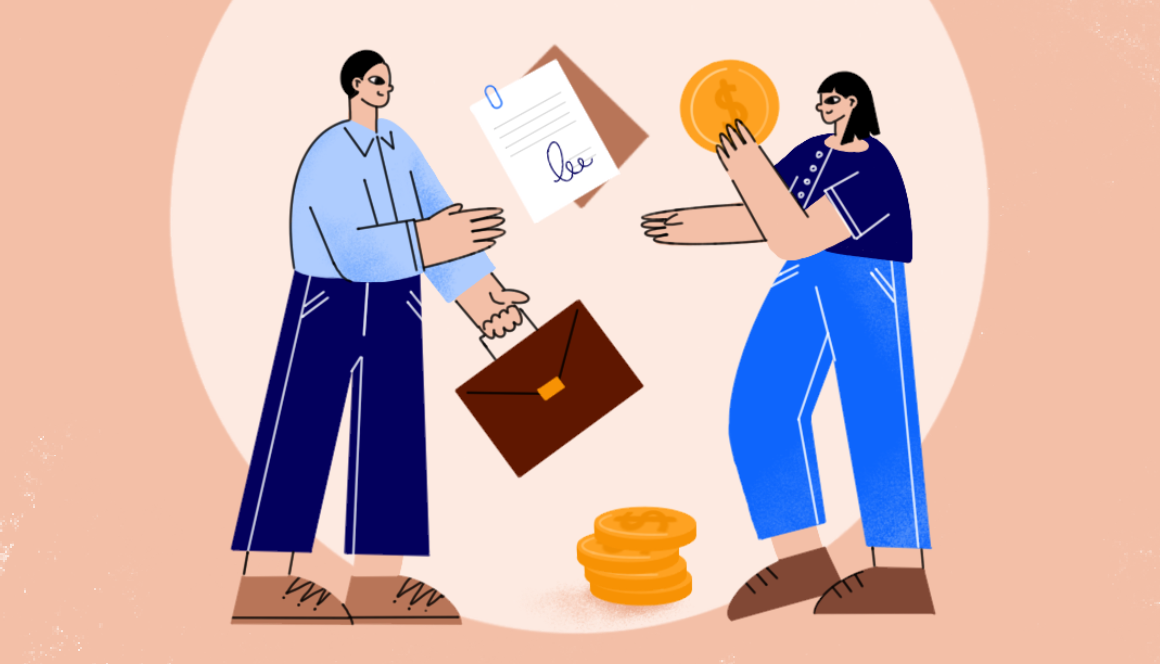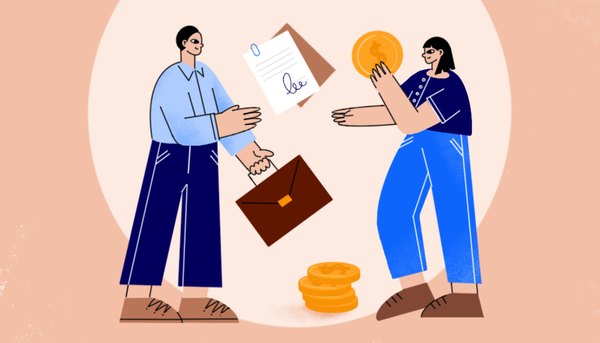 Small business grants are like a golden ticket, offering access to resources that can help unlock potential.
Looking for a financial boost for your small business?
Small business grants might just be the answer you need. In this post, we'll explore:
small business grants by definition
types of small business grants
how to apply for small business grants
what benefits they have for your business.
What Are Small Business Grants?
Small business grants are essentially free money awarded to entrepreneurs to support specific projects or initiatives.
Unlike loans, grants don't require repayment, which makes them an attractive option for small businesses.
Government agencies and non-profit organizations typically offer these grants to help small business owners who might struggle to secure traditional loans due to their financial situation.
Grants can be used for various purposes, including:
Starting or expanding the business 💸 Grants can help entrepreneurs launch a new business, expand an existing one, or move into new markets
Purchasing equipment 💸Small businesses often need to invest in machinery, tools, or technology to improve productivity and efficiency
Marketing and advertising💸 Grants can support promotional activities, such as digital marketing campaigns, print advertising, or trade show participation
Hiring employees and training💸 Small businesses may use grants to recruit new staff, provide employee training, or offer competitive salaries to attract top talent
Research and development 💸Grants can fund R&D efforts, enabling small businesses to innovate, create new products, or improve existing ones
Facility improvements or relocation💸 Small businesses may invest in facility upgrades, renovations, or even relocation to a more suitable location
Working capital💸 Grants can help maintain day-to-day operations, manage cash flow, and cover other ongoing expenses.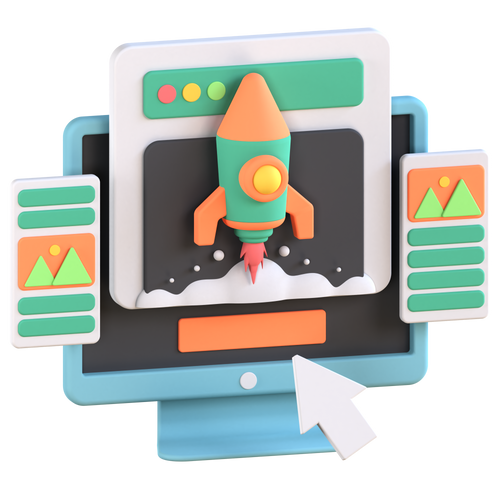 Bottom Line: Small business grants serve as financial aid for small business owners who face difficulties in obtaining traditional business loans. These grants provide flexibility in usage, allowing entrepreneurs to allocate funds toward various business needs.
How To Find Small Business Grants
Small business grants come in various shapes and sizes, depending on:
provider
grant's purpose.
Below, there are some common types you'll encounter.
Federal grants
Federal small business grants provide financial assistance to eligible businesses that align with the government's objectives.
In particular, the federal government offers grants to support specific projects and initiatives, with a focus on businesses that benefits the public, such as infrastructure and scientific research projects.
State grants
In addition to federal grants, many local organizations offer small business grants. These can include city or state economic development agencies, non-profit organizations, and chambers of commerce that distribute grants across various groups.
State governments provide these grants to encourage and facilitate business growth within their jurisdiction. These grants provide a crucial lifeline for small businesses, helping them to overcome financial challenges and achieve their goals.
Corporate grants
Corporate grants for small businesses are financial awards provided by corporations to support the growth and development of small businesses, often with a specific focus on innovation and social impact initiatives.
Zoom in🔎: Corporate business grants are one of the best sources of small business grants as they offer less competition.
Winners of the competition receive $50000 and $4,000 in FedEx print services each. To enter, the applicant must deliver their elevator pitch, including how their business makes a difference to their community or the environment, and demonstrate that there is an actual need for the award money.
Non-profit grants
Non-profit organizations provide these grants to small businesses that resonate with their mission and values.
❗It's important to understand the various types of small business grants so that you could identify and apply for the ones that best suit your needs.
With the right grant, you can secure funding and fuel your business growth and achieve your entrepreneurial dreams.
Grants are available from various sources including the Small Business Administration (SBA), government agencies, and private organizations.
The SBA itself has a limited number of small business grants, but they also provide funding to states and eligible community organizations that work to boost entrepreneurship.
One great example is the Small Business Innovation Research Program (SBIR) including Small Business Technology Transfer (STTR) programs for:
encouraging small businesses to tap into their technological potential
rewarding them for successful commercialization
funding for research and development of specific projects.
Who Is Eligible For Small Business Grant?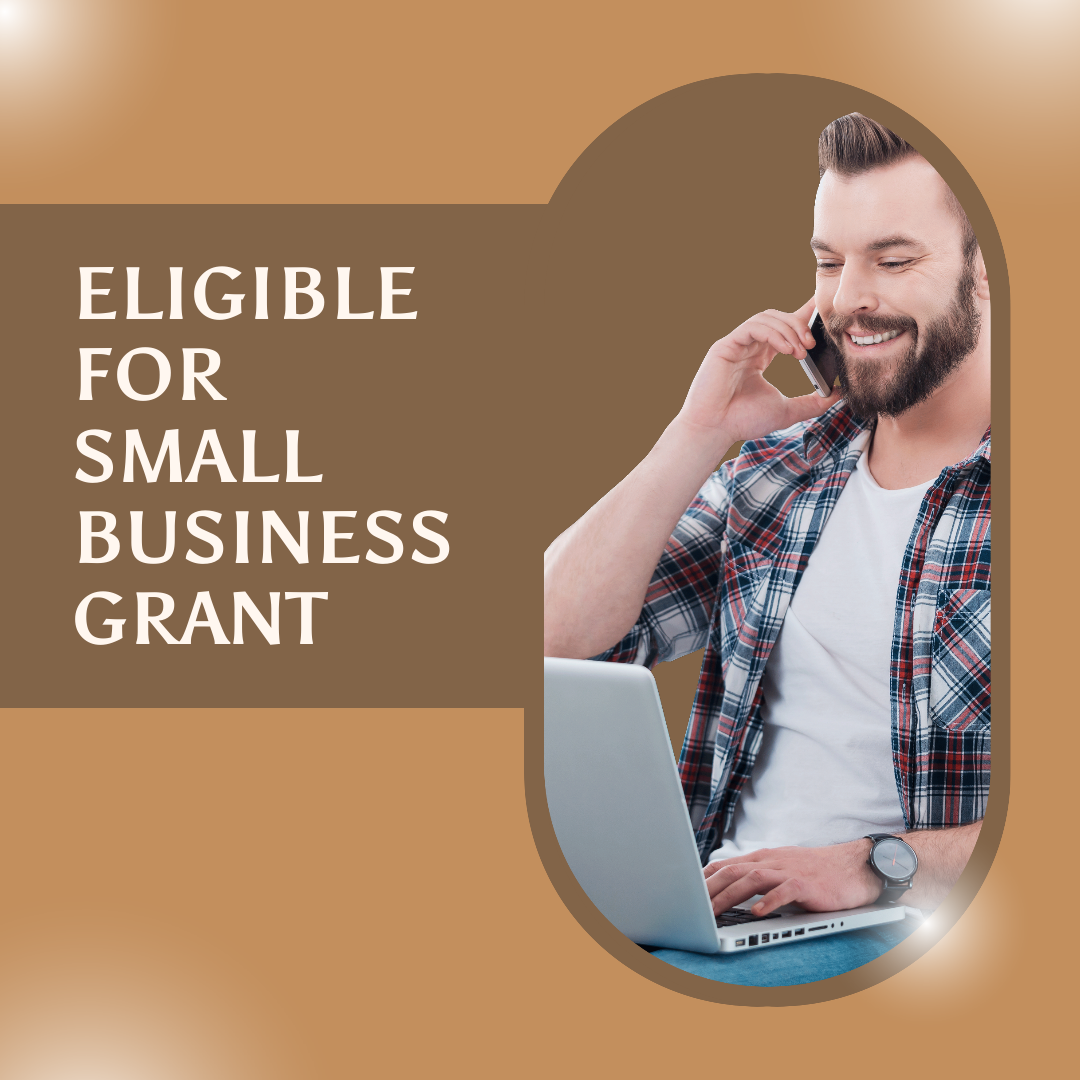 While grants are "free" in the sense that you don't have to pay them back, they're not handouts. It's important to note that you can't just go to a website and ask for "one small business grant please," and expect to get it.
Most grants only accept applications once a year, and the winner isn't announced until later. Grants are not a short-term funding solution.
Companies can qualify for grants by meeting specific eligibility criteria. The most common criteria include:
the size and age of the business
business location
the industry
the purpose of the funding.
Make sure to carefully review the requirements to ensure that your business is eligible before applying.
Some grants may have additional requirements, such as a certain level of annual revenue. Additionally, some grants may have a stipulated use, such as technology upgrades or training, so companies must have a need that aligns with the grant's purpose.
For instance, there are grants available specifically for women-owned, minority-owned, and veteran-owned businesses.
There are several small business grants available to apply for in 2023. Some resources to check your eligibility for these grants include:
✅Digital.com's guide to researching and applying for small business grants from government and private sources
✅Business News Daily's list of the best small business government grants in 2023
✅ The National Association for the Self-Employed's Growth Grants
✅The Small Business Administration's grants and funding opportunities
✅ Review of April 2023 Small Business Grants offers a list of 9 organizations and funds.
Once you have confirmed your suitability, it is time to start the application process. It is important to carefully follow the instructions given by the grant provider and to supply all necessary documentation.
How to Apply for Small Business Grants
The application process for grants can be competitive, and companies may need to put in a significant amount of work and effort to apply.
Indeed, securing a small business grant might seem challenging, but with the right approach, it doesn't have to be.
By following the instructions carefully and providing all necessary documentation, you can increase your chances of success.
Research Grants that Suit Your Business
If you're looking to apply for small business grants, the first step is to research grants that align with your business needs.
You can do this by conducting an online search (with a focus on resources that list available business grants) or by reaching out to your local small business administration office for guidance.
Ensure that you understand the requirements, deadlines, and eligibility criteria for each grant.
Gather Required Documents
Once you have identified the grants that suit your business, the next step is to gather all the required documents. Applicants should contact a granting agency so they know exactly what type of documentation will be necessary for their application.
These may include financial statements, business plans, and tax returns.
Ensure that you have all the necessary documents before applying for a grant.
Fill in the Application Form
After gathering all the required documents, the next step is to fill in the application form.
Ensure that you provide accurate and honest information about your business and the project or initiative you intend to undertake.
Submit the Application
After researching grant opportunities and determining a suitable option, applicants must then create an application package that accurately conveys their needs and qualifications in order to stand out among other recipients.
The package typically consists of a cover letter, business plan, financial statements, and other relevant documents depending on the specific program guidelines. Once everything has been assembled it is time to submit your application online or via mail along with any required fees if applicable.
Ensure that you submit the application before the deadline and through the recommended channels.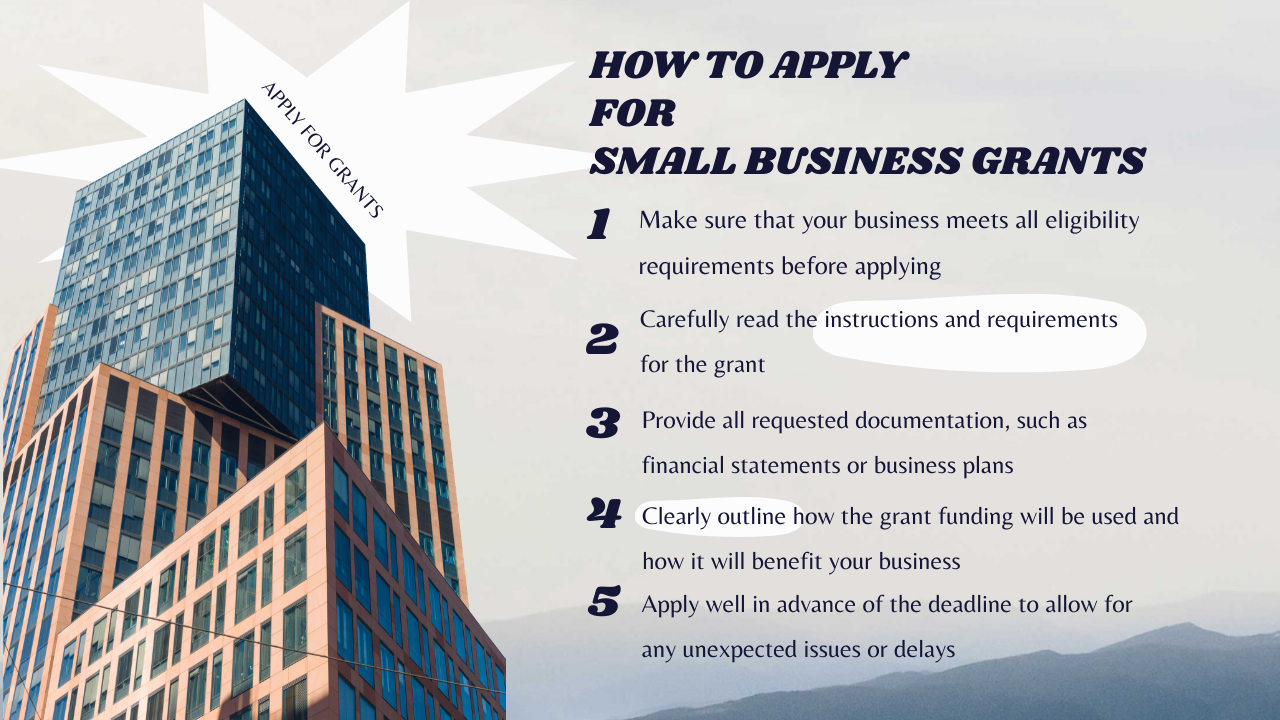 Make sure that your business meets all eligibility requirements before applying
Carefully read the instructions and requirements for the grant
Provide all requested documentation, such as financial statements or business plans
Clearly outline how the grant funding will be used and how it will benefit your business
Apply well in advance of the deadline to allow for any unexpected issues or delays.
Tips for Small Business Grant Applicants
Getting Approved
Before attending an interview for a grant program, applicants can research the company or organization awarding the grant, as well as any other potential recipients they might be competing with.
This will help with answering any questions posed during the interview and proving why their business is best suited to receive funding.
Additionally, it's important to practice presenting key information about your business in a concise and professional manner so you can make a strong impression on those reviewing your application.
Understanding Terms
Once approved for a small business grant program, it is essential for applicants to understand all of the terms associated with receiving funding from these programs.
These may include restrictions on how funds can be used and repayment schedule details if applicable.
It's important that applicants take time to carefully review all documents related to their grants before signing anything so there are no surprises down the line when using money received from these programs.
Effective Management of Small Business Grant Funds
After successfully securing a grant, the next step is to create and manage an appropriate budget for using those funds.
This process involves carefully assessing all expenses associated with the project or business venture and determining which costs can be covered by the grant money.
It's important to be mindful when using these funds as any unused amounts must be returned to the granting agency.
Managing grant funds also requires careful record keeping in order to ensure that all expenses are accounted for properly.
This includes creating receipts for each purchase made with grant money, tracking spending on a regular basis, and filing tax forms related to grants received.
Additionally, it's important that applicants stay on top of their reporting requirements so they don't risk having their funding revoked due to non-compliance with program guidelines.
The Bottom Line: Once an applicant has secured a small business grant it is vital that they remain committed to reaching their goals in order to make full use of this opportunity and benefit from its potential rewards for long-term success.
It is pivotal for the grant recipients to establish practical anticipations that align with the available resources, and simultaneously adhere to all the conditions specified by the granting entity throughout the entire procedure.
Benefits of Small Business Grants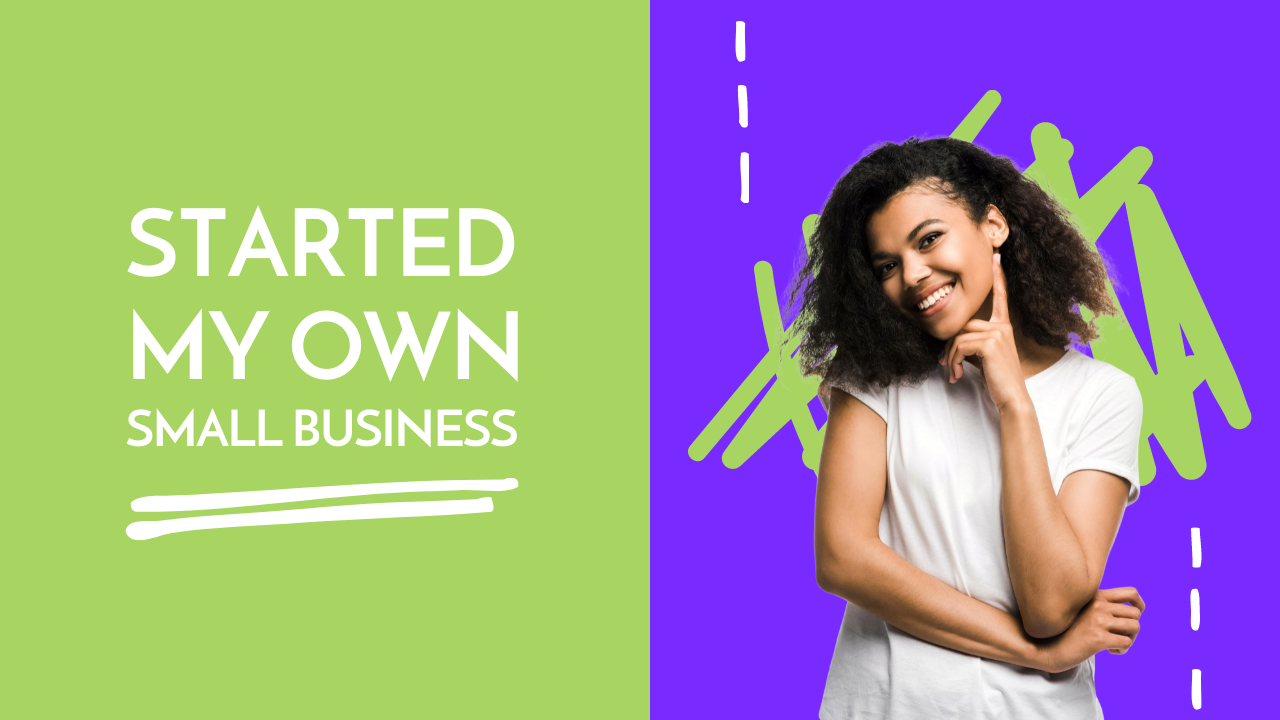 Small business grants offer several advantages for entrepreneurs, including:
Financial Support
Grants provide much-needed financial assistance for specific projects or initiatives, helping businesses grow and expand their operations.
Boosted Productivity
By offering resources and tools, grants can increase a business's productivity, streamlining operations.
Business Growth
By providing necessary resources, grants can enable small businesses to expand operations, hire more employees, and boost revenue.
Enhanced Financial Health
Grants can improve a small business's financial health by reducing debt, improving cash flow, and diversifying revenue streams.
By easing debt, enhancing cash flow, and expanding revenue streams, small business grants can significantly improve a business's financial health.
Efficiency of Business Operations
Grants can help SM owners invest in securing the efficiency of business operations and the business organization overall.
For instance, they can consider investing in software to track time, which would be a one-stop solution for allocating work hours and resources with guaranteed effectiveness.
Why it is important: Being a resource that cannot be replenished or purchased, time holds the utmost significance in small businesses.
Real-Life Impact of Small Business Grants
Small business grants have transformed numerous businesses, propelling them to new heights.
Let's explore examples that demonstrate the power of these grants.
Fruit d'Or Inc.
It is a Canadian company that offers a variety of cranberry and blueberry products, as well as organic and conventional ingredients, food, nutraceuticals, and cosmetics.
They prioritize the protection of natural resources and the natural quality of their berries, providing non-GMO products that are free of pesticides and synthetic herbicides. The company received government funding as one of the top Canadian businesses.
Kurzweil Educational Systems
It is a nonprofit organization that provides educational programs and services for people with disabilities or the elderly, – it submitted a proposal and received a grant that helped them acquire software to help children with reading difficulties.
Zendesk
In 2019, San Francisco-based Zendesk received a grant from Singapore's Economic Development Board (EDB) to invest in and develop local talent in the region.
The purpose of the grant was to enhance customer experience (CX) solutions and expand the business product development and engineering team, effectively doubling its size.
ProtonMail
ProtonMail, the encrypted email service, won €2 million in grant funding from the European Commission in 2019.
The funding was awarded to Proton AG, the parent company of ProtonMail and ProtonVPN, to develop a suite of encrypted services. The grant was part of the European Commission's Horizon 2020 program, which aims to encourage scientific research and technological innovation.
Key Points
If you're a small business owner looking for funding to elevate your venture, consider applying for a small business grant.
Small business grants offer numerous benefits, including financial assistance, increased productivity, and improved financial health.
Applying for these programs requires research, preparation, and dedication in order to create an application package that stands out from other potential recipients.
It is crucial that recipients remain committed to reaching their goals while staying compliant with program guidelines.
These grants have made a lasting impact on many businesses, and yours could be next.