GoodFirms Endorses TMetric as the Best Time Tracking Software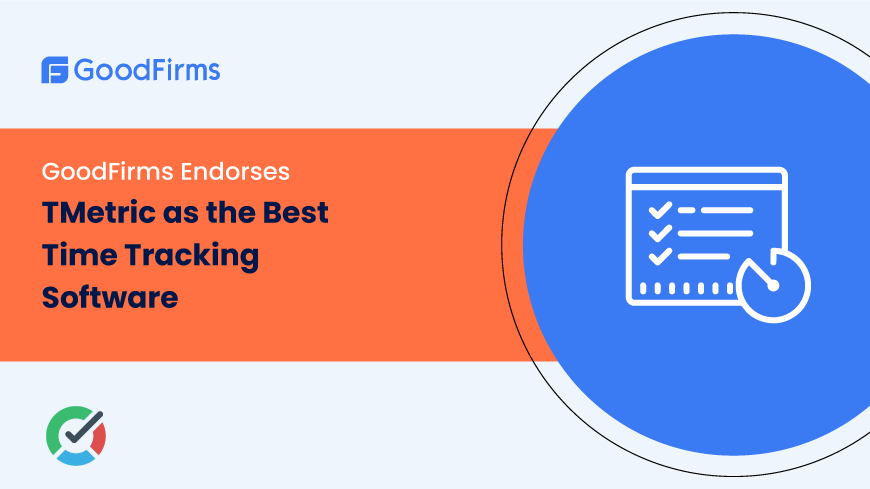 TMetric, the best-in-class, all-inclusive time tracking, task management, and employee monitoring system, is endorsed by GoodFirms as the best Time Tracking Software.
GoodFirms is one of the most renowned and dependable review, listing, and ranking platforms delivering high-grade services, enabling businesses to make informed decisions. Our advanced research methodology, analysis, and authentic reviews generate trust among companies looking for the best products and services in different categories. GoodFirms continues to be the most reliable and well-founded global B2B platform that assembles thousands of service companies and products under one roof.
Why Is TMetric the Best Time Tracking Software?
TMetric is a cloud-hosted versatile time tracking platform designed to fulfill the broad time tracking, employee monitoring, team management, project management, task management, billing & invoicing, and related operations for businesses of various sizes and across varied industries. The software enables businesses to automate, streamline, and control their extensive time tracking, attendance, and productivity monitoring needs on a unified platform.
TMetric offers numerous time tracking tools, including time tracking, project management, team management, task management, project budgeting, time off, timesheets, billing & invoicing, reporting, and more. These tools help businesses enhance overall productivity and performance, enabling them to boost profitability at nominal costs.
The company provides reliable and responsive customer support for the TMetric system through email. They also maintain a knowledge base of useful resources for TMetric, including user guides and videos to help users get acquainted with the software and leverage it better.
Benefits of Using TMetric Software
●      TMetric time tracking software enables businesses to capture and control various tasks and operations on a single platform.
●      It enables safe storage, access, and retrieval of business data with enhanced accuracy due to elimination of manual errors.
●      The software helps conserve time and resources.
●      It allows companies and team managers to monitor the productivity of employees and activity levels of each team member.
●      The software allows diligent monitoring and recording of team attendance and time-offs, enabling better work planning and control.
●      It offers extensive project management tools to help create projects, set rates, and plan budgets.
●      The software provides billing and invoicing features, enabling users to set billable rates and automatically generate invoices.
●      TMetric platform helps manage tasks better, improving overall workflow management.
●      The software offers timesheet management, enabling detailed record of employees' work and efficiency.
●      The TMetric system enables detailed reports, including summary reports for projects, hours spent per project, activity reports, apps and sites usage reports, and more, enabling in-depth insights into various business operations for better decision making.
Modules and Features of TMetric System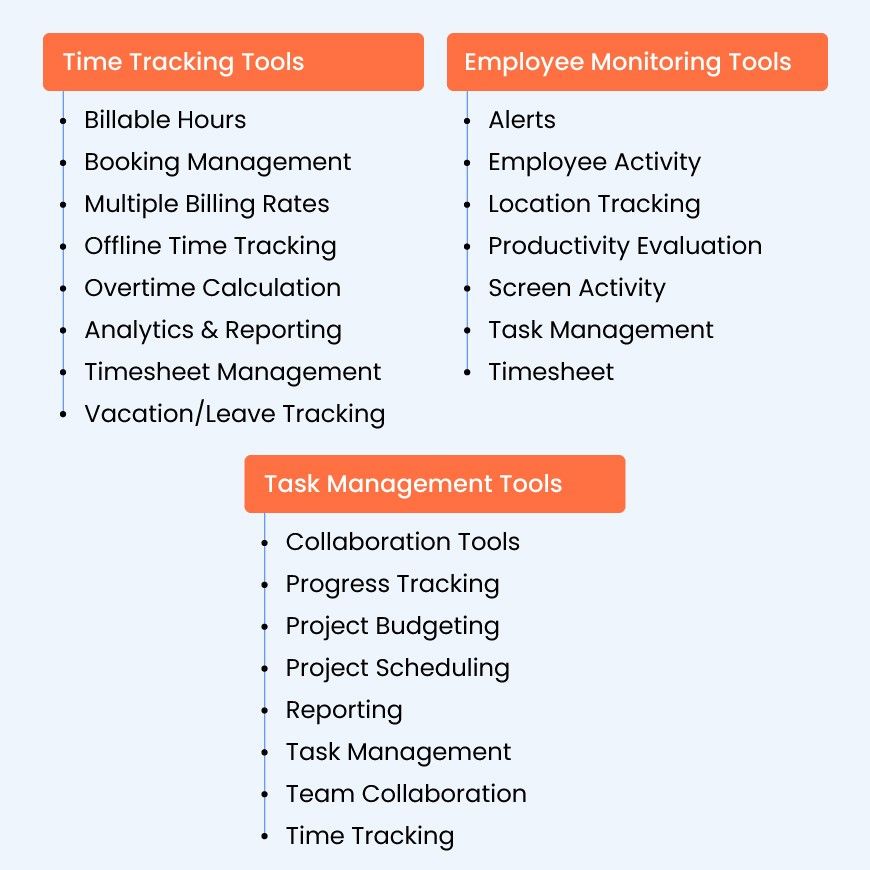 Time Tracking Tools
●      Billable Hours
●      Booking Management
●      Multiple Billing Rates
●      Offline Time Tracking
●      Overtime Calculation
●      Analytics & Reporting
●      Timesheet Management
●      Vacation/Leave Tracking
Employee Monitoring Tools
●      Alerts
●      Employee Activity
●      Location Tracking
●      Productivity Evaluation
●      Screen Activity
●      Task Management
●      Timesheet
Task Management Tools
●      Collaboration Tools
●      Progress Tracking
●      Project Budgeting
●      Project Scheduling
●      Reporting
●      Task Management
●      Team Collaboration
●      Time Tracking
Pricing of TMetric Software
The company enables a simple, subscription-based pricing model for TMetric with a free basic version. The paid packages allow additional features for businesses with higher needs. Businesses can thus choose between the multiple plans of TMetric software based on their requirements and budget, enabling them a value-based pricing. Moreover, the company allows a fully-functional 30-day free trial for the TMetric system.
The pricing for TMetric software is reasonable for the high utility, cost-saving, convenience, and upsurge in profits that the software enables businesses through enhanced time tracking and management.
Performance Evaluation of TMetric Software by GoodFirms
GoodFirms is globally well-known for identifying, listing, and ranking service companies and products based on their capabilities, innovation, performance, and authentic user reviews. These rankings stand as the most trusted, dependable, and prestigious recognition worldwide in the B2B sector, serving as a well-founded ground for our users to make informed decisions. The listed companies constitute market leaders and top performers who have earned and maintained a remarkable position globally through persistent quality and credibility.
Following an unbiased, structured, and elaborate evaluation process, GoodFirms identified and ranked TMetric as the best Time Tracking Software on its platform for offering comprehensive employee monitoring and time tracking tools under one roof, distinctive features, broad functionality, and reasonable subscription-based pricing.
About GoodFirms
GoodFirms is a Washington DC-based review, listing, and ranking platform for software and services. GoodFirms empowers companies to choose the best software from its curated list of industry-leading software in various categories to enhance profits and grow beyond imagination. It performs extensive research and analysis to evaluate and rank the listed software on critical parameters like features, uniqueness, ratings, and verified user reviews. This meticulously curated listing and ranking highlights the top performers for each software category and augments the buying credibility of the software.
About the Author
Lisa Brian is presently working as a Team Lead for Content with GoodFirms, a Washington DC-based B2B review, listing, and ranking company. Lisa has a strong background and passion in writing about emerging trends in the software industry and cutting-edge technologies. With expertise in researching, gathering information, and crafting engaging content, Lisa helps companies digitally communicate their vision and mission