How To Master Project Management The Asana Way
Our definitive overview of Asana for project management offers a comprehensive look at how Asana can optimize your project workflows and enhance team efficiency.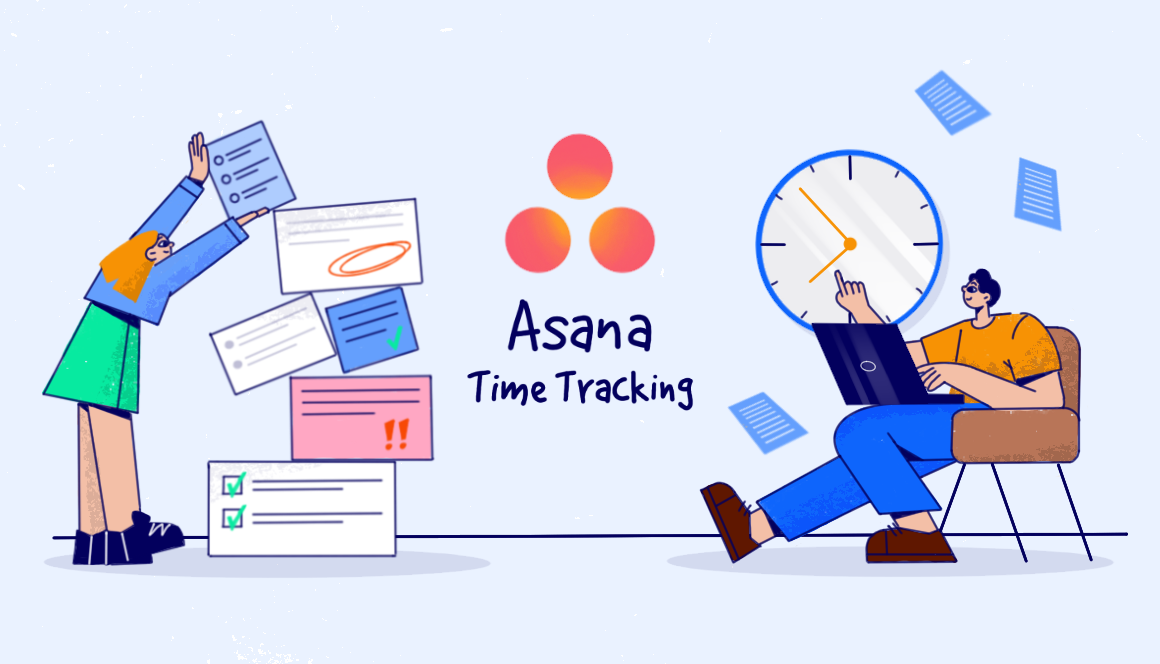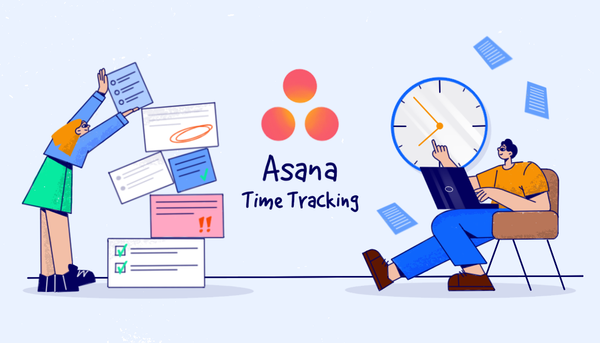 Task management systems are indispensable tools in the contemporary remote and hybrid work environment bringing a level of efficiency and clarity that's difficult to achieve through email threads, disconnected documents, or other ad-hoc methods.
They allow for agile adaptation to project needs, provide automated reminders for deadlines, and can integrate with other software to create a seamless workflow by holding various project components together.
Introduction to Asana Project Management Software
Asana, as an example of such a task management system, stands out for its versatility and user-friendly interface.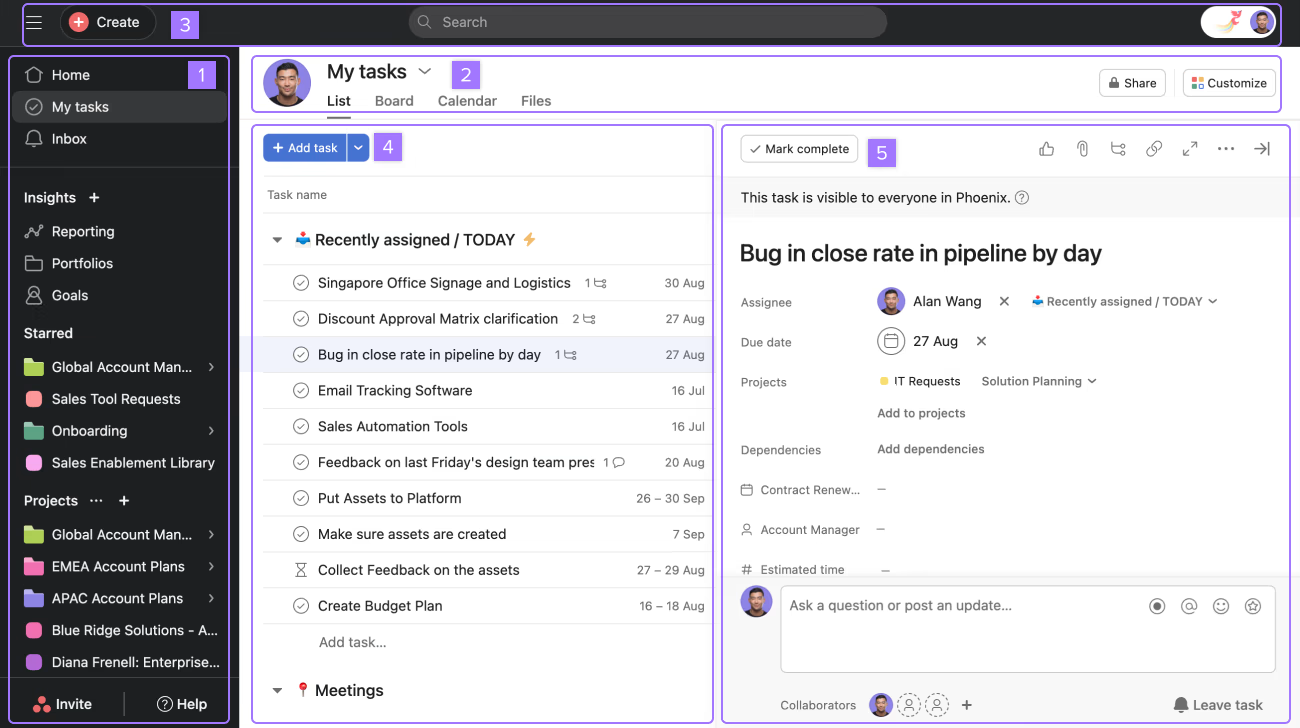 Asana task management is a widely used advanced platform designed to enhance productivity and teamwork.
Practically, using it is like having a virtual to-do list, calendar, and team communication tool all in one. Similarly to a physical office that keeps every item in order, Asana keeps your work organized and efficient.
Asana task manager is a favorite among teams in the following industries:
Technology (it helps to manage projects of all sizes, from simple tasks to complex software development projects)
Marketing (it helps them to stay organized and on track with marketing campaigns, content creation, social media marketing, and email marketing)
Sales (it is used to create tasks for each stage of the sales process, such as prospecting, qualifying leads, and closing deals)
Design (it helps designers' teams to collaborate on ideation, wireframing, and prototyping)
Customer service (it is used to create tasks for each stage of the ticket resolution process, such as triage, investigation, and resolution).
In addition, Asana project management is popular in:
Education
Healthcare
Finance
Nonprofit
Government.
The Bottom Line: Asana is a flexible task manager fitting teams of all sizes across a variety of businesses and organizations. In addition to being easy to set up and navigate, it is an affordable and scalable tool.
First Steps in Using Asana
To embark on your journey with Asana, here are some essential first steps.
Launching Your Asana Account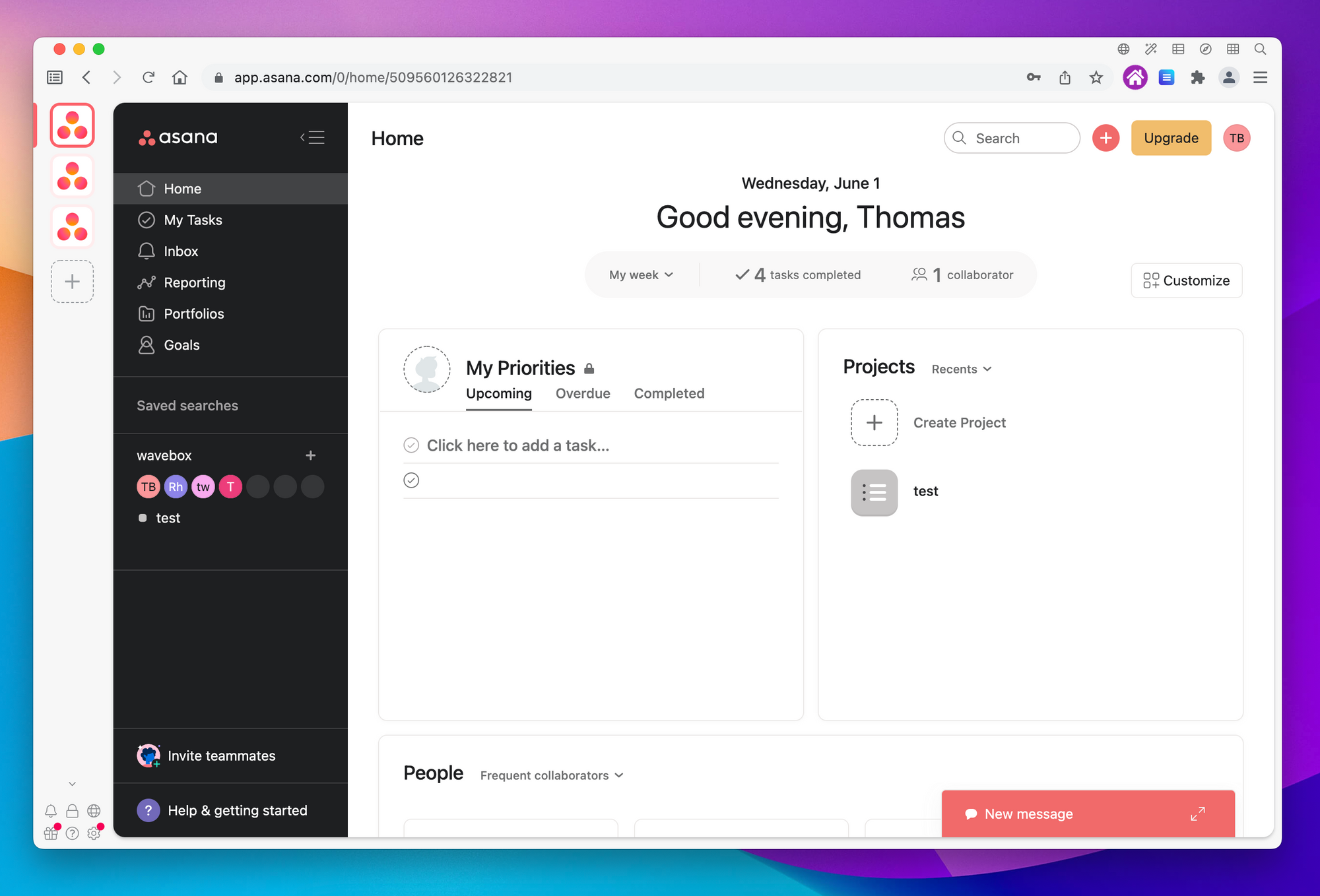 To begin utilizing Asana software effectively, start by creating an account on their website (you can sign in using your Google work account or email) or downloading for mobile and desktop.
Once you have access to the app Asana, familiarize yourself with its features and customization options.
Additionally, explore tips for using Asana to enhance your understanding of what is Asana app. Choose those that focus on how to use Asana for project management and optimize your workflow.
Organizing Projects and Tasks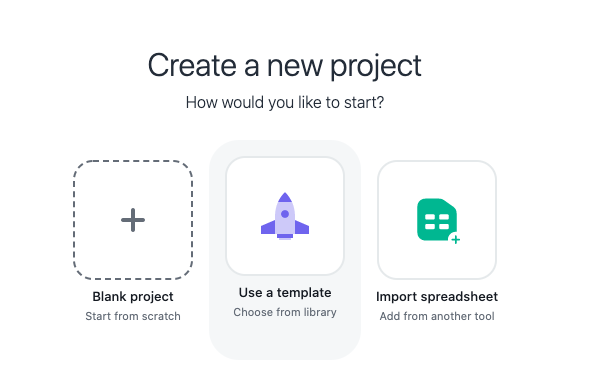 It has a variety of features that can be used to organize projects and tasks, including:
Projects
Projects are the highest level of organization in Asana. They represent a collection of tasks that need to be completed in order to achieve a specific goal.
Sections
Sections are used to organize tasks within a project. They can be used to group tasks by stage, assignee, or any other criteria that are relevant to your team.
Tasks
Tasks are the smallest unit of work in Asana. They separate individual steps within larger projects.
To organize your projects and tasks in Asana, you can follow these steps:
Create a project for each goal that you need to achieve.
Add sections to your projects to organize your tasks.
Create tasks for each individual piece of work that needs to be done.
Assign tasks to your teammates and schedule deadlines.
Use custom fields to track additional information about your tasks, such as priority, status, or dependencies.
Here are some additional tips for organizing your projects and tasks in Asana:
Use tags to categorize your tasks across multiple projects. This can be helpful for finding and tracking related tasks, even if they are scattered across different projects.
Use dependencies to link tasks together so that Asana can automatically update the due dates of tasks when their dependencies are completed.
Use templates to create pre-defined project structures and task lists. This can save you time when creating new projects.
Use search to quickly find specific tasks or projects.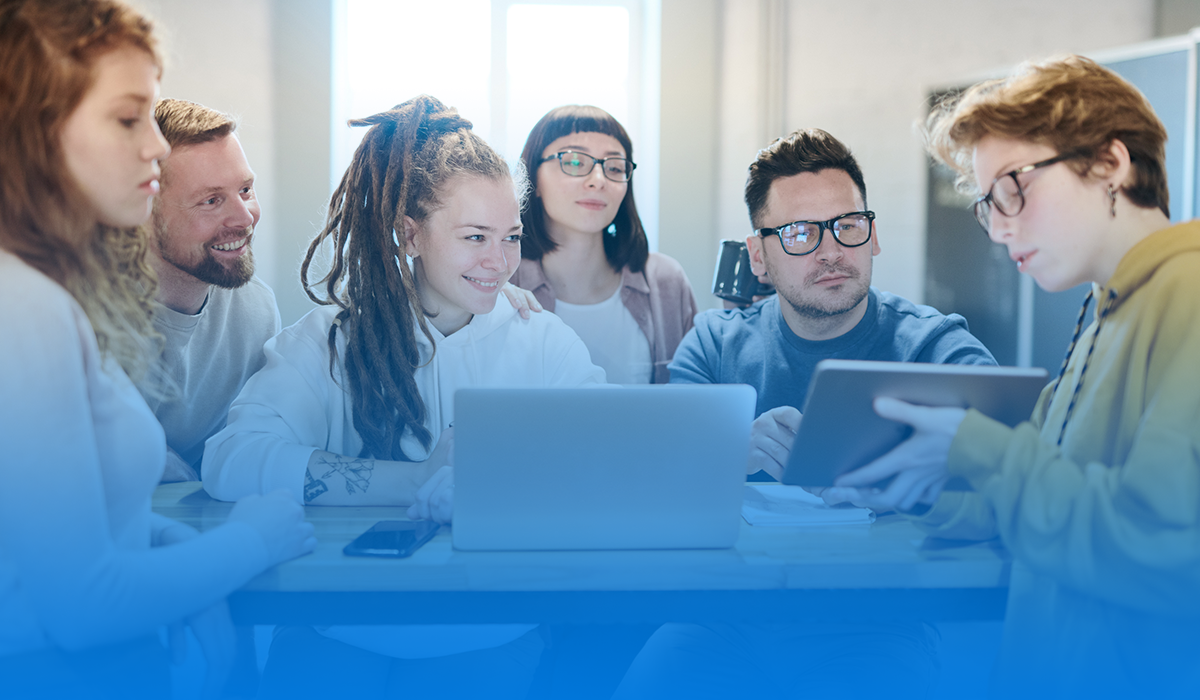 Task Assignment and Deadline Determination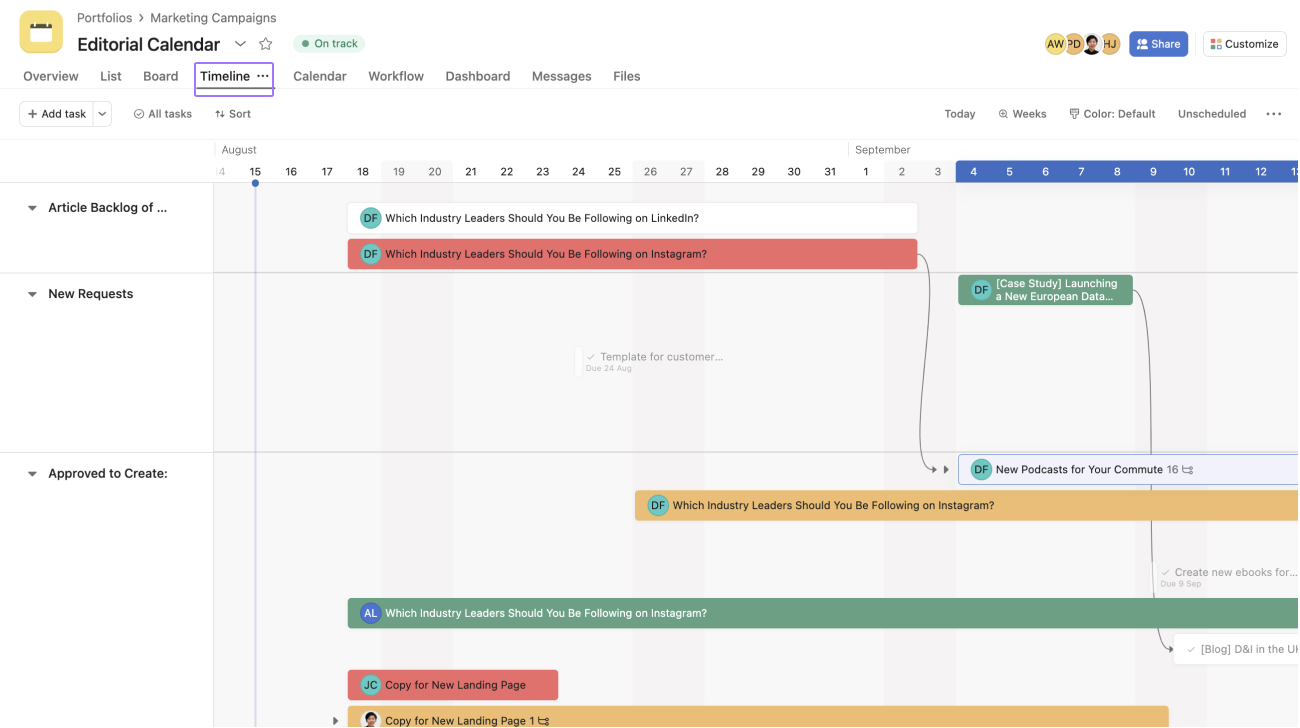 To assign tasks and set deadlines in Asana, you can follow these steps:
To assign a task:
Open the task that you want to assign.
Click the Assignee field.
Select the team member that you want to assign the task to.
You may assign tasks to several individuals at once. To do this, click the + button next to the Assignee field and select all of the team members that you want to assign the task.
To set a deadline:
Open the task that you want to set a deadline for.
Click the Due Date field.
Select the date and time that you want the task to be completed.
You can also set a relative deadline for a task. To do this, click the Relative button next to the Due Date field and select the desired relative deadline, such as "Today", "Tomorrow", or "Next week".
Once you have assigned a task and set a deadline for it, the assignee will be notified, and the task will appear in their My Tasks list. You can also track the progress of the task in the Tasks or Board view of your project.
Working with the Asana Calendar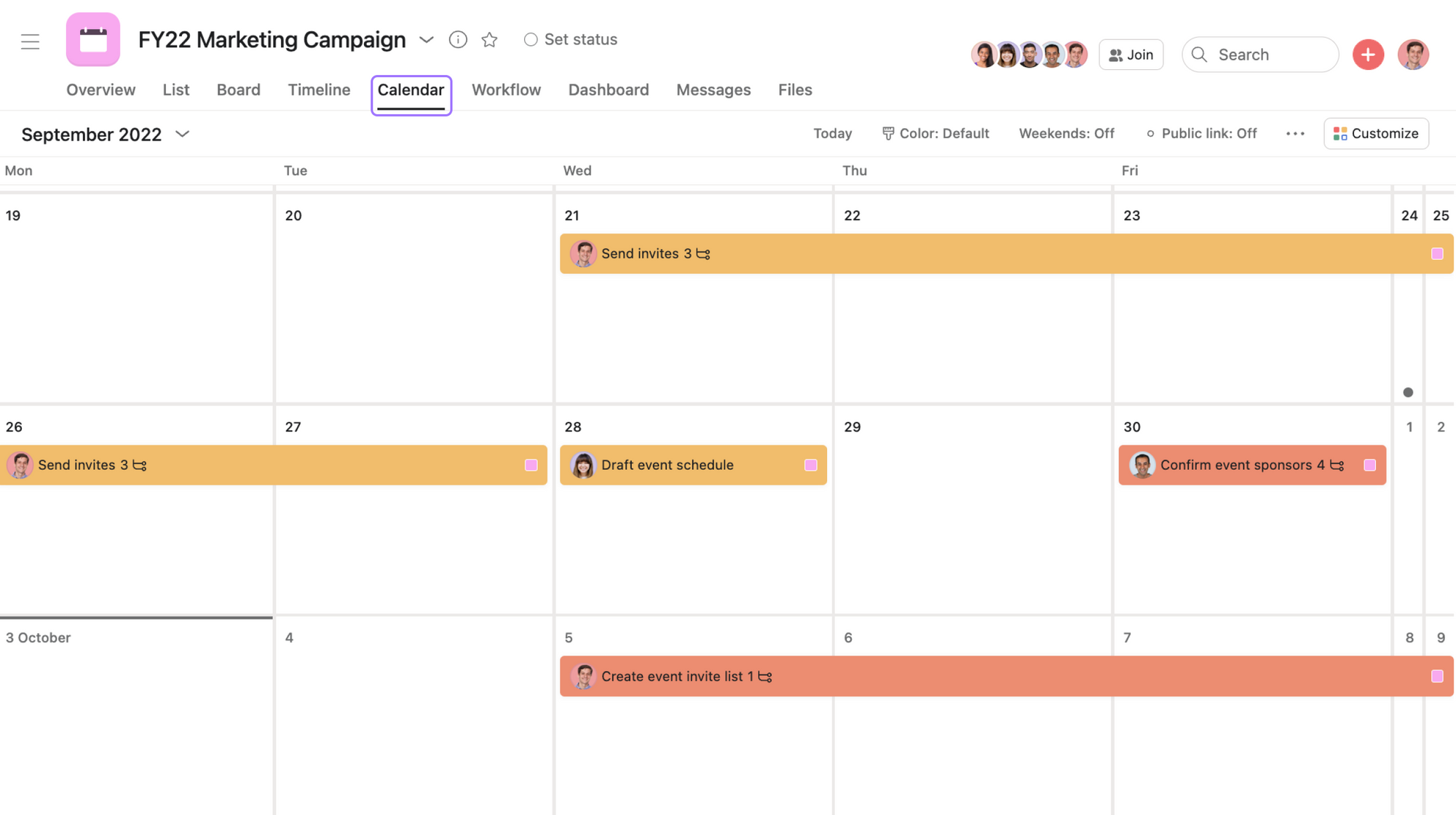 To work with Asana Calendar, you can follow these steps:
Open Asana and click the Calendar tab. This will open the Calendar view, which shows all of your tasks in a calendar format.
Use the filters at the top of the screen to filter your tasks by project, assignee, due date, and other criteria.
Click on a task to view its details, including its due date, assignee, and any other relevant information.
Drag and drop tasks to reschedule them.
Click the + button to create a new task.
You can also use Asana Calendar to create and manage repeating tasks. To do this, click the Repeat checkbox when creating a new task and select the desired repeat frequency.
Here are some additional tips for working with Asana Calendar:
Use the Zoom buttons at the bottom of the screen to zoom in and out of the calendar.
Click the Month and Week buttons to switch between different calendar views.
Use the Search bar to find specific tasks.
Click the Settings button in the top right corner to customize your Calendar view.
Asana's Tools and Services
Asana project management software can be compared to a well-equipped toolbox that helps users effectively manage their tasks and projects. Just like a hammer or a wrench, Asana's tools are designed to simplify and streamline teamwork.
Workspaces

One of the standout advantages of Asana is its Workspace feature, which functions like a digital whiteboard.
With this tool, you can effortlessly create task lists, delegate duties, and establish due dates, just as you would with physical sticky notes on a traditional whiteboard. This graphic approach ensures that every member of your team remains informed and focused on the overall objectives.
Projects

Projects in Asana serve as the foundation for effective task management and collaboration. By breaking down larger initiatives into smaller, more manageable pieces, teams can focus on specific goals and ensure that everyone stays aligned.
In addition, projects allow for seamless communication and file sharing, making it simple to collaborate with colleagues and stakeholders.
Tasks

Asana Tasks serve as your team's central hub for streamlined collaboration. By integrating a rich set of tools and services into one platform, Asana not only unifies your team but amplifies its efficiency.
Users can engage in real-time conversations, share crucial files, and annotate directly within tasks.
This eliminates the need for fragmented communication through separate messaging or email threads, thereby accelerating project timelines and minimizing unnecessary back-and-forth.
Calendar

Asana Calendar serves as a digital orchestrator for your projects and tasks, seamlessly integrating with other Asana tools to keep your work on track.
It automatically organizes your deadlines, sends timely reminders, and provides a real-time view of project progression.
Think of it as your virtual project manager, vigilantly overseeing all timelines and milestones to ensure nothing is missed, and deadlines are consistently met.
How Asana Simplifies Workflows with Powerful App Integrations
Once you have organized your projects and tasks in Asana, you can enhance its features by integrations that include Slack, Google Drive, Zapier, TMetric, and Trello for:
tracking time on tasks and projects
monitoring your progress toward your work goals
collaborating with your team.
Let's examine one of the use cases in the example of integrating TMetric time tracker with Asana project management tool.

TMetric integrates with Asana through API-based connectivity, usually facilitated by TMetric's plugin or add-on. Once integrated, TMetric can pull task information from Asana into its own interface.
Users can then easily track time spent on individual Asana tasks directly from TMetric's dashboard. Synchronization between the two platforms is often real-time or near real-time, ensuring that the data is up-to-date in both places.
How it Extends Asana Functionality:
Time Tracking: TMetric allows users to track the amount of time spent on individual tasks or entire projects within Asana. This feature can be invaluable for freelance work, consulting, or any scenario where billing is based on time spent on tasks.
Productivity Analytics: TMetric provides advanced analytics tools that can give you insights into team productivity. It can analyze the time data to identify bottlenecks or inefficiencies in your workflow, which can be beneficial for project optimization.
Billing and Invoicing: With TMetric's financial tracking features, it's possible to convert tracked hours directly into invoices. This makes the billing process more efficient and helps to ensure that all billable hours are accounted for.
Attendance and Overtime Monitoring: Beyond project-specific metrics, TMetric can help monitor team attendance and overtime, providing a more comprehensive view of team management that Asana alone might not offer.
Detailed Reports: TMetric allows for the generation of detailed time and productivity reports, which can be customized to suit specific project needs. These reports can be exported for further analysis or for sharing with stakeholders.
The Final Result: TMetric enhances Asana task management and creates a robust, feature-rich environment for project management. TMetric fills in the gaps in Asana's functionality, adding layers of time tracking, analytics, and financial management that make for a more comprehensive project management solution.
Conclusion
In wrapping up, Asana's versatility allows it to be adapted across various industries and scales, making it an invaluable tool for anyone seeking to streamline workflow and improve team collaboration.
Besides, the integration capabilities of Asana mean that it doesn't exist in a vacuum. It can function seamlessly alongside other tools, enhancing its utility and making it a powerful hub for all your project management needs.
This integration is particularly significant in an era where cross-functional teams and remote work are increasingly common, thus requiring software that can serve as a unifying thread.
Lastly, mastering Asana is not just about understanding its features but about adapting it to your unique project management philosophy. The platform is most effective when tailored to your specific needs and challenges, and the plethora of customization options allows for this level of adaptability.
As you continue your journey in project management, consider Asana not just as another tool but as a strategic partner capable of elevating your work to new heights.