Learn how to use TMetric for accounting service. Replace messy papers with accurate time calculations and 'frictionless' generating of invoices by applying TMetric time tracker.
The new digital reality created huge opportunities for those who feel more comfortable working location independently.
One of the most popular jobs for remote employment is related to accounting and bookkeeping.
Whether you want to be your own boss or would like to make some extra money, becoming a freelance accountant can help realize your goals.
To get to know what it is to be a freelance accountant, let us listen to the person who has been using TMetric while successfully submitting lots of projects.
How long have you been a remote accountant?
It took me more than a decade to figure out how I can work remotely and become a digital nomad. I always wanted to pursue goals outside my profession and dedicate more time to my family, and I understood that the traditional workplace would not be the ideal option.

Initially, I started as an internship, and then I went into corporate accounting as a full-time employee. I also worked in public accounting for government agencies. Thus, I acquired a lot of experience for understanding all the sectors of accounting but mostly I focused on tax preparation.    
What are the reasons for using TMetric in accounting?
So I would certainly name FIVE reasons that make TMetric unbeatable for a remote accountant.
Reason #1: Neat data storage
One of the reasons I set out to work remotely was the tight office routine. But freelance accounting still implies a busy schedule. To handle it, you need failproof assistants. TMetric is one of them: it helps allocate the time wisely as well as keep all the information in one place. In particular, an accountant can conveniently store the data from one dashboard:
on daily time calculations,
on task/projects performance (linking to individual tasks/projects, assignees/teams, created tags, and statuses indicating performance),
on reports (general and detailed).

TMetric dashboard
Reason #2: Visualizing the work time in a timeline
With a time-tracker, the adjustment to the flexible schedule is easy. Time is tracked accurately without a fear of data loss. You see your time-consumption in a timeline. Jumping from day to day is the easiest thing, and navigation is mostly intuitive.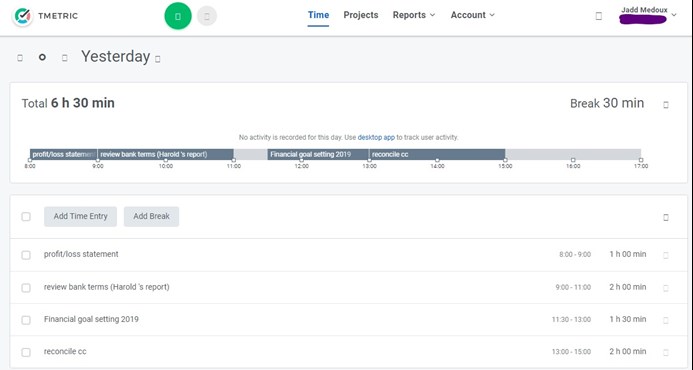 Reason #3: Full project profile
You can create a project, give it a name and assign the project to a client. While creating the project, you have the opportunity of adding notes (in case you will come up with new project detail, etc.).
Tracking work time while seeing what tasks you are working over will save tons of time. With TMetric, you can create and budget projects for any accounting-related tasks:
tracing and entering income, expenses, pending bills;
dealing with bank statements;
working on employees' payrolls;
recording disbursements, invoices;
tallying the accounts on a daily, weekly or monthly basis;
calculating the details of tax returns;
drafting financial statements to clients.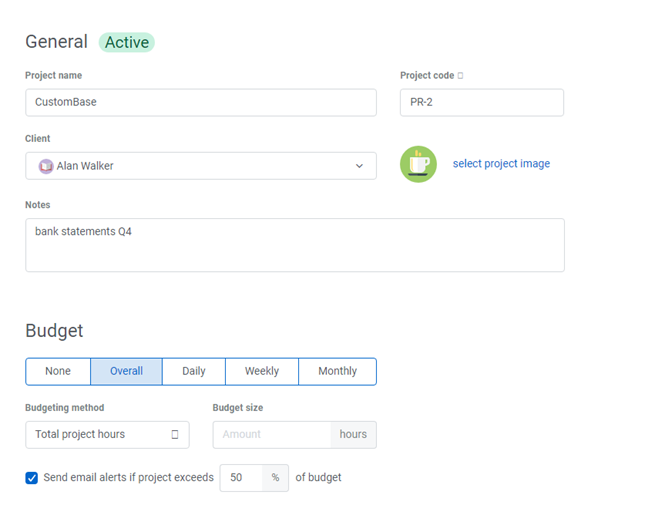 Reason #4: Create an invoice from a time tracker
Another feature that must be mentioned is the option of invoicing the clients on the basis of time tracking.
You go to Invoices tab, which directs you to the Invoices screen.
Now, all you need to do is  to click on the name of the client
Done, you can send the invoice to the client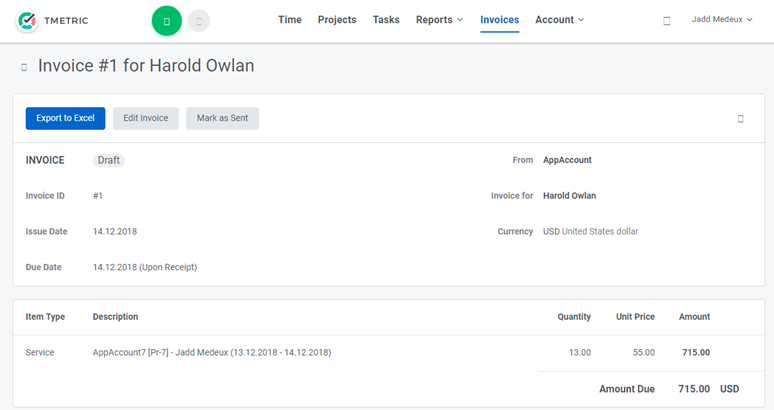 Reason #5: Reports in a click
With TMetric,  I can also easily take care of the administrative tasks of my team in case I work on multiple projects or have to handle several tasks in a row.
There is no need to ask the team member at what stage they are in terms of completing the project. Generating reports will enable collecting the information related to the team:
apps the team used while doing tasks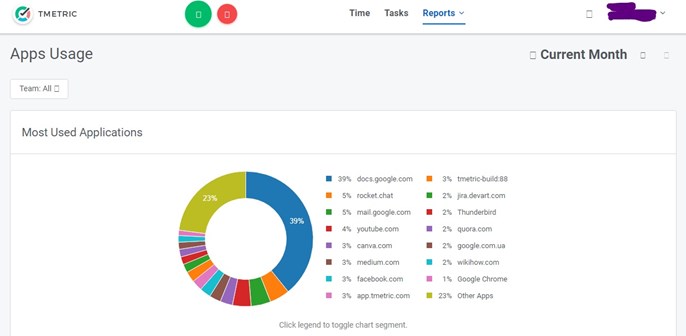 categorized summary of team performance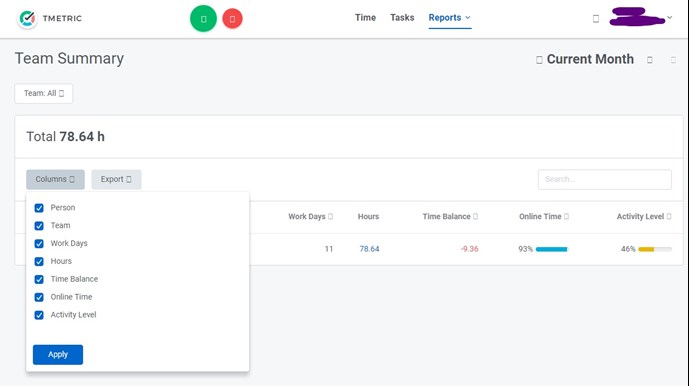 detailed report on work time consumption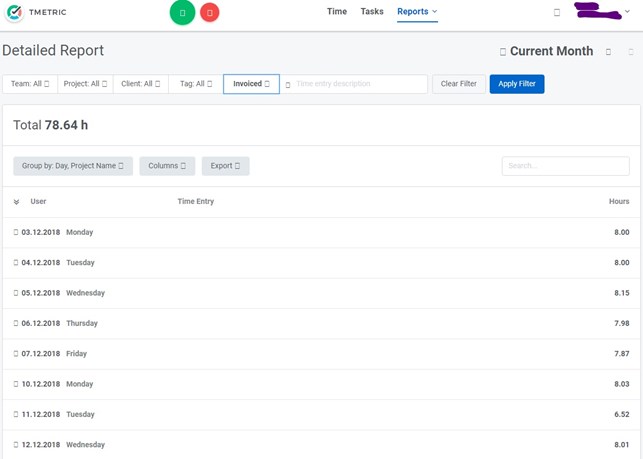 Concluding thoughts
Working as a freelance accountant, I perform supervision, examination and recording the cash inflow/outflow of the client. As a freelance accountant, I can afford to have flexible working hours and communicate with clients from any place. Being a tech savvy, I embrace the changes in technology and understand the importance of applying the software in my freelance practice. To go remote and perform your work successfully, all you need is to implement the additional technology.
TMetric belongs to the must-have services for freelance accountants as it allows 'wearing all the hats of a professional accountant' including meeting the deadlines, arranging clients' meetings, having meetups with the team and keeping all the work hours accountable.