We're happy to roll out the new TMetric release with features that streamline your time tracking workflow. Now you can set required fields for time entries, enable or disable manual time editing for users, and set who may track time from a mobile device. Plus, we've improved the Apps Usage report.
Required fields for time entries
Now, to get reliable metrics of your team's work, you do not have to worry about the data missing or incomplete. With the Required Fields feature, you can set to enable a timer only upon filling in the mandatory information (for example, on project name, task description, and tags).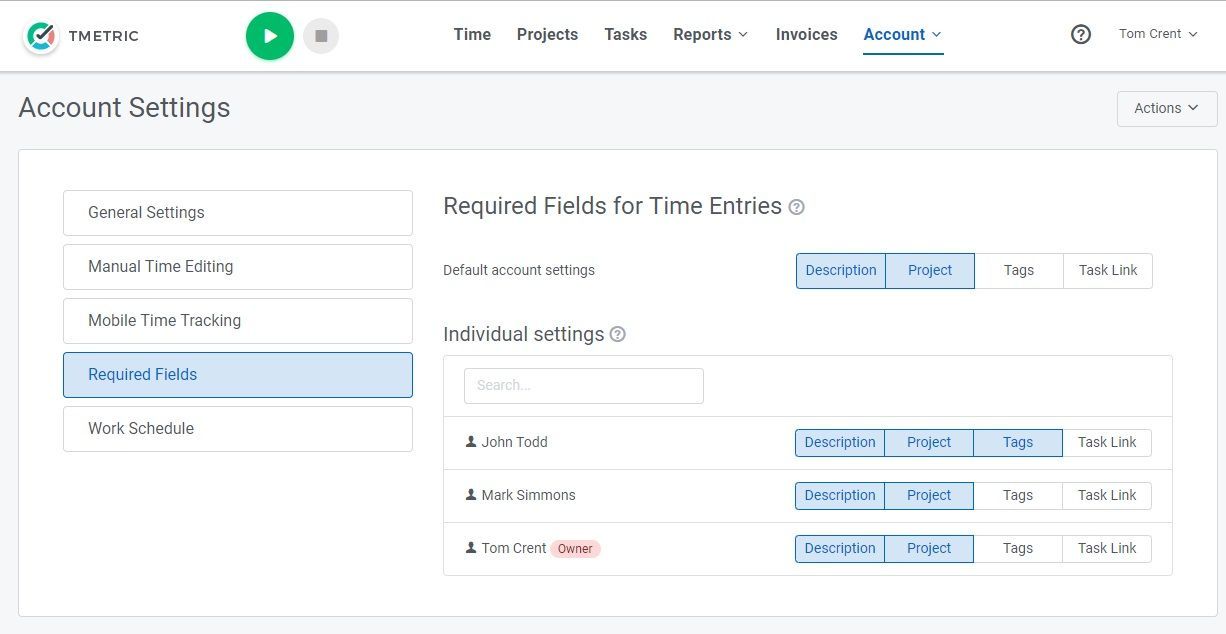 Please note that this feature is added to the Business plan.
If you are a Business Plan user, you now have access to a powerful weapon 🎯 against any pitfall in project management.
Manual time editing restriction
The various companies managers have been asking about the way to prevent the misleading or dishonest time input by employees, which gave us an idea for the solution we are presenting to you now.
Now you have the tool. One simple option - Allow editing time manually - settles the issue.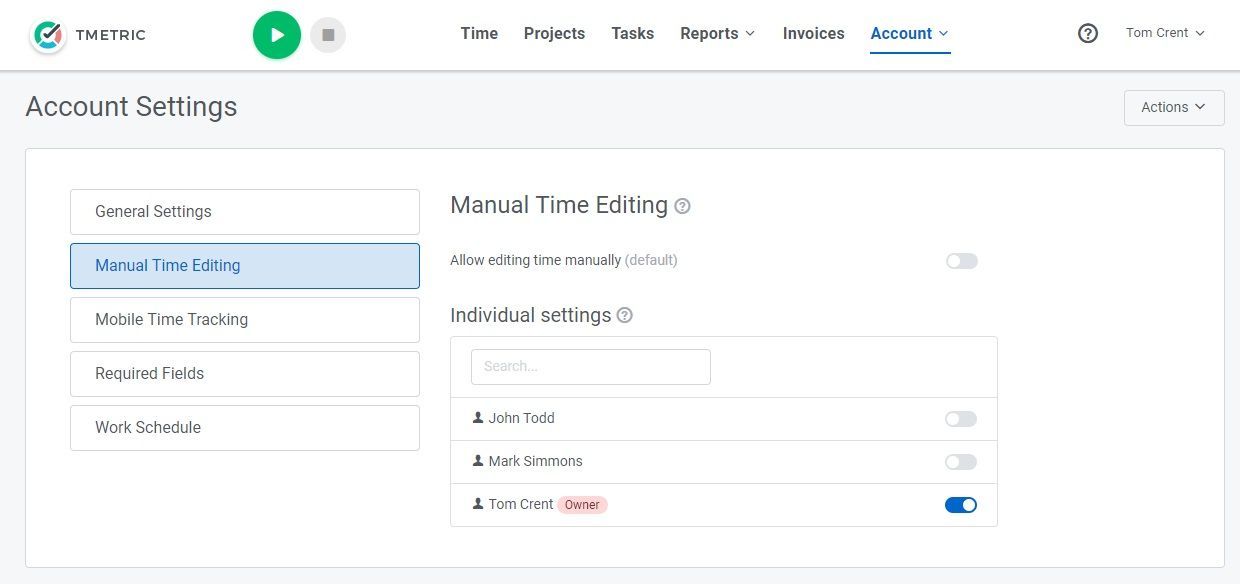 You may set the default policy for manual time editing for your company as well as override it at the individual level.
If the option is turned off for employees, they operate on tracking the work time with starting and stopping the timer only. The extra functions (deleting the time entries, adding or editing the entries) must be performed by the account admin.
The only exception for editing is that employees may specify properties of an active time entry (the running timer).
Control who may track time from a mobile device
If your team members are supposed to work at desks in your office, you as an account admin can disallow mobile time tracking for them.
If some of your employees are agents working "on fields", you can allow tracking time from a mobile phone for them by overriding the team policy on the individual level.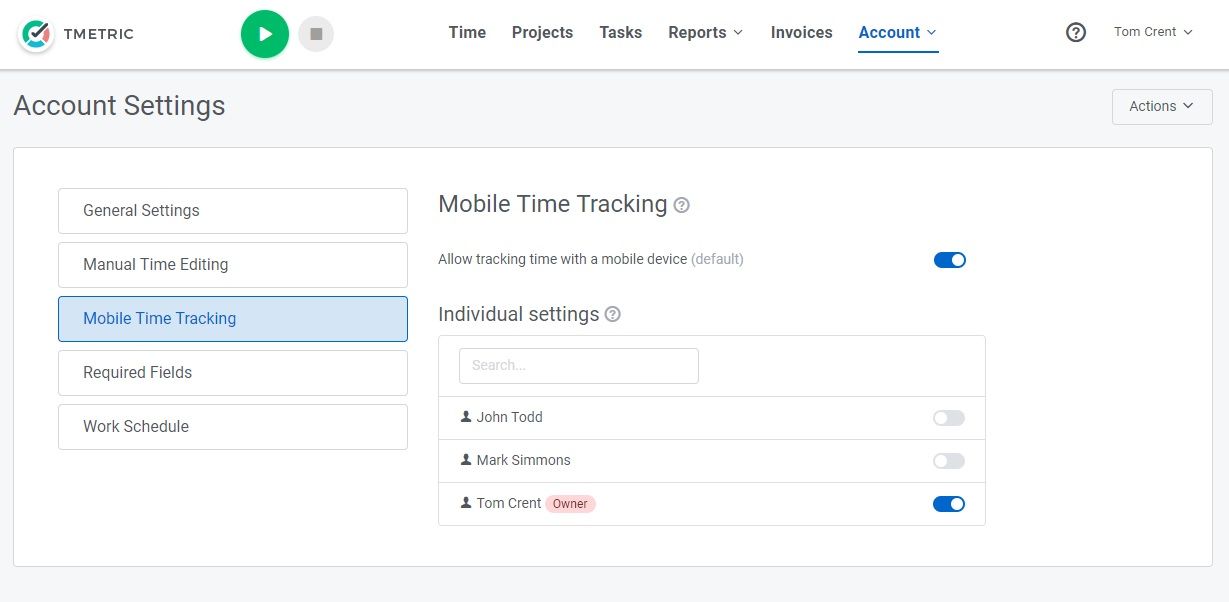 Apps Usage report improvement
We believe that tracking apps usage is a great solution for effective time management.
With the new TMetric release, data on apps usage gets more transparent.  Now, instead of the information on the users' activity level on the app, you will be able to monitor apps usage directly by calculating the time the user spent on the app, which makes reporting on app and website utilization 100% clear.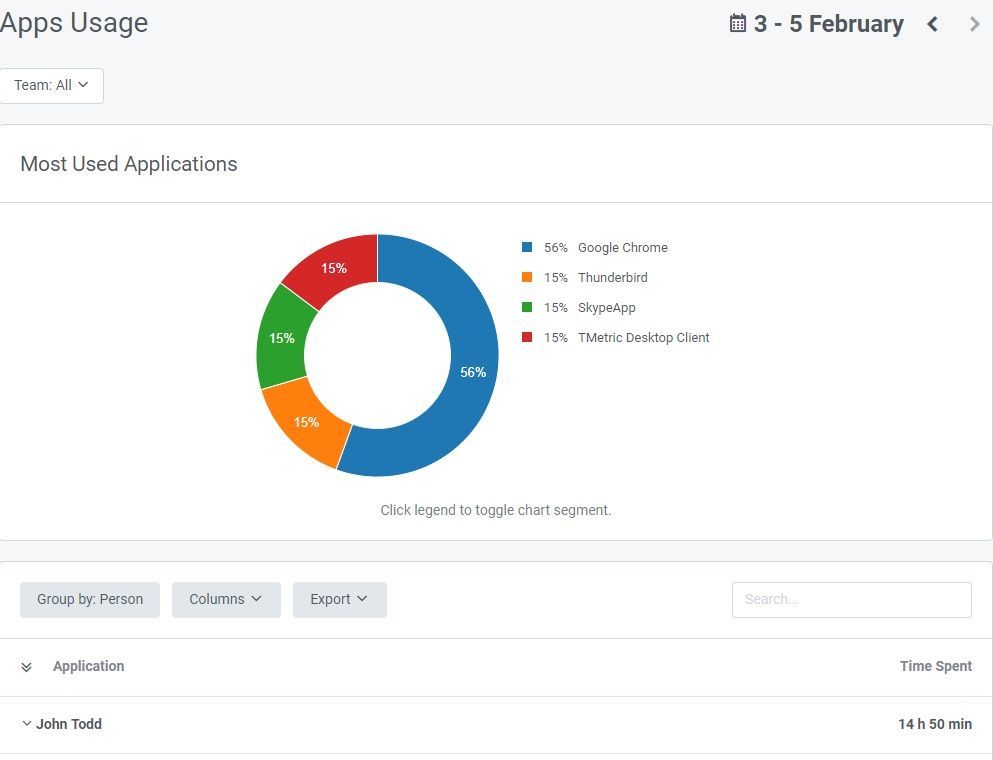 About TMetric
TMetric is a time tracking web app for both freelancers and big companies. Great control over time intervals and project budgets, flexible billable rates, crystal clear reporting, transparent team monitoring and lots of integrations, all wrapped up into a light interface. Calculation on how much time is spent on certain projects, clients and tasks in an instant.