The latest release of TMetric delivers a new mobile app for iOS and desktop apps for macOS and Linux. The current release also includes a number of new features that will make your time tracking and invoicing process much easier.
iOS App
TMetric presents a newly tailored app for iOS. Install the mobile app on your phone to track the time spent on meetings and out-of-office activities on the fly.
Desktop client for macOS and Linux
TMetric desktop client is made available to install on macOS and Linux. Now, you can track time, enable tracking reminders and record user activity in your favorite platform without opening a web browser. The desktop apps can be downloaded on TMetric Download page.
Other Features
New Desktop design
TMetric presents a new Desktop client with an entirely redesigned user interface. We have added Preferences allowing you to fine-tune your TMetric experience with settings for idle detection, tracking reminders, shortcuts, network, and much more.
Moreover, the Desktop client now supports all the basic platforms Windows, macOS, and Linux.
Mark time as invoiced
We have added a feature that allows you to mark time as invoiced. You can find this option in Detailed and Tasks Summary reports. The time marked as invoiced is locked from editing by anyone, giving you the ability to provide an accurate invoice to your client.
Apply filters in the reports to mark only specific time entries, such as relating to a certain project or a certain period of time.
You can revert the invoiced time any time by marking it as Uninvoiced.

In Tasks Summary and Detailed reports, you can now filter the result to show Uninvoiced, Invoiced, Billable, and Non-billable time.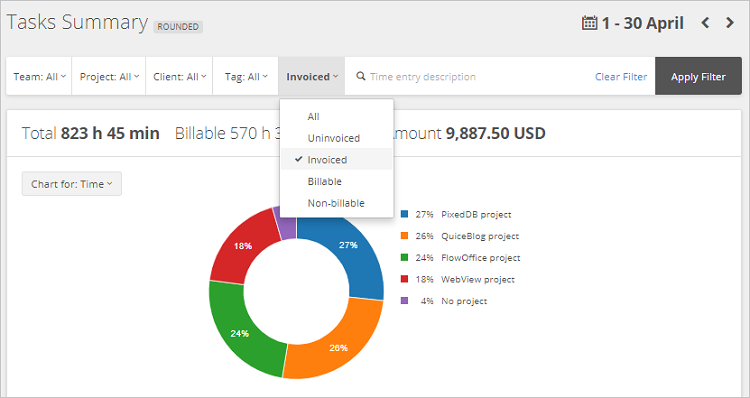 Jump to time entry
In Detailed report, the time is made clickable. So now, when you click the time of an entry, you will jump to the Time page of the user this time entry belongs to. You will be able to edit it manually.

Total time of selected time entries
On the Time page, as you select time entries, TMetric shows you the number and the total time of time entries selected.