TMetric Full Review: Is This Time Tracking Software Good?
TMetric is a productivity tool with advanced functionality that has been rated as the best time tracking software by many different sources. In our review, we analyze if this time tracking software is as good as the ratings suggest.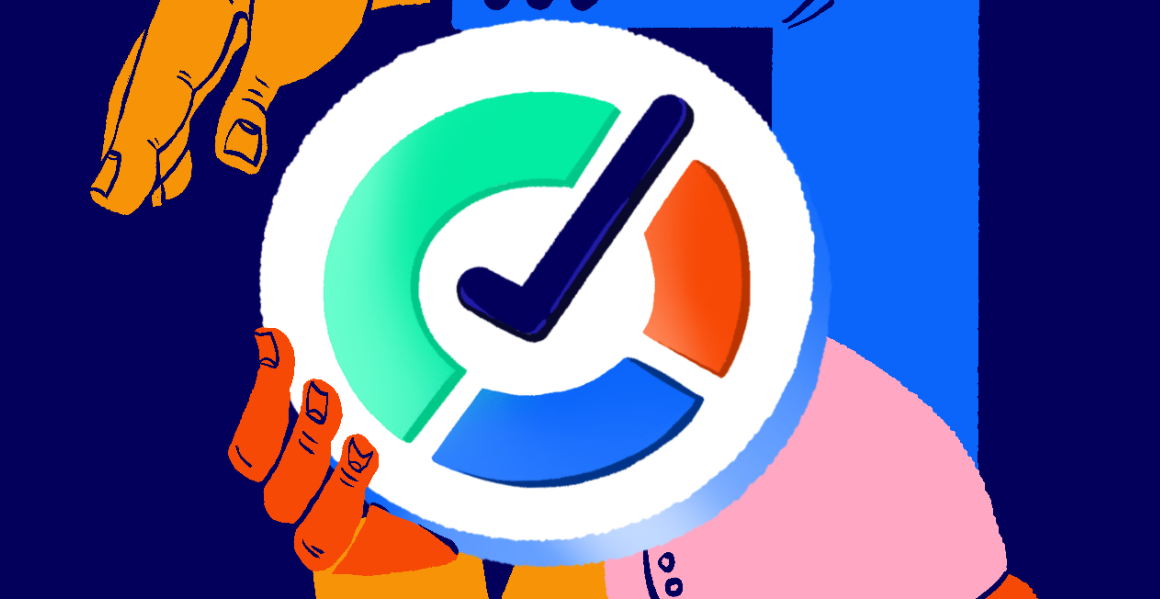 Though TMetric has been operating on the market of productivity tools since 2016, its usage spiked considerably in the last two years.  
It links to the global digitalization of businesses that was pushed by the pandemic and the rise of remote work. As a result, the industry of time tracking tools greatly expanded.
What Is TMetric
Time tracking software can help you ensure your staff is where they need to be, doing what they're supposed to be doing. When employee clocks in or out, time tracking software logs that activity, and all of those recorded activities add up over time.
You can analyze these logged activities to identify patterns and trends. In addition, by tracking attendance electronically, you don't have to worry about employees forgetting or losing their timesheets.
TMetric time tracker belongs to automatic timekeeping software that businesses and individuals choose for a number of reasons.  
If you use time tracking software, like TMetric time tracker, employees enter their own hours from any computer, tablet, or smartphone. Still not sure if time tracking is right for your business?
Why do users favor TMetric over other similar tools? Our detailed review will help us understand if this time tracking is purchase-worthy. In particular, we plan to see to:
The target audience of this software
Features that it offers
Pricing comparison
The experience of TMetric users and their honest opinion.
Who Benefits From Using TMetric
TMetric concept is built around the belief that simple is smart. That's why it introduces users to time tracking automated in a timeline. Its clean design:
makes complex work processes simple and clear
removes confused priorities
reduces stress, anxiety about the allocation of too many tasks.
We cannot do without time tracking, especially in industries where worktime measurement is critical. Thus, the application of TMetric suits the following industries best:  
design
accountancy
legal practice
consultancy
software development.
The categories of knowledge workers who will benefit from using time tracking are:
contractors
freelancers
employees.  
Separately, we should mention that managers, business owners, employers and supervisors also need time tracking data as it helps them:
monitor productivity
track how much time employees and teams spend on different projects.
get an overview of time spent on apps.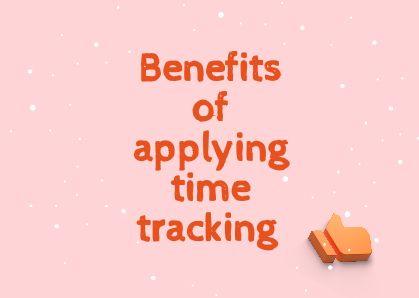 There's a ton of stuff TMetric can do for employees and managers, but for now here are some of the highlights:
Track your time down to the minute, second, and millisecond
Manage tasks and projects with advanced features like recurring tasks, custom labels, and more
Import data from other productivity tools with a single click
Use tags to organize your tasks in ways that make sense to you
Keep you on track for tasks so they don't slip through the cracks.
Bottom Line: TMetric time tracking scores high as it benefits everybody when it comes to goals of:
organizing remote team management
managing bad screen habits
measuring work-life balance
understanding trends in 'digital behavior'
researching domains of attention, productivity, and behavior
gaining self-knowledge (numbers of work hours, time off, time slots of productivity peaks).
Features in Brief
Features of time trackers with advanced functionality usually include actual work time calculations, options for tracking time off, and teamwork and project tracking. Let's explore how well these features are presented in the functionality of TMetric: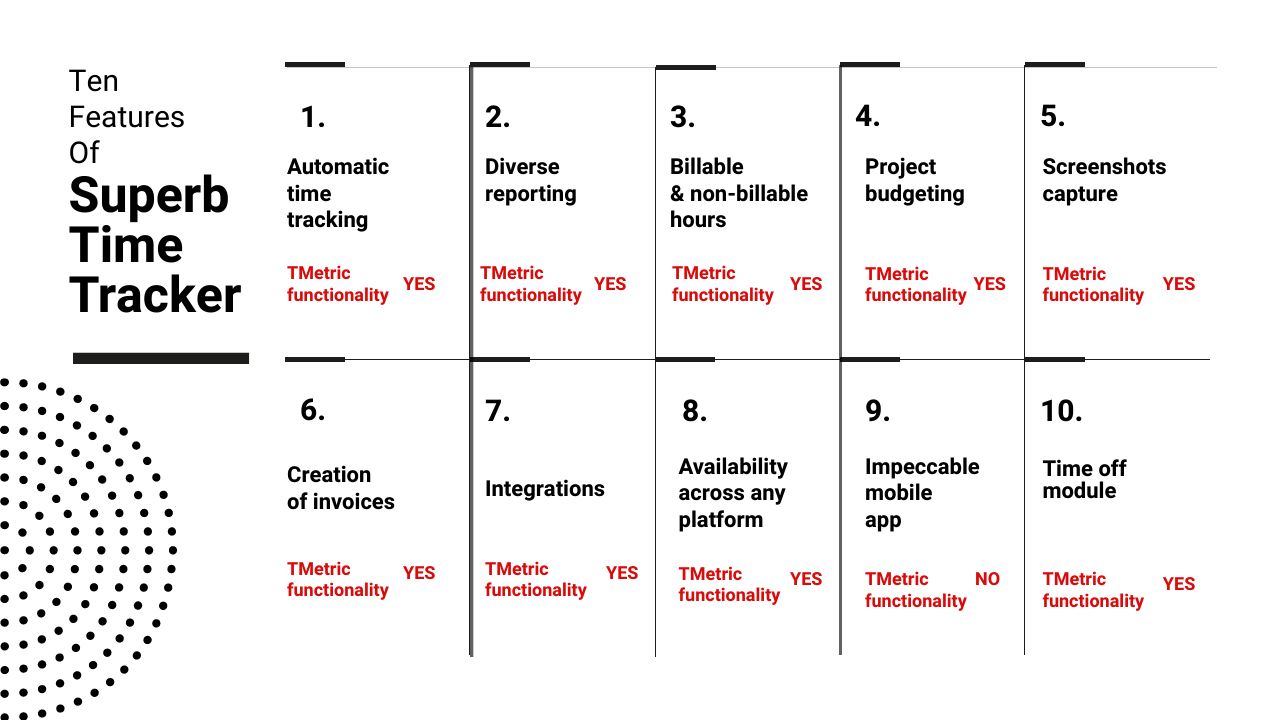 Bottom Line - TMetric has a high level of efficiency scoring 9 out of 10 essential features:
✅ automatic time tracking in real-time - it delivers instant launch of time tracking from any device
✅ diverse reports - users can generate reports on app usage, detailed reports on employees' work time, activity and participation in projects
✅ differentiation of billable and non-billable hours - time tracker allows setting billable and billable time that will be tracked separately
✅ project budgeting - in case the project spending exceeds the budget limit, a user will be immediately notified by email  
✅ screenshots capture -  this function is available on paid plans, it captures screenshots at the set interval of time for purposes of monitoring employee productivity
✅ creation of invoices -  users can choose an option of creating an invoice based on time and rates and send it to clients directly
✅ integration in other services - integrations allow tracking time on any site including time spent in email services, project management systems, etc.
Check out this helpful video with one of the examples walking through how it works:
✅ availability across multiple platforms - time tracking is available on iOS, Android, Linux
✅ time off module - it enables users to see time off balance, request time off in days or hours and communicate remotely, which leads to lessening HR workload, better coordination of teamwork, burnout prevention and increase of employee productivity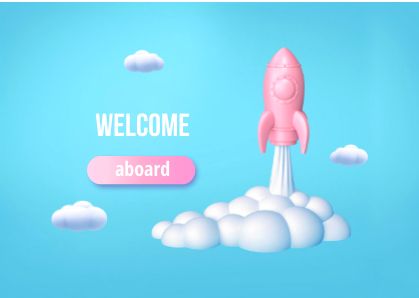 Checklist for TMetric Time Tracking Performance
One of the main functions of time tracking is creating accountability and monitoring attendance unobtrusively.
Giving employees the control and flexibility they want while improving attendance accountability will help employers focus on their business.
Let's see if TMetric performance reaches the main goals in these domains.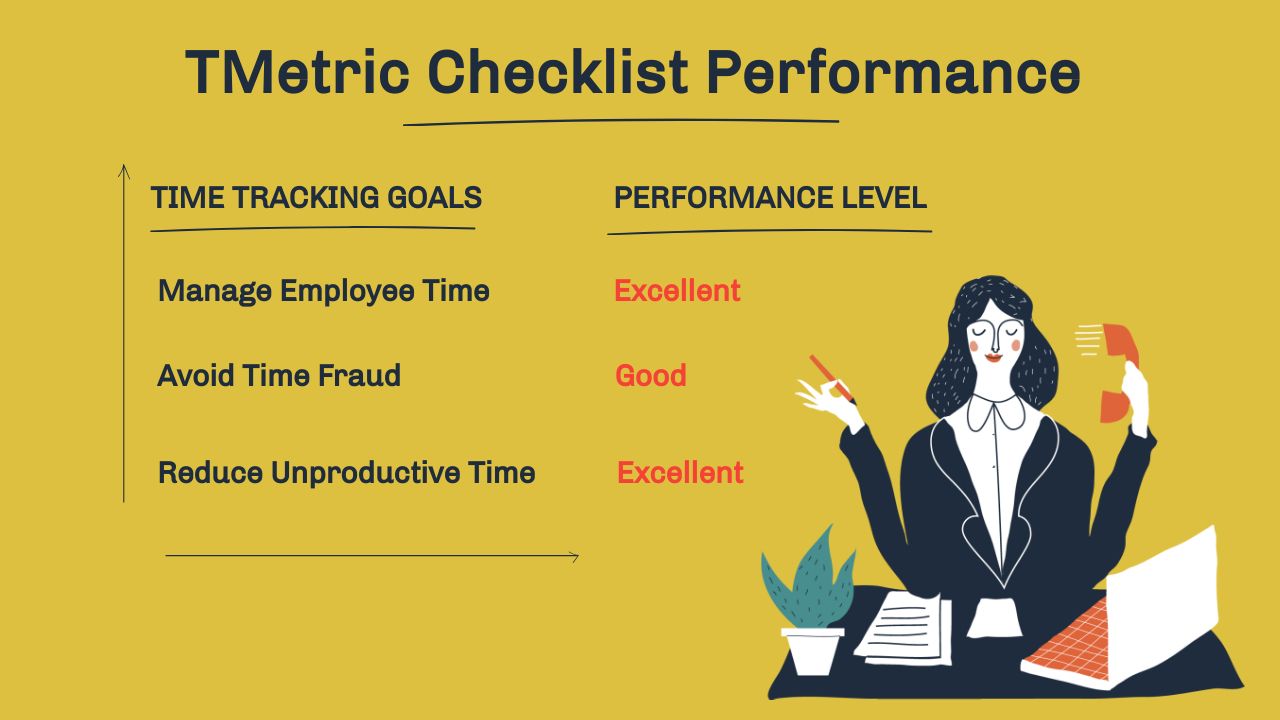 A checklist of time tracking performance includes 3 major criteria of evaluation:
how easy it is to manage employee time
how easy it is to avoid time fraud
how easy it is to reduce unproductive time.
TMetric shows a high level of performance in achieving all the purposes due to delivering precisions of calculations in an automated mode.
Yet, avoiding time fraud depends on setting work policies and must be additionally regulated by HR of the companies.
TMetric functionality allows flexibility in setting permissions to add time manually, to show or hide break time in descriptions, to delete time entries, etc., which determines how controllable the potential time fraud is.
Bottom Line: The software is customizable—you can choose whatever features work for your workflow. TMetric offers a good experience to individuals and teams that need advanced time tracking (by advanced we mean accurate work time calculations plus features for task and project management).
Free Plan vs. Paid Plans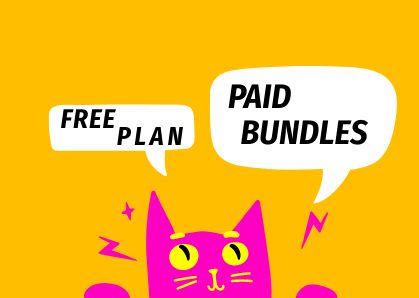 TMetric promotes the idea of offering time tracking for everyone. It translates into a variety of user plans:
Free
Professional ($5 per month)
Business ($7 per month).  
What is the difference between free and paid offers, and, most importantly, can a free offer satisfy the need for effective time tracking?
On a Free Plan, users have:
accurate calculations of work time visualized in a timeline
time can be tracked for the unlimited number of projects
fully unlocked reports
TMetric can be added to over 50 web apps
time tracking service is available for a team of up to 5 people.
Professional Plan costs $5 and offers all the features of the free plan plus more options for project and task management including:
Google and Outlook calendar integrations
Setting billable hours
Project budgeting
Creating invoices
Task lists.
Business Plan costs $7 and in addition to the features listed above, it unlocks  
detailed reports on app usage
screenshots capturing
visibility of reports for clients
PTO tracking
payroll for businesses
permissions on administering time tracking policies
time-sync with Jira, QuickBooks, GitLab and Redmine
Important Note
TMetric pricing models include special propositions.  
Special prices are offered for non-profit, educational, and government institutions
Businesses can expect massive discounts for teams of 40+ users.
Bottom Line:  TMetric, like most time trackers, offers 3 tiers of pricing (one free, and two paid).
Logically, paid plans are loaded with additional features that empower companies with new ways of improving employee productivity and upscaling business operations.
But it does not mean that a free plan lacks functionality. If the individual or a team needs basic time tracking and aim at accurate time tracking calculations, a free plan is an ideal option with no limitations.  
Sign Up Fully Functional 30-Day Trial
Based On Real Reviews: Pros and Cons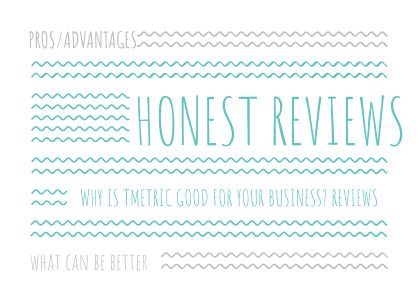 TMetric is a productivity tool with advanced functionality that can help you in task and project management as well as tracking PTO and project budgets. It's all pretty straightforward once you get it launched, but you can also check out the reviews linked below if you'd like to see what other people say about it.
TMetric reviews collected by and hosted on G2
What do you like best?
TMetric has helped me identify which tasks take a disproportionate amount of time. The reports help me better estimate the time necessary to accomplish future tasks, and have improved my overall efficiency.
What do you dislike?
The online interface and desktop app sometimes lose connection, and some activities fail to track. Generally, this is not a big deal, but it can be frustrating to go back and correct the times of past events.
TMetric reviews collected by and hosted on Getapp
What do you like best?  It's perfect for a small service business like mine. But my absolute favorite feature is the ability to use the timer to start/stop/start project work on the fly.
What do you dislike? Occasional failures or loss of service without warning or apparent reason. The desktop application is a little complicated.
TMetric reviews collected by and hosted on TrustRadius
What do you like best? TMetric creates instant and detailed reports. All of your information is easily accessible.
It adds in your breaks! This is actually a really handy feature, as you can easily track when you are on breaks. With the use of the desktop app, it will even show you a snapshot of what is on your screen.
What do you dislike? At times, the settings can be difficult to find and navigate, but that just takes some time.
It would be nice if the web app and the desktop weren't two separate apps. If the web app had the ability to capture what you were working on, that would be fantastic, and there wouldn't be a need for a second app!
TMetric reviews collected by and hosted on ProductHunt
What do you like best? I am glad to share my personal opinion about TMetric - time tracker for Linux. TMetric helps you to be more productive and manage your tasks and time. When I started to use TMetric I have noticed that I became more productive at work as I know how much time I spend for each task and I managed to reduce the waste of time.
What do you dislike? ...app for iPhone is a bit slow.
The Question Answered: Is TMetric Good?
TMetric was launched in 2014 when the current team decided to develop a time tracking solution for their own needs. Since then, it has gained popularity among many professional teams, including startups, media agencies, and corporate units.
TMetric is a productivity tool with advanced functionality that has been rated as the best time tracking software by many different sources. Available on PC, Mac, and Linux, the program has advanced functionality that can help you in task and project management as well as tracking PTO (paid time off) and project budgets.
Buy a time tracker before you need a time tracker.  
Save Time, Without Thinking About It
TMetric performs well if you need to manage productivity:  
It automates time tracking
It works across any device
It is cross-platform
It integrates into most productivity tools, which brings precision and ease to time calculations
It enables workers and their supervisors to manage time off.
Why it is important: Managing productivity is a key aspect of entrepreneurship, no matter your experience level. That explains why businesses choose TMetric as one tool that does time tracking stress-free.