TMetric Guide to Task Management
Learn more about task management: best practices, task management tips, what benefits task management software provides and how to find the one, which totally suits your needs.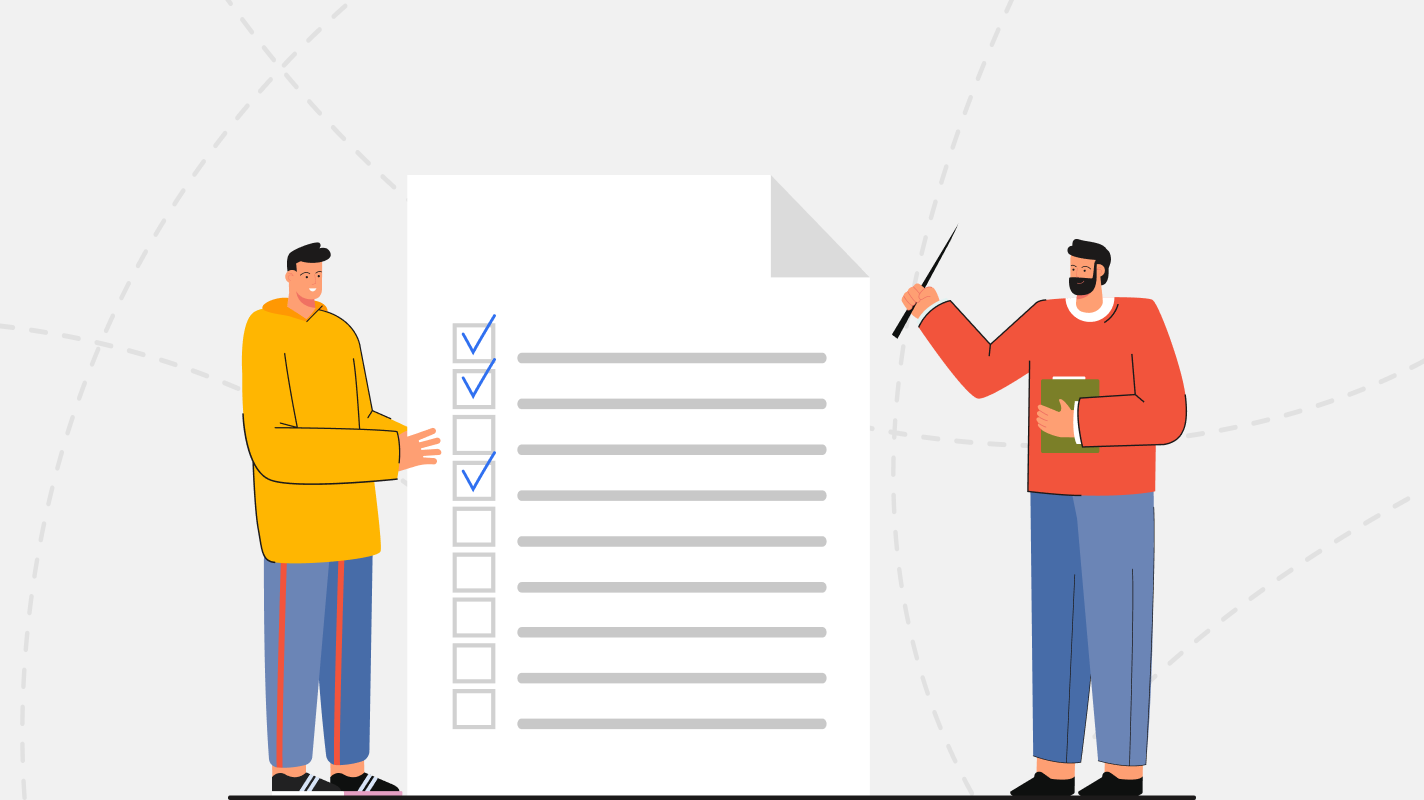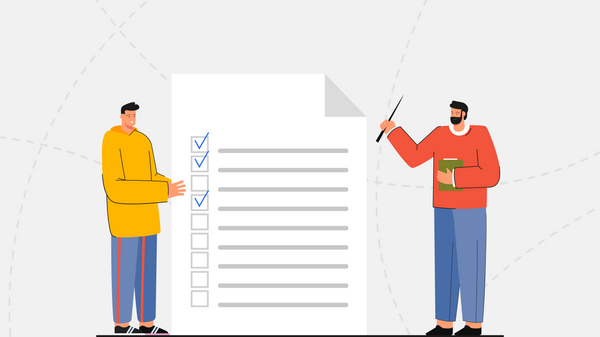 Tasks help you break down large projects to complete them on time. Task management plays an integral part in the project management process. Using management software can streamline and automate these processes.
With a powerful task management tool, a project manager can quickly plan, organize, and prioritize tasks. Then, assign them to their team members and, finally, manage their fulfillment.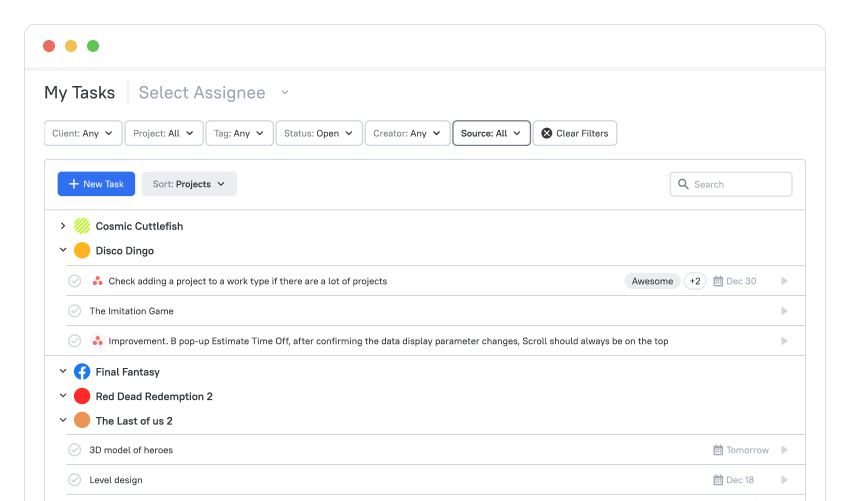 Task management software allows teams to be organized and collaborate on the work they do. It's more than just using to-do lists and Kanban boards. They get everything they need for task planning, monitoring, and time tracking on them.
TMetric has all key features you need to keep track of tasks and build productive workflows. We will discover some of them in this article, but, first, let's see what task management itself is.
What is Task Management?
Task management is the process of tracking the task progress from start to finish. Flexible task management skills can help you seamlessly create task lists, allocate tasks among your staff, and control their implementation.
Online task management makes it possible to monitor tasks from everywhere and at any time. A good online task manager enables you to keep all taskwork in one place, facilitates workflow with visual task management, and provides more options for teamwork.
So, let's look at task management software in more detail to make the best use of it for your company.
What is Task Management Software?
In general, task management software represents an application designed for organizing tasks and staying on top of them. It allows you to track time spent on tasks, monitor them in real time, and collaborate easily.
Such a valuable tool can be used by teams, as well as by individuals. Project managers can use it to improve productivity of their team, and team members can organize different aspects of their everyday working life.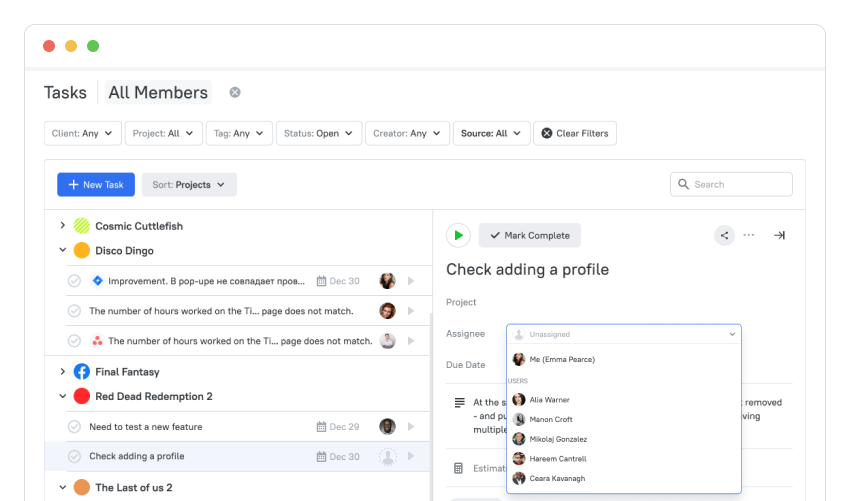 Any project management software includes task management capabilities. Thus, bringing useful features for planning resources, project estimation, deadlines, etc., into the whole project life cycle.
TMetric also provides new opportunities for efficient and effective task management and makes sure that every task will be paid.
Benefits of Task Management Software
Still not sure, whether you need task management software or not? Here, we will give more reasons for considering such a tool for your organization.
Besides the things mentioned above, task management software will help you:
create boards and to-do lists
delegate tasks effectively
automate recurring tasks
add notes and comments on tasks
change task statuses online
track work progress
get work done on time
boost team's performance
Create boards and to-do lists
A task board is a tool that allows you to visualize project tasks, see their progress and status updates. A to-do list helps employees organize their work and stay focused. With a task manager, you can quickly create to-do lists and place tasks on the board.
The commonly used boards are Kanban and Scrum. Both of them reflect the principles of these two methodologies and, of course, Agile. A kanban board helps teams see the flow of work. For its part, a Scrum board provides a possibility to track the work when working in sprints.
2. Delegate tasks effectively
A task management system makes it possible to assign tasks to other team members based on the goals being achieved and timeframes being set for the project. A good manager always knows who can do each task better and has the right skills for this.
3. Automate recurring tasks
If you have some tasks that happen on a regular basis, task management software gives you a possibility to create and to track them from your calendar. So, there is no need to create repetitive tasks over and over, which saves your time and doesn't clutter up your workflow.
4. Add notes and comments on tasks
Communicating on tasks and sharing knowledge base with others are important at any stage of the project development process. When you work on the same task with your colleague, task management software allows you to easily add comments and notes to share your thoughts with them.
5. Change task statuses online
Task management systems provide you with different statuses for tasks. So, you can track task modifications and be updated about the task progress. Sometimes, there is also an opportunity to customize task statuses depending on your needs.
6. Track work progress
Tracking your team's progress with reports, charts, boards, etc., is another useful feature, which a task tracker can provide. Measuring progress on a project can give a manager an idea whether it will be finished on time and how to achieve all the goals.
7. Get work done on time
To-dos in task management software help you get organized and more productive to finish your work on time. You can clearly see what needs to be done, what is in progress and what is already completed. You monitor your work in real time and control whether you meet deadlines or not.
8. Boost team's performance
With a good tracker, a project manager gets an overall view of tasks and sees who is overloaded with tasks and who is free to work. So, they can share the workload in the team to be able to get more done and to improve team productivity and efficiency.
What are Features of a Great Task Management Software?
You are looking for an ideal tool for your company among hundreds of free task management apps? Then, let's see what features it should possess to properly suit your business needs.
Task planning
Task management starts from good task planning. Breaking work into pieces leads to a successful project implementation. This will help you avoid stress, get things done on time, and not to feel overwhelmed. Subtasking enables project managers to accurately assign resources, allocate budget and project hours.
The possibility of effective task planning is an important component of any good task management tool.
2. Task organizing
Using to-do lists and boards makes it easier to manage the team's work. Organizing daily schedule and tasks can bring clarity to the whole workflow. Project managers can identify and monitor all the work, which should be done during some period of time.
For their side, employees will know what results their management expect from them each day.
3. Task prioritizing
Task priorities are used for determining the importance of the work being done. With the task prioritization functionality, you can arrange tasks according to the hierarchy of importance, making clear what to focus on first.
Task management software allows project managers to easily sort tasks in the list to show their employees which tasks should be done first, which can be done later to improve the project development process.
4. Task tracking
A good task tracker allows you to track tasks from beginning to end. It can also track dependencies, milestones, and provides reminders to keep track of deliverables.
Visual task tracking can be even better for any enterprise. You can understand the whole project workflow at a glance, see what needs to be done and when.
5. Time tracking
Accurate time tracking provides a possibility to correctly allocate time and resources to tasks, calculate your employees' payroll, and bill your clients properly.
When you know exactly how much time is spent on tasks, you can also see what tasks took most of your time and analyze why.
6. Reporting on tasks
When the time on tasks is tracked, you can generate reports, which will give you detailed information on the amount of time spent by each member on tasks. So, a project manager can see how productive each team member was and ask them about any obstacles they faced during their work.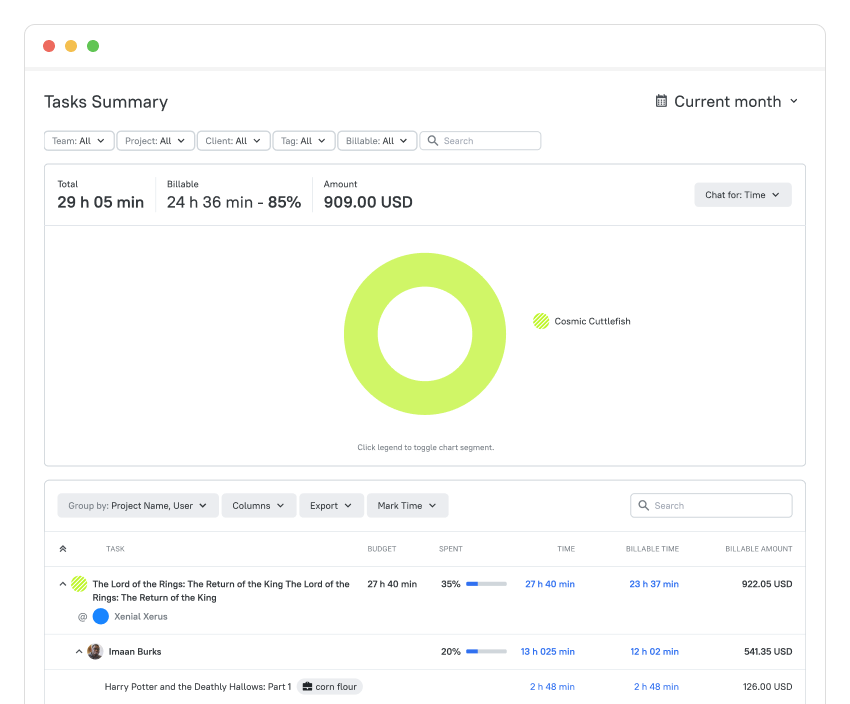 Task Management with TMetric
TMetric combines both time tracker and task manager features. The time tracking feature helps you concentrate on your work without spending time on clock management.
A simple process of task management in TMetric allows a project manager to monitor time spent on tasks by team members, correctly distribute resources, enhance employee performance, and analyze the faced bottlenecks.
Let's have a closer look at what TMetric offers for seamless task management.
Task Management Overview
TMetric allows you to conveniently create and edit your tasks using a task editor. In the editor, you can add a task name, specify a project and an assignee, set a due date and estimate for a task, and add tags. There is also a possibility to add multiple tasks for one project at once.
You can edit tasks whenever you need. There is a possibility to modify a task directly on the Time page. When any changes are made to the tasks, TMetric sends email notifications about any events that happen. The change history is also displayed in any task editor.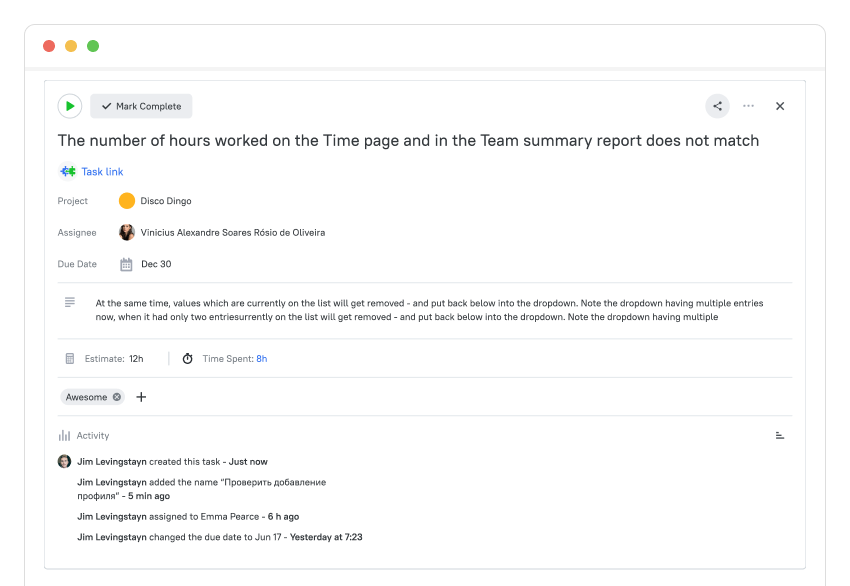 With the wide filtering and sorting options available in TMetric, you can easily manage your task list. The Share Tasks option allows you to collaborate on the same task with your colleagues together.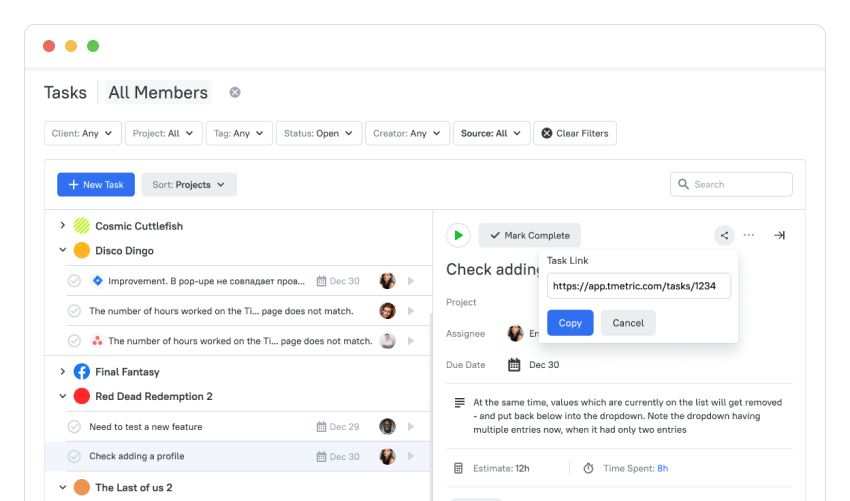 Workflow optimization
With the Tasks module, you can create a productive workflow for your team. As a manager, you can create tasks for your team members, share tasks with them, and they can start tracking time on these tasks with just one click. The time entry associated with the task will appear on the timesheet.
To improve your team productivity, you can ask them to use estimates for tasks. When a team member has already calculated the time they need to complete a task and has an accurate estimate, they can set it in the task editor.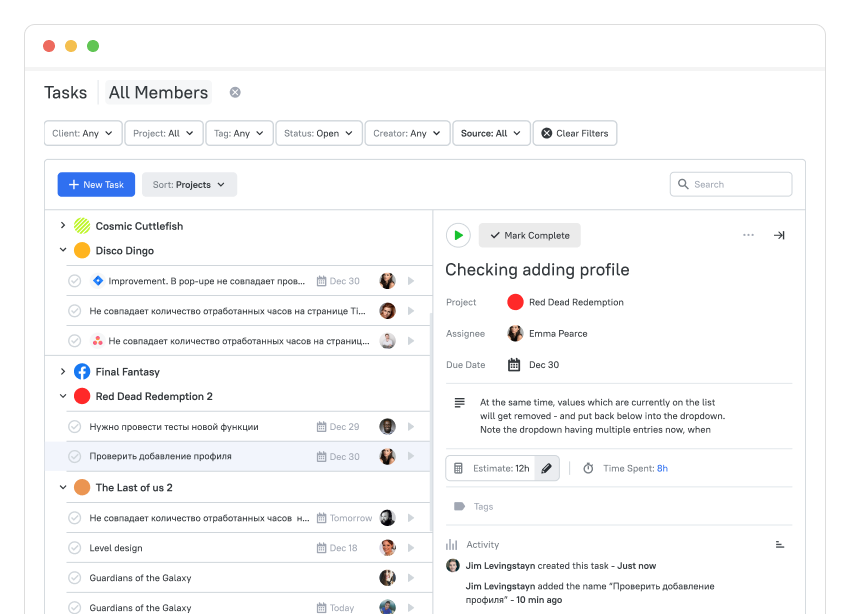 If an estimate gets exceeded, TMetric will notify a team member and a project manager about this by email.
Moreover, there is a possibility to set due dates for tasks, so your employees can stay organized while fulfilling their tasks. This will allow them to keep track of deadlines and finish their tasks on time.
Time Tracking
Tracking and viewing time spent on tasks is easy with TMetric. You click the Start timer for this task button, and the time entry associated with the task appears on the Time page.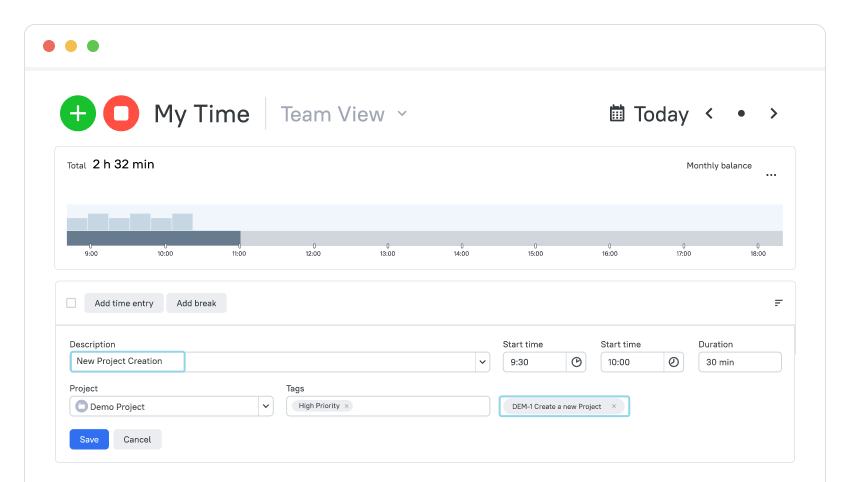 A time entry can be edited. You can edit the name of the task, change a project and tags without losing a link to the task.
Insights Into Your Team's Productivity
In the task editor, a project manager can see the total time spent on a task. They can click the Time Spent link and see a detailed report showing the data related to the task.
The Detailed Report shows time tracking details about tasks. The report includes a list of tasks that were worked on by each member of the workspace. So, you can see how many tasks your team members did and how much time they spent on them.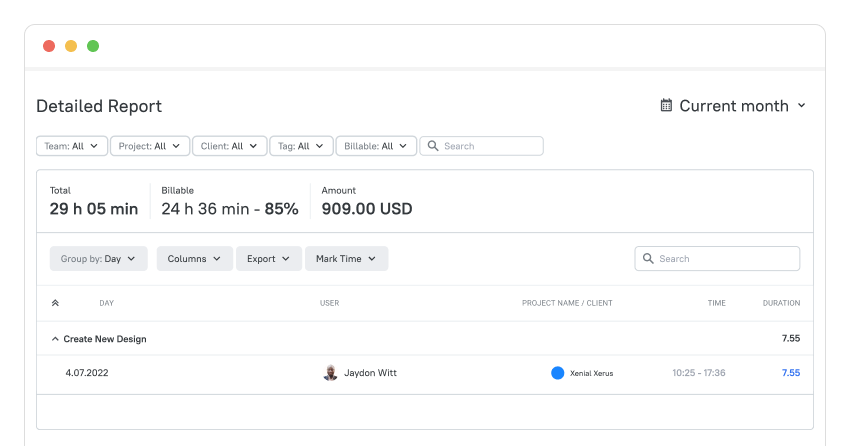 Integrate seamlessly throughout the popular systems
On the Tasks page, there is a possibility to display external tasks imported when tracking time with the browser extension. To display external tasks in the list, use the Source filter.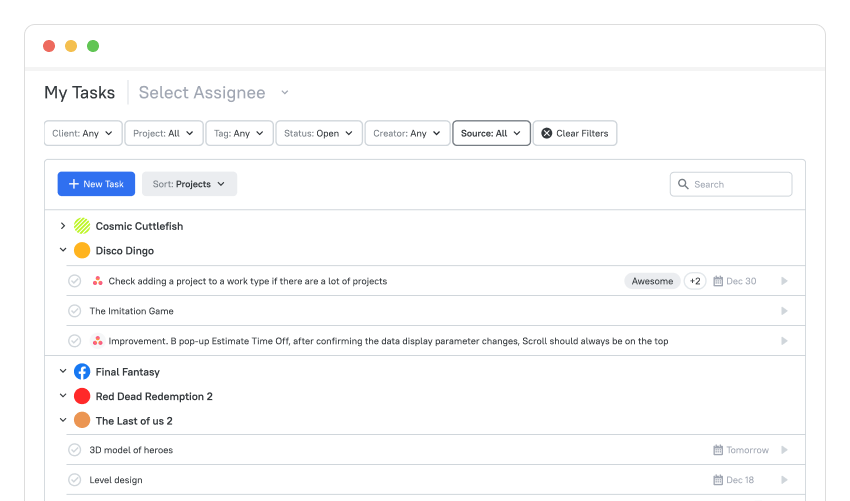 Integrate with popular services and leave time and task management issues to TMetric.
Concluding thoughts
As a project manager, you always need to monitor your team's work and performance, and a management tool can help you on this way. Working on a project implies having many tasks done. Task management software will bring clarity and velocity into the whole development process.
TMetric is a simple-to-use task tracker that saves you time and money on the management process. With TMetric, you can easily manage tasks, track time spent on them, collaborate with team members, and calculate profit earned by tasks.