It happened: TMetric has been awarded as the Summer 2019 Customer Choice in the category of Free Time Tracker by Softwaresuggest!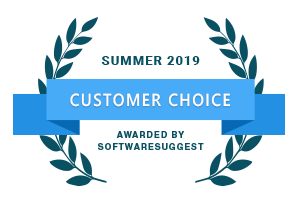 Upon reviewing its pricing and users' reviews Softwaresuggest distinguished TMetric as the highly recommended time tracking software facilitating your work.
TMetric can help you to forget about time tracking and spend more time to create great products.
TMetric as the full-fledged time tracking tool will enhance your business productivity because, quoting Sofwaresuggest review:    
With TMetric, you can set money rates to every task you complete and project you work on. To show your client how much time you spent on his projects, you can export your time from TMetric and show it to the client.
It has been stated that TMetric ideally fits:
Startups  
Small and Medium Businesses
Agencies
Enterprises
Personal Use.
Feeling greatly appreciative, our team sends words of gratitude to our customers who made it possible and tracked over 9 000 000 hours with TMetric service.      
Our thank you speech for the award would not be complete without a promise to our customers to thrive for more and grow further because TMetric users' satisfaction is our highest priority.  
Cheers,
TMetric
P.S. We are happy with expanding our award list and feel proud to be recognized as High Performer 2019 by G2 and Capterra.