Time tracking experience with TMetric got to a new level. We're pleased to present two neat solutions that will facilitate your budget tracking and sync the calendar scheduling of your employees' work.  
Over-budget behavior  
Breaking the limits set for financial or time expenditures might be a cause of project failure. You should never feel trapped in a situation when you unexpectedly run over budget and don't know what to do.  The best way to keep the time spending on track is to have tailored responses for different budget exceed scenarios. That is why we offer our Professional Plan subscribers to choose among three options in case of 'Over-budget behavior'.
Now you can:
support over-budget time-tracking by clicking on 'allow over-budget time tracking',
disable over-budget time calculations by picking 'disallow time tracking',
keep on tracking without billing this time by enabling the option 'mark time as non-billable'.
Enabling 'Over-budget behavior' feature means that any time over the project limits will be under control.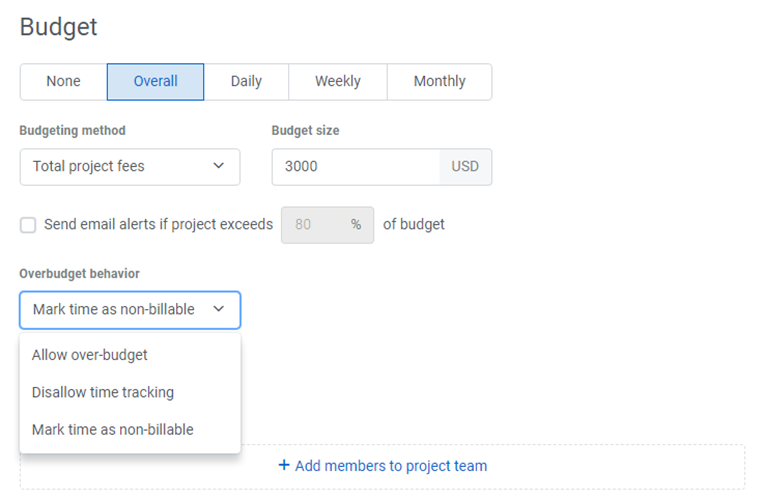 Workweek/Holidays calendar
Pairing time tracking with calendar management gets you to the next level of effective scheduling. If you need to display a workweek, holidays, or days off, now you don't have to configure it for every project as there is a simple calendar management solution.
Activating the new feature, you can:
define workweek days,
distinguish days off,
add the dates marked as holidays.
Automating the workweek and holidays calendar eliminates any confusion over work time calculations and syncs your employees' schedule.

With navigating among workweek scheduling and holidays settings available on a Business plan now, your employees can apply TMetric as a full-featured time tracker empowered with calendar management options.
About TMetric
TMetric is a time tracking web app for both freelancers and big companies. Great control over time intervals and project budgets, flexible billable rates, crystal clear reporting, transparent team monitoring and lots of integrations, all wrapped up into a light interface. Calculation on how much time is spent on certain projects, clients and tasks in an instant.