Top YouTube Channels To Follow For Increased Productivity
There are a lot of channels out there that claim to know the secret to productivity. But sifting through all of them can be a productivity nightmare in and of itself. To save you the trouble, we've compiled a list of 10 channels that we believe will help you achieve peak productivity.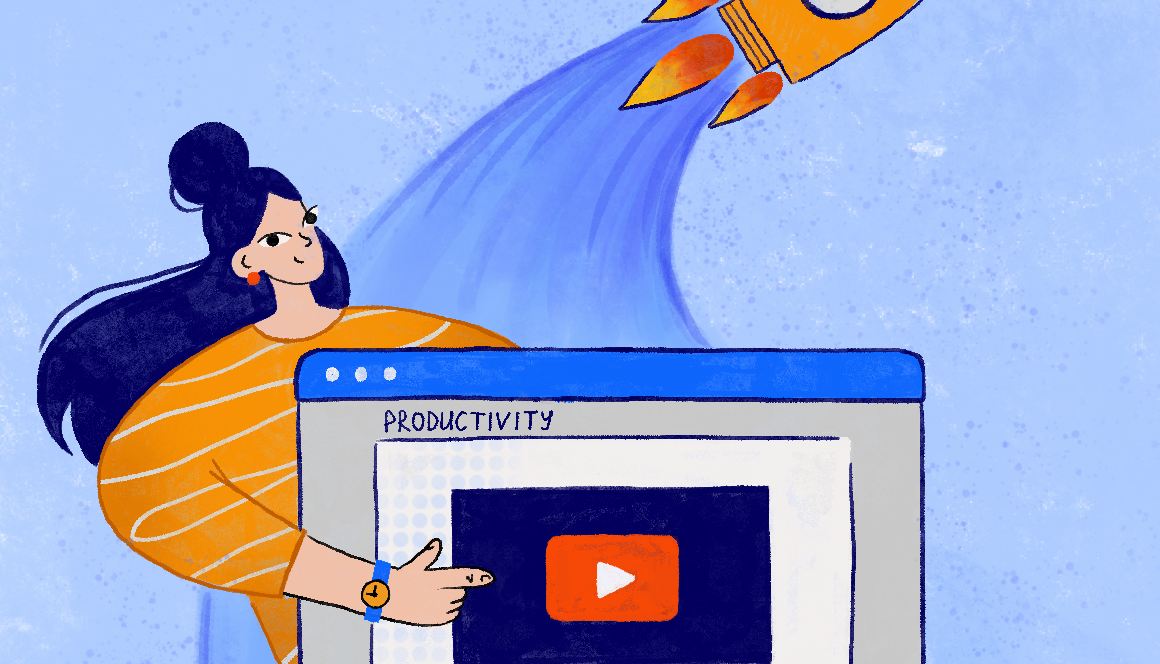 In the professional world, there is always room for improvement when it comes to productivity. No matter what field you work in, there we can find new methods and techniques to increase efficiency in the workplace, and YouTube is one of the platforms that link you directly with relevant content.
5 Interesting Facts about YouTube

The platform has 2 billion daily users👩🏻‍🦰🧔🏻👱🏻‍♀️🧕🏻👳
---

In 2021, YouTube generated $28.8 billion in revenue💰💹
---

The top three countries with the most viewers include India, the US, and Indonesia🌟🌟🌟
---

Every minute, over 100 hours of video content is uploaded to YouTube 💯
---
The oldest cat video on YouTube is dated back to 1894. It features two cats boxing🐈🐈
---
Though we do not dispute that cat videos are an absolute winner, we still vouch for productivity channels when it comes to exploring new ways of increasing efficiency and making progress in work.  
With that in mind, below we list 10 YouTube channels that you can follow to help increase your productivity.
Check them for some motivation, actionable advice, and practical tips. They are a playing field for the metamorphosis of your lifestyle in favor of increased productivity.  
📍Australia
💡Productivity hacks, Life advice, Motivation boosters  
🗓️2-3 videos per month
⏳10-30 minutes
📜Since 2017
When it comes to learning through audio or visual means, YouTube is unbeatable. It is great to dive into theory on YouTube, as well as discover little-known practical tips. The Struthless channel is an example of such a combo.
It is hosted by an illustrator Campbell Walker from Australia. Aside from introducing beautifully metaphorical drawing challenges and tutorials, he offers great videos on:
motivation
mental health
cognitive biases.  
What we personally love about Struthless is its impeccably organized playlists: they offer a comprehensive and consistent view of what you can learn fairly quickly. Our favorite is Life + Stories + Advice containing 58 videos.  
📍UK
💡Book reviews, Productivity hacks
🗓️Posts frequently
⏳10-15 minutes on average
📜Since 2011
Ali Abdaal is an outstanding YouTube creator who built a huge audience on his fun and motivational time management and productivity channel that suits beginners and experts alike.
With work, family, and socially active life, allocating time for everything seems a challenge. Ali Abdaal makes it easy to fit everything in by sharing:
useful tips and tricks for creating time-efficient and productive environments
book recommendations
learning techniques.
Work from home or wherever you like and he'll share some handy tips to help you stay organized!
📍UK
💡Tech reviews, Tutorials, Productivity hacks
🗓️Posts frequently
⏳10-15 minutes on average
📜Since 2011
Mike Vardy aka the Productivityist is an author and productivity strategist who offers comprehensive guides on journaling, habit stacking, time crafting, etc. to reach time management and productivity goals stress-free.
In particular, videos on the How-to and Time Tips playlists promote an idea of a proactive approach and deep engagement through:  
recognizing productivity mistakes
keeping track of performance for developing forecasting and task management skills
seeing the patterns beneath the surface to avoid burnout and maintain work life balance.
📍UK
💡Tech reviews, Productivity hacks
🗓️Posts frequently
⏳10-15 minutes on average
📜Since 2011
This is a productivity channel hosted by Francesco D'Alessio in the UK. As a host of the channel, he assists viewers in discovering efficient productivity tools for work and life.
In addition to recent news and tutorials, viewers will find plenty of business-related insights as well as information about productivity-enhancing apps that guarantee to improve:
time management
task management
project tracking.
We highly recommend a playlist Productive Lessons from the Best that focuses on the personal productivity systems of sports stars.  
📍US
💡 Productivity hacks, Time management tips  
🗓️Posts frequently
⏳YouTube Shorts, 10 min videos, 1-hour interviews
📜Since 2008
If increasing productivity is your thing, it cannot be fully explored without Marie Forleo's channel. Marie is an inspiring female entrepreneur who presents practical business advice to her audience.
Managing time and being productive at work are the focuses of this channel. Its content builds around:
meeting management tips
tips for managing your inbox
pricing strategies for motivated business owners.
In addition to productivity tips, there are lots of interviews with business experts who share insights about proven motivation, creativity, and stamina boosters.  
📍US
💡Expert Interviews, Productivity hacks
🗓️Posts frequently
⏳YouTube Shorts, 30-45 min videos
📜Since 2008
Sun Tzu famously stated: "Strategy without tactics is the slowest route to victory. Tactics without strategy is the noise before defeat." To make the best use of strategic and tactical knowledge, there is the Entrepreneur channel.
This is a video-based part of the digitally available Entrepreneur magazine that extends its content in the telecasting version introduced by various hosts interviewing talented and aspiring guests. It now only blends in the magazine content but enhances the user experience with:
featured podcasts on current business and lifestyle news
business strategies of growth and upscaling
expert advice and use cases.    
📍South Korea
💡Productivity hacks, Time Management tips  
🗓️Posts frequently
⏳10-20 minutes on average
📜Since 2013
Signing up for a channel hosted by an expert like Carl Pullein equals self-investment as it promises high productivity returns.
You won't find anything to criticize about the quality of the production. We love the way the sound and picture pair together to create an uplifting mood.
Since productivity requires balance, it's no wonder that Carl Pullein gives tribute to GTD techniques and focuses on the necessity to take an individual approach.  
His videos feature:
growth strategies
time-tested productivity tools
focus training techniques.
📍UK
💡Productivity hacks, Guides for creatives  
🗓️Posts frequently
⏳5-25 minutes on average
📜Since 2009
The Skillshare productivity channel is devoted to the latest and greatest from the Skillshare online learning community.
Communities like the ones on Skillshare attract a large number of accomplished and talented teachers and students. Additionally, it is helpful for those of us with side hustles and aspirations to expand our expertise in personal and business productivity.
In particular, you will be able to learn agile, lean, and effective time management skills with the rich selection of relevant videos offering the best learning content.
Join online classes and get access to the best online training on topics as diverse as:
task management
project management
blogging.
📍UK
💡Expert advice, Productivity hacks, Business strategies
🗓️Posts frequently
⏳YouTube Shorts, 5-60 minutes on average
📜Since 2008
The Stanford Graduate School of Business channel is an excellent collection of videos featuring everything from interviews with Eric Yuan, CEO of Zoom to talks on leadership strategies in post-pandemic.  
Sign up for the channel to know a cheat code for a productive life. Get access to opinions of widely recognized experts who give advice on:
building a productive workspace
hacks for improved focus
the delegation, negotiations, and business communication.  
Almost anyone can use this channel for their business anywhere in the world.
📍US
💡Productivity hacks, Emotional resilience  
🗓️Posts frequently
⏳10-60+ min videos  
📜Since 2016
In recent years, stoicism has gained widespread popularity. Modern authors like Ryan Holiday, a host of the Daily Stoic channel, contributed to popularizing stoicism greatly.
Given the title, you might be expecting lectures and facts about the philosophy of stoicism. Instead, you get tons of tips on how to manage your time and organize it for having a better and more meaningful life.
Daily Stoic is a channel for getting insights into the world of daily Stoicism and its practical application for:
reducing friction
building commitment
increase of deep work.  
By following such a philosophy of life, people can become more emotionally resilient. In addition, it offers an approach to life that promotes higher productivity.
Bonus🎁 TMetric Time Tracking Practical Tips
Wrapping Up
If you're looking for ways to improve your productivity and work better, these 10 YouTube channels can help you do that.
Why choose their content over others? You can tune into these channels for tips on time management, goal setting, and staying motivated.
It can help direct your curiosity toward questions that haven't even been formulated yet.