15 Free Templates for Employee Performance Reviews - Download and Use
Here you will find 15 free templates that will make your employee performance review hassle-free. Use these templates to make reviews fair and consistent.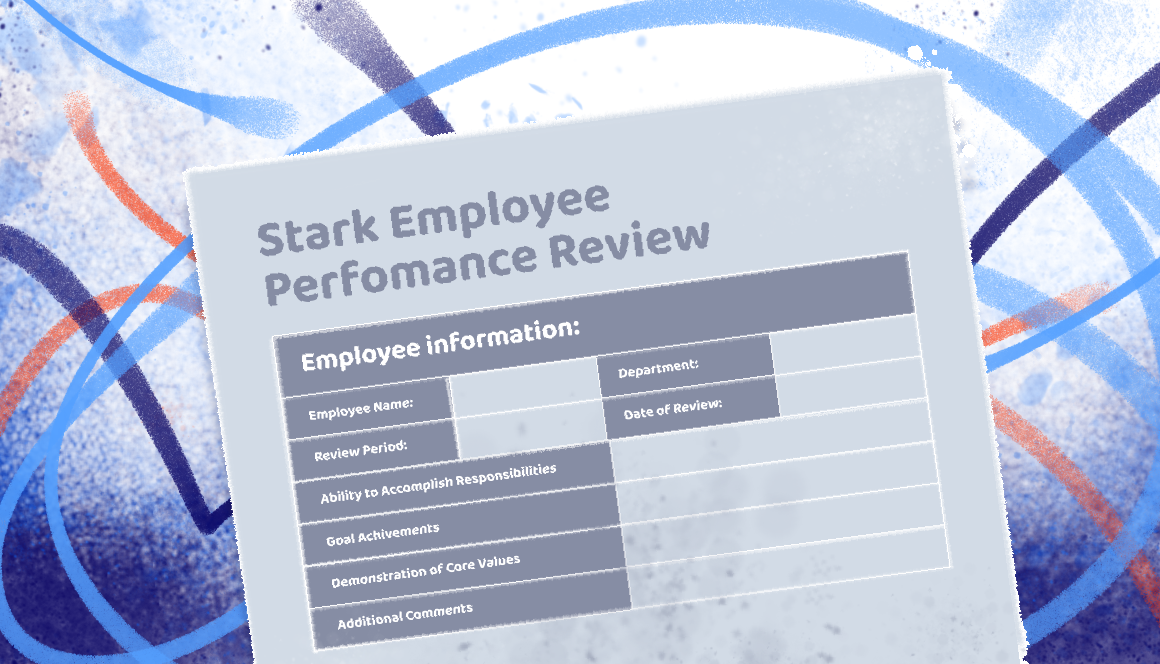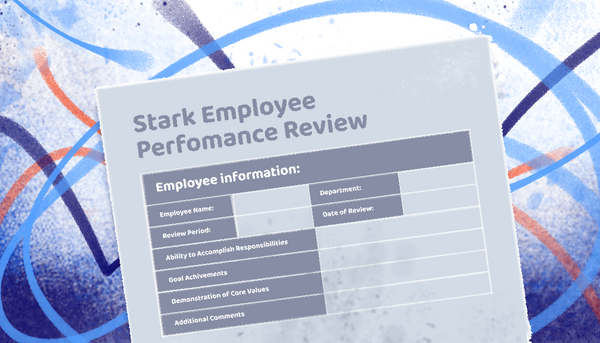 A performance review is an integral part of running any business. This is due to the fact that employees are an important element of a company's success. The efficiency of the company's employees directly affects the company development and wellbeing.
In this article, we'll give a brief overview of an employee performance review and introduce you to 15 free convenient review templates. You will also learn how to give constructive feedback and improve collaboration with your employees.
Table of contents
Introduction to employee performance review
Employee performance review is a process in which managers evaluate the performance of employees in the workplace. This process typically involves setting goals for employees, seeing their progress towards them, and providing feedback on their strengths and weaknesses.
Employee performance reviews are important for several reasons. They provide an opportunity for managers to acknowledge and thank employees for good performance, identify areas where employees may need improvement and additional training, and communicate company goals and values to employees. Additionally, regular performance reviews can help employees feel valued and supported, which can lead to increased job satisfaction and productivity.
Overall, the employee performance review process is an important tool for companies to encourage and maintain high levels of employee performance, while providing employees with feedback and support to help them succeed in their roles.
There are some things that you can consider when conducting a performance review, for example, reports generated by an attendance management system, information about tracking work time, and work schedules. This data will help you see how discipline your employees are and measure their job performance.
Below you'll find some information about the elements of an employee performance review template and what other things should be taken into account when the performance review is conducted.
Elements of a high-quality employee performance evaluation template
An employee performance template is an important tool in monitoring employee progress, identifying areas for development, and setting expectations for performance.
This is a document used by employers or managers to assess the performance of their employees. The template typically includes sections for job responsibilities, objectives, goals, work schedules, etc.
It is designed to provide a framework for evaluating employee performance based on predetermined performance criteria. The template may also include a section for providing feedback, setting goals, and creating a plan for improvement.
The performance review template can be used both in written form and online. This may be useful when evaluating remote employees. You just make a call with them, conduct an interview, and write everything down into an online evaluation form.
Now, let's have a closer look at some main features that a good employee performance template should possess:
Clear goals and expectations: The template should clearly outline the goals and expectations for the employee's performance, including the key performance indicators (KPIs) and metrics that will be used to measure success.
Objective criteria: The template should have specific, objective criteria for evaluating performance, such as attendance records, project completion rates or quality of work.
Developmental goals and action steps: The evaluation template should provide specific goals and action steps the employee can take to improve their skills and performance.
Frequency: The template should also specify how often performance evaluations will occur and what process will be followed to ensure they are done consistently and fairly.
Flexibility to adjust: It is important for the template to be flexible enough to allow managers and employees to work together to adapt the evaluation process if necessary to the company's needs.
Confidentiality: The template should also ensure the confidentiality and privacy of personal information disclosed during the evaluation process.
Comprehensive feedback: The template should encourage managers to provide a thorough, written feedback on the employee's performance, highlighting both strengths and areas for improvement.
How to provide constructive feedback
Once the employee performance review is done, you as a manager or supervisor should give feedback to your employee. Your feedback should be constructive, i.e. one that would help to develop or improve the employee's work.
Here are some tips on how to make your feedback valuable and useful:
Start with positive points: Begin your conversation by highlighting anything that the other person has done well. It is important to highlight the positives first, so the individual will handle any critical feedback correctly.
Be specific: When providing constructive feedback, it is essential to be specific about what you are saying.  Just give an example to support your feedback and explain what specific aspect of the employee's work needs some improvement.
Focus on behavior and actions: It is essential to focus your feedback on specific behaviors or actions, rather than personal characteristics or traits. This ensures that the conversation remains productive and avoids becoming confrontational.
Avoid being judgmental or critical: The way feedback is delivered is critical in how it's received. Avoiding any tone of judgment, criticism, or negativity. It is most effective if the conversation is a healthy exchange of communication and respect.
Be receptive: It is key to start a two-way conversation, understanding the other person's perspective and opinions. Actively listening to their thoughts and views are essential to building trust and openness, which overall leads to a constructive discussion.
Provide actionable steps and solutions: Along with pointing out any weaknesses in performance, suggest clear solutions or actionable steps for improvement. It helps to acknowledge their efforts and expertise, and by providing helpful guidance, it will enable the individual to progress, and there will be clarity and focus.
And, in general, tell your employee how their work influenced on the project success. Let your employee know that you value their day-to-day efforts and want them to be as productive as they are in the future.
15 Free Performance Review Templates
There are many different performance review templates and formats to choose from, depending on your organization's needs and culture. To determine the best template for your business, you should cooperate with a human resources professional.
Here, we will present you 15 free performance review templates that you can apply in your organization to conduct an effective employee evaluation review.
Template #1: Smartsheet Simple Performance Review
Smartsheet enables managers to use templates for employee performance review quarterly, half-yearly, annually, etc.
If you need a simple performance review template that allows you to interview your employees with ease, then this is for you!
This simple performance review form includes the basics: a list of employee skills and qualities, and a rating system from poor to excellent. There is a section for comments or additional notes where you can add employee strengths and weaknesses or your feedback.
Template #2: Microsoft Office Performance Review Form
A Microsoft Office performance review form can be both a pre-designed document, or you can create it by yourself.  It provides guidelines for conducting employee performance reviews using Microsoft Office applications such as Word or Excel.
This template includes key performance indicators (KPIs) that are relevant to the position being reviewed, employee goals and objectives, and areas for improvement.
It can be customized to fit the specific needs of the organization and can be used to simplify the evaluation process, save time and ensure consistent and fair reviews.
Template #3: pdfFiller Free Performance Review Templates
pdfFiller offers a wide range of customizable performance review templates that organizations and managers can use to evaluate their employees' performance.
The templates are easy to use and can be downloaded and customized to meet the specific needs of the organization or manager.
The templates cover various aspects of employee performance such as job knowledge, communication skills, productivity, quality of work, attendance, teamwork, and goal achievement.
In addition, the templates allow managers to provide feedback and suggestions for improvement, as well as set goals and objectives for the employee's future development.
Template #4: TMetric Using Team Summary for Performance Review
During a performance review, it's essential to focus on employee achievements. In other words, the review should be constructive. You should analyze work performance data and make a recommendation to your employee.
TMetric provides the possibility to view summarized information about all the employee work - the time they worked, their activity, costs, etc.
A team summary report is a document that provides an overview of the performance of a particular team or its member. It typically contains information on metrics such as productivity, efficiency, and effectiveness.
Template #5: Spreadsheet Employee Performance Review
A spreadsheet employee performance review is a tool that organizations use to evaluate the job performance of individual employees in a structured and consistent manner.
Using a spreadsheet-based system provides several benefits, including standardization of the evaluation process, ease of data entry and analysis, and the ability to track performance over time.
When selecting or designing a spreadsheet system for employee performance reviews, it is important to consider the specific needs and goals of the organization, as well as to ensure that the system aligns with any existing HR policies or practices.
It is also important to train managers and other employees who will be using the system effectively to ensure that the evaluations are fair, accurate, and constructive.
Template #6: ClickUp Performance Review Template
The ClickUp performance review template is a resource designed to help organizations evaluate employee performance.
The template can be used as a starting point for creating a personalized performance review process that aligns with an organization's specific goals and values.
The template includes sections for evaluating employee progress on specific job duties and responsibilities, as well as areas for feedback related to work behaviors and overall performance.
Template #7: TemplateLab Performance Review Template
Among TemplateLab templates, you can either use the existing template that you need or create your own one.
The template is likely to include sections for evaluating the employee's job performance, identifying areas for improvement, and setting goals for the future.
Using a performance review template can help employers ensure that evaluations are fair and consistent across all employees.
Overall, the TemplateLab performance review template can be a useful tool for employers looking to conduct effective employee evaluations, provided they use it appropriately and tailor it to their organization's unique needs.
Template #8: Visme Performance Review Templates
Visme's performance review templates are ideal for both employers and employees, as they offer a comprehensive and streamlined approach to performance evaluations.
Overall, Visme's performance review templates are an excellent resource for anyone looking to create a visually appealing, comprehensive and effective performance review. With its user-friendly interface and customizable features, Visme makes it easy to create a performance review that delivers results.
The templates are designed using modern and visually appealing graphics and layouts, which lend a professional and polished look to the final product.
Template #9: Google Sheets Performance Review Templates
The purpose of a performance review is to evaluate an employee's work over a set period. In Google Sheets you can access these templates from the Google Sheets template gallery or by searching for them on Google.
Using pre-made performance review templates in Google Sheets can save time and ensure consistency in evaluating employees. They also provide a standardized format for comparing and analyzing employee performance across the organization.
You can also create your own custom templates in Google Sheets to meet their specific needs and save time by automating routine tasks.
Template #10: Vistacreate Performance Review Form
The Vistacreate performance review template is a popular tool for employers because it provides a structured way to evaluate an employee's performance, and it can be customized to meet the specific needs of the organization.
When using the Vistacreate performance review template, employers typically evaluate an employee's performance based on a number of criteria, such as job knowledge, quality of work, communication skills, teamwork, and productivity.
The use of a performance review template like the Vistacreate template helps employers to maintain consistency in their performance evaluation process, and it ensures that all employees are evaluated fairly and objectively.
Template #11: Jotform Annual Performance Review
The performance review template by Jotform is designed to help businesses effectively evaluate their employees' performance.
It includes various sections to assess areas such as job knowledge, teamwork, communication skills, and productivity.
Using this template can also help eliminate subjective evaluations and ensure a fair and objective assessment of employee performance.
Overall, the Jotform performance review template is a useful tool for businesses to evaluate their employees and improve their overall performance.
Template #12: Template.net Performance Review
Template.net provides users with access to a library of customizable templates for various tasks, such as performance reviews, goal-setting, and job descriptions.
Using a pre-designed template for performance reviews can save time and ensure that important information is included.
It is important to customize the template to fit the specific needs and goals of your company and employees.
Template #13: Doctemplates.net Performance Review Form
The doctemplates.net website offers a performance review template that can be used in a professional setting. The doctemplates.net website offers a variety of other templates and resources for business and personal use.
The performance review template can be used as a tool to provide feedback to employees, identify areas for improvement, and set goals for future performance.
Using a standardized performance review template can help ensure a fair and consistent evaluation process for all employees.
It is important to ensure that any performance review process is conducted with transparency and professionalism to foster a positive and productive work environment.
Template #14: Dochub Performance Review Form
The Dochub performance review template is a document available on the Dochub platform that organizations can use to evaluate the performance of their employees. The template includes different sections such as employee information, job responsibilities, a rating scale, and performance goals.
Benefits of using Dochub Performance Review Template: Using the Dochub Performance Review Template can provide a standardized and structured approach for evaluating employee performance. It can help managers identify areas for employee improvement, set performance goals and timelines, and document employee progress over time.
Template #15: HR360 Performance Review Form
The website hr360.com offers a performance review template. The use of this template can assist companies in conducting effective employee performance evaluations.
The template provides a framework for assessing employee performance based on agreed-upon goals and competencies.
It can also help managers set future performance expectations and identify opportunities for employee development.
This resource is especially valuable for small and medium-sized companies that may not have the resources to develop their own performance review process.
Maximizing collaboration with performance evaluation templates
Collaboration is essential in today's business world. By working together, teams can achieve more and produce better results.
However, collaboration must be managed properly in order to be effective. One way to do this is by using performance evaluation templates.
These templates can help teams identify what is strong and weak in their collaboration efforts. They can also be used to set goals and track progress over time.
Maximizing collaboration with performance evaluation templates can lead to better communication, improved teamwork, and higher productivity.
Some of the key benefits of using performance evaluation templates include increased accountability, better goal-setting, and improved feedback and recognition.
Overall, using performance evaluation templates can help teams work more effectively together and achieve better results. By identifying and addressing areas of weakness, teams can continuously improve their collaboration efforts and drive success.
Summary
Performance reviews can help you identify the top-performing employees, the areas where there is a need for improvement and development, and can lead to increased productivity and employee engagement.
Using a performance review template ensures that the evaluation process is consistent, objective, and fair. Which template to use depends on your company's needs and your employees.
In conclusion, choose a performance review template that aligns with your organization's objectives, offers customization, and simplifies the review process in general.