How to Create a Work Schedule: 7 Things to Know
Work schedules can be hard to create as they require considerable effort and resources. Read on to know what to start with and how to create a work schedule for onsite and remote teams that really works.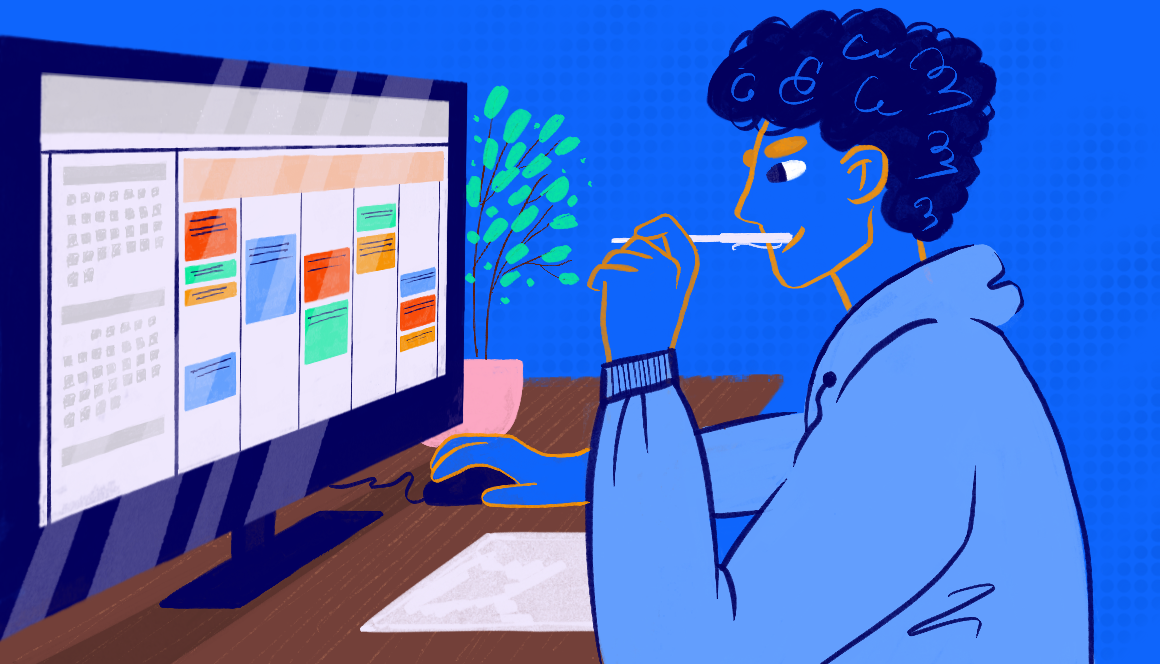 When you're managing a team, the first thing you need is an organized work schedule.
A work schedule is a detailed plan that helps you systematize work time and responsibilities. It is important to calculate all the slots in a work schedule correctly as it ensures that you and your team complete all the tasks on time.
But how do you create a work schedule that really works considering the following questions:
Is there a difference in scheduling remote and onsite teams?
Can I anticipate all the scheduling needs ahead?
In long term, is this schedule 'burnout-proof' from employees' perspective?
Examples of Work Schedule
Additionally, we are witnessing the growing diversification of work schedule.
Businesses may set different schedule policies:
for salaried workers
for hourly workers.
Also, some industries require that employees ought to work certain mandatory shifts.
It implies that while arranging employees' work schedules, managers choose from various scheduling options.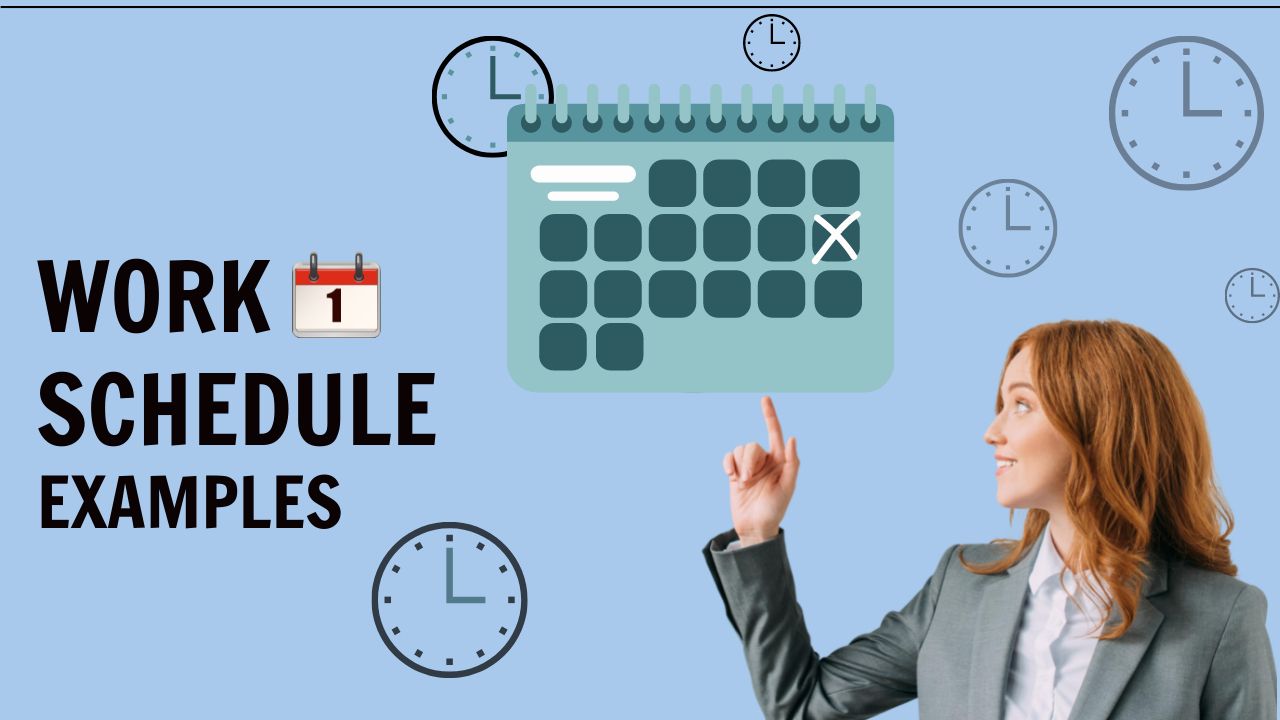 📋Fixed workweek schedule: It is a work schedule deeply rooted in a tradition when an employee works from 9 a.m. to 5 p.m., Monday through Friday. With a shift to remote work, it means workers availability at these hours.
📋Compressed workweek schedule: It makes it possible to work full-time hours in less than the standard five work days.
📋 Flextime workweek schedule: The 'core hours' must be worked during a time set by HR, while the remaining hours can be worked however the employee chooses. It's worth noting that the flextime work schedule is one of the most popular among knowledge workers.
📋Free-to-build schedule: Fully result-oriented work when an employee builds their own schedule based around a task/project to complete.  
Evidently, creating an effective schedule can be a daunting task for any business owner or manager.
In order to understand how to create a work schedule for teams both onsite and remote, we first need to take a look at what makes up a good one.
What Makes Up A Good Work Schedule?
For each employee, to comply with labor laws, schedule information 🗓️ includes the following entries:
Workweek (weekdays vs. weekends)
Availability requirements
Start and end times of workday/day shifts/night shifts
Breaktime according to HR-stated policies
Planned vs. actual work hours of an employee
Overtime work.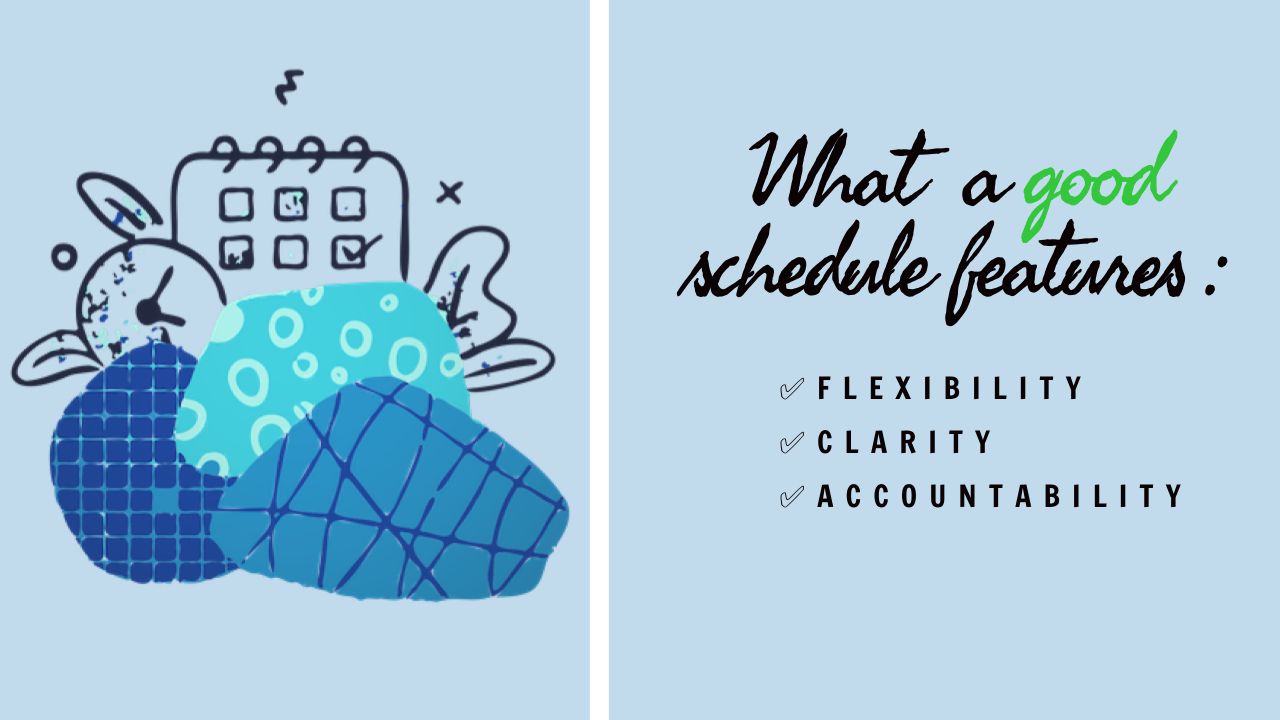 A good work schedule should have three things:
flexibility
clarity
accountability.
Flexibility means that it should be able to accommodate different kinds of tasks so that all members of the team don't have similar workloads every day (which can lead to burnout).
Clarity means that everyone knows what their responsibilities are and when they need to be completed by – whether it's an individual task or part of a larger project.
Finally, accountability means that there will always be someone who holds each team member accountable for their actions – whether they succeed or fail at completing their tasks according to the allocated time.
Bottom Line: A good work schedule is one that is flexible enough to accommodate team members who are onsite, remote or at different locations, but still ensures that everyone knows what they're supposed to do and when.
Below, we discuss what every manager ought to know about how to create a work schedule.
Create Workable Schedules Using These Guidelines
Organize your team members' tasks
It works for accurate scheduling
When it comes to creating a good work schedule, the first thing you need to do is decide how you want to organize your team members' tasks.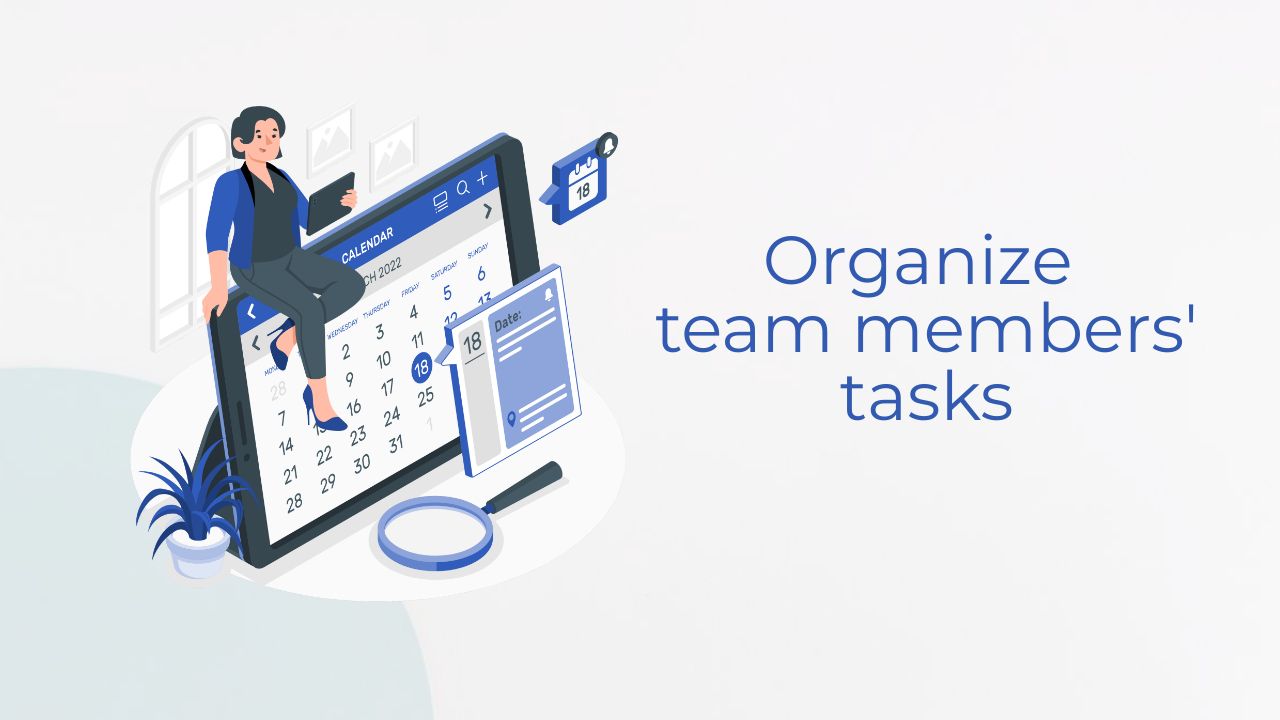 You can do this:
by using a software tool that allows you to assign tasks by priority
by assigning tasks based on the availability of each employee at any given time.
This will help you create an accurate schedule that does not leave any employees underperforming or overworked.
This principle is applied to three types of schedules:
📋Master
It's an overview of deadlines and project outcomes linked to a general description of employees' work calendars. You can begin by creating a master schedule table on your computer with seven columns for days and a respective number of rows for hours. It helps develop a schedule management plan after finalizing the schedule.
📋Weekly
It's a visualized week agenda with the tasks you must complete. For more efficient scheduling, there are easy-to-use visual planning tools that help you keep track of weekly tasks.
📋Daily
It's a schedule based on a structured plan of the expected work-related events and time slots allocated for them.  
Consider the type of schedule
It brings clarity to scheduling in your business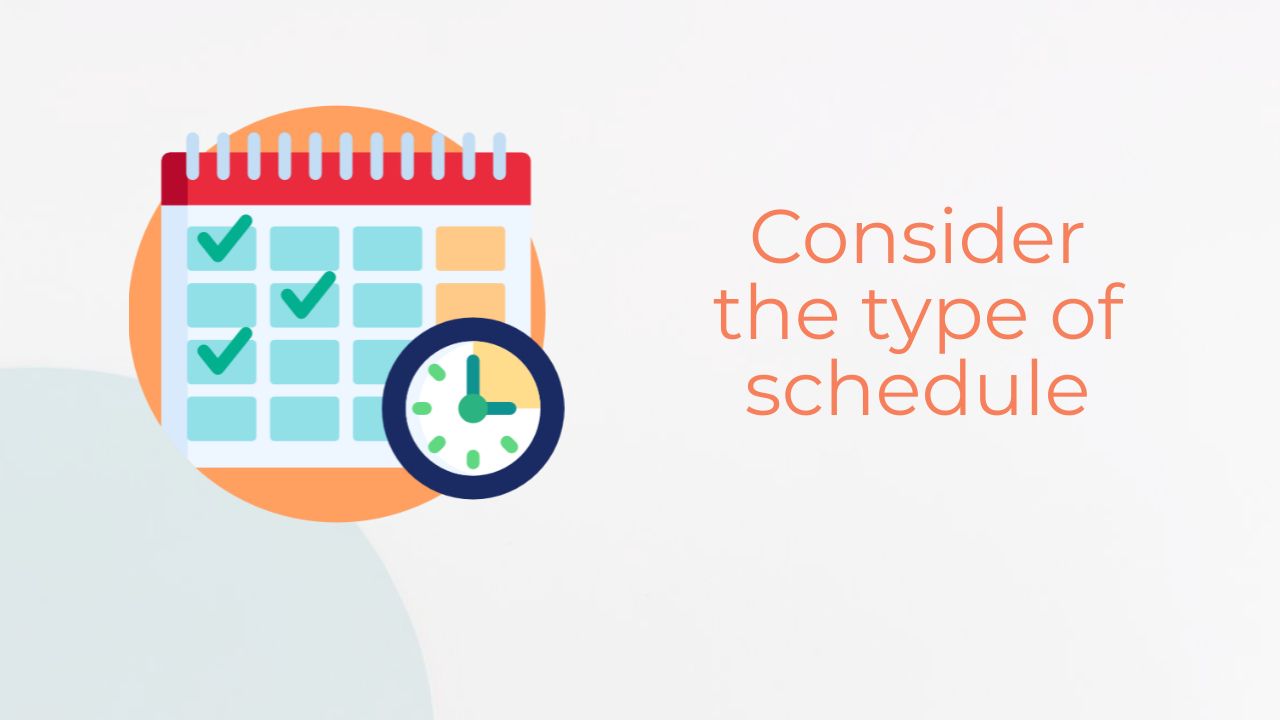 Now, it is time you choose what works best for your business needs.
Do you need employees to work full-time or part-time?
Will they be working in offices or remotely?
Will they be responsible for different types of jobs?
What tools would be the best to schedule tasks by priority in my business?
Do I need a backup plan to ensure employee availability?
Create a list of critical questions that would cater to your business niche. Answers will be defining the factors of importance. They are essential for deciding which type of schedule (fixed, compressed, flextime, or free) will work best for your business needs.
Create Employee Timeline
It creates accountability and removes micromanagement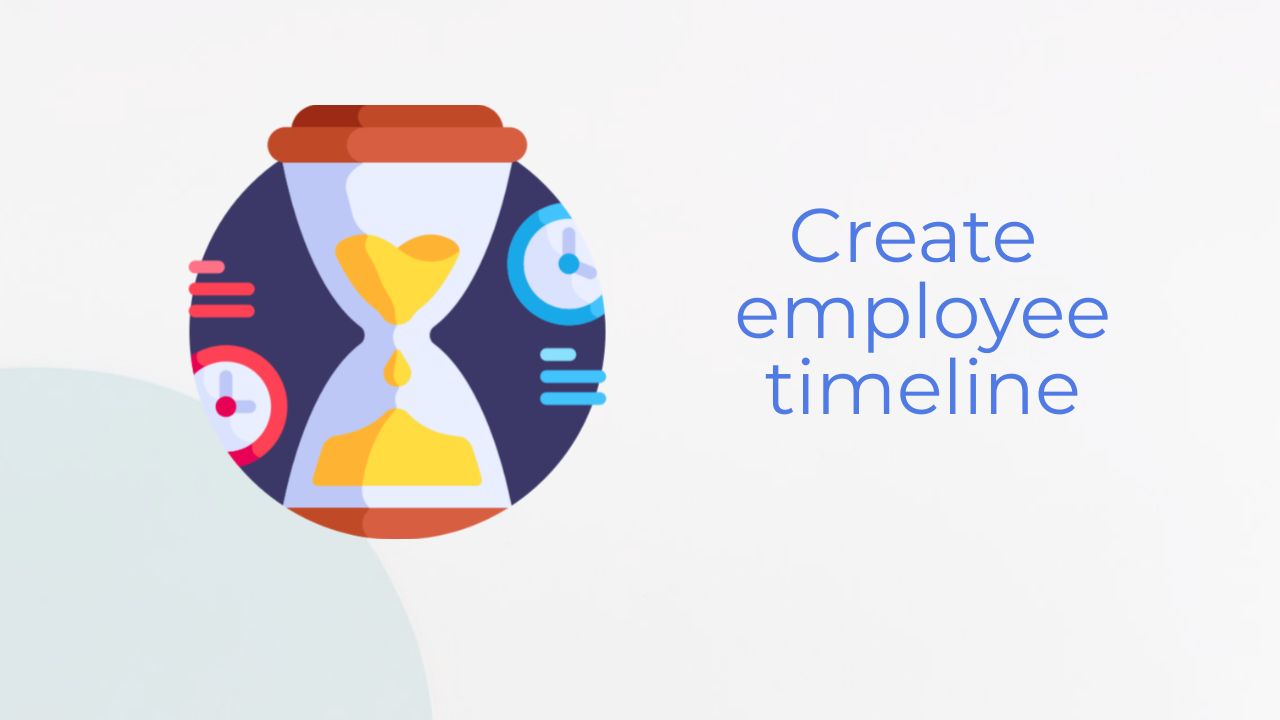 Once you've decided how many hours per week each employee should work (and whether or not they'll be working remotely), then it's time to create a timeline for each person's workday/weekends/holidays, etc.).
In work environs that are increasingly dependent on the digital world, using a time tracker when creating an employee timeline becomes a must. Otherwise, managers run the risk of project failures.  
To begin with, you'll need to consider how much time your employees will spend working onsite and remotely.
If they're in the office every day, then calendar solutions like Outlook or Google Calendar could be enough.
However, if they work from home or in different locations throughout the week, then you'll need something more robust like TMetric.
TMetric lets users track time spent on tasks by day and hour. It also allows users to set weekly goals and gives them clear visual indicators that show whether or not they are in progress toward achieving those goals. Employees can also integrate a time tracker into other tools to level up their task management.
Besides, it's free! You won't have to pay anything for a team of up to 5 members —but there are paid versions available if you want additional features like time off management.
Define off-hours policies and stick to them
It makes PTO easily manageable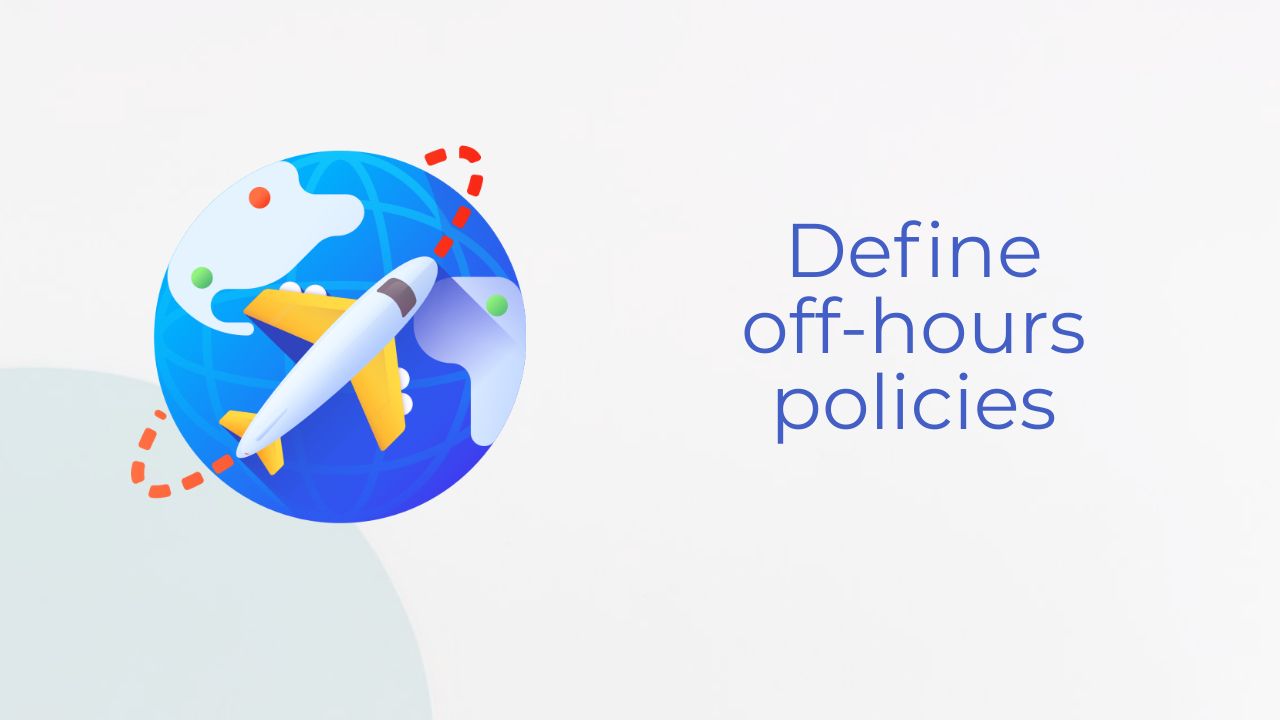 Schedules aimed at productivity increase and burnout prevention are built around a simple rule: if employees decide to take a break from their busy schedules, they should be able to do it without hassle.  
To achieve this rather ambitious goal, business owners should have clear paid time off management policies. In particular, they need to include when and how PTO requests can be submitted.
In addition to processing employee time-off requests, a manager must ensure that PTO requests are handled properly to maintain employee morale and availability.
Hence, choosing a tool with advanced PTO management functionality is a must for avoiding days off overlap.  
Learn how to schedule meetings
It removes unproductive meetings off the agenda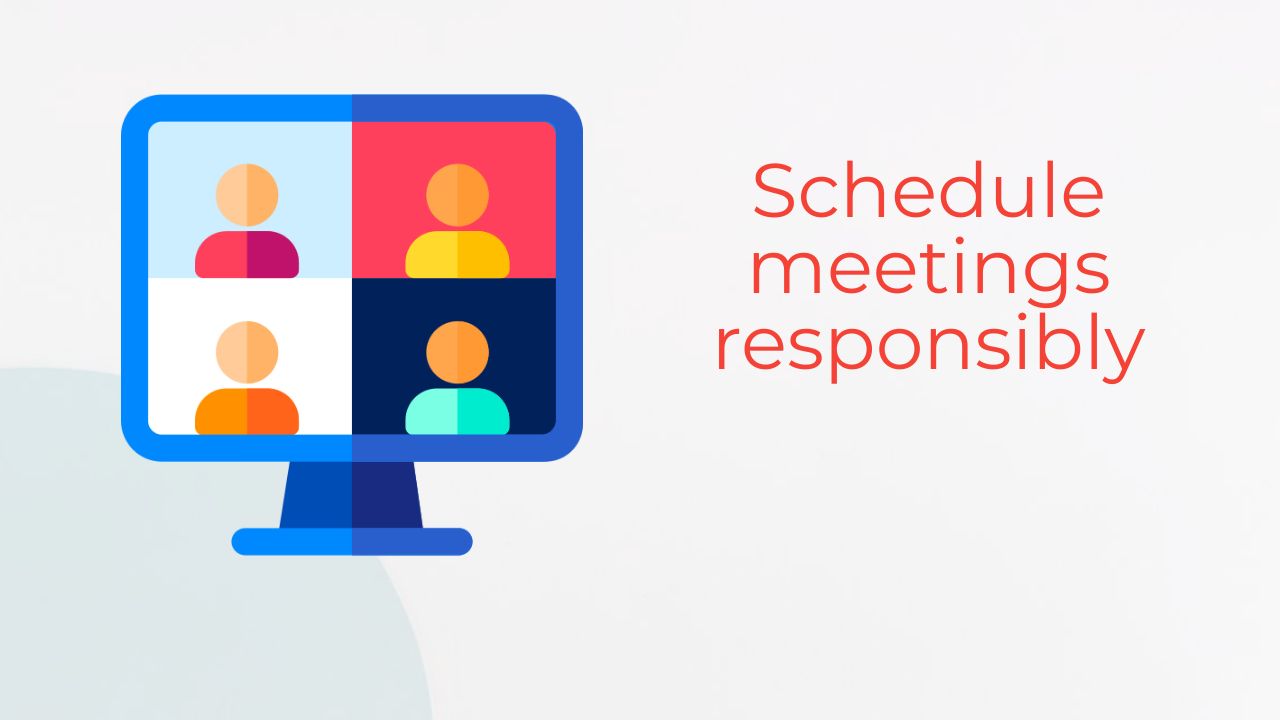 To cut down on unnecessary meetings, there is a golden rule that famously goes: 'This meeting could be an update on progress status.' If it is applicable, cancel a meeting.
You need more than a calendar to schedule a meeting these days. Too many meetings make a schedule brutal, and when they are scheduled ineffectively, they might result in productivity drop, cognitive overload, and project failure.
Thus, using a meeting scheduler (for instance, Calendly, Sidekick, or AI-powered Clara) is a must, especially if daily meetings with clients or colleagues are a mandatory part of your job.
For enhancing the meeting experience, you can try Verbally which features a visible agenda and remaining time stopwatch.
Digital meeting solutions also help you avoid back-and-forth emails, automate making video calls and send your smart reminders.
Besides, digital scheduling solves the issues of arranging meetings for businesses with multiple teams that require weekly review meetings.  
Automate scheduling process
It streamlines schedule-making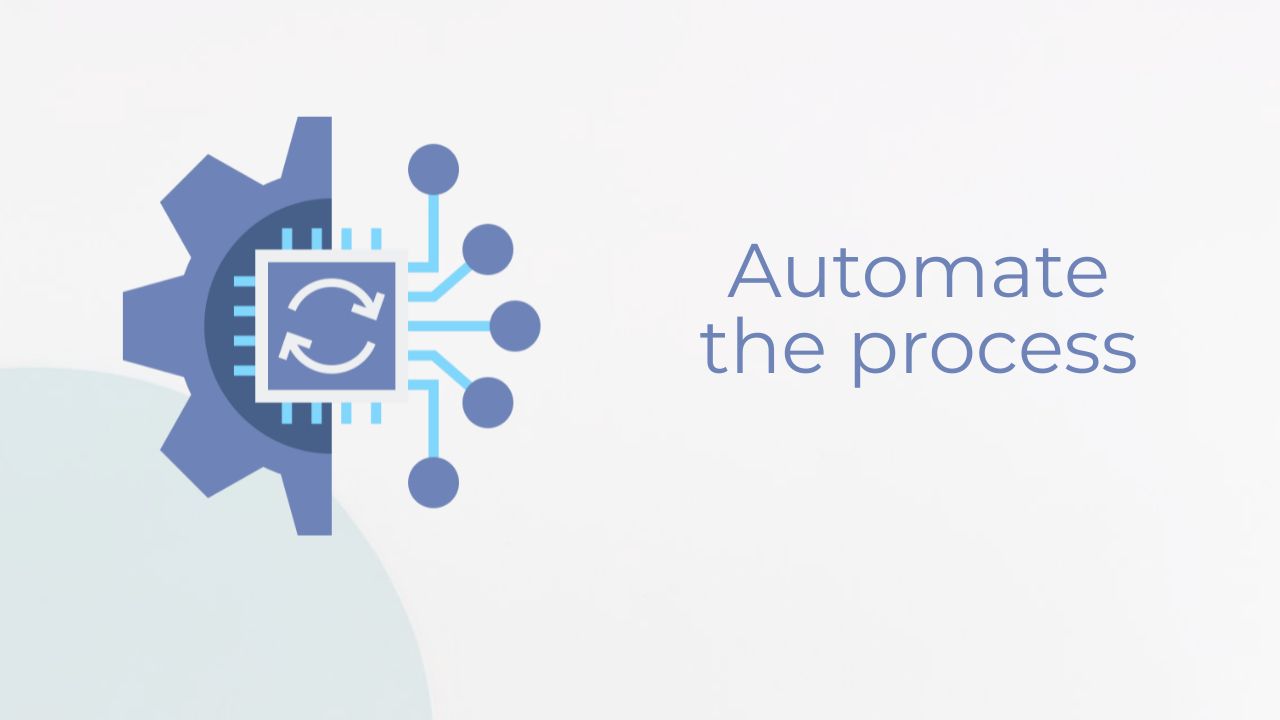 In schedule management, there is no place for guesswork and assumptions. That's why including automated solutions like calendar makers is highly recommended in schedule-making.
Digital calendar tools are an excellent substitute for pen and paper and spreadsheets because they prevent meeting time conflicts and have scheduling data stored safely.
Besides, according to Report Workflow Automation by Formstack:
Managers say, on average, that they spend at least eight hours a week—one full work day's worth of time—on manual data tasks, while 25% devote 20 or more weekly hours to these tasks. (That's an average of four hours per workday!)
Automating the process means that you will be able:
to see big projects as chunks of smaller tasks
to build-in meetings in daily timelines naturally
to use visualizing as a way to ensure integrity and coherence.
In order to collect ideal meeting times, automation tools can generate a link that participants use to indicate when they are available.
Make sure you have guidelines, but leave plenty of room for improvisation
It prevents burnout and helps maintain work-life balance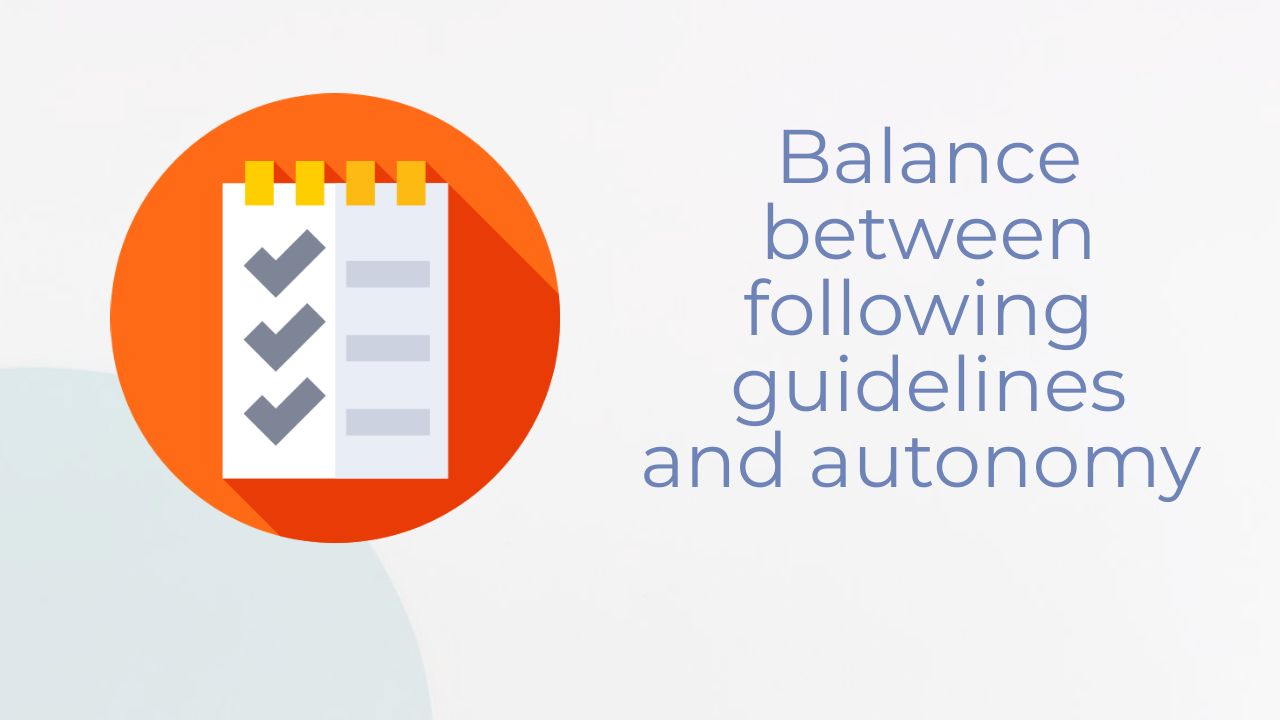 Consider giving employees the opportunity to work on Saturday or Sunday instead of a working weekday.
Making an offer to swap a working weekday for a weekend day gives an opportunity to take a must-needed break. Given the results of studies suggesting that Wednesday is the best day for a day off, it sounds more than encouraging:
The key is giving yourself a beat, a day to make your own pace, and to break the tyranny of the over-scheduled work week.
Rigid systems paralyze. To avoid complications, build your planning on the principles of adaptability. It will increase resilience and improve communication.
What's more: Circadian rhythm
It helps find the best time for your work
Additionally, employees should plan their own days according to their circadian rhythms. The peak of attentiveness (between noon and 6pm) is the best time to perform the most demanding tasks. When alertness is low  (early hours of the morning, around 3pm, or late at night), plan tasks of less importance.    
Recommended reading: This Is The Best Time To Do Anything: 4 Powerful Secrets From Research
The circadian rhythm should be taken into consideration when setting assignments, deadlines, and expectations for employees. It takes a realistic view of human energy regulation to realize that some times of the day will be more efficient than others for the same employee.