17 Best Websites You Should Use For Work And Fun
The best websites listed in this post help to make the best use of your time. They are pleasantly addictive and equally useful. So without further ado, dive in, increase your dopamine and have fun.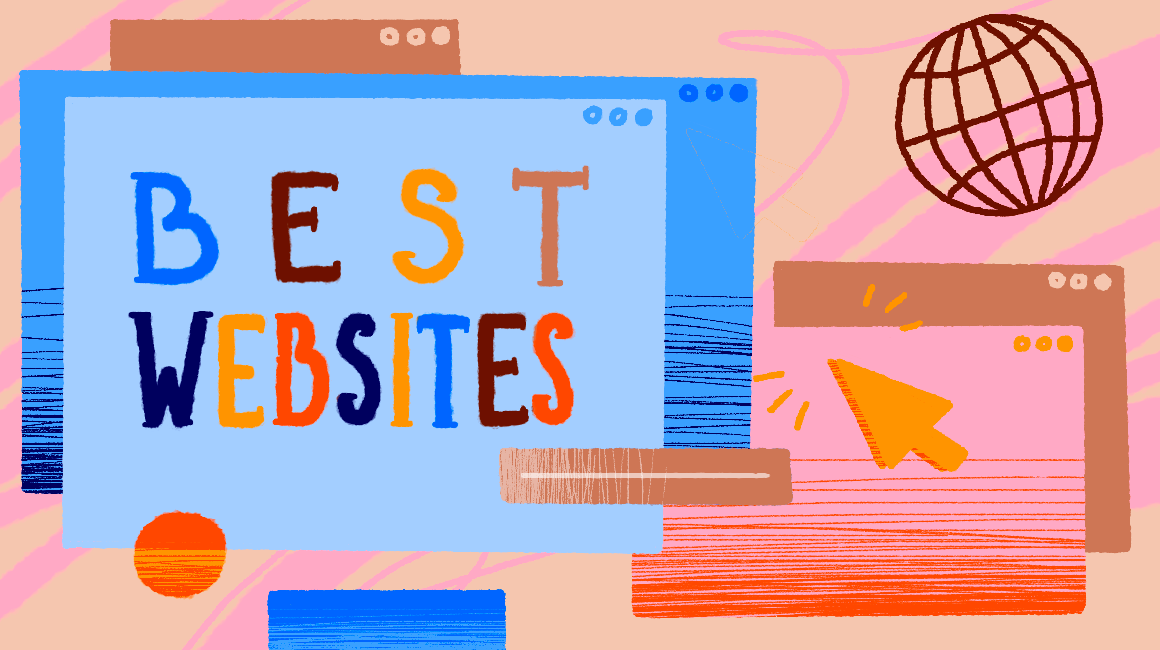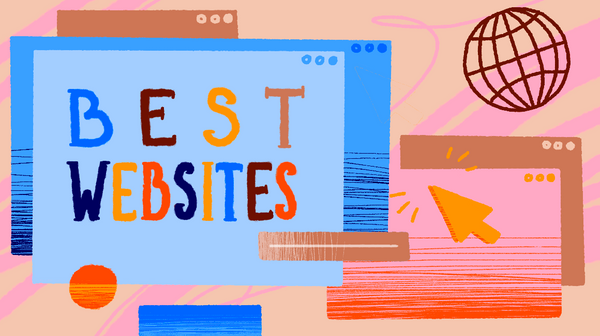 Unlike Instagram and other social media traps that robbing you of your precious time, we suggest you consciously spend your time on something of your personal choice to enjoy it without guilt and fail.
Take a swim in the digital ocean of amazing resources, best websites and free blog sites for work and fun right now.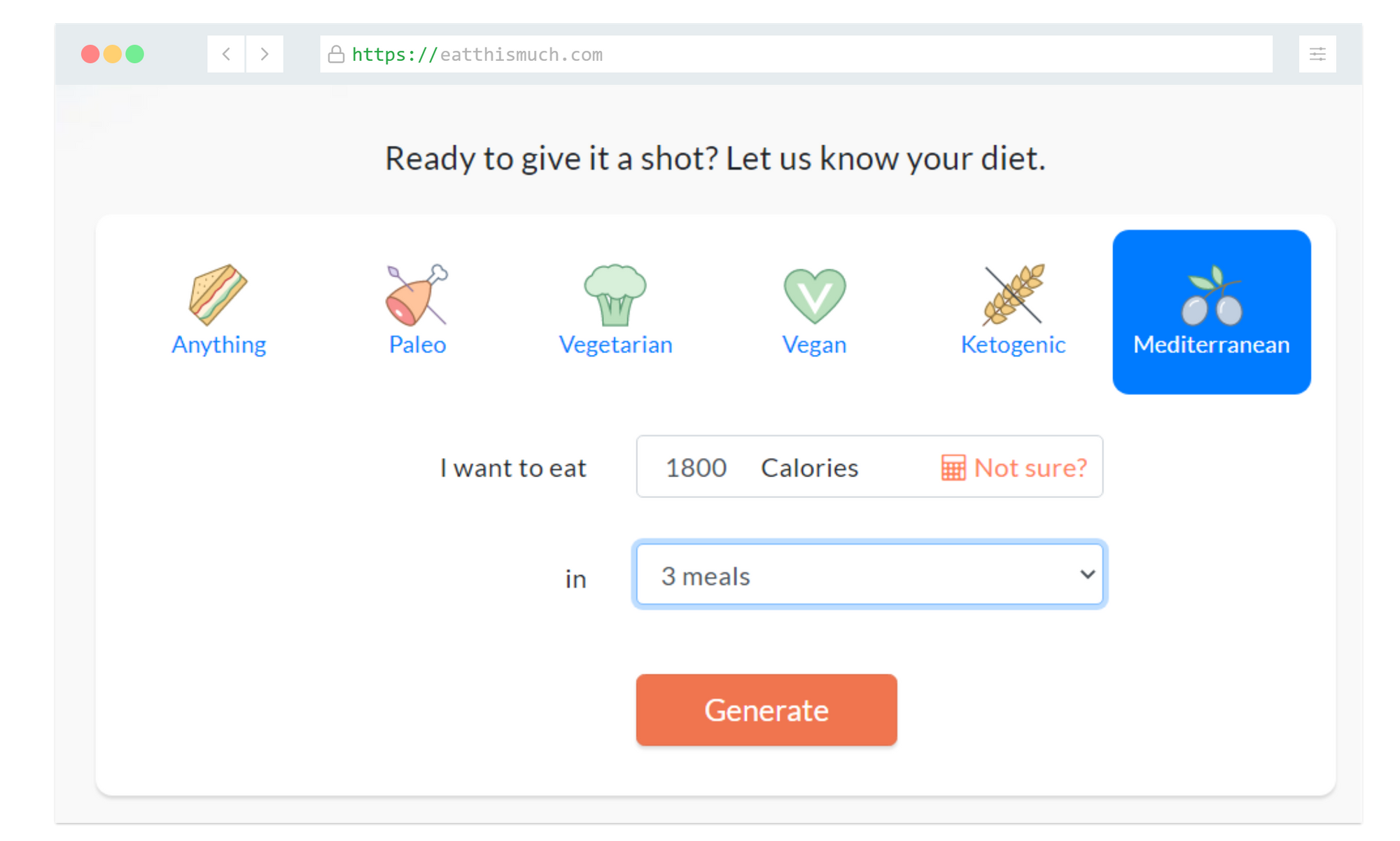 Probably, the only good heritage that we have from 2020 is the comeback of comfort food . Why not polish it and take it to a new level?
Eat Clean Have Fun will automate your daily food planning and customize your menu in a second. You click on the menu you prefer, input the calories and the number of meals.
Your Quick Win🌟: Clean eating mission completed
Type and Get Smarter with TypeLit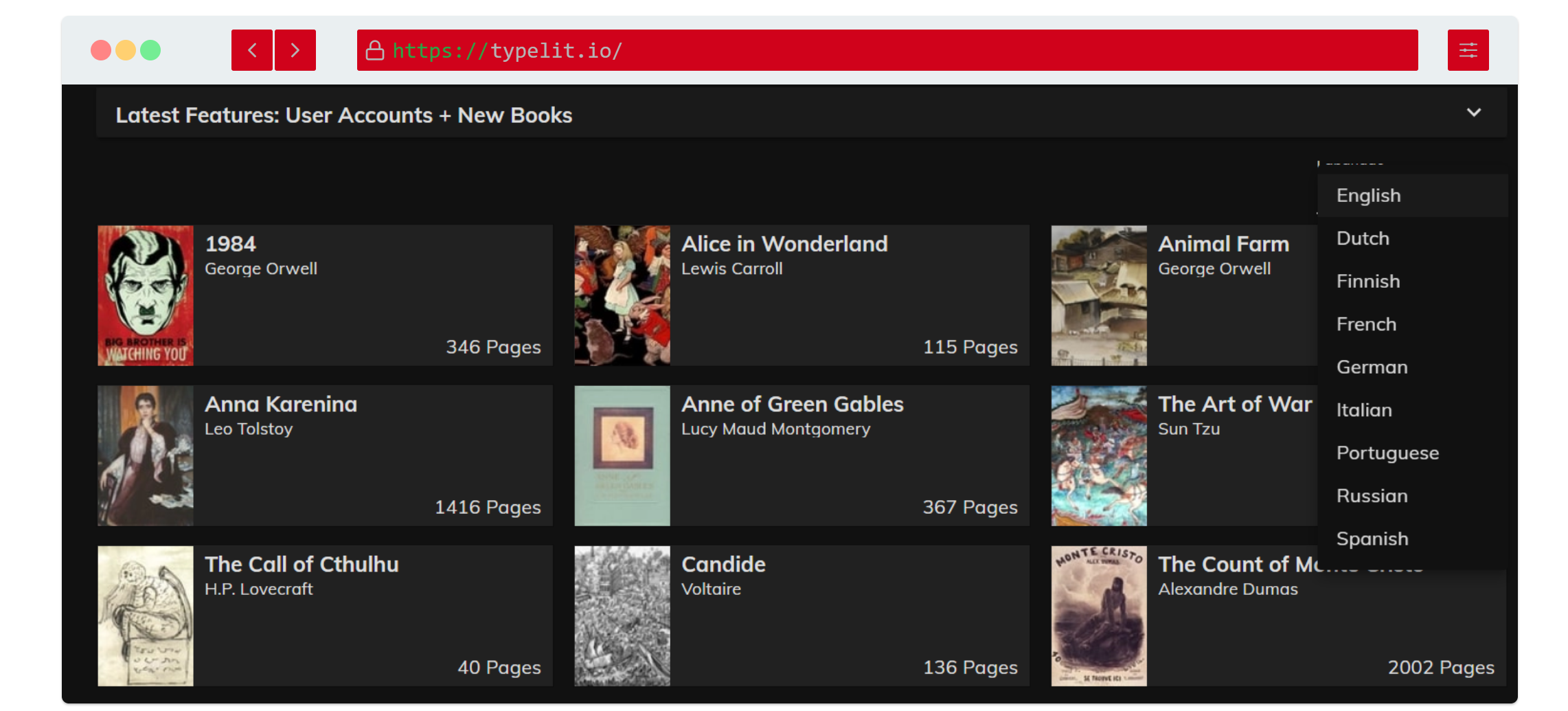 Struggling with typos? Always frustrating.  
Try to type and get smarter. You are guaranteed to eliminate mistakes or, at least, you will make them while typing something grand and classic like The Count of Monte Cristo. Add to it the amazing choice of languages, and a typo-less day gets much brighter.  
Your Quick Win🌟: Aside from filling your day with time tested wisdom, you can see your word per minute speed and accuracy rate.
Perfect Time Waster for Melomaniacs with Radiooooo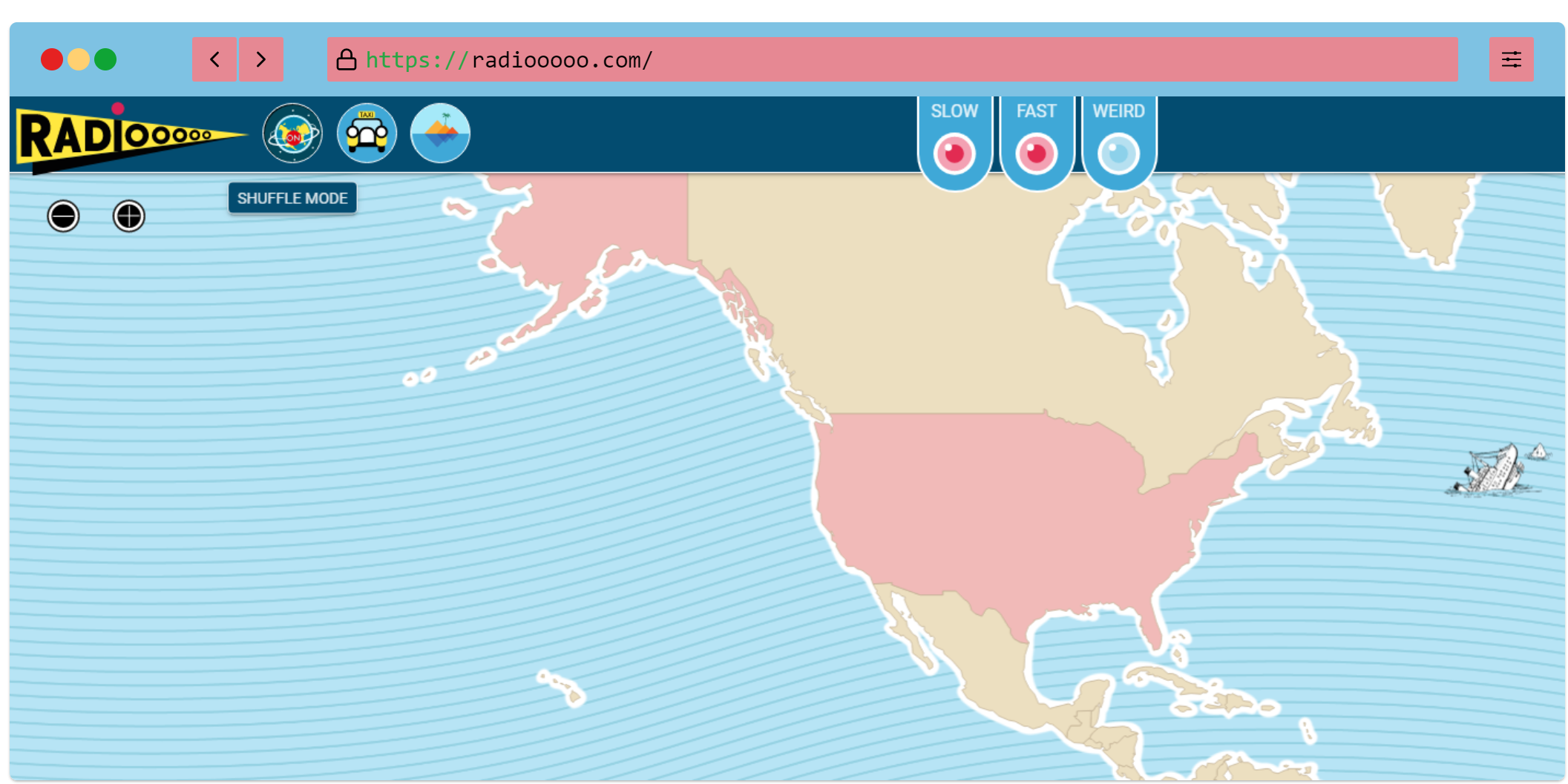 This is the best musical time machine you can find online. All you have to do is to navigate the map, click on the time bar and choose between 1900 and now.
You will be presented with the amazing musical pieces instantly playing. If you are keen on exploring more resources, switch from basic mode to premium.
Your Quick Win🌟: You can seriously enrich your knowledge of history of music.  
You Need 15 Minutes of Peace? Take Alchemy Primary Classes with Little Alchemy 2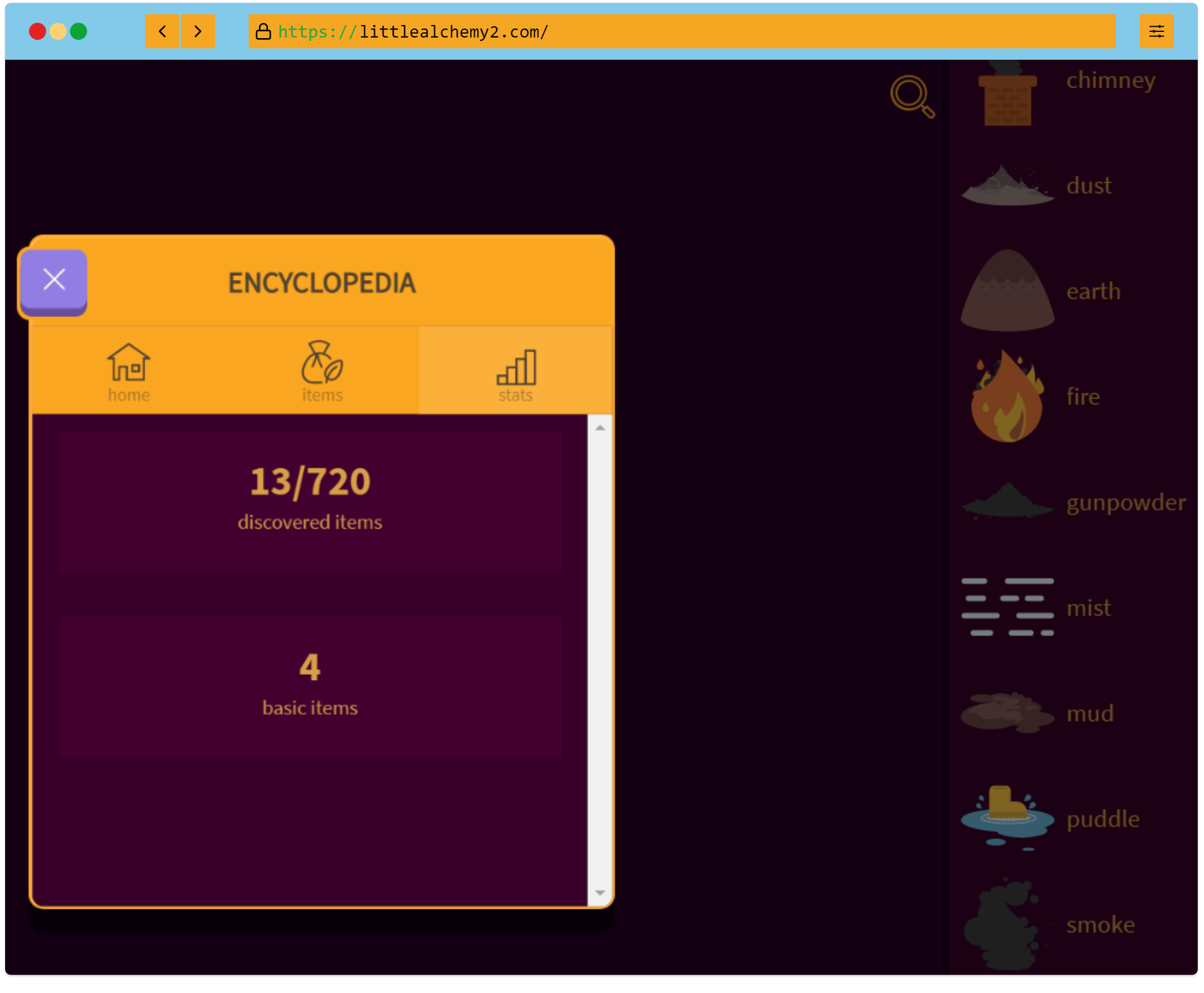 From water, fire, earth and air as 4 basic items, you can create 720 amazing things. Just mix and match. It is the most meditative and creative activity you can have for a break from endless virtual meetings.
Your Quick Win🌟: Kids love this resource as much as adults as it gives you joy and educates you effortlessly.  
In case you feel like nobility but have to prove your claim, there is a solution😀😉
One square foot of dedicated land on a private estate in Wigtownshire, Scotland and a printable certificate with a crest is what may feel you happier.
Your Quick Win🌟: If you want to accomplish the mission of Renaming Yourself With Elegance, you are in the right place.  
Leverage your knowledge of classic into the status of an acknowledged winner against big pharma. You will be offered a word.
Guess if it is a character from your favorite author or a medicine.
Your Quick Win🌟: Aside revising books you love, you can expand your pharmaceutical knowledge without extra effort.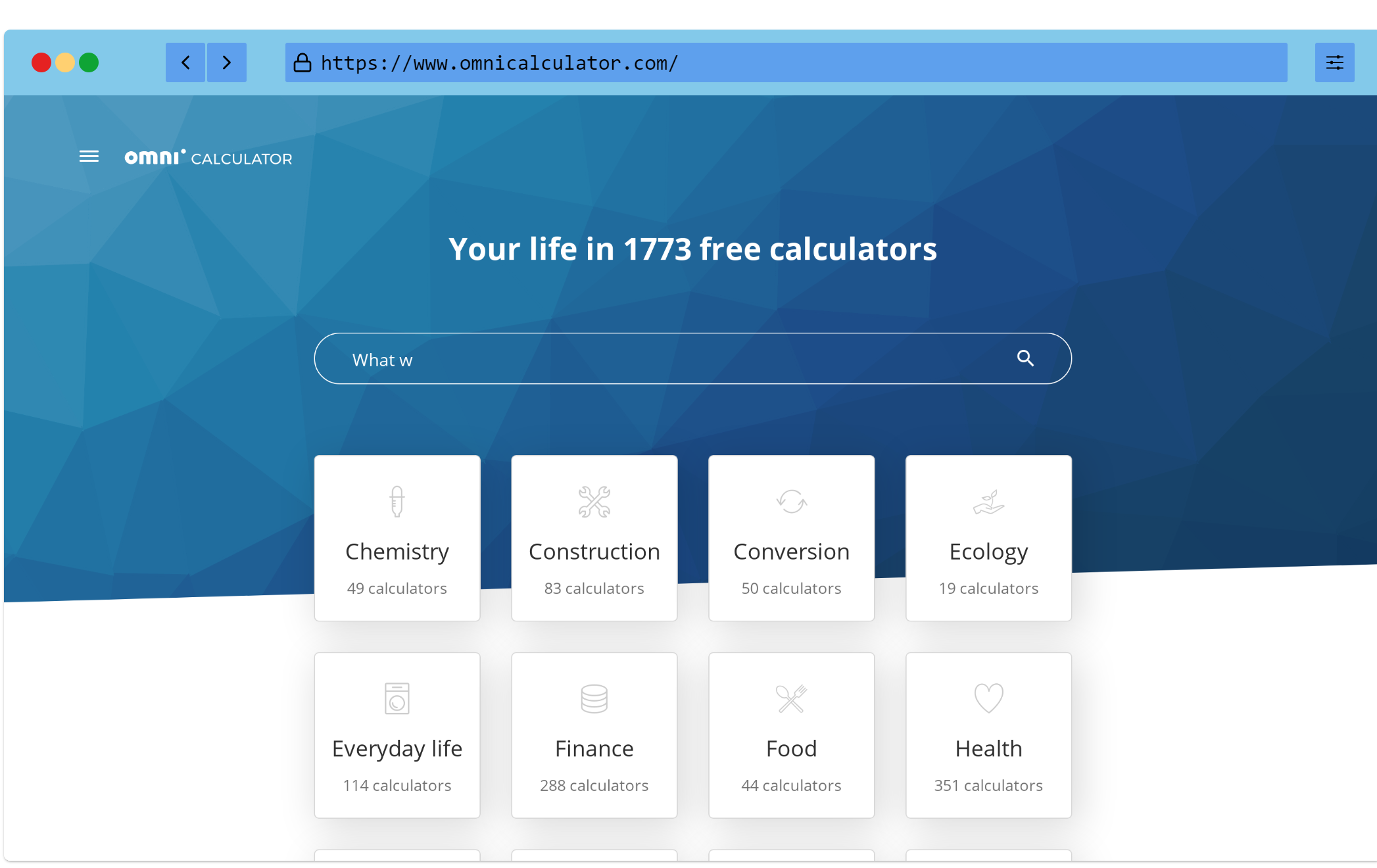 With so many problems requiring calculations and observations, the resource with over 1700 calculators will come handy, to say the least.
You can count things that are related to food, money, health, statistics, sports, physics, and everyday activities. Definitely, it is time to take a calculated approach!
Your Quick Win🌟: If you always wanted to know the true cost of pizza, give it a go. Additionally, the site is packed with lots of fun facts about everything calculable.
Calculate Time In No Time with TMetric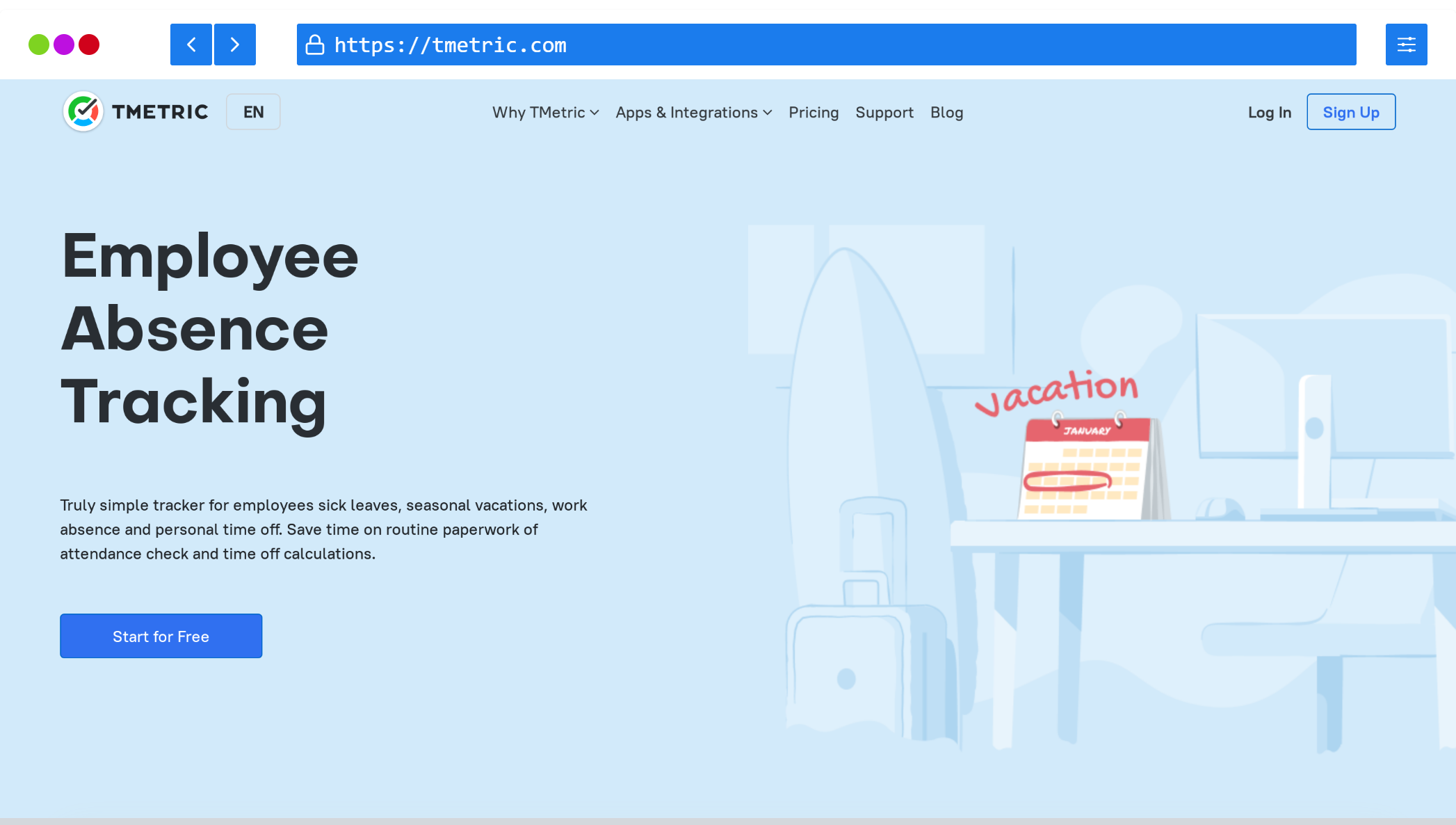 How much time do you need to calculate your work (overwork, time off you request, project performance, billable and non billable, etc.) time? If you feel overwhelmed just thinking of this question, you can stop stressing yourself and have a solution that would reduce time calculations to zero consumption of your personal time. Optimizing this task with TMetric is simple and reliable.  
Your Quick Win🌟You get your work time calculated automatically (even if you work offline). Additionally, you get access to a productivity blog that can help you master time management and live a happier life.  
Stay Productive Even in Your Sleep with Honeygain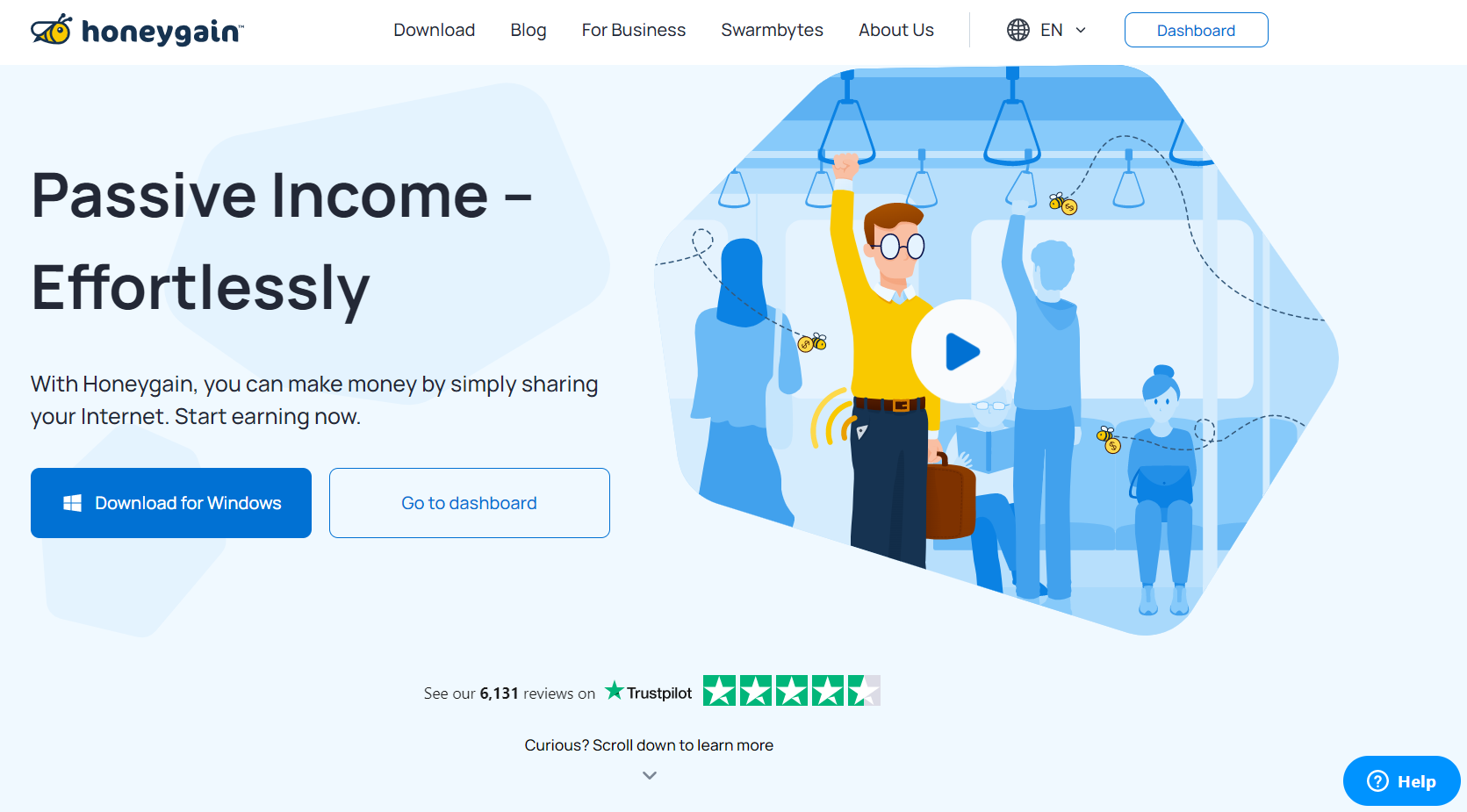 Honeygain is a world-known passive income app than can help you earn some money on the side even when you are resting. Basically, this app works as a crowdsourced web intelligence network, that pays you real-life free money in exchange for your unused bandwidth.
Your Quick Win🌟: Earn some extra cash effortlessly without any initial investments. All you have to do in order to start generating passive income is download the Honeygain app and register.
Convey Your Message with Emojify✨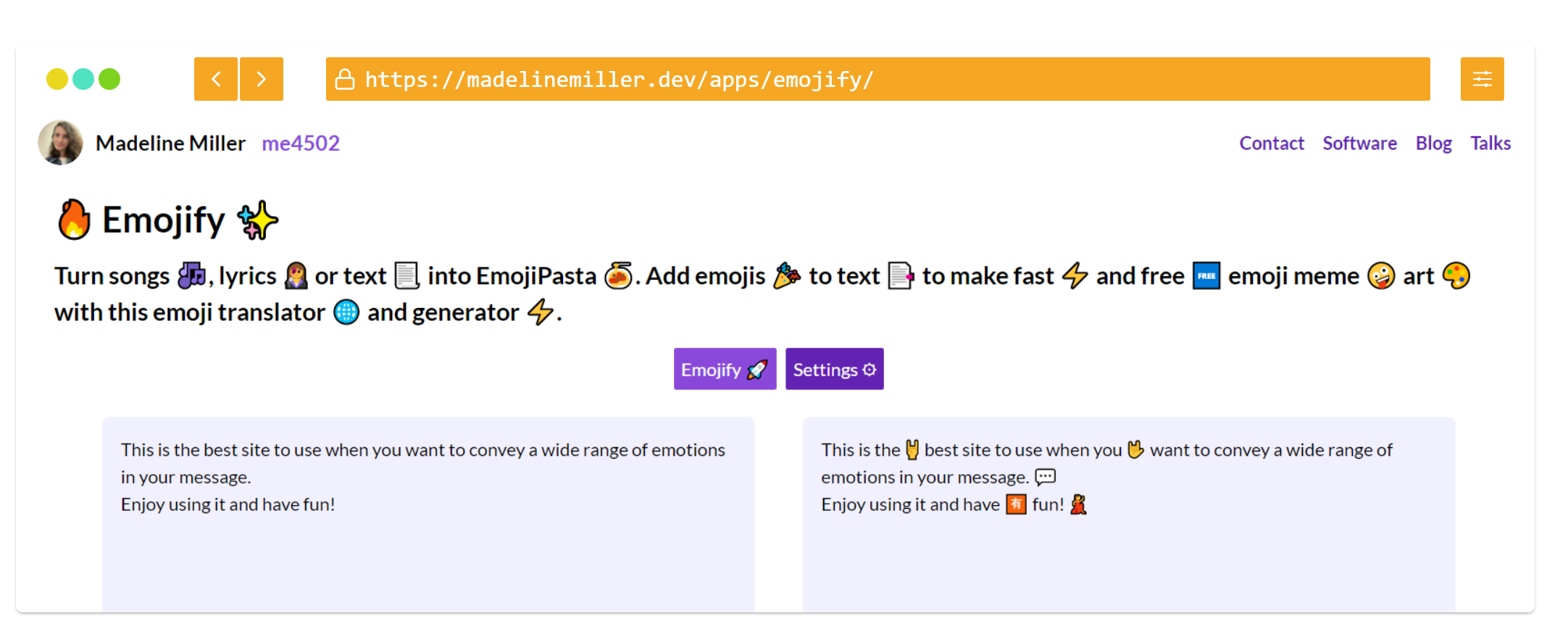 Emojis conquered over the strict corporate protocols of communication. You see smileys everywhere, and you are not getting tired of them if they are used properly. Now you have the resource that will assist you in adding the right amount of emojis to your texts in a matter of seconds.  
Your Quick Win🌟: If you post on social media frequently, you will agree that now you have the irreplaceable tool that gives your messages vibrancy and positive tone that works like magic🧙.
Tired of Earth? Time for Space Travel with Astromaterials3D
Why search somewhere else when you have the most authoritative source of information when it comes to space and exploring what other planets consist of?
On Astromaterials 3D, there are beautiful images of lunar and meteorite samples along the fascinating stories of their origin.    
Your Quick Win🌟: See with your own eyes what space offers us and decide if you are ready to be a space explorer.
Your New Routes with Lines
Taking a walk on the planetary scale can be as simple as drawing the line. You will instantly see what part of the world you happen to be in alongside the satellite images of the place and a short description of the location.
Your Quick Win🌟: What starts as a play can turn into mapping a plan of your next travel.  
When Was It Used First with Time Traveler
Speaking of travels, there is a great opportunity to give a try to time travel: just click on the button to choose the year, and you will be transported to the past.
Then, you will get introduced you to a great variety of words that first appeared in media that particular year. Want to know what they mean and how exactly they were used, go for it. There is no such thing as extra knowledge.
Your Quick Win🌟: Enriching your vocabulary has never been easier.
If you want to remove any distracting noises, invest your time in creating a mix of your own by choosing custom ambient sounds.
The collection includes rain on trees, waterfall, metal chimes, rain on the roof, pink noise, stream and other sounds that can please your ears better than Mozart's masterpieces.  
Your Quick Win🌟: If you fancy online background noise generators, then you need to search no further as A Soft Murmur creates a distraction free environment for focused work and meditation.
This is the jewel of the list because you can easily learn all about such most viewed biases as selection bias, attrition bias, Hawthorne effect, collider bias or information bias as well as recognize biases and make the best use of your knowledge when you need to make decisions.
Your Quick Win🌟: It is your ultimate destination when you are doing research, and suppositions are not an acceptable option.  
Instant Ambient Sounds with Hipstersound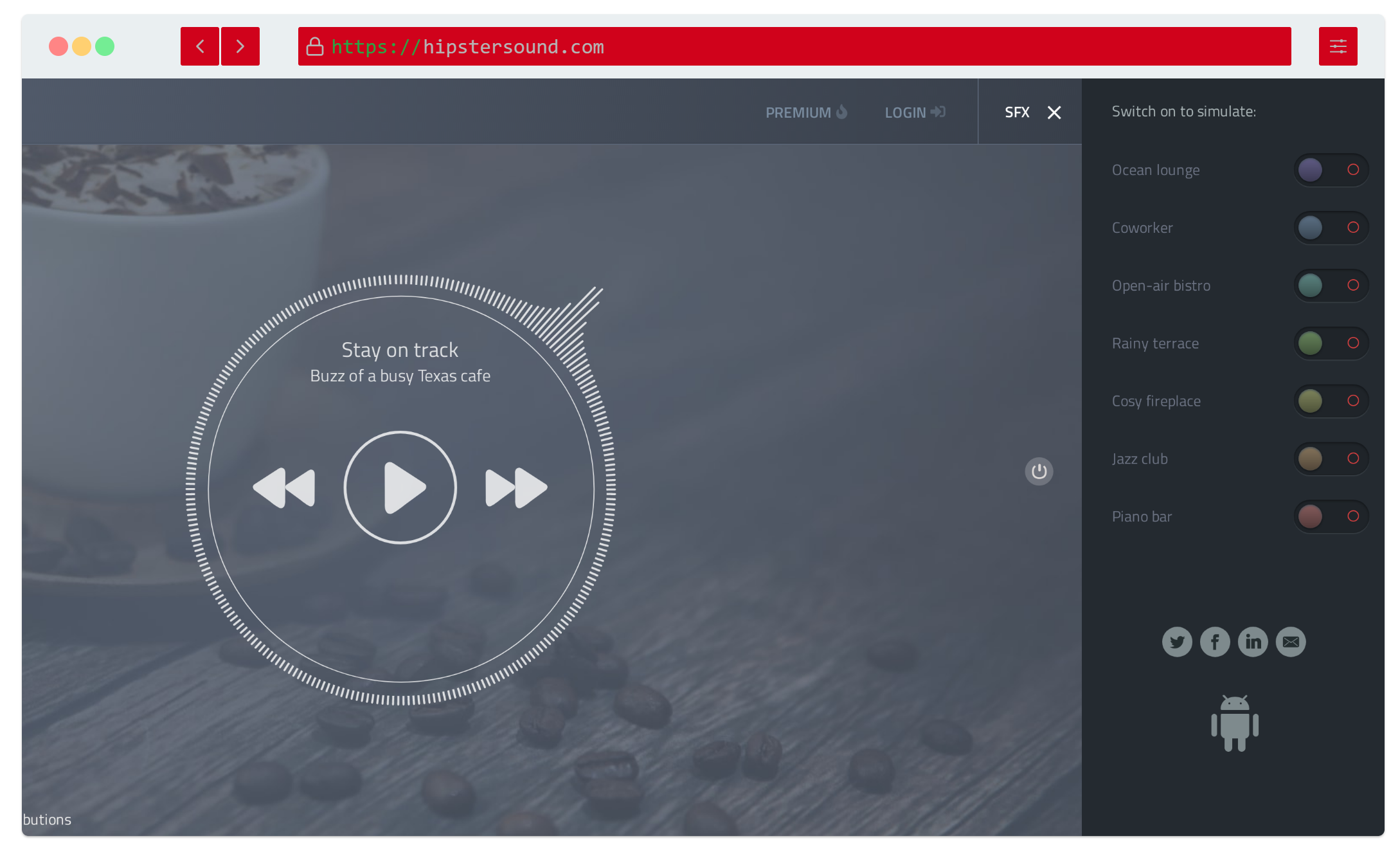 Studies confirm that the audio characteristics of the environment can make a great impact on our productivity, focus and wellbeing.
Choose between the buzz of the French restaurant or a busy Texas café, and it will boost your mood with guarantee. Play with options and customize your experience to get the best results of listening.
Your Quick Win🌟: Social distancing is a challenge but, luckily, there are options to face it and not feel isolated it while keeping safe.
On this resource you will find various song-making options. Share your creations online, 'draw' music with Kandinsky, play voice spinner or spectrogram, and get closer to the world of famous composers instantly.
Your Quick Win🌟: Celebrate your musical talents and feel inspired with the results of your own creativity.
Build Your Empire with NealFun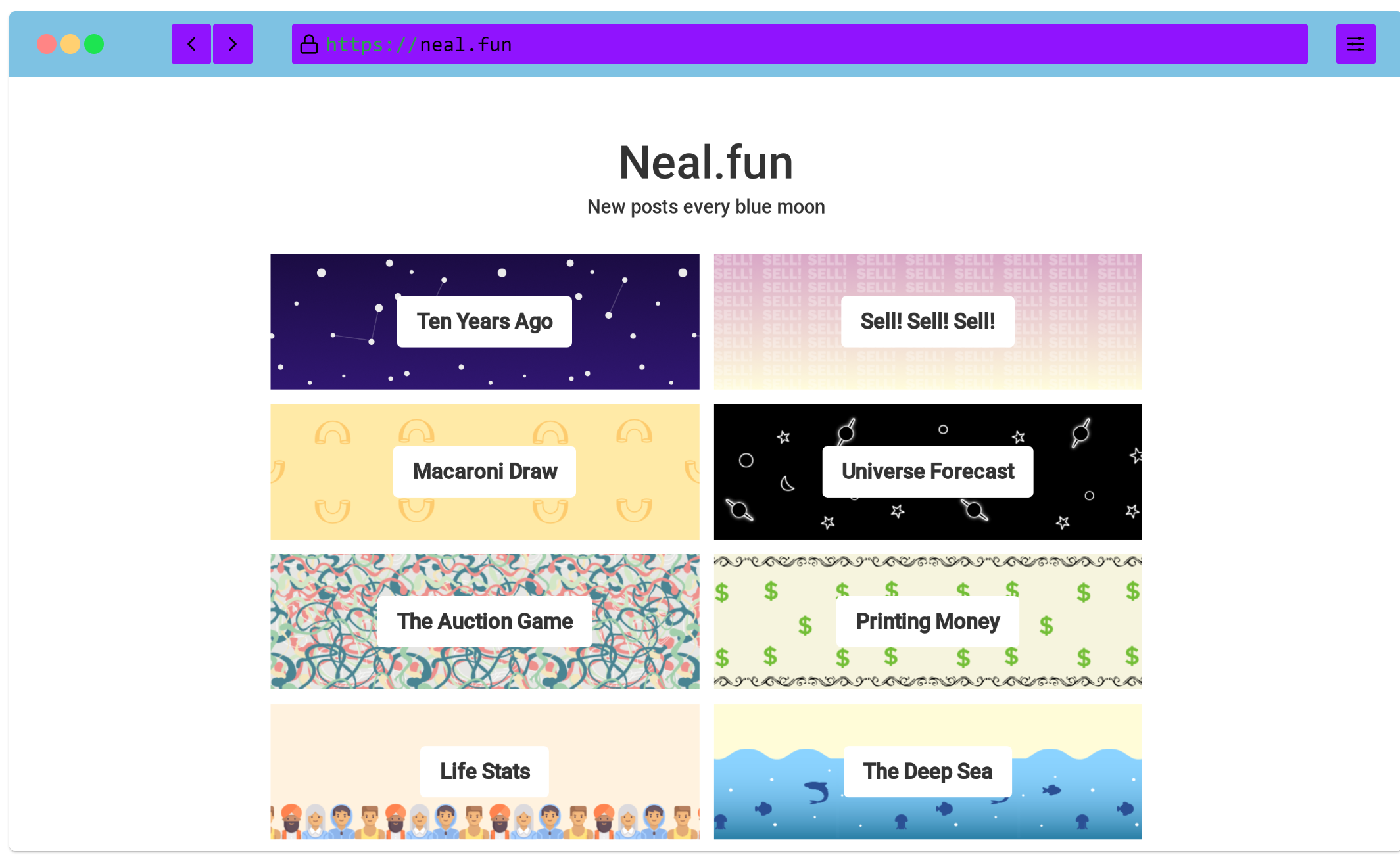 This platform offers tons of entertaining options. One of our favorites is Conquer the World.
It not only gives you the precise answer to the question: 'How much of our world have you seen?' but 'itemizes' your assets to tiny detail like what people mostly eat in the areas you visited, what the weather is like and even how many tons of apples there is produced.    
Your Quick Win🌟: Reap the full benefits of your travels and see the world in a new perspective.
❗🤑❗
Automate work time calculations with 10% off the regular price on TMetric
Coupon code BLOG10WZKX
Apply coupon code
Uncompromising Time Wasting with Google Feud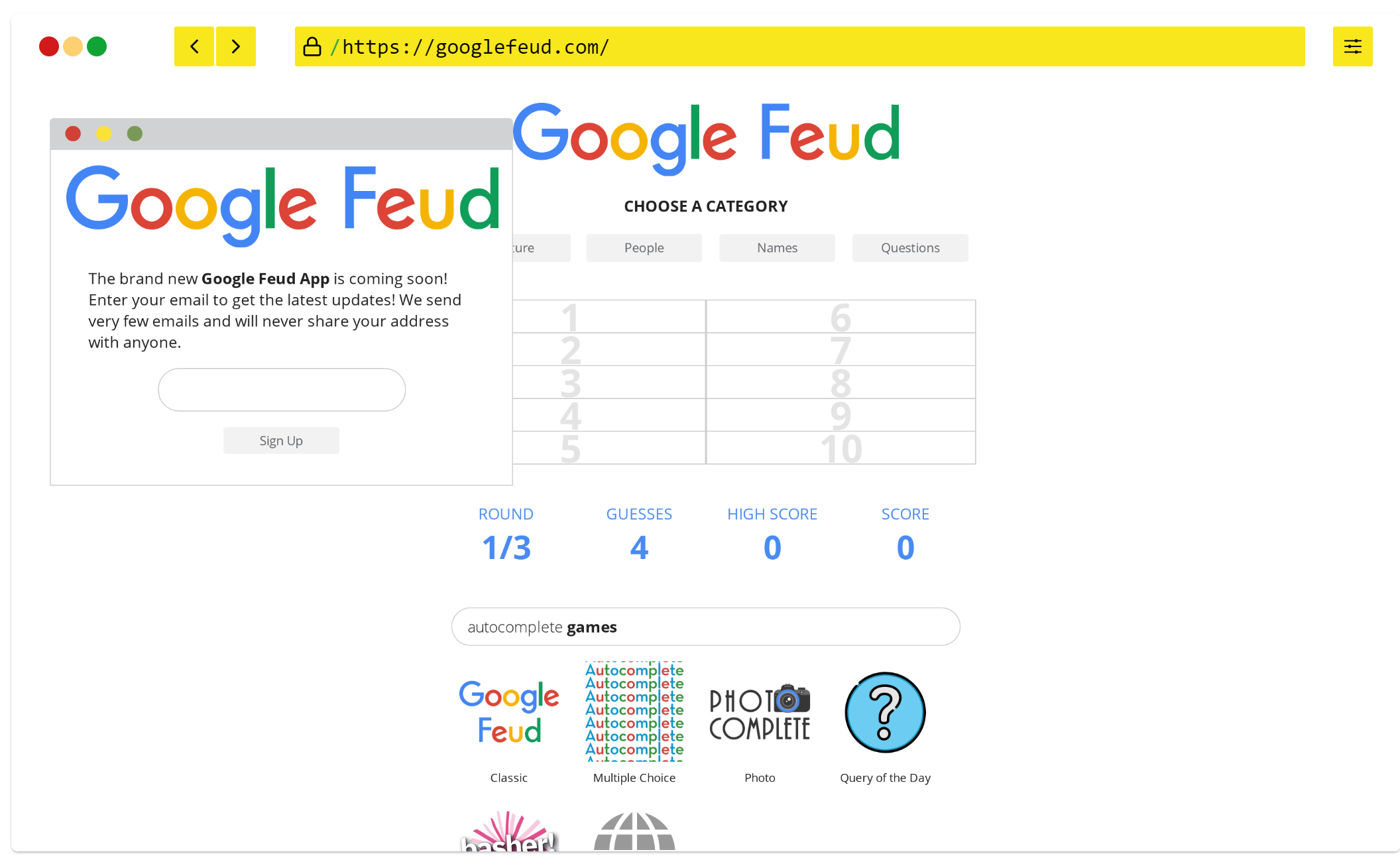 If you relied on Google autocompleting your search query, then Autocomplete is your game. You will have to guess what people searched most.
Get ready to feel surprised  because it turns out that people search for 'polar bears are black', 'it's ok to eat eggs every day', 'can jesus microwave a burrito', 'what's it like to be a bird' and what not but the beauty of this world is in its variety (autocompleting included).
Your Quick Win🌟: There is none except having fun.