7 All-Purpose Apps For Mental Health And More
Achieving mental wellbeing became harder, to say the least. Meanwhile, it affects how we think, work, and handle stress. Mental health apps come in handy in addressing these issues for better results.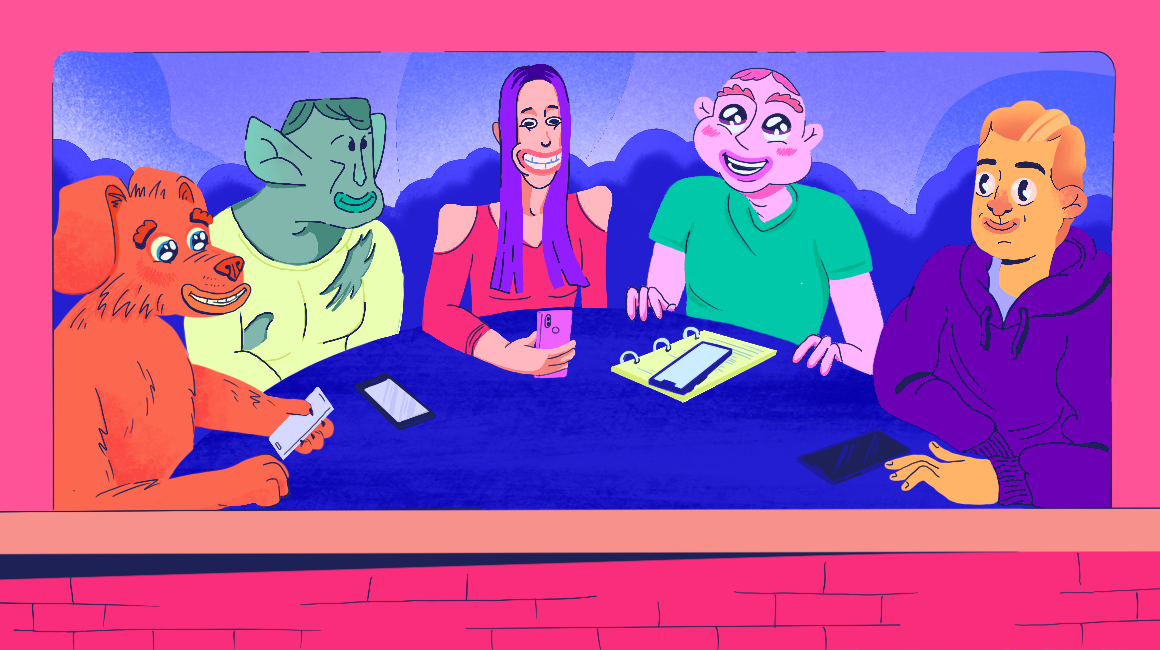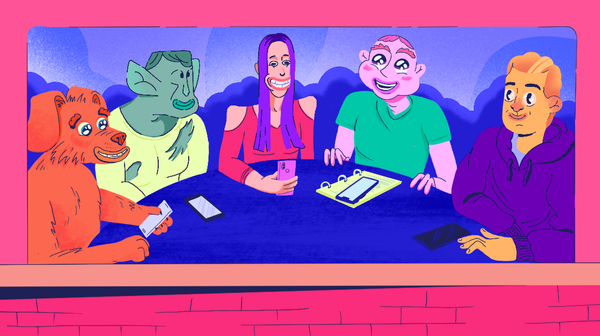 Mental health apps and mental health services are effective tech solutions that can become 'your executive arm' of mental health development for addressing the issues of lost focus or slipping into stress mismanagement. Use them to get help and stay on track in creating a balanced life.
---
According to Ipsos Mori, more than half of the British report experiencing considerable difficulties in coping with restrictions imposed by the lockdown. Among women, the stats are even higher and reach 7 out of 10 delineating on problems related to mental wellbeing like anxiety, eating disorders, disruption of sleep routine.
Additionally, the always-on culture and cultivation of success measured by an ability to hustle made a high speed of communication and multitasking practically a norm built around the belief that the faster you are, the more manageable your time is.
However, most researchers agree that the acceleration might come with a cost for mental wellbeing, especially under the pressure of uncertainty we experience globally (the recommended reads are here, here, and here, plus real stories on #slowliving and usage of anxiety-battling tools).
In case they are not trained to recognize symptoms of anxiety and stress, running the risk of burnout dramatically increases alongside a considerable decrease of chased-for productivity.
Apps To Try Today
Making mental wellbeing a top priority is essential, and getting help shouldn't be associated with hardships or hurdles. Check the list below to try these apps for a good mental shape.
Talkspace: Text Therapy Platform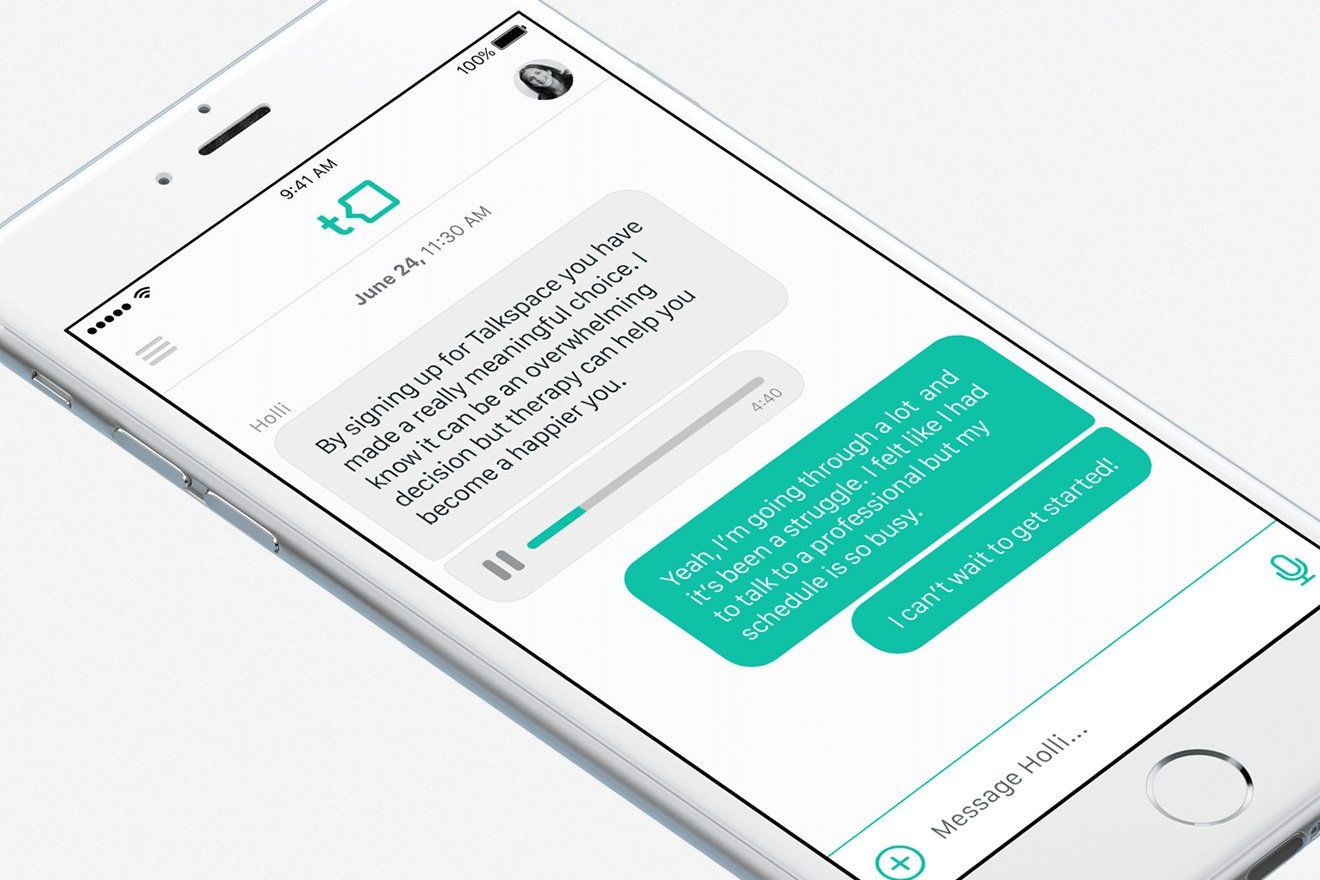 How It Works. It is a digital platform connecting users with medical professionals in a wide range of mental health services. In particular, people experiencing anxiety, depression, food behavior issues and post-traumatic stress disorder (PTSD) can find a specialist that will assist them in consultation and treatment. After choosing among several therapists, users can text and make audio or video calls.
How It Helps. Releasing emotions is a proven technique that helps to reduce stress. Aside from it, it also nourishes the feeling of connection and purposefulness. Having an opportunity to unburden the load of problems with a trustworthy professional means taking a step to improve mental health while observing the measures of social distancing.
How Much It Costs. Being a subscription therapy service, Talkspace offers multiple health plans for messaging and live sessions. The monthly subscription price starts with $260 applied after a one-week free trial period.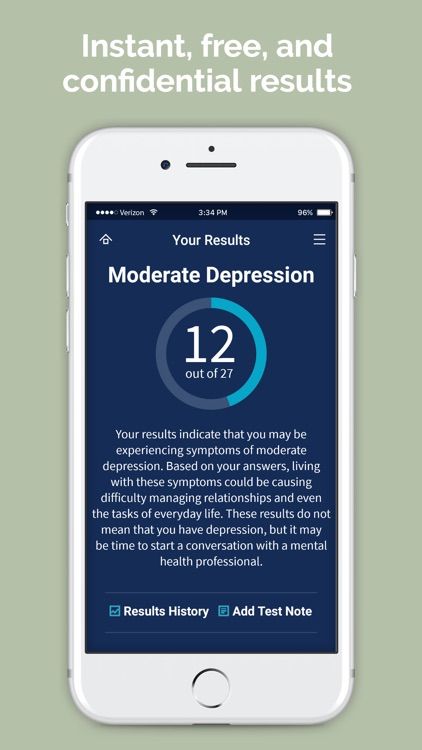 How It Works. With a history of over 100000 downloads and 4.1 out of 5 ratings from real users, this app proved to be a handy tool for assessment of mental health and getting the metrics for mental self-evaluation.  It offers to take a mental health test provided by BetterHelp for the determination of mental health conditions.
How It Helps. It can be of help to those who want to be more in sync with their mind. In addition to self-assessment tests addressing such issues as eating or sleeping disorders, having low or no energy, social disconnection, there is a feature that lets users find a therapist in the corresponding area (available for North American residents).
How Much It Costs. The mobile app is available for free.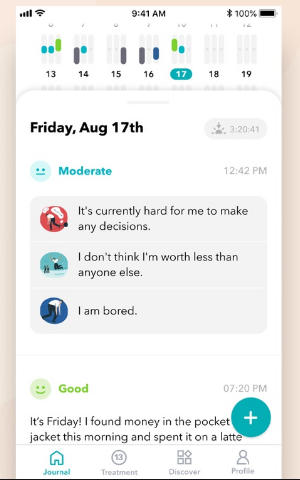 How It Works. It is s a mood tracker for detecting depression and anxiety. There are 4 app modules: MoodPath for tracking, Knowledge for explanation, Statistics for keeping personal metrics on mood development and detecting symptoms. Another module is Profile, which includes hotline resources and instructions.
How It Helps. This app has been downloaded over 1 million times, which speaks volumes of its popularity. It provides tracking and monitoring symptoms of depression by sending a user related questions for 14 days. In the end, people get a generated summary describing user's depression symptoms.
How Much It Costs. The apps is free with limitation. In-app content is available for $6,49 per item.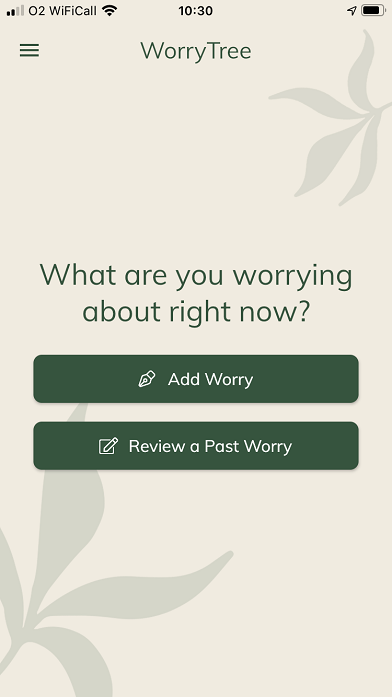 How It Works. It is a new player on the market of mental health apps. Offering a great user experience based on cognitive behavioral therapy, the app has had over 10 000 downloads. It allows users to identify specific problems related to mental wellbeing and to build a response to them. The app was endorsed by the National Health Service in the UK.
How It Helps. It can become your personal assistant when you need to address your worries. Just log in the problem and you will get the solutions for the issues and develop a coping strategy. The app uses the proven techniques from Cognitive Behavioral Therapy (CBT), thought diaries and gratitude journals for guaranteed results of achieving a higher level of mental wellbeing.
How Much It Costs. Available for free with the option to buy in-app content for $2.49 per item.
Moodfit: 'Mental Fitness' Training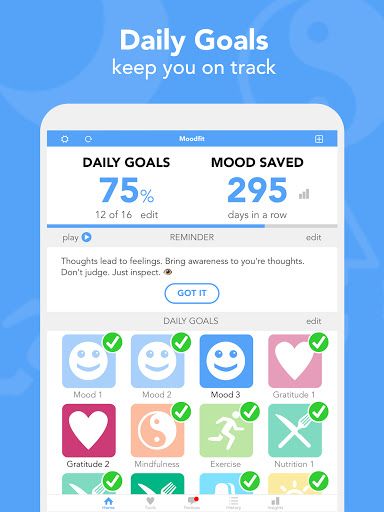 What It Does. The app was voted as the best one for its ability to align with your mental health goals. It can track users' daily progress and offer practical solutions of improving mood and achieving a better mental shape. It can assist in identifying the area that needs targeting (sleep, exercise, medication) and provide actionable insights.  
How It Helps. It delivers a secure and comprehensive record of mood-related activities that users are engaged in. It is built around accentuating gratitude and mindfulness. It is an easy to use app, which will take only 5 minutes of your time with a daily practice that you will be trained for. Additionally, the app helps you get a better understanding of medications and therapy.
How Much It Costs. It is a free app.  
Intellect: Full-Fledged Psychological Training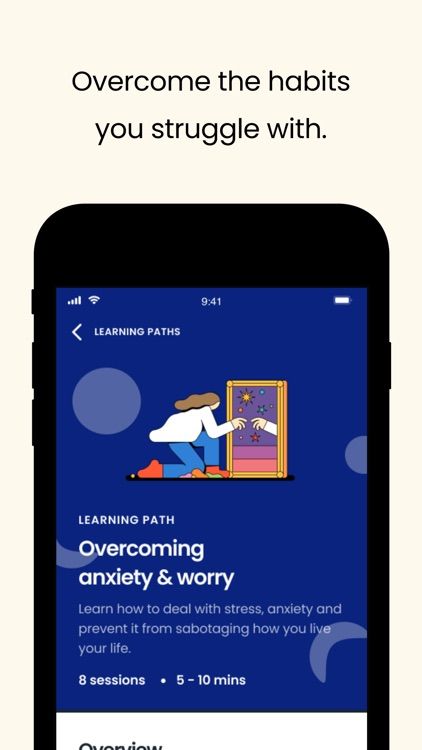 How It Works. It is an app launched in Singapore that effectively eased access to mental health care in Asia, and the number of one million users acquired in just six months confirms it. It was also announced as the best app for personal growth in 2020.Intellect provides clear instructions based on CBT techniques to address anxiety for achieving better relationships and improving self-esteem without extra efforts.
How It Helps. Intellect trademark also incorporates Behavioral Health Coaching telehealth service that provides access to mental health professionals with one-on-one video sessions and texts. The service ignited interest among employers keen on mental wellbeing coaching of their employees.  
How Much It Costs. It is free with options to buy in-app content starting with $1.49 for an item.
Happify: Play And Get Happier Instantly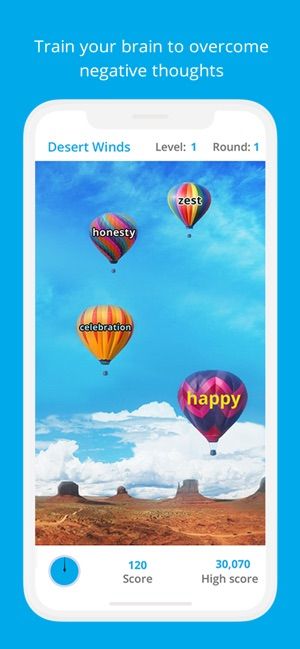 How It Works. This is the proven way to inject some optimism into your day and increase energy with stimulating activities and new healthy habits. It provides multiple scientifically backed up tracks offered to you after you submit answers to a questionnaire related to your wellbeing. Each track ranges from guided meditations to journaling assignments.
How It Helps. The in-app 50+ activities cater to your personal mental wellbeing needs and, additionally, contain a scientifically grounded explanation why they work. Once in two weeks, users get 'happiness check-in' feedback.
How Much It Costs. It is free for download on Android and iOS, with an option of paid monthly subscription for premium features.  
More Apps For Mental Wellbeing
Prioritization of personal well being invoked a science-backed approach in defining what productive and healthy life is. Among healthy work-related habits that can greatly contribute to mental wellbeing, efficiency of time management stands out as it directly assists in:
setting boundaries on work time
increase of resilience
maintenance of mental health.
Applying the apps we list below, you find solutions to stress-provoking disruptions of daily routine and building of productive habits.    
TMetric: Support Of Productivity and Mental Wellbeing
How It Works. Healthy work environment starts with organizing routine so that it could lead us to a goal accomplishment, and challenging things comes as a matter of importance.
...boundaries encourage us to have dedicated work time and dedicated time to recharge.
Lots of employers recognize the challenges that remote workers now have to face when it comes to scheduling tasks and managing time from home environment. So they take a decision to invest into tools that would be a solution for preventing burnout and maintaining work life balance.  
Not to have a slaving schedule, it is important to find that very instrument that would provide flexibility without imposing dangers on your personal productivity. TMetric is a free time tracking app that enables you to have a work life balance by marking the boundary on work time with accuracy.
How It Helps. It secures data on work time across any device and lets you remove the stress of admin routine off your daily agenda. Aside from saving time on calculations, it tracks billable hours and creates invoices for best results in optimization of any workflow.
How Much It Costs. It is a free time tracker.
Trello: Ideally Organized Routine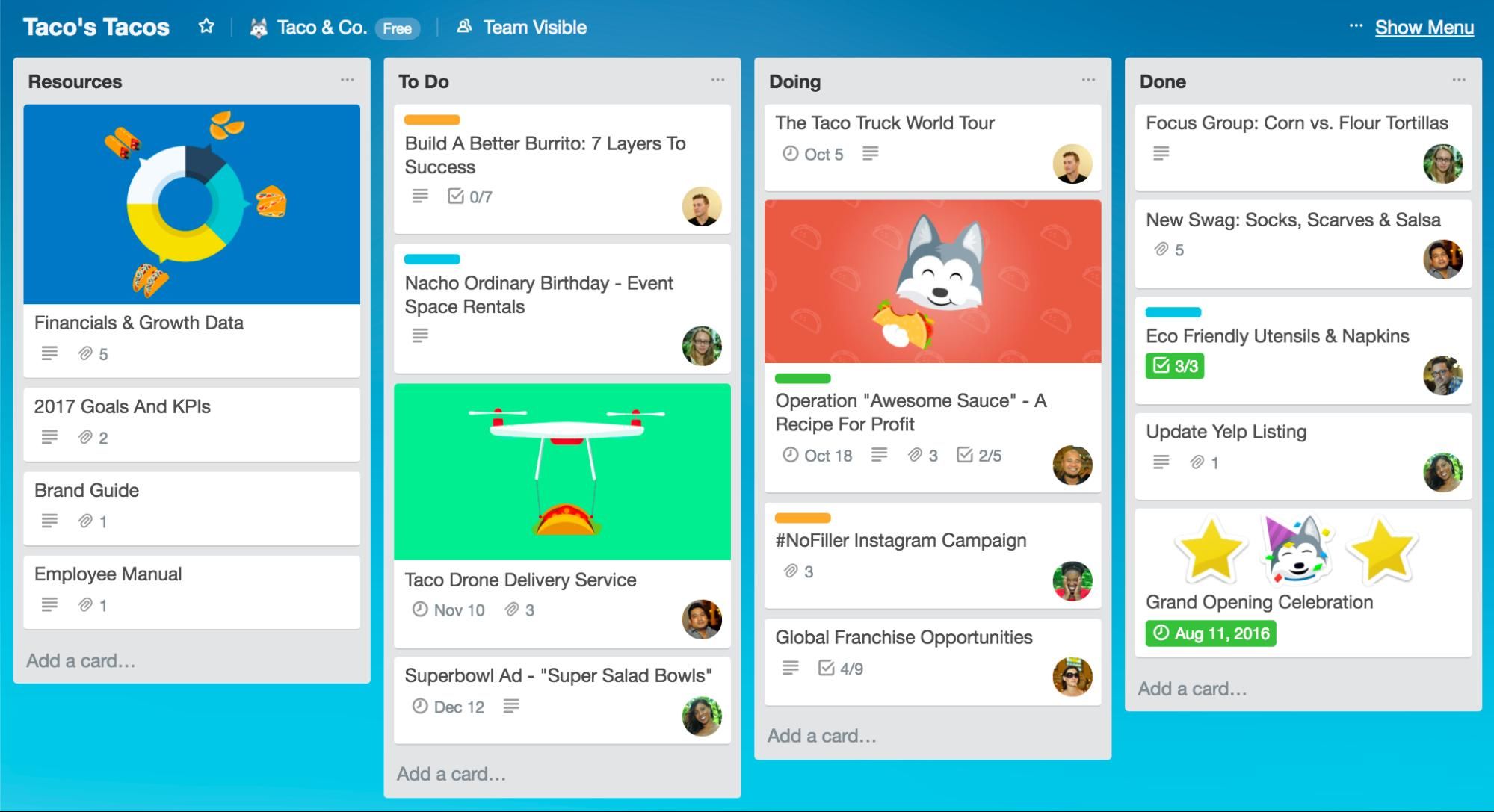 How It Works. Trello boards need no special introduction. They contain lists, cards, provide options for adding checklists and attachments, allow you to monitor the progress of your work in real time and enable you to collaborate on projects hassle-free.
How It Helps.  Let alone taking up our mental space, owning too many tools to manage work means extra time and overstretched efforts on keeping things organized. Trello comes as a solution by bringing a point of peace and helping avoid technology overconsumption in project management.  
How Much It Costs. Its basic functionality is free and can cover needs in task management for personal and team use. Premium features including unlimited integrations along with onboarding support are available for  $17.50/user per month.
Streaks: Healthy Habits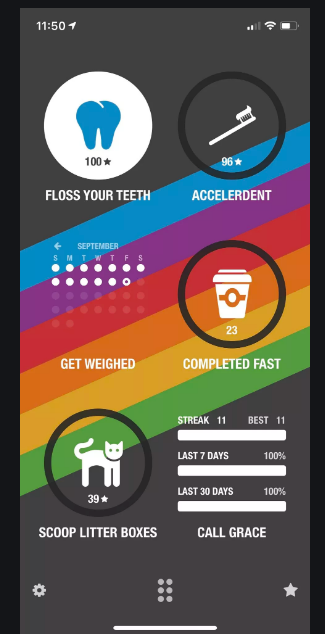 How It Works. The app concept is about maintaining your motivation in a row of 12 days ('streak of a good habit'). The app interface can be customized to fit your preference in sports and foods. It also provides an integration with Health app, which works as a booster in developing healthy habits stress-free. Once in a while, the app sends you a reminder to refocus your attention on goals.
How It Helps. The tasks you create can sync across all devices and based on tracked data, the apps automatically detects the time of task completion. It also features creation of negative tasks to break bad habits (consuming too much coffee, smoking, eating unhealthy, etc.).  
How Much It Costs. $4.99
Lose It! : Weight Loss Assistant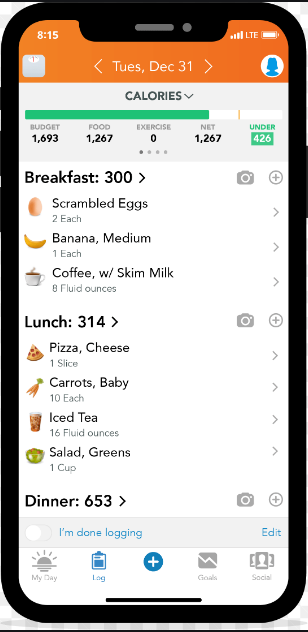 How It Works. All of us need a little help from apps to stay on top of our fitness goals and achieve a lasting private and public change. Weight loss is a one-time activity but it requires some adjustment of work and life choices, and Lose It! comes as an ideal assisting solution.
How It Helps. It shows users' calorie intake (plus, it brings you a personalized recommendation in numbers), includes a simple but comprehensive food diary (marking food intake with icons) and exercise log. It has an option for the connection to  various fitness devices.
It also delivers nutrition and wellness tips and maintains motivation with real success stories from app users. Additionally, this is an option for joining diet-related challenges to enhance the weight loss experience and achieve goals faster.
How Much It Costs. The annual cost of premium membership is $39.99.
Doropomo : New Time Management

How It Works. Last but not least, Doropomo app introduces the perfectly-tailored response to productivity obsession, and inverts the well-know Pomodoro technique to amplify the importance of 'life' in work-life balance equation. It offers to start work with having a timed break because it will not only restore your balance but show a new way of time management.  
How It Helps.  A user starts with taking a 25-minute break, then has 5 minutes of deep work, and then takes a longer work period. Applying this reverse-Pomodoro technique can be your reliable tool in achieving work life balance goals as it helps you slow down and get work done without stress.
How Much It Costs. Available for free.