Outsource Solutions for Law Firms
Law firms owners and legal professionals can greatly benefit from incorporating outsource into their work as it is the sure way to allocate time efficiently and optimize resources utilization.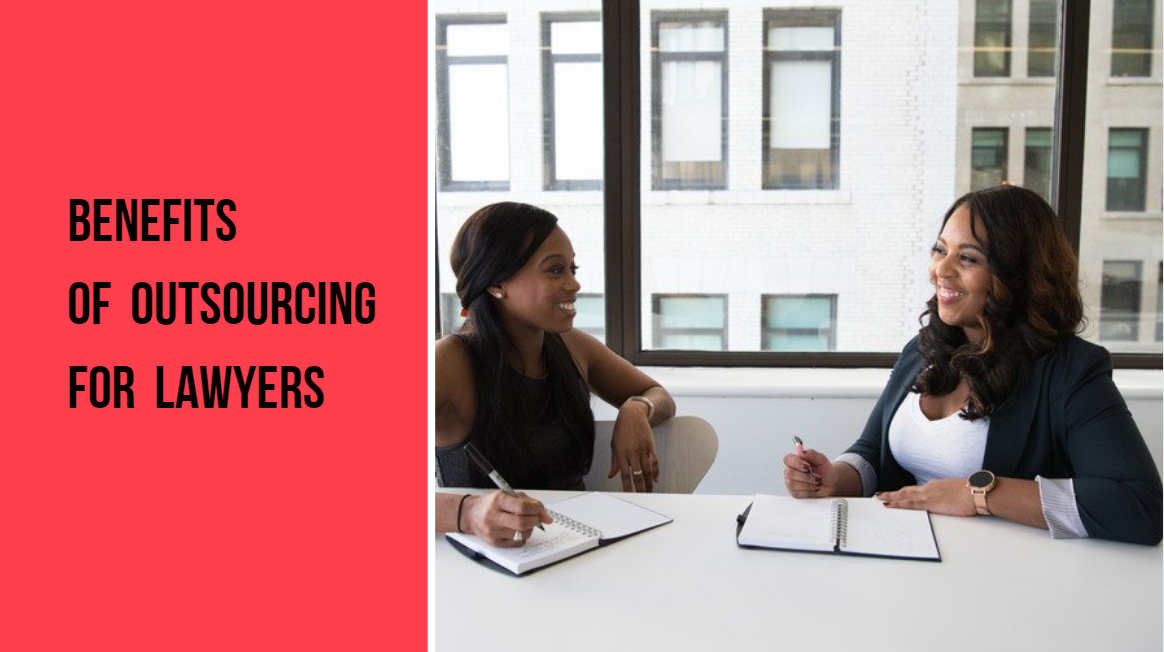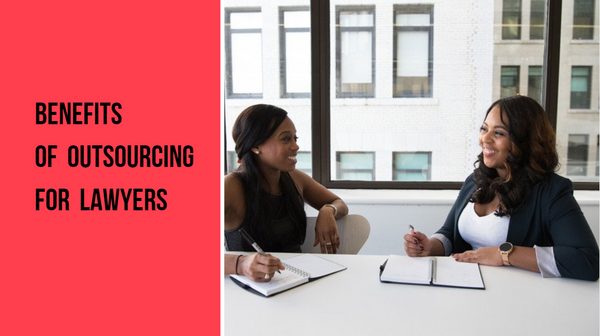 With law firms under a tremendous time and price pressure from their clients, they are forced to find new ways to be more efficient and reduce their own costs.
More than ever do they need to find how to improve on performance of their billable staff to give them more opportunities to concentrate on the legal time tracking of those tasks that are billable and, thus, revenue-generating.
The high priority question on lawyers' agenda is to how put aside mundane work that is not billable without harming the workflow and management process in general.
One of the effective ways to get to a new level of law firm management is to incorporate outsourcing within their business practice.
Outsourcing as a business term was coined in 1989 due to a growing popularity of contracting services online.
Outsourcing service from contractors can allow law companies:
to concentrate on legal competence
to deepen expertise
to monitor expenses in real time
to save time.
Deloitte's 2016 Global Outsourcing Survey found significant benefits in outsourcing. In particular, it lets 59% reduce of service cost and in 57% of cases, it enables employees to focus on deep work.
It results in fail-proof providing value to clients.
The most common type of outsourcing that law firms most often employ into their practice is a managed service. Unlike  project outsourcing that implies a short-term collaboration, managed service is usually supplied on a long-term basis by outer agent, and service provider actually acts as a manager linking the outsourced process to the workflow within a law firm.
The vendor typically takes charge of  the overhead cost for the outsourced service. Once the law firm makes a decision to terminate involvement of the outer source, service supply stops, and so do any financial relations.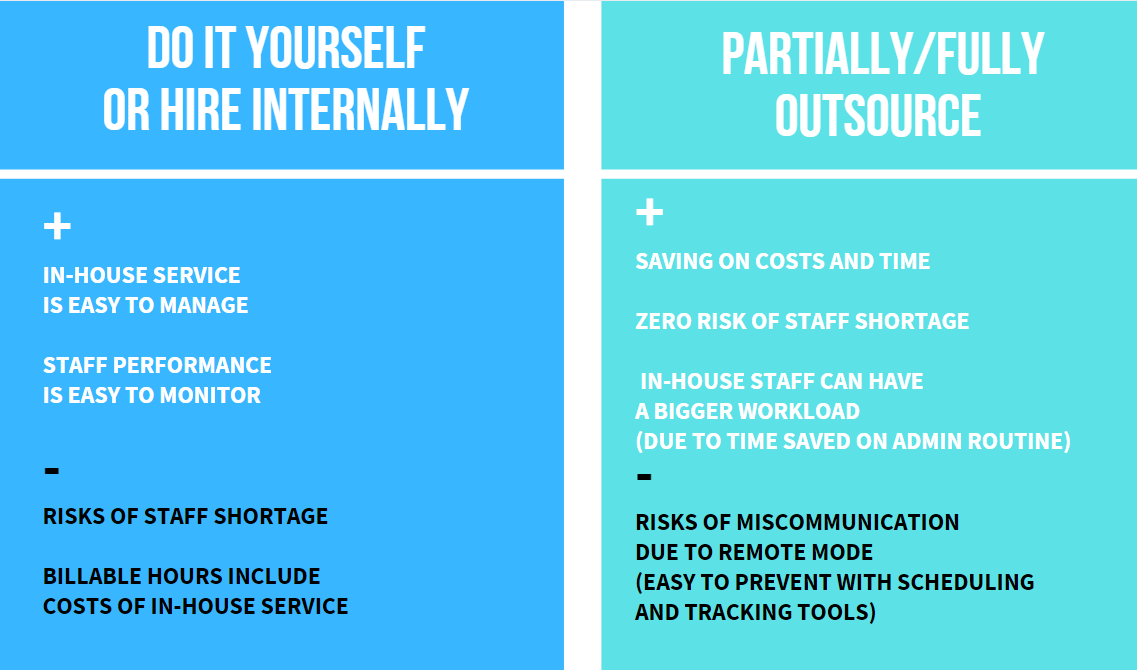 Advantages of outsourcing
Billable hours can be expanded as legal professionals get the opportunity to focus exclusively on what matters most.
Lawyers can enjoy the accelerated workflow due to saving time on non-billable tasks.
Lawyers working in  specialized area can deepen their expertise by allocating more time for research purpose.
Risks of outsourcing
Higher risk of misunderstanding the core business values due to the fact that the outsource supplier cannot possibly be 100% engaged in the internal business processes.
Working across continents can result in  broken line up of work hours (though you can easily prevent it with applying automatic time tracking).
In legal practice, the question of security is of utmost importance so contractors   must be picked with extra care, and double checking on all the credentials might be time consuming.
What are the specific cases of implementing outsource solutions, and how they reflect on legal professionals' business productivity?
Areas of applying outsource service in law companies
Paralegal outsourcing
It pertains to the outside engagement paralegal professionals by a law firm (if the outsource entity is located in the other country, it is called offshoring). Law firm management with paralegal service on outsource means that you do not have to deal with recruitment extra staff or allocate time on their onboarding.  
Paralegal professionals working in outsource can charge the fixed amounts per a legal research or work on hourly base rate. Overall, the paralegal outsourcing covers services of contract drafting, review and monitoring, document review, patent preparation, and legal research. In addition, secretarial and litigation support can also be supplied within legal outsourcing service.
Outsource accounting
In-house bookkeeping at law firms might face a problem of staff shortage. Keeping one accounting professional could possibly result in losing the insight: the regulations in bookkeeping change quite often.
Staying updated might come as a challenge so it is better to outsource the service with a reliable company that knows the financial details pertaining to legal practice. In addition to keeping books in order, accounting outsource would be a solution for internal fraud risks and above-mentioned staff shortage issues.  
IT outsourcing

Most legal practice businesses contract IT experts to set up and manage IT services. Depending on law firms size, law practices can hire someone to maintain IT-related tasks, or outsource it as a managed service.
The latter option is more preferable as it provides a variety of services tailored for specific needs of law businesses. IT providers cater email management, backups, security solutions, etc. Small to medium sized law firms also need website hosting, email hosting, domain name management, antivirus protection and desktop support.
If the outside IT service provider meets the requirements of legal practice business, it works as the optimal solution for law firm management in terms of costs and time.
Outsourcing agreements lead to professional support of IT-related ongoing tasks at law firms.
The tools applied in solving legal problems and cases are not effective if the client feels their burdensome cost on a bill. Hence, it is a law company obligation to optimize a process in such a way that clients get the high quality service without having to pay extra amounts. With the software and services that outsourcing market has developed for law firms, this mission is easily accomplished as the incurring costs on maintaining the in-house IT department will be removed.  
Having an outsource IT support in providing a diversity of service (from law office management and case management software to recommended productivity apps for lawyers) excludes waste and inefficiency from your billable hours.
To conclude
Outsourcing initiatives are mostly triggered by client pressure. Outsourcing in law firms has a paradigm-shifting influence on the overall business development. Engaging an outsourcing solution in majority of cases significantly reduces cost and improves  flexibility of all the business processes.
Implementing fully-outsourced paralegal service, bookkeeping and IT solutions at a law firm is integral part of legal practice strategic development.  
Outsourcing  at law firms regardless of their size works best with routine administrative tasks. The potential pitfalls associated with outsourcing (security and time tracking) can be easily prevented or overcome with applying the special software, which means that in the long run the advantages of outsourcing significantly outweigh the potential risks.