10 Biggest Business Fails Every Entrepreneur Should Know
In 50% cases, the life expectancy of a business is no more than 5 years. The reasons behind such a short lifespan are many but knowing and avoiding typical mistakes most of entrepreneurs make will sure determine longer and healthier existence of your venture.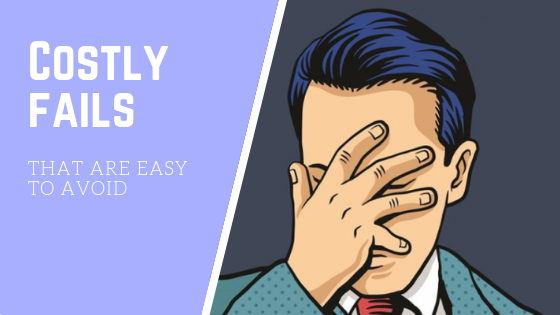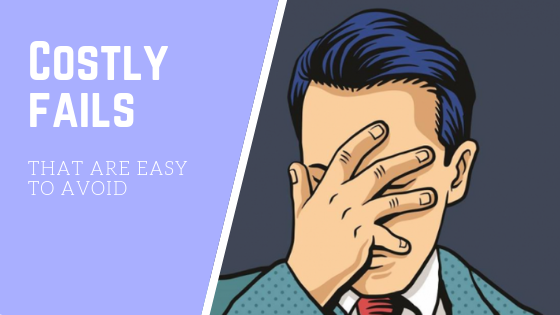 In 50% cases, the business life expectancy is no more than 5 years. The reasons behind such a short lifespan are many but knowing and avoiding typical mistakes most of entrepreneurs make will sure determine longer and healthier existence of your venture.  
You will DECREASE😣 your business survival rate by:
Keeping a badly optimized website  
According to Ecommerce Foundation report, Global B2C e-commerce sales reached $2.1 trillion in 2018. Overall, the statistical data point to 88% consumers browsing the info on product online before making a decision on purchase or going to the store.  
The person who neglects the website importance can be compared with the person who spends many months on the product and one day on a sales copy, and then feels confused about zero results.
The website, its graphics, its logo location, alongside with its optimization, define how the customer will perceive the pricing and the info on your service, and it will move the needle.  
Solution✈: Invest into creating an appealing site and keep it professionally optimized. Your business must have the best place to live.
Failing to prepare yourself to sell
Business people are problem-solvers by default. Hence, they more than often see the issues to address in their entrepreneurial environment, and they do develop the solutions.
But it might translate into generating too many concepts instead of sticking to one that will bring revenue. Entrepreneurs need certain degree of discipline not to diversify their energy into directions that might distract from identifying and concentrating exclusively on the one that is profitable.
Solution✈: Choose the concept that you will create as a cornerstone of your business and make your legacy.  
Demonstrating lack of agility
Frankly, I could never find comfort in widely-cited Edison's words about knowing 10000 ways of NOT achieving.  With all the software available with a click, we cannot afford to ignore the shortcuts and rob ourselves of much-needed agility.
The realistic self-assessment makes achieving your goals much easier while wasting time gives your competitors advantage in the game. You must find the optimal way of providing time tracking accuracy if you want to stay agile.
Solution✈: Track your time and the time of your team with precision.  
Failing to stay accountable
Not scoring 100% every time is acceptable but setting a goal to stay 100% accountable is still a must-have.  
Accountability is a driving force for your business improvement. Failing to manage the projects at every stage means that you deliberately untie the efforts of the individual off the performance of the team.  
If you provide for the effective means of communication and supply your team with feedback, they will hold accountable for the results and see the ways to contribute to success clearer. Fortunately, there are plenty of team management solutions to address needs of any business.  
Solution✈: Invest into reliable project  management software.
Not striving for upscale of your business
You should  dedicate your efforts not simply to owning your company but working on growing it. It is possible only in case the entrepreneurs refuse the idea of handling everything on their own.
False belief in the rule of 'nobody can do it better than me' traps entrepreneurs in addressing minor issues.  
Unless you find someone who can replace you at least 80% you will feel stuck in the tedious business routine without any visibility of expansion.  
Solution✈: Build your team by investing into its training because in the long run it means that you grow your business.
Not separating personal and business finances
Keeping everything in one place seems like a nice idea but sometimes it is just not. Separating money issues even in case you start as solopreneur is crucial.
It will help you track your business expenses, determine what tax procedures you must know well and plan effectively.  Entrepreneurs who rely on personal credit to run their business are likely to fall into a debt trap.
In case you treat and run your venture like a full-scale business separate from your personal credit history, you get a chance for growth of business credit and creation of your own business identity. It unlocks access to getting business loans on best terms.
Solution✈: Having a separate business and checking account will also better shield you from damaging your credit score if your business takes a nosedive in the future.
Not setting a clear budget for your business

Having the rough budget is better than having no budget at all because in the latter case you are one step closer to failing. Estimating the venture cost and income is essential for forecasting the financial future of your business.
As a founder and manager, you will lead your business to generating profits, and the only way you can do it is by setting the budget limit for operating, marketing, customer support and other expenses.
In this case, you will be able to maintain the financial health and distinguish the profit targets and cash flow targets to prevent any kind of business nosedive.
Solution✈: Defining the costs and concentrating on budget forecast enhances financial discipline and clarifies the targets for you and your team.
Repeating 'follow-your-heart' mantra
Once you reply to the call for freedom in decision-making and start your business you expect that you will finally do what you love.
One of the most displeasing experiences the entrepreneurs  have is that passion is not enough for success.
Instead of the anticipated 'follow-your-heart' miracle, they suddenly have to learn quickly and become a full-time accountant, marketer, recruiter, sales manager, and expert in dozen more fields with all the deadlines meaning that time is ticking not in their favor.
Solution✈: train your resilience and learn new disciplines
Lacking personal branding :
Though building a consuming cycle might be the final result we keep in mind when building a business, consuming itself is not the core value. What we appreciate when we buy is the experience, and its essential part is the brand that a seller presents. People buy from people.  
Even with huge corporations reigning now, we want to see behind the scenes. We want to know whom we buy from. It is especially easy when it comes to digital era as it takes a click to profile anyone or anything. For businesses, it is crucial to articulate what they promote and stand for.
Solution✈: The entrepreneur has to be a story-teller as it is the sure way to differentiate yourself in your field, and it is in the business interests that this story was well-thought of.
Thinking tactically rather than strategically
If you base your decisions only on momentous thinking you will never achieve long-lasting success.
The prospective of immediate profit does not always mean the victory. If you build your venture by relying on 'taking one step and whatever', you might be literally one misstep away from leading your business to shutdown.
Solution✈: Remember that your executive excellence comes second after careful planning.