The Best 10 Subreddits to Boost Productivity and Beat Procrastination
To enhance your productivity, you may find our top 10 subreddit recommendations advantageous. These subreddits offer valuable guidance on time management and inspiring motivation for accomplishing your goals.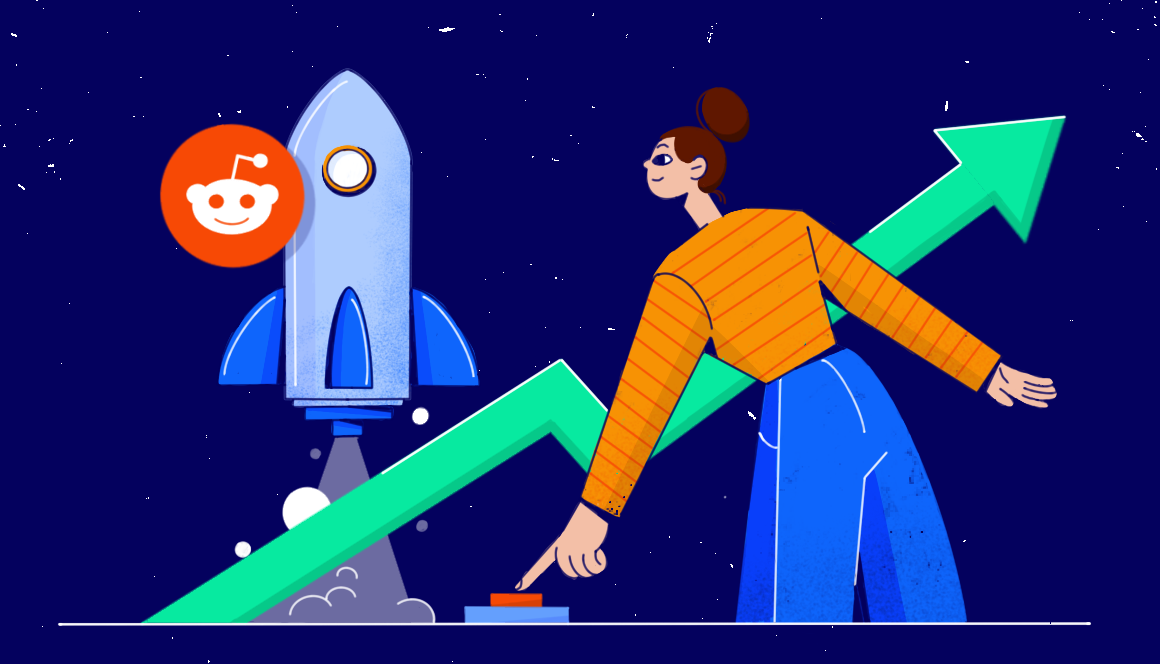 Do you struggle to keep your attention on tasks and make the most of your time?
With its wide variety of subreddits specifically designed to assist in enhancing productivity and defeating procrastination, Reddit may have the remedy you are seeking.
Reddit Factbox

It's a leader among global social media platforms: Reddit has over 430 million monthly active users. The United Arab Emirates had the highest social media penetration rate as of January 2023.

It has a unique voting system: Redditors can upvote or downvote content and comments based on their relevance and value. This system helps to ensure that the best content rises to the top, making it more visible to users.

It's heavily invested in original content: In recent years, Reddit has been putting more emphasis on producing original content with its Creative Strategies team working on custom campaigns for brands.

It can boast of remarkable user engagement: On average, a Redditor spends 16 minutes and 10 seconds during each visit to the site.

It's organized into a myriad of communities: Reddit is home to over 130000 active communities (also known as subreddits) covering an extensive range of topics from science and technology to food and fitness.
Below, there are 10 subreddits you will want to read to maximize your productivity.

Created in 2008
Community: 1.7 million
It offers advice, practical tips and techniques for maximizing productivity.  
r/productivity is a Reddit page where members exchange ideas, tips, and strategies to increase productivity and reach their goals.
The page is frequently updated with new posts from members talking about topics such as:
time management
organization
productivity hacks.
Users can connect with each other by commenting and providing their own advice and experiences.
The advice we will follow: Rethinking relations with your phone could save you tons of time.

Who stands to gain: People who aspire to enhance their productivity and efficiency.

Created in 2009
Community: 114000
Those working in or interested in product management can connect on this Reddit page.
Users share articles, learning resources, and insights on a variety of product management-related subjects, including:
product development
marketing and strategy
tools and processes.
The page also provides a forum for networking and talking about current business trends.
Tools we will use: Virtual whiteboards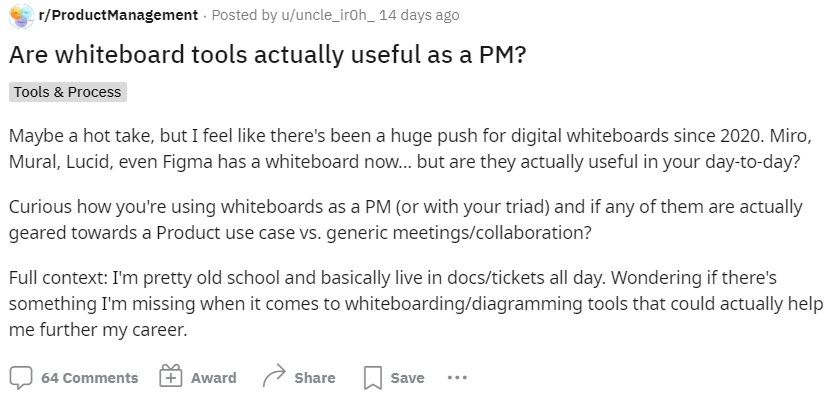 Who stands to gain: Anyone in need of suggestions and approaches to effective product management.

Created in 2012
Community: 1.4 million
This Reddit community is all about sharing strategies with a focus on assisting people in strengthening their self-control and efficiency.  
Additionally, Redditors provide:
helpful suggestions
guidance
stories related to creating routines, conquering procrastination, and attaining ambitions.
What methods we will learn: Techniques helping to be on the lookout for dopamine traps.

Who stands to gain: It will be useful for individuals who struggle with self-discipline and want to improve their habits and productivity.

Created in 2008
Community: 26100
Short for Getting Things Done, this subreddit is centered around the globally recognized time-management method created by David Allen. The threads provide:
useful advice
techniques
practical tips for accomplishing tasks in a timely and efficient way.
What we liked: Utilizing AI for breaking down complex tasks.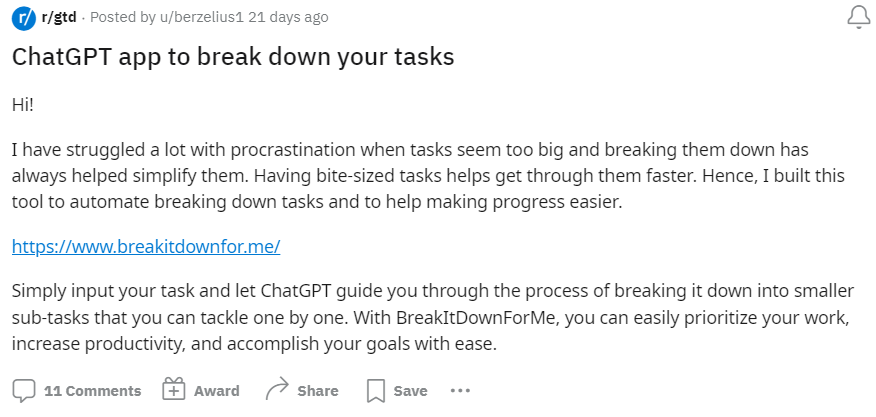 Who stands to gain: People who wish to improve their personal productivity, time management, and organization.

Created in 2012
Community: 1 million
The page is structured with easy-to-filter hashtags for getting:
help
resources for self-improvement
other users' real stories.
What story we feel inspired by: How being committed helped to build an exercise routine successfully.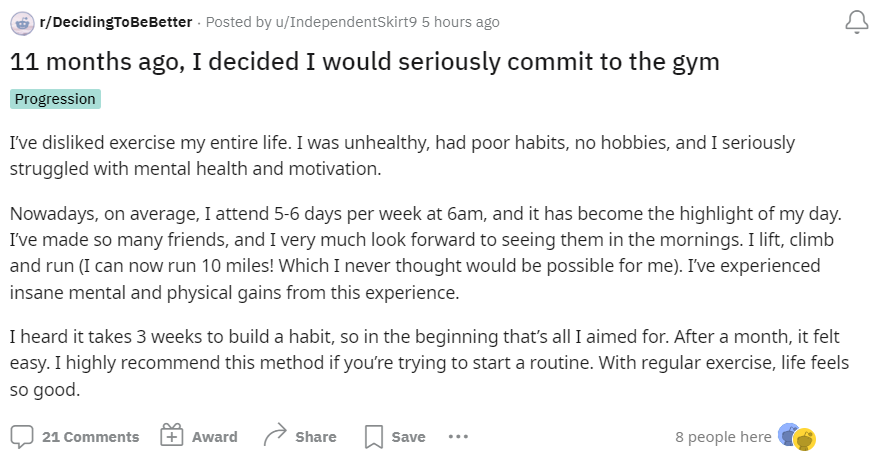 Who stands to gain: This subreddit can provide inspiration and advice to people who want to better themselves in areas like personal growth, relationships, job, and health.

Created in 2016
Community: 321000
This subreddit unites people interested in bullet journalling who get together to:
exchange advice
share motivational stories
introduce designs pertaining to the practice of bullet journaling.
What we find interesting: Reflecting on bujo for 2023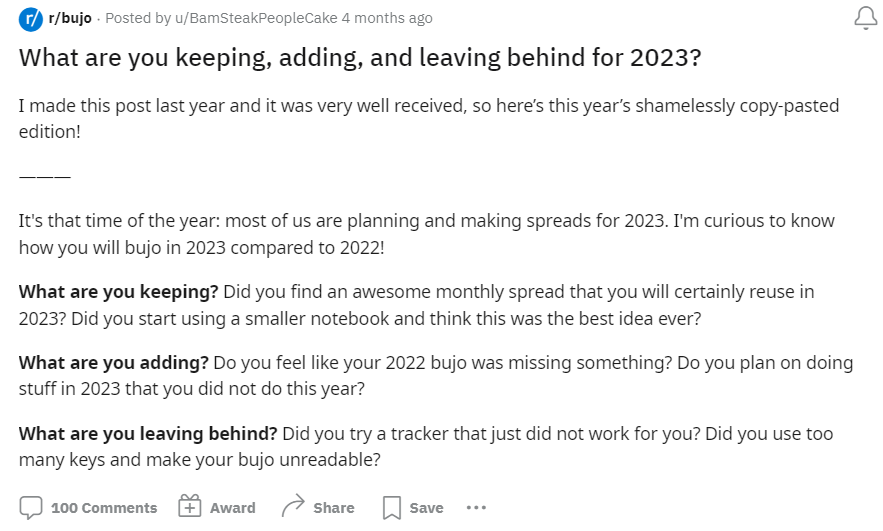 Who stands to gain: People who are keen on bullet journaling as a method of personal organization and productivity.

Created in 2008
Community: 1.7 million
It is a forum for individuals to share personal development strategies and resources and offer support. Members of the community engage in discussing:
personal productivity
mental health
self-care.
What we are curious about: The power of positive purchases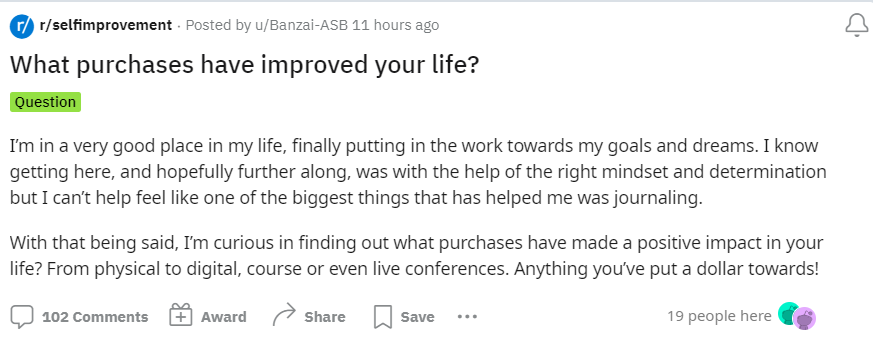 Who stands to gain: People who aim to enhance their lives in diverse domains, such as mental wellness, interpersonal connections, effectiveness, and overall wellbeing.

Created in 2010
Community: 19.8 million
This Reddit community is a huge forum for individuals seeking inspiration and motivation to achieve their goals. Members of the community share:
motivational quotes
personal stories
videos and music.
What time management hacks we trust: A combination of 2 strategies for the best results.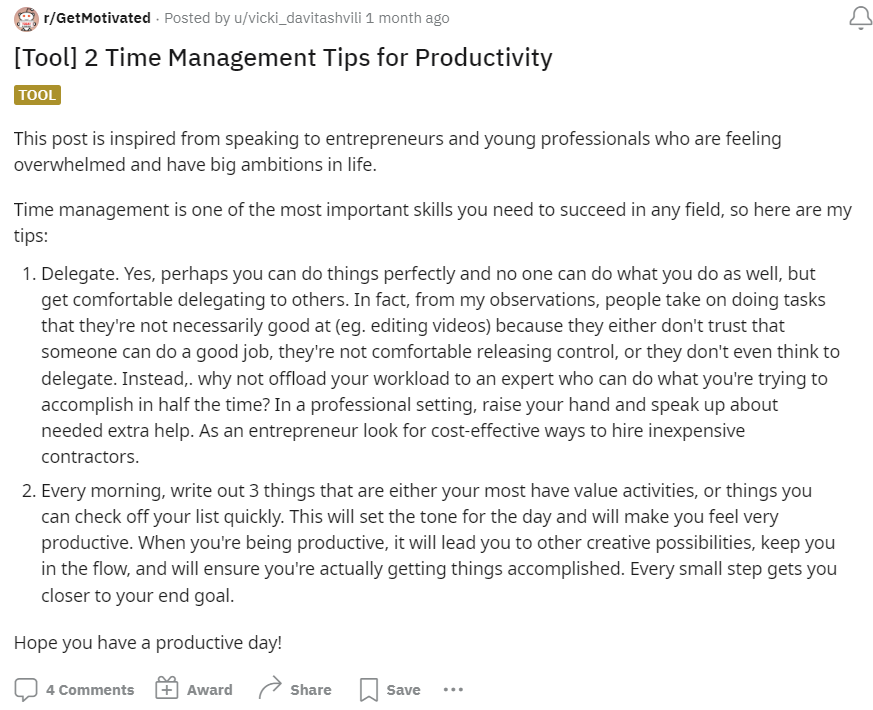 Who stands to gain: It can be especially helpful for individuals who are feeling stuck, demotivated, or unsure of how to achieve their goals.

Created in 2008
Community: 221000
r/ZenHabits on Reddit is a place where people discuss ways of streamlining their lives, decreasing stress, and being more aware. People within the group:
share advice on leading a minimalist lifestyle
finding inner tranquility
forming positive behaviors.
What caught our attention: Podcasts for mental health are underrated.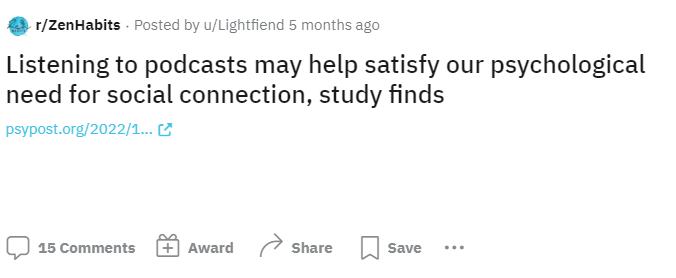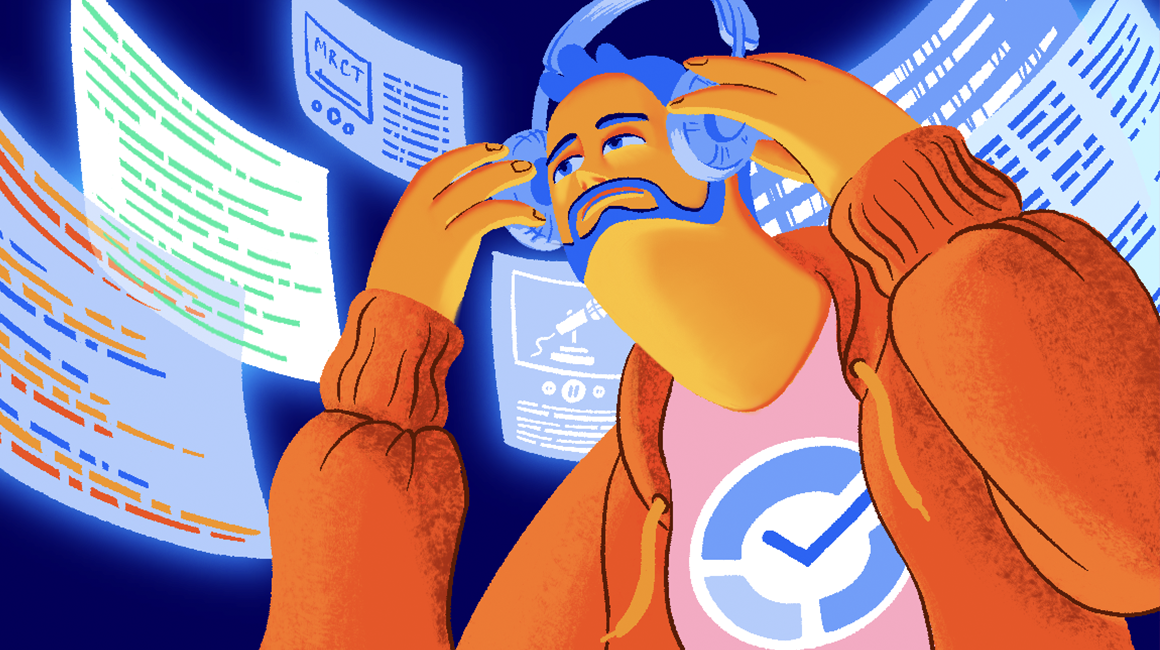 Who stands to gain: Anyone in need of guidance on minimalism, meditation, and techniques to simplify life and increase productivity.

Created in 2010
Community: 22 million
This is a place where users share helpful tips for improving daily life. The tips cover a wide range of topics such as:
productivity
relationships
health
finance.
What we endorse: An incredibly simple guide on how to take a mental break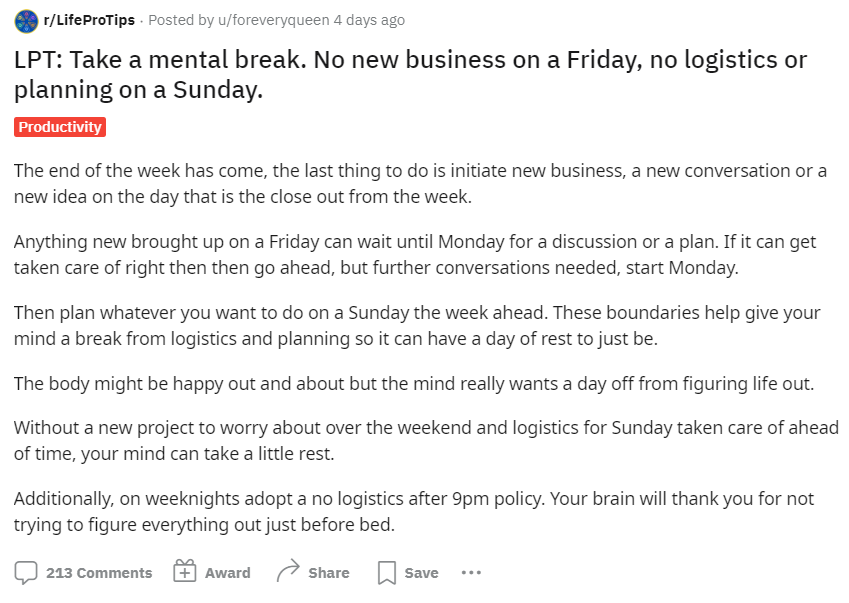 Who stands to gain: While not exclusively focused on productivity, this subreddit will be helpful for those in need of tips and hacks for improving various aspects of life, including personal and business effectiveness.